Weve got the most comprehensive motorcycling gift guide for women riders everywhere! The companies that advertise on Women Riders Now want to give you, the WRN reader, a special deal this holiday season. Please be sure to shop these companies first, and when you buy let them know you heard about them on WRN. Click on the highlighted company name in red to go their Web site.
FYI If the discount code doesn't work at checkout for some reason, just call them and say you want to take advantage of their WRN deal. These companies want your business and will cater to you!
Captain Itch
Captain Itch offers a lot of leather accessories for your motorcycle many that can be embellished with rhinestones and crystals. Special deal: All Crotch Coolers (except the plain one) are 20%off until December 31 with promo code WRN-CC-20. All other items (exceptthe crotch coolers) get 10% off using promo code WRN-10.
After Holiday Deal
All crotch coolers with stud: $19 off with coupon code WRN-CCST
Free shipping in continental U.S. with coupon code WRN-FS
| | |
| --- | --- |
| The Crotch Cooler is a leather heat shield with a slot that goes under the seat; and shown here is a leather cup holder that can be embellished and mounted almost anywhere on the bike. | Another Crotch Cooler. Theyre double-sided with suede side on bike. |
Chrome Dome Motorcycle Products
Unique and innovative products to make your bike stand out in a crowd. All products are handmade in the USA with the highest quality materials. Check out the article we did on them here. Special deal: 15% off retail price through January 9th. To getthis deal, you must call Chrome Dome and tell them you are a WRN reader.The number is 800.951.1980 Monday through Saturday 11:00 a.m. to 8:00p.m. Central Standard Time.
| | |
| --- | --- |
| Medicine wheel insert from Chrome Dome. | Chrome heart horn cover from Chrome Dome. |
Endless Road Motorcycle Cap Company
Great gift idea for a special friend: blinged and bejeweled gas cap covers. Check out our story on these here. Special deal: Free shipping until December 23, 2010.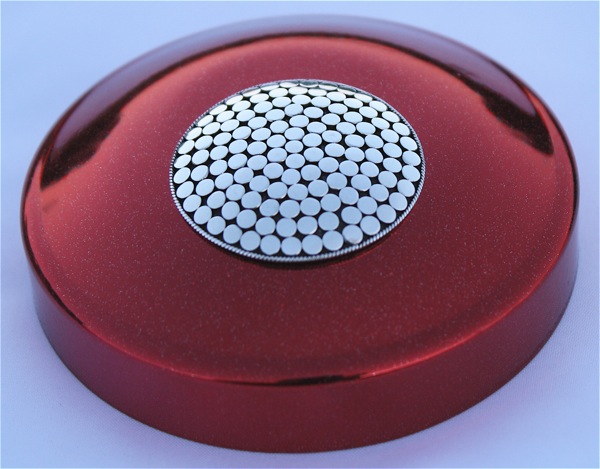 GearUpHelmets.com
This online retailer of motorcycle riding gear—and longtime supporter of WRN—is offering WRN readers a special discount separate from the discount already offered on their ad in the WRN Mall. Special deal: 20% off all merchandise now until January 31, 2011. Enter code WRNXmas at checkout.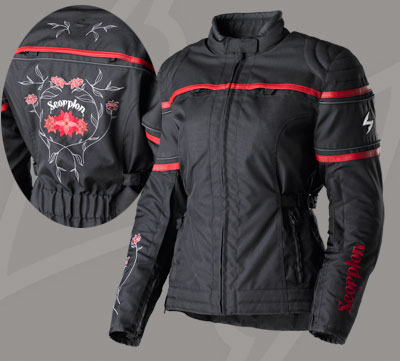 Helibars
Helibars makes the most innovative handlebar replacement systems on the market. If you're been thinking of getting a set, now's the time to do it by taking advantage of this great holiday special. Read our review here. Special deal: Receive 10% off purchase of $69 or more by using coupon code 2010WRN10 now through December 21st.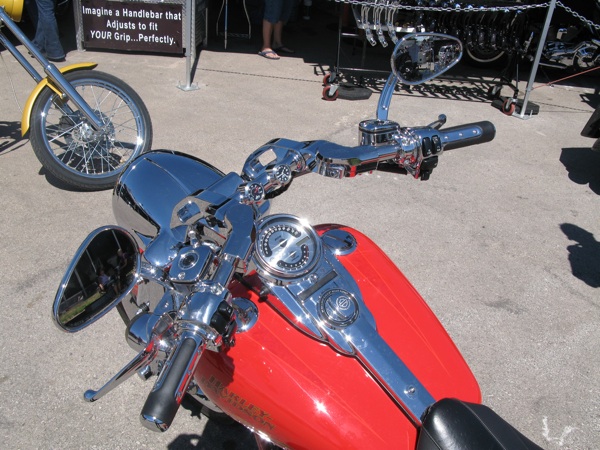 Leader Motorcycle
Tracey Cramer-Kelly, owner of Leader Motorcycle, has picked out two items especially for WRN readers she thinks will make great gift items.Special deal: 10% off these items that are already on sale.Enter code WRN.
| | |
| --- | --- |
| Fun-to-wear reflective motorcycle vests. Great for you and your riding buddies. | Clock with reflective hands that mounts on your handlebars. |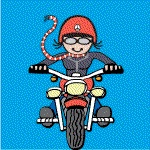 MissyNJax
Greeting cards, decals, and mugs all make great gift items for a motorcycling friend and MissyNJax has the market on the cutest biker chick emblem to date and they've dressed her in winter attire. Special deal: 25% off most merchandise on Black Friday only (the day after Thanksgiving).
Over-N-Up Motorcycle Jack
Innovative jack to help upright large Harley-Davidson touring motorcycles. Check out our story here. Special deal: Free shipping and 10% discount now through January 31, 2011. Use code RD10FS. Email ebrucehatguy@aol.com to place order.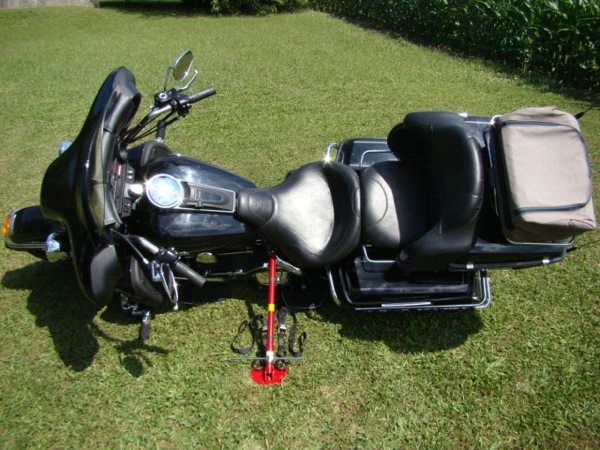 SafeTKick
SafeTkick is a device that lets you park your motorcycle with confidence on unstable ground like grass, dirt, and hot asphalt. Check out our story on the product here. Special deal: Save $6.50 on shipping. Use code freeshipping2010. Good until December 25, 2010.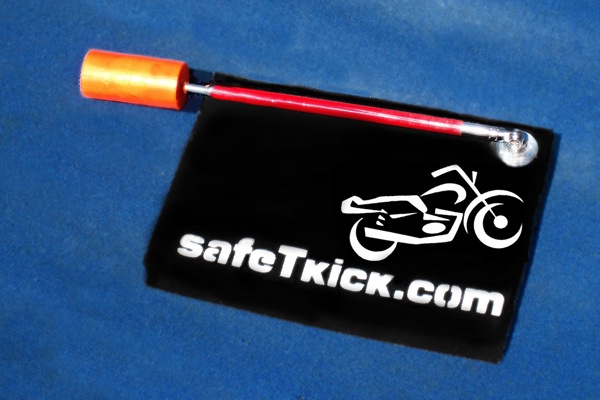 Rebel Girl
Tis the season to indulge in others… oh yea… and yourself. Take a look at all the fun accessories from Rebel Girl at our story here. Special deal: You'll receive a socking stuffer with every purchase. Type in "Women Rider's Rule" when placing your order.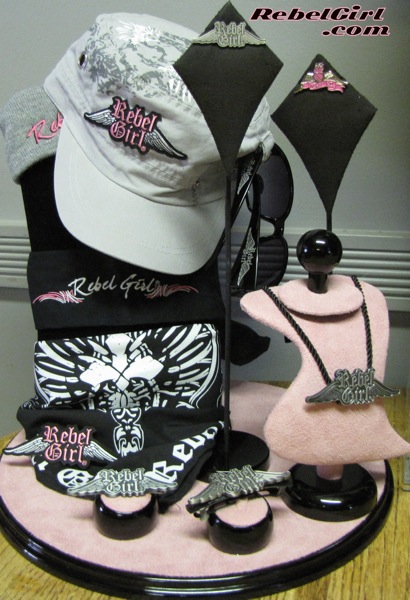 Design Wraps
Design Wraps is the sister site of our advertiser RidersWraps. Now you can get a discount on all the exciting embellished items there.
Special deal:
10% off all merchandise. Use code WRN.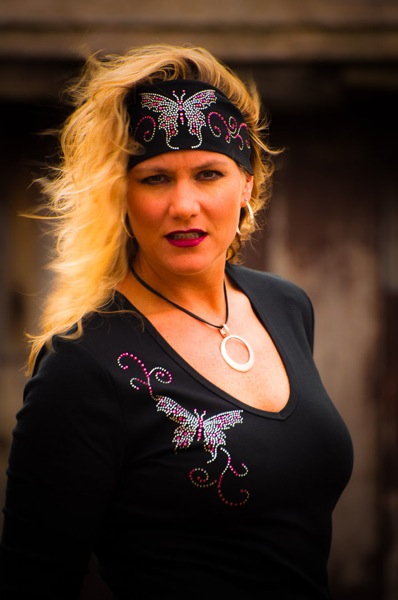 VaVaVroom
This apparel and accessory company offers fun motorcycle related jewelry, accessories and apparel. Special deal: 15% off any item through December 24, 2010. Use coupon code WRN15 at checkout.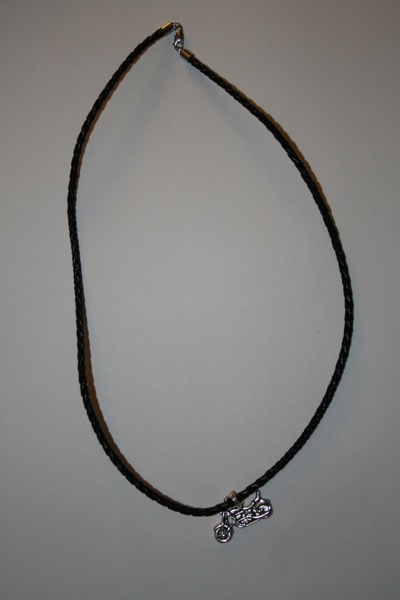 The Rest of the WRN Supporters Worth Checking Out
Biker Essentials
An incredible assortment of motorcycle themed gifts and accessories including lifestyle items like cell phone cases, purses, and housewares.
Girl Gear Apparel
One of the only companies making quality high-end textile riding jackets in larger sizes. Too much as a gift item? Then check out the affordable riding socks offered that make the perfect stocking stuffer.
Hot Leathers
You're bound to find a gift here from stocking stuffer motorcycle patches and decals to candle holders, wind chimes and affordable riding apparel.
Icon
Have you been drooling over that fancy riding jacket or leather pants? Then let your loved ones know it's time to buy it from Icon.
Markel Insurance
A gift for yourself: time to revisit your motorcycle insurance policy, and Markel knows motorcycles as many of its staff, including the company CEO, are riders. Don't you want to deal with a company that walks the talk?
Lady Biker Stuff
Great gifts for a friend, or yourself. Sunglasses, watches, caps, decals as well as riding clothing. But you have to check out the helmet horns. Now that will make a fun gag item for a gift exchange.
This one goes on your gift list for others to buy for you — some seriously beautiful accessories for your motorcycle. Shiny, classy and top notch aftermarket wheels, brakes, grips, pegs, mirrors and a whole lot more. PM is a leader in making these kinds of accessories.
Rescuing Olivia
Escape into an exciting fictional story set around motorcycling in this novel called Rescuing Olivia… and support an author who herself is a motorcyclist. Buy it for a friend and then ask she gives it to you to read when she's done.
Rider Insurance
I love it when insurance companies go out of their way to market their products to women, and in this case don't use sexist images like a lot of the other insurance companies do. You owe it yourself to check out the motorcycle insurance offered by Rider. It's always good to shop around to make sure you're getting the best deal.
Save Your Back Jack
The original jack designed to help you upright a downed motorcycle. You have to check it out.
Gift the gift of motorcycle riding… or ask to get it yourself. Now's the time to take advantage of this incredible deal on an entry level motorcycle.
Related Articles
Motorcycling Gift Ideas for Holidays 2010: Biker Themed Items