Do you have a story to share? Please send it to us, but followthese submission guidelines.
I was lucky enough to take a cross-country motorcycle trip from my home near Boston, Massachusetts, to Portland, Oregon, and back. I rode 7,185 miles in 15 days. It was a lot of miles in a short amount of time but Im so glad I did it.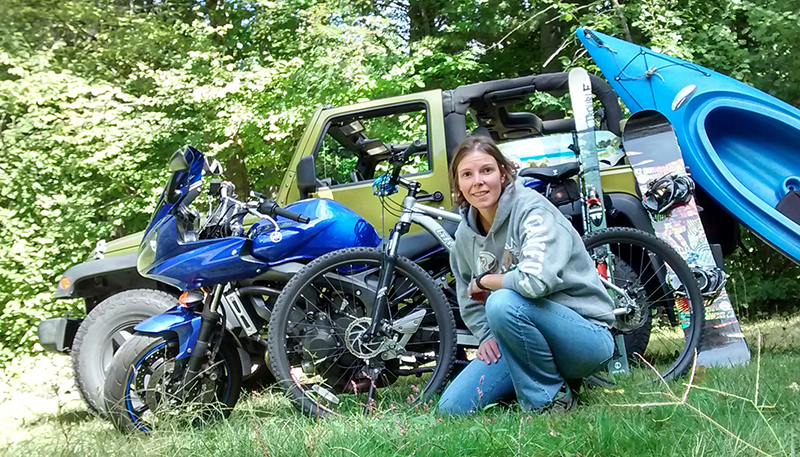 I dream of traveling on my motorcycle, and know that there are more travels in my future. I really dont aspire to much. In fact, Ive wondered if I am an underachiever in life, at least my financial life. The only thing I want to live for is to have no regrets. I dont want to regret not doing something I had the chance to do. I want to take every adventure that comes my way.
Women Riders Now E-Newsletter
Stay up-to-date on all things motorcycle! Latest gear, bikes, and product reviews. Travel ideas, great product giveaways, and more.
I started riding motorcycles when I was 18 years old on a 1984 Yamaha Special 400. I obtained my permit and rode to and from my summer job. The bike's engine barely lasted the season, and I vowed to get another motorcycle one day.
I forgot about the thrill of motorcycles until I found the freedom of being single again. I enjoyed local adventures, new hobbies, and new passions, all the while I was telling people that I'd get a motorcycle when I'm in my 50s. I didn't want to worry my mother or family. But I just knew that I would harbor regret if I didn't act on something I wanted in my life.
So at the age of 35, I took the MSF Beginner RiderCourse and got my license. Half my class were women, which was notable. And I was the only one in my whole class to receive a perfect score on our final road test! I proudly purchased a 2007 Yamaha FZ6 and began commuting to work. It saved me about $80 in gas the first month.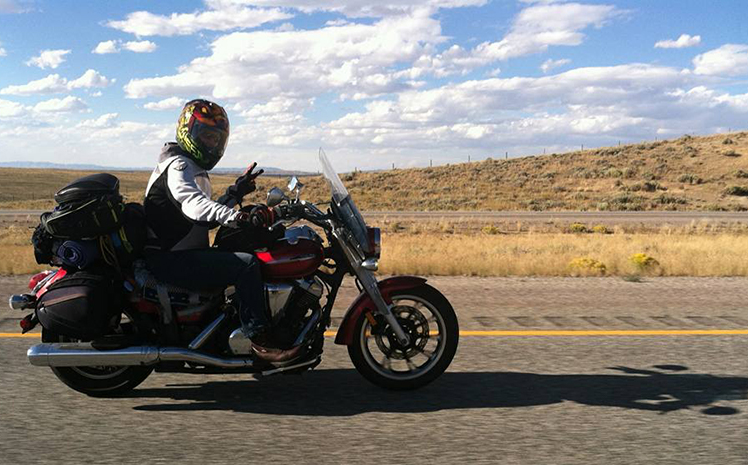 I was hooked. I became obsessed with motorcycles. So last winter found me on YouTube watching motovlogs and motorcycle adventures. I printed out a giant map of America and put it up on my bedroom wall. I would pursue my dream to take a solo road trip across the country, lasting a month or more. I figured I would have to plan and save to make this trip possible.
As fate would have it, I met a seasoned rider in the early Spring. We became fast friends after meeting at a local pub. He had crossed the country 13 times by motorbike, typically on a Suzuki GS 850, and he was planning to do it again in late August. I ended up joining him on his 14th ride.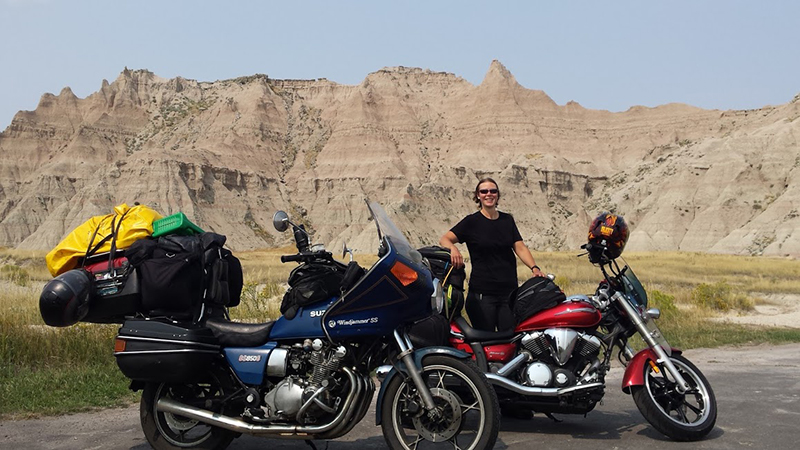 I traded my FZ6 for a Yamaha V Star 950 before the season began. I was drooling over adventure bikes all winter long, but ended up going with a cruiser. I still want one of everything. I'd like a cruiser, sport bike, and dual-sport to start with. But my pretty little cruiser ended up being super cheap, very good looking, and comfortable enough to ride for a bit. I actually put 14,000 miles on her this past year. Her name is Rosalita.
I didn't commit to the trip with my friend until three days prior to his departure. When a job interview, four days prior, did not meet my expectations I knew I would regret not taking this motorcycle trip if I didn't go.
The longest ride I had done before this was about 155 miles in one direction. I didn't think my butt could handle 500 miles a day. However, I was gradually prepping my bike to make sure it was in tip top condition just in case I took this cross country ride.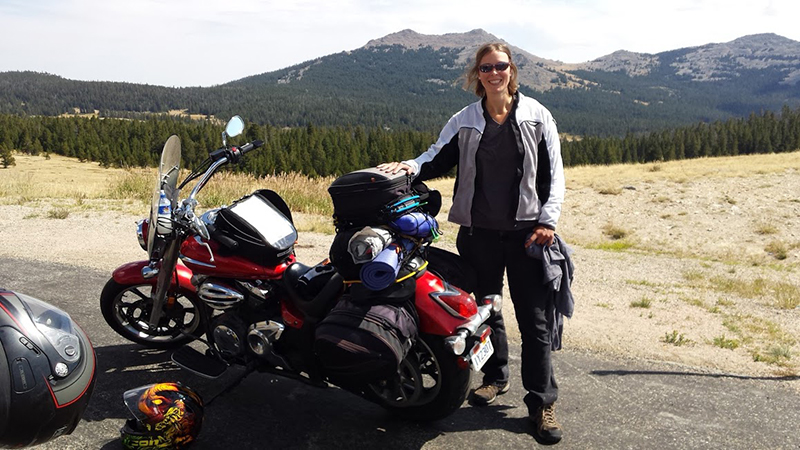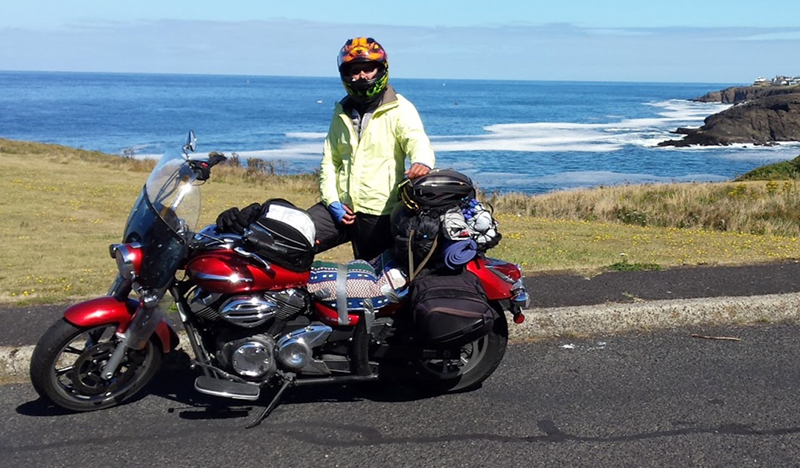 Now, this was not the trip I dreamed about last winter—my romantic notion of a single woman's voyage across America. We didn't exactly have time to stop and smell the roses. In fact, at one point I told my partner, "I'm ridin' like it's my job!"
So, would I do it again? Well, yes. Though it wasn't exactly an Iron Butt ride, it was a lot of time in the saddle. I actually ended up duct-taping my camping pillow and towel to my seat after about 4,200 miles. It would be nice to travel 300-mile days and see some sights. On the other hand, time is money. Now that I know how to make mincemeat out of miles, the sky's the limit. I see many different types of motorcycle travels in my future.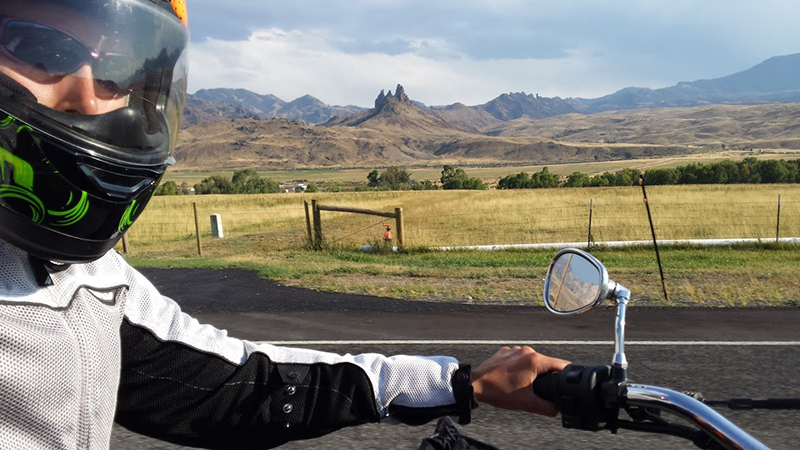 I want to live life with no regrets. And I know that I can look back on this time in my life and say I had an epic riding season. Now, with snow on the ground and a whole new year to look forward to, I'm doing the same thing I did last winter—dreaming of my next big ride. And, maybe I'll take that big ski trip up north this year, the one I kind of regret not taking last year.
Do you have a story to share? Please send it to us, but follow these submission guidelines.

Related Articles
Addicted to Cross-Country Riding
Grandma Rides a Road King and Finds Courage Along the Way
Motorcycle Review: Yamaha FZ6R
More Reader Stories