I don't know about you, but I'm getting mighty tired of hearing the doom and gloom in regards to the state of our economy. The news is littered with dour predictions and sour phrases such as "economic uncertainty." Personally, Id rather focus on the good things coming out of this new era of fiscal responsibility. Rather than panic about the bottom line of my 401k statement, I check out how many shares I've got, and am committed to hunkering down for the long-haul.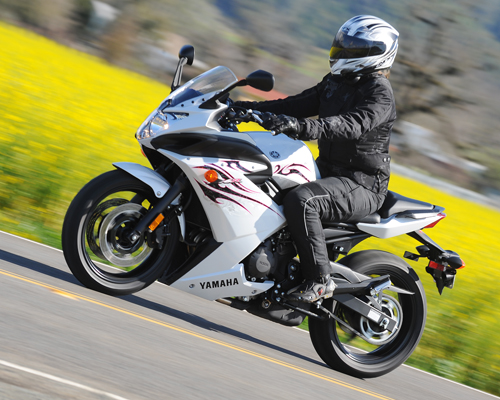 But in any case, there is some good news for motorcycle-crazy fanatics. First, our passion is held fast by men and women with a strong sense of community. Second, there continues to be new and exciting products many with women riders in mind finding their way into dealerships. And best of all, responsible buyers can find some great deals out there. Case in point: Yamaha has keyed in on a perfect time to introduce its new budget-minded, sporty 600cc inline four, the FZ6R.
In the midst of all this economic panic, sportbike sales have actually experienced a slight gain. About 32 percent of first-time buyers are riding away from dealerships on brand-new sportbikes. Yamaha acknowledged this by making some key changes to its own half-naked (meaning minimal fairing) FZ6 (which derived from the R6 supersport). At an affordable MSRP that hovers around $7,000, the new 6R appeals to entry, commuter and female riders who yearn for aggressive sportbike styling, but require real-world comfort and reliability at a lower price. More experienced enthusiasts who arent obsessed with top speed and horsepower specs wont be disappointed either.

Styling improvements are obvious, with the new fully-faired version being offered in four racy colors, each with its own graphic design, which gets a big thumbs up from this designer. Theres a color scheme to fit any persona. The 4-into-2-into-1 underbelly exhaust replaces the undertail exhaust found on the FZ6, integrates the latest high-end sportbike style and helps centralize mass for increased stability.
| | |
| --- | --- |
| The cadmium yellow has a dramatic star design on the fairing. | The blue FZ6R has subtle graphics in the classic Yamaha colors. |
| The pearl white has that fierce yet feminine touch. | The raven black is sleek with minimal graphics. |
In order to achieve its goal to provide real-world comfort, Yamaha has introduced some features on the FZ6R that dial in ergonomic comfort for different sized riders, something that hasn't yet been seen on other sportbikes. While the 30.9-inch seat height will work just fine for many of us, taller riders will appreciate that the new two-piece seat is adjustable, allowing 20mm (about 3/4 inch) to be added to the riders stock height. The new innovative handlebar risers can be pivoted 180 degrees to provide a slightly longer (20mm) reach. The adjustable-reach brake lever isn't exactly new technology, but a welcome addition. Id like to see an adjustable clutch lever for smaller fingered (women) riders as well.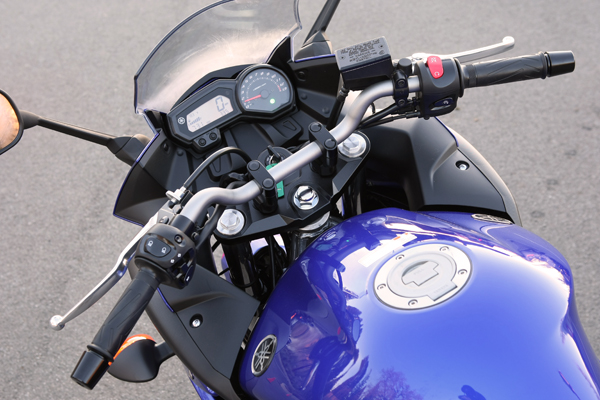 Other changes from the FZ6 include measures that make the bike more user friendly to new riders. While the spec sheet shows identical bore and stroke numbers and compression ratios on the inline four, the top end has been reworked with a new cylinder head and revised valve timing. Combined with a larger airbox, new crankcase, and exhaust system, low to midrange power is optimized for a smoother powerband. The six speed gear ratios are identical to the FZ6, and are positioned closely together for easy acceleration. A new clutch and shifter have been revised for more positive engagement and ease of use. All this equals predictable, confidence-inspiring power delivery with plenty of get up and go, with better fuel mileage to boot. Yamaha estimates a respectable 43 mpg, as compared to the FZ6s 40 mpg figure.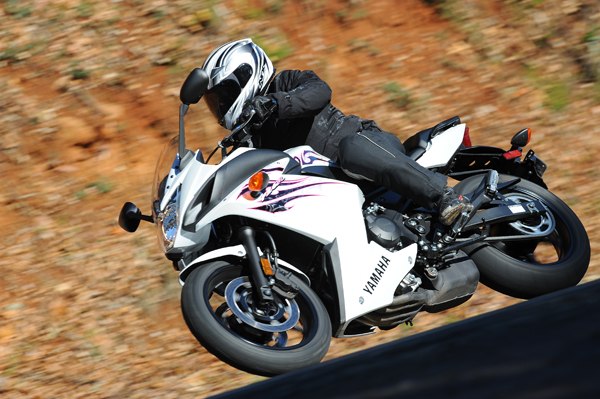 While all these changes are new and exciting, some cost-cutting measures needed to be taken, in order to keep the 6R under seven grand. The FZ6s die-cast aluminum frame and swingarm is replaced with a new high-tensile steel frame that utilizes the in-line four as a stressed member, for rigidity and centralized body mass. A nondescript steel swingarm secures a slightly smaller cast aluminum 5-spoke rear wheel that mounts a 160/60 ZR17 tire, in place of the typical 180. While the smaller rubber out back could be considered a downgrade, it actually works well on this bike, providing light, quick cornering and contributes to better mpg and savings when it comes time to replace them. The front wheel, also 5-spoke cast aluminum, uses the same 120/70R-17 inch spec as the FZ6. Rubber is either from Bridgestone or Dunlop, both specifically designed for this bike, catering to the sport rider. Yamaha tells us that aftermarket tire offerings will be geared more for sport-touring.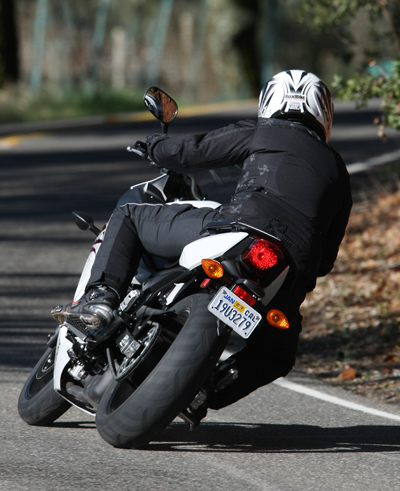 Suspension components are slightly downsized as well. The SOQI conventional front fork tubes measure 41mm and accommodate 130mm of travel. The non-adjustable setup is budget-minded but certainly not lacking. The same brand provides the mono-shock that comes with a 7-step, ramp style preload adjuster. Leaving the suspension in the stock settings, I found the spring and damping rates more than acceptable for my weight.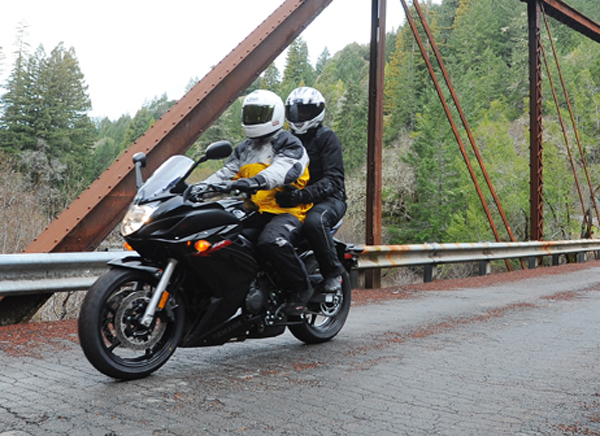 For newbies, braking is especially important, and is tackled with slightly smaller 298mm x 4.5mm dual discs up front. The pin-slide Akebono dual-piston calipers do the job efficiently. Out back, a single-piston Nissan caliper squeezes the 245mm x 5mm single disc. A Brembo master cylinder transfers stopping power cleanly for quick, smooth stops.
As for the rider interface, a modern, FZ1-styled dashboard lives front and center on the moderately sized fairing. A large, digital speedometer is upfront and is easy to read at a glance. Also on the digital readout is an odometer, two trip meters, fuel gauge, clock, and water temperature readout. The analog tachometer reads up to 1300 rpm, and sits to the right of the speedo, and the usual warning lights are displayed within its face. Reset and select buttons to toggle through the odometer and trips are up on the dash itself, which is a reach, but isn't accessed often. The fairing itself is stylish, and has plenty of room to add aftermarket accessories. Wind protection was good, aided by the medium-sized windshield, but for those wanting more (or less), Yamahas accessory line is ready with add-ons such as windscreens, tankbags, and other bits that will customize the ride.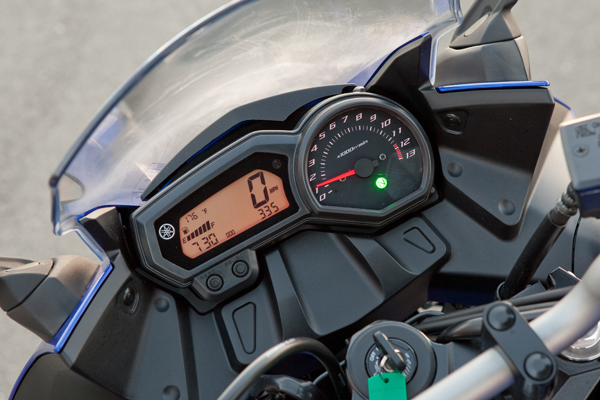 Other features that some of us experienced riders take for granted, but appeal to the new rider include long-stemmed mirrors that really work, an easy to locate passenger seat removal lock (the riders seat is removed using a tool in the toolkit under the passenger seat), small storage area under the seat, and a tail section that can be removed easily for a custom sportbike look.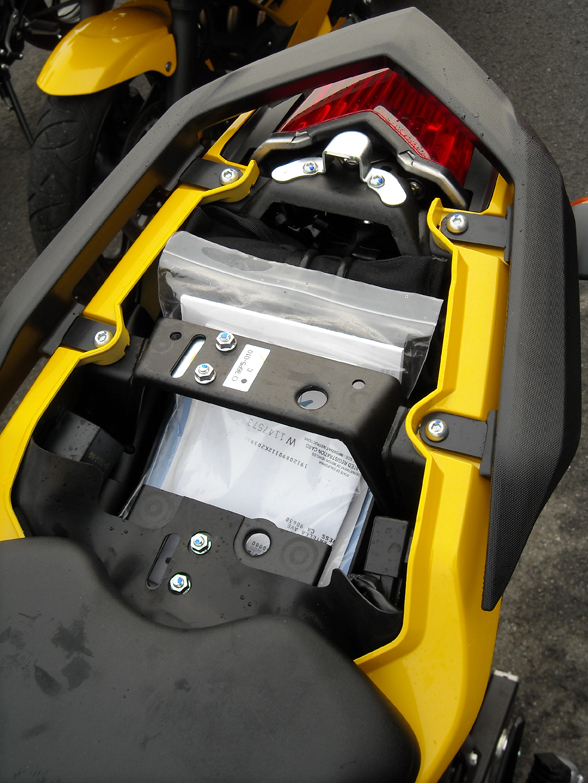 Riding Impression
I was truly impressed with what this "little" bike can do. A full days route through 140 miles of California's northern wine country wound our press ride through beautiful varied terrain. The inline pulled strongly all the way through the powerband -smoothly and always accessible. Even at high rpm, the bike felt stable and capable, and I noted almost no buzz in the handgrips or seat, which often plagues the inline configurations.
The riding position for my 5-foot 7-inch frame felt upright, relaxed and comfortable, with no effort to slide over for aggressive cornering. The "bumpy" section of road we were forewarned about must have been the paved-over cattle trails nestled between thick, musty woodland. Even on the roughest sections, the chassis and suspension performed well; I didn't once feel like components were sacrificed for the sake of the price tag.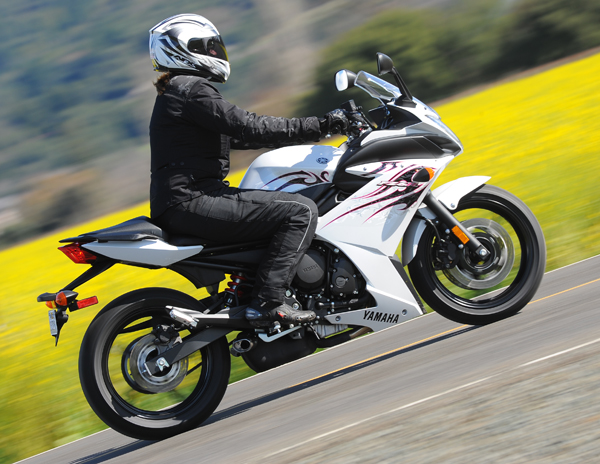 By the end of the day, I was craving more pavement. Not once did I feel that a bigger bike would've made the ride any more fun than the FZ6R was. In fact, I'd consider "downgrading" from a liter bike for all the benefits you get with the smaller machine. It's time to let go of the old mindset of "bigger is better."
Specs at a Glance: 2009 Yamaha FZ6R
Displacement: 600cc
Seat Height: 30.9 inches
Fuel Capacity: 4.6 gallons
Weight: 470 pounds
Price: starts at $6,990
WRN Recommendation
Manufacturers won't come right out and say they're designing a bike specifically for women because women represent a relatively small (but influential) piece of the motorcycling pie, however they're not shy in marketing a specific bike to women when its design, versatility and price may appeal to that segment of the market. The FZ6R is one such bike that Yamaha knows will catch the eye of women who prefer the sportbike style of riding because it is light in weight and has a relatively low seat height — features women deem important. So this is one motorcycle confident beginners, intermediate and veteran riders should consider.
Related Articles
Your First Motorcycle: What to Consider
PHOTO GALLERY: Popular Bikes for Women