Holiday Gift in Any Denomination
The Motorcycle Relief Project Donation
How about a holiday gift for an amazing cause? People speak of the dangerous aspects of riding and the possibility of being hurt. But many of us also know the healing power of motorcycling and the motorcycle community. The Motorcycle Relief Project (MRP) has harnessed this in an incredible way, using adventure riding and training as a means to help veterans and first responders who suffer from PTSD gain skills to improve their lives.
Since 2017 MRP has had a women's-only program as well. This year's first woman's ride will be in Tucson, Arizona, April 17-21. The program is still open for attendees who could benefit. We would love to suggest making a donation to MRP in the name of a friend or loved one this holiday season. Every small donation helps, and you may be changing lives of those who really need it. Give a holiday gift in any amount you choose today at MotoRelief.org.
The Only Girl On a Motorcycle
The Only Girl On a Motorcycle, by Lisa Changadveja is a  57-page paperback children's picture book about a girl who was told as a young child that girls couldn't ride motorcycles. After a family trip to Thailand, she learned that many girls ride motorcycles and that she could be one of them someday. The colorfully illustrated book tells a lovely, inspirational story of female cameraderie, friendship, and joy. Order the book here on Amazon. $2.99 Kindle / $10.99 Paperback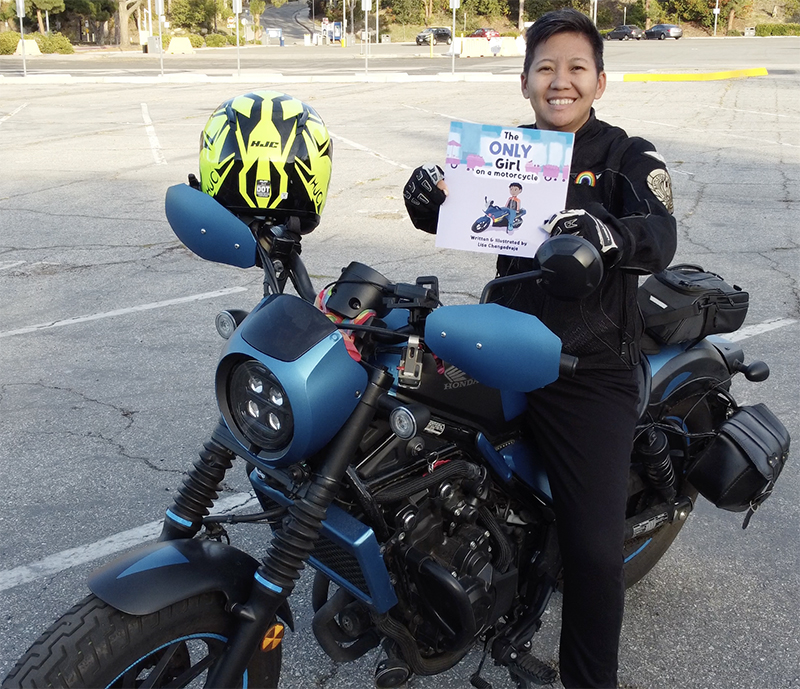 Timeless On The Silk Road: From London to Hanoi
Author Heather Ellis is an Australian motorcycle adventurer who rode solo across Africa and Central Asia along the Silk Roads to China on her Yamaha TT600. In 1995, the then 30-year-old author was diagnosed with HIV at a time when death from the disease seemed inevitable. Timeless On The Silk Road is her story of courage, hardship, and immense natural beauty. Ellis writes about her experiences through the ancient world of Islam and traditions of the nomads. She rides along through the vastness of Siberia's Altai Mountains where she is welcomed into the homes of Kazakhs and Russians. Learn more about this holiday gift option at Heather-Ellis.com and order the 244 page paperback book at Amazon.com. $6.99 Kindle / $16.99 Paperback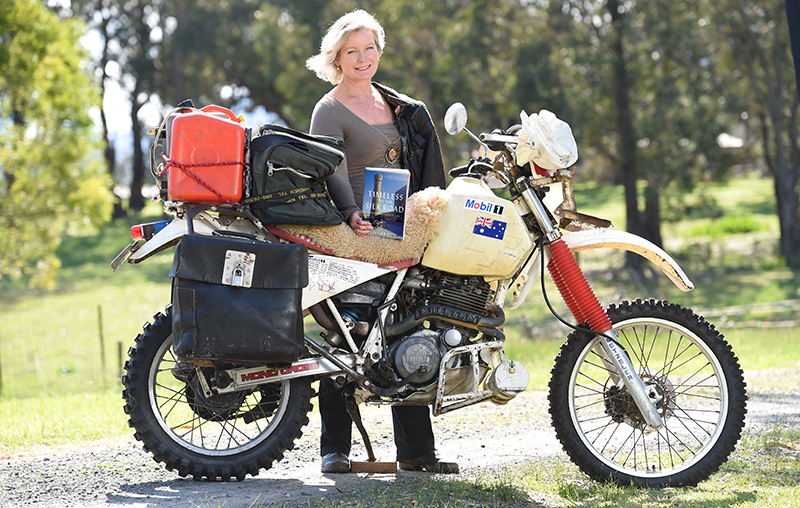 The Zen of Learning to Ride a Motorcycle
The Zen of Learning to Ride a Motorcycle: How I Faced My Fears, Shifted Gears, and Found Healing from Anxiety, Codependency, and Depression, by Leslie Reyes is now available as an audiobook and makes a great holiday gift. Leslie Reyes grew up under the shadow of family mental illness leading her into a life of struggles of her own. Inspired by a cousin who rode dirt bikes at a young age, she eventually finds motorcycles. But like everything else in her life, motorcycling doesn't come easily for her. Follow Leslie as she pivots around insecurity and failed dreams to find herself and her confidence through the teachings of both zen practice and learning to ride.This book is a 266-page paperback for $16.99 and just released as an Audiobook for Kindle format for $8.99 or on Audible. Read WRN's review of this book here. Order at Amazon.com.
WRN Holiday Special: WRN newsletter subscribers are welcome to enter here to be eligible to win a free copy of the new audiobook. Winners chosen December 2, 2022.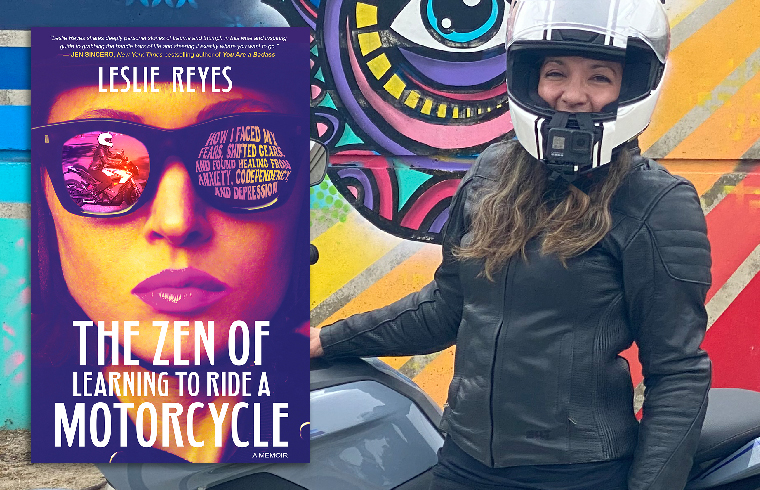 ​​Harley-Davidson 2022 Helmet Ornament
Anyone who rides will love this cute orange Harley half helmet ornament as a holiday gift. Hang it on a Christmas tree or fasten it to your pet mouse's head. The poly-resin helmet is adorned with gray "Harley-Davidson" written across both sides and "2022" on the back. Visit Harley-Davidson.com to purchase. $20.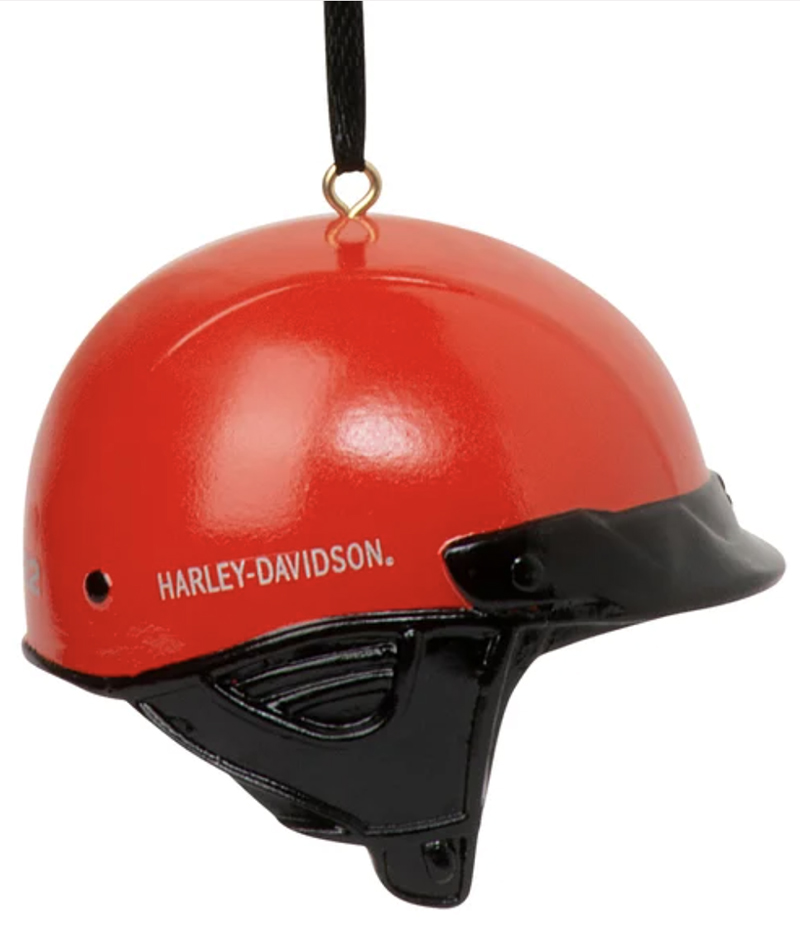 WomenRidersNow.com Pom Pom Beanie
Stoke up the fire pit and stay outside as long as possible in the WomenRidersNow.com (WRN) Pom Pom Beanie holiday gift. The soft 100% acrylic knit hat is warm and oh-so-very cozy. A black embroidered WRN logo is stitched on the front of the wide cuff. This cute knit hat is 12 inches long, which will fit almost any head size and shape. Order one for you and one for your favorite riding partner to support your favorite motorcycling resource, WRN. Available in Navy/Red or the Black/Gray Editor Tricia is wearing here. Check out our other WRN clothing, accessories, and beauty products at Shop.WomenRidersNow.com. We appreciate your support! $24.99.
WRN Holiday Special: WRN newsletter subscribers are welcome to enter code WRN22POM at checkout to receive 20% off the WRN beanie through November 28, 2022.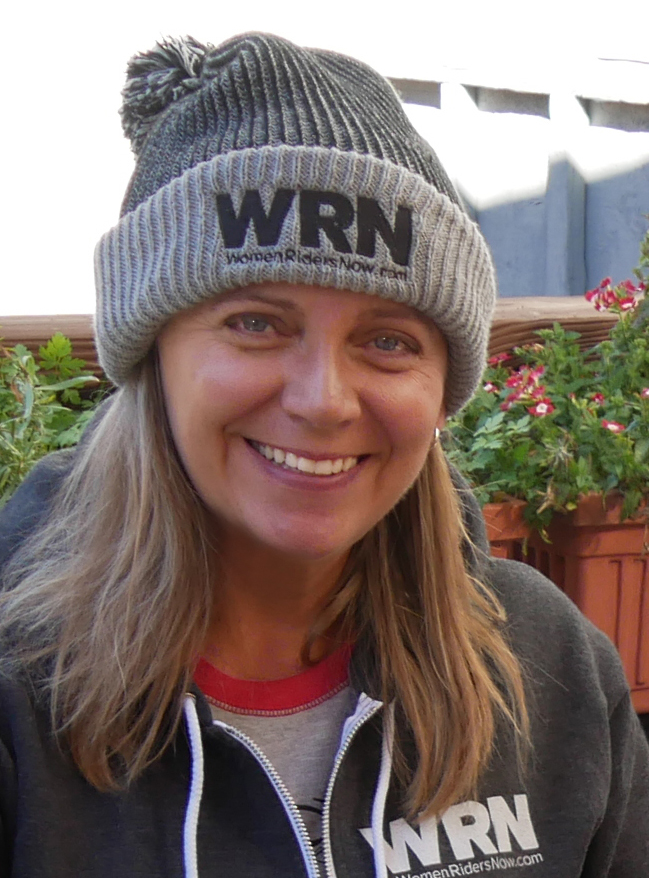 Titan Straps makes industrial straps that are great for securing things onto your on or off-road motorcycle. After being unimpressed with the "mediocre ski straps" available, Titan Straps Founder Cameron Lawson decided to fill this market gap in 2010 and make industrial-strength, waterproof straps suitable for dirt biking, ADV riding, mountain biking, rafting, and all outdoor purposes. Titan Straps are durable, waterproof, utilitarian, and come in an array of vibrant, high-viz colors. $7.99 - $29.99
WRN Holiday Special: Visit TitanStraps.com to learn more and order, and use the code WomenRidersNow! at checkout for 20% off, now through December 31, 2022.
Indian Motorcycle's Honoring Heroes Collection
Indian Motorcycle's 2022 "Honoring Heroes" apparel collection makes a perfect gift for families of active military or veterans. This military-inspired line allows riders and fans to proudly display support for the U.S. military, while also directly supporting active-duty military with their purchases.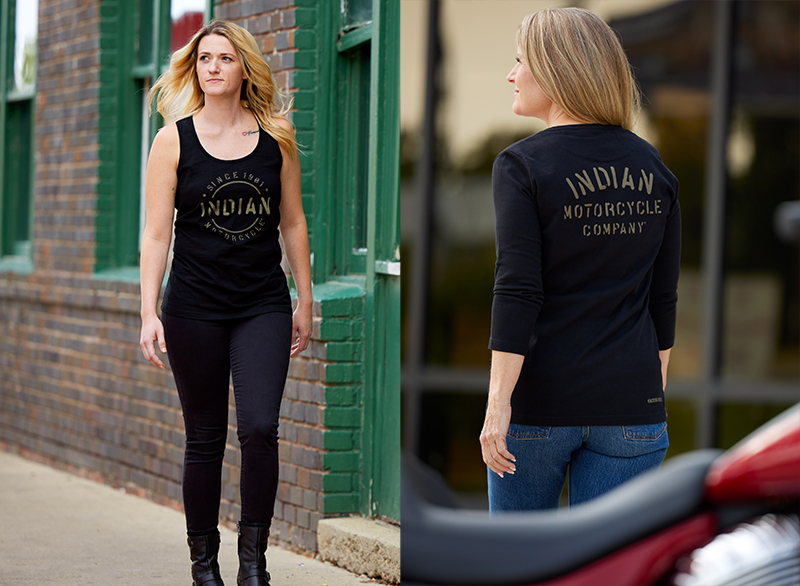 This year's Honoring Heroes collection features 13 new styles for men and women in sizes XS to 3X that offer a unique mix of military-inspired khaki, black, and camo casualwear. Check out the full collection and order at IndianMotorcycle.com. $29.99 - $89.99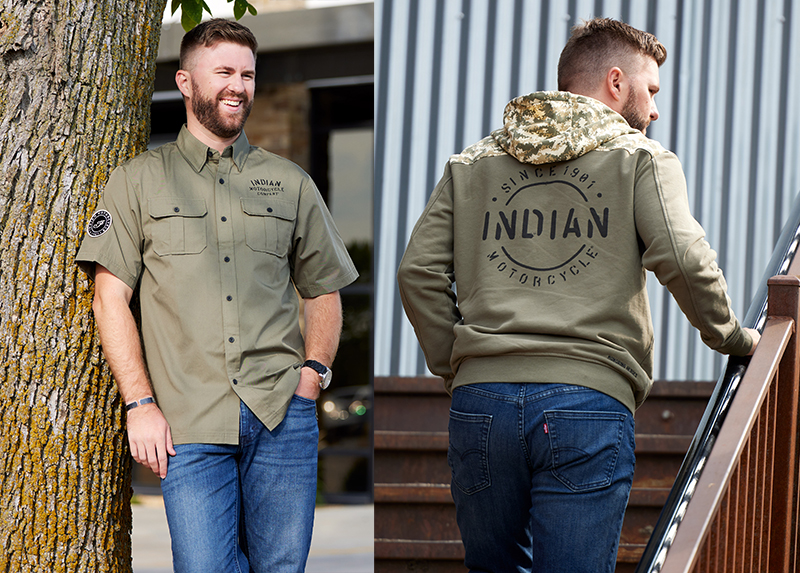 Holiday Special: Until November 30, 2022, Indian Motorcycle will match 100% of the collections profits, up to a total of $100,000, in a donation to benefit the Armed Services YMCA and its Operation Ride Home program, which assists active-duty U.S. military personnel in traveling home to visit their families.
SportBike Chic Signature Curves Stainless Necklace
Show off your beautiful curves with SportBike Chic's new Signature Collection jewelry. This stainless steel pendant necklace is durable and sharp-looking. The graphic is designed to mimic wind, curves, and the "fires of life" rather than forge us women. The light weight of this necklace is comfortable and stylish so you can wear it all day for almost any occasion. $44.99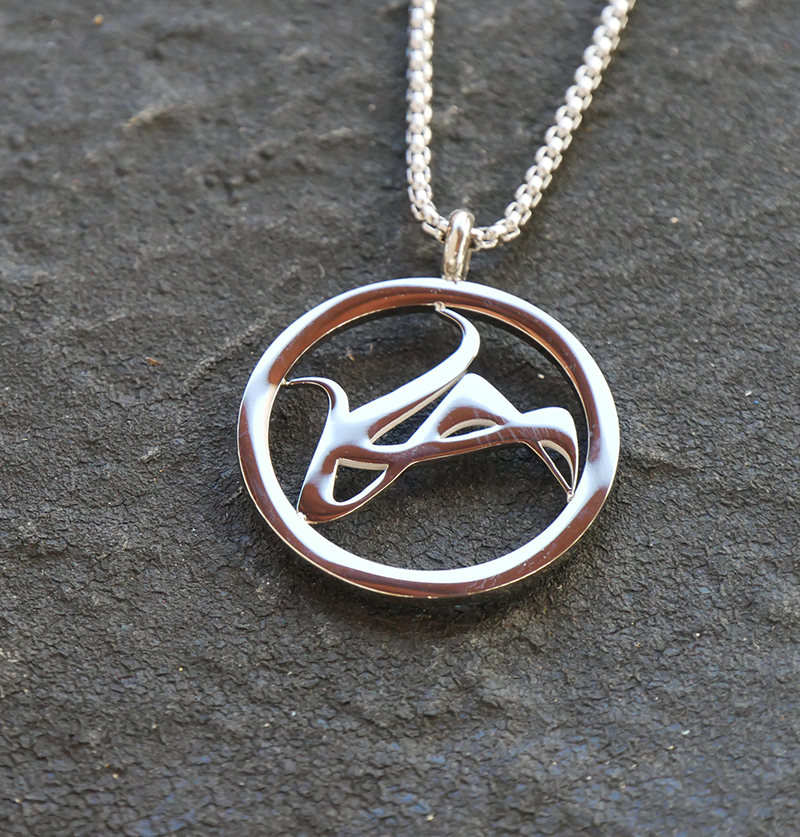 WRN Holiday Special: Order at SportBikeChic.com through 12/31/22 and apply the code WRN2022 to get an exclusive 30% off your order.
SW-MOTECH Legend Gear LA5 Tool Bag
This versatile vintage-styled bag can be mounted to the frame or handlebars, worn as a hip pack or shoulder bag, or even used as a clutch purse. Designed to carry tools and motorcycle supplies, the LA5 Tool Bag features multiple compartments in a variety of sizes, all secured with a flap-covered waterproof zipper closure. An additional bonus is the MOLLE webbing on the outside that enables you to affix additional accessories. $78.95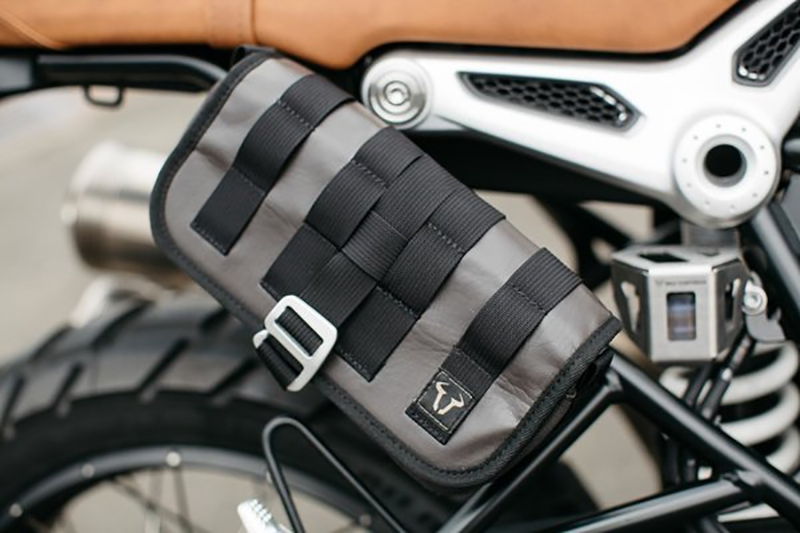 Holiday Special: Shop SW-MOTECH's Black Friday Week sale for this and many other luggage and protection options at SW-MOTECH.com.
JustRide5 Base Layer Shirts
JustRide5 Founder Jenn Guerriero has designed a beautiful selection of feminine, great fitting, long-sleeve shirts that look as good off the motorcycle as they perform on it. The lightweight, form-fitting shirts are a great summer base layer with ample stretch to ensure maneuverability on the bike. The polyester/spandex tricot blend wicks away your hard-earned sweat, and the long sleeves have thumb holes to ensure everything stays in place when moving around atop the motorcycle and when taking jackets on or off. Keep in mind these are not armored tops—they are designed to be worn under an armored jacket or skeletal armor. Available in sizes XS to XXL. To order visit JustRide5.com. $75 - $85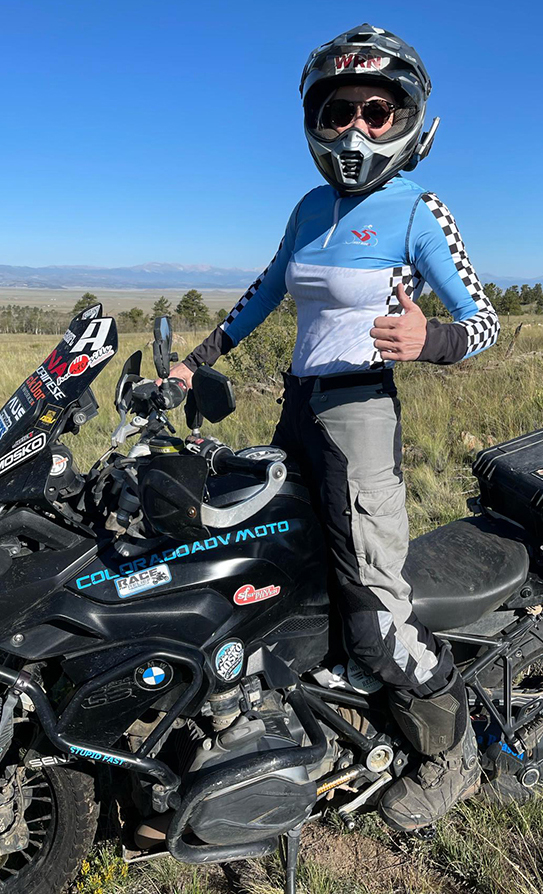 WRN Holiday Special: Get $5 off base layers by using code WRN555. Offer good through 12/31/2022.
The Brake Free Light is a lightweight, motion-detecting, brilliant LED brake light system that mounts to motorcycle helmets. Perfect for motorcyclists who continue to ride and commute during the winter months. Since it is mounted on the helmet, the brake light is easily visible to drivers, and can be set to standard brake light mode, or to modulate during braking for additional visibility. Check out WRN's review of this potentially life-saving product here. Then order one at BrakeFreeTech.com for your two or three-wheeled loved one today! $169.99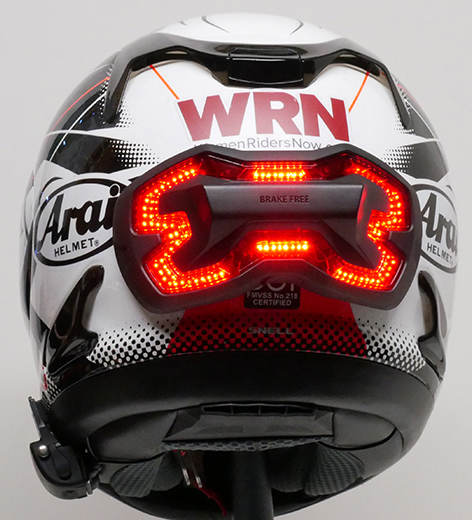 SportBike Chic Armored Denim Jacket
SportBike Chic's new women's denim jacket is better than ever with a new super chic design. The cotton denim shell doesn't offer "stretch" as previous versions have, but features customizable fitting options and wide sizing range (XS - 3XL). The jacket is lined with 100% Kevlar with Aramid fibers and comes with CE Level 2 armor in the elbows and shoulders. Getting the perfect fit is made easier with the ability to adjust the armor. $209.99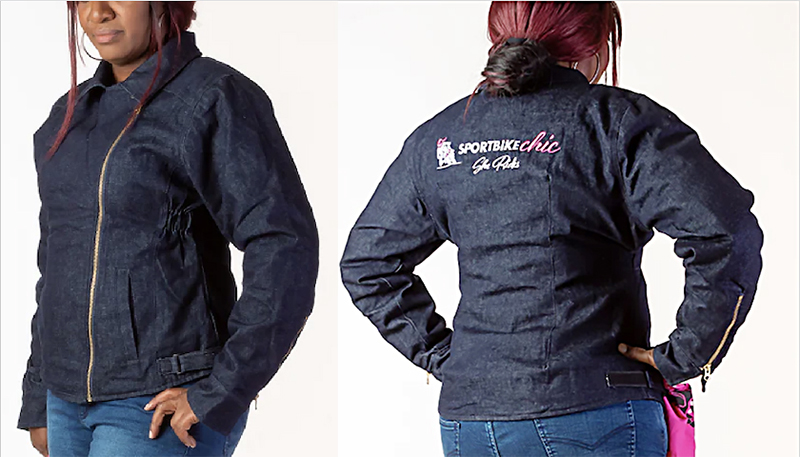 WRN Holiday Special: Order at SportBikeChic.com through 12/31/22 and apply the code WRN2022 to get an exclusive 30% off your order.
Good communication systems allow riders to communicate with other riders, listen to music, get voice navigation, or make and receive calls from a helmet. Cardo's Freecom 4X offers Bluetooth 5.2 with universal connectivity for up to four riders and two channels for GPS and phone pairing. Freecom 4x units will stay connected to each other for up to .75 miles and if the connection drops, they will automatically reconnect. Check out our full review of Cardo's Freedom 4X here. $269.95 / $499.95 (Duo)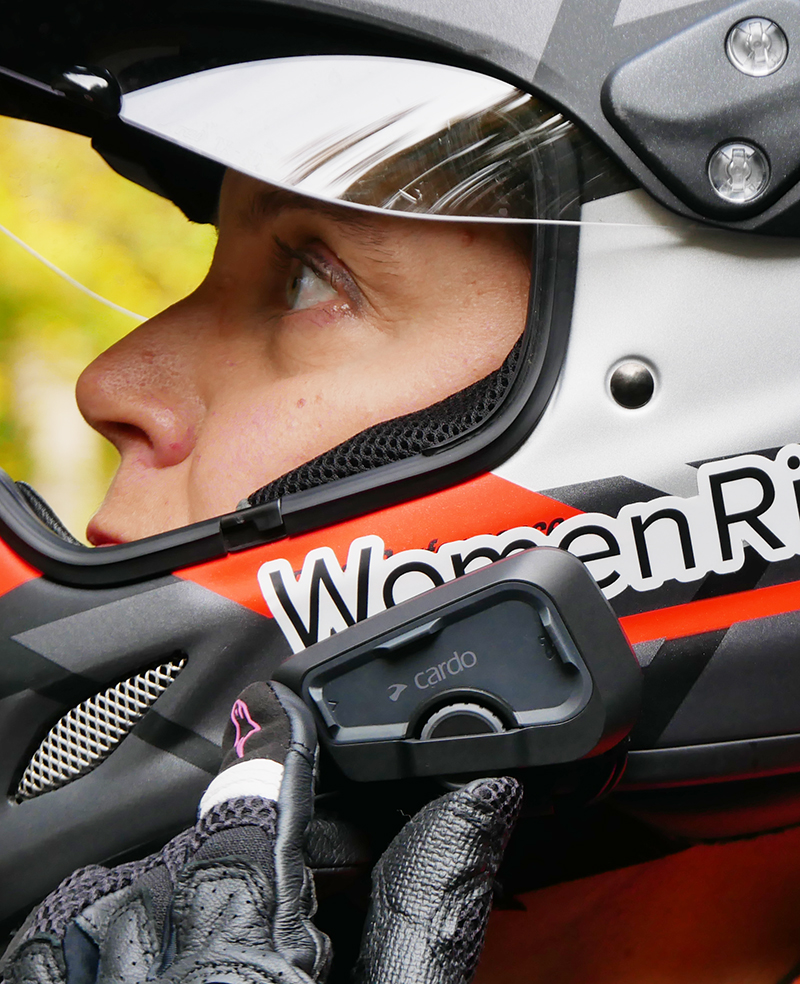 Indian Motorcycle eFTRs
Want to be the coolest grown-up in the world? Spread the love of riding to your favorite little one with an electric motorcycle to get them started on two wheels. Not only do we love Indian's FTR 1200 S, the street version of the title-winning flat-track race bike, but we are in love with these little rechargeable replicas, too! There's one for every age and sized rider.

For new little riders ages 8 and older (up to 140 pounds), the eFTR Mini comes in the classic race replica color scheme or a new color—podium pink. This bike has a speed switch a supervising adult can adjust between top speeds of 14 mph and 10 mph. It also has a twist grip throttle, durable steel tube frame, speed mode switch, rear brake for confidence-inspiring control, and a long-range battery. $529.99
The eFTR Jr is the next step up, great for ages 8 and up (up to 175 pounds). It delivers a top speed of 15 mph in high speed mode. The battery provides up to 140 minutes of continuous use in low speed mode. This bike has a rugged steel frame, folding metal footpegs, chain drive, an adjustable riser-style handlebar, twist throttle, and hand-operated dual-disc brake. $849.99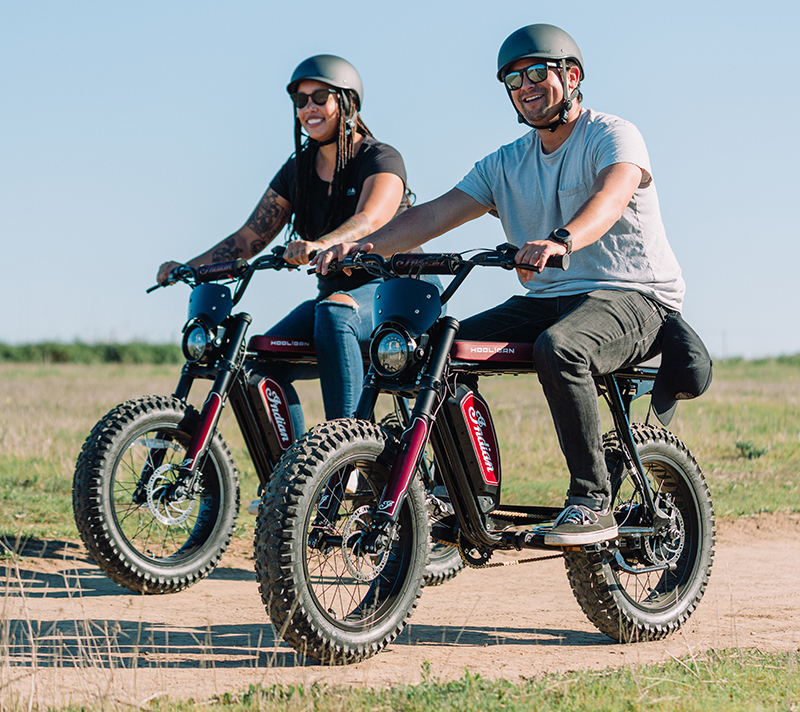 For us big kids, Indian Motorcycle and SUPER73 have partnered to bring us the eFTR Hooligan 1.2 electric bike. The eFTR Hooligan 1.2 combines a trusted electric powertrain from SUPER73 with moto-inspired styling from Indian Motorcycle. It's designed for recreational sport use or urban transportation, no motorcycle license required.
The eFTR Hooligan 1.2 touts premium features such as a durable aluminum chassis, 20-inch wheels, disc brakes, and an inverted front fork. Its 960-watt removable battery delivers more than 40 miles of range at 20 mph in throttle-only operation and more than 75 miles of range when using ECO pedal assist mode. In addition, Off-Road Mode delivers up to 2000 watts of power and throttle speeds above 28 mph. Riders can select from several ride modes via the SUPER73 mobile app. $3,999
Holiday Special: Order during Cyber Week to save 20% off all eFTR models! In addition, through 12/31/22, order one eFTR and get another at 20% off. Check out all the eFTRs at IndianMotorcycle.com.