Why Choose a Middleweight Motorcycle?
Not long ago we sat back and watched all the major motorcycle manufacturers constantly "one-upping" each other by releasing bigger and bigger engines for their motorcycles. Now we are seeing a resurgence of awesome motorcycles with smaller engines, as many riders discover bigger isn't necessarily better. I mean, why spend more money on a big-bored bike when you can get all the features you want on a smaller cc motorcycle?
Redefining What a Middleweight Means
Today's motorcycles are more refined and much easier to control than they used to be. So the clear-cut lines of "what makes it a 'big' bike" are somewhat blurry. Instead, let's think about the features that fit a particular motorcycle to its rider.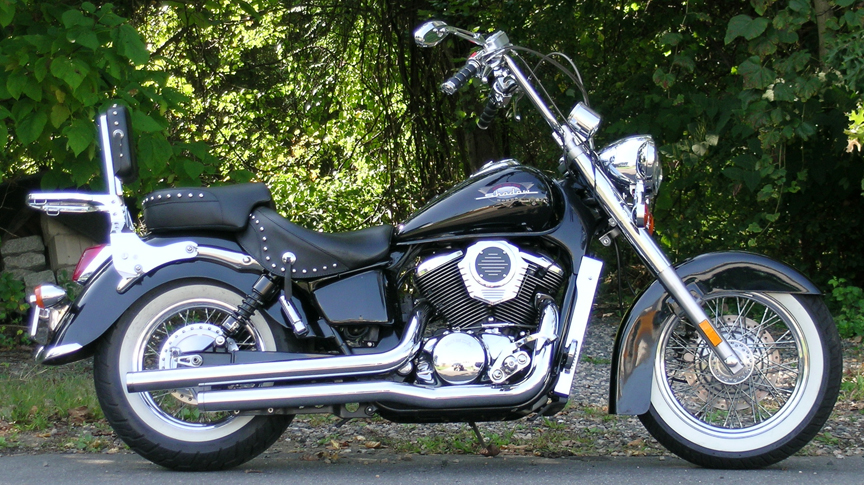 Back when I started riding motorcycles over 20 years ago, there was no fuel-injection, ABS, hydraulic clutches, or any of the other high-tech electronic aids that make today's motorcycles so much smoother. I started out on a Honda Shadow 500 and moved up to this "big" Honda Shadow 750, which, with a few upgrades, had all the power I needed.
In the past, starting out on a 250cc to a 500cc-sized bike made the most sense for a new rider's first motorcycle. Moving up to a "mid-sized" 750cc to 1100cc would come next. Most riders wouldn't consider getting on anything more powerful than that until their skills are sharp. But there is a lot more to consider than just the size of the engine when choosing a motorcycle.
For example, even today's smaller cc motorcycles feature technology to make riding easier, safer, and more fun. Fuel injection, ABS, and LED lighting are all usually standard equipment these days.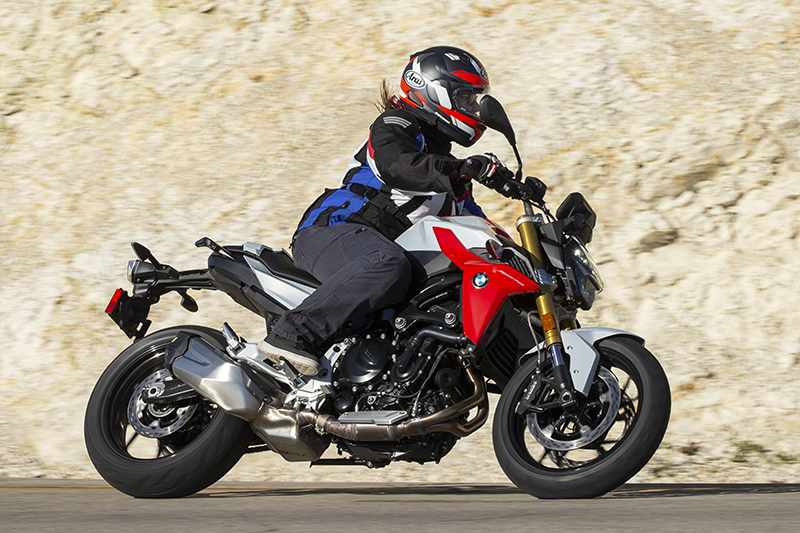 Many mid-sized bikes, like this BMW F 900 R, come equipped with technology previously reserved for bigger bikes. The 2023 F 900 R starts at just $8,995.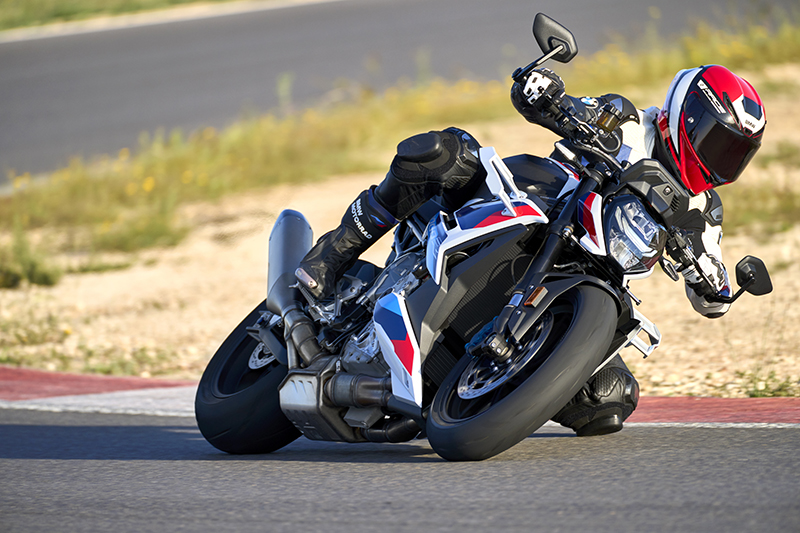 By comparison, BMW's brand new M 1000 R starts at $21,345 and is a distinctively different machine. Developed from technology derived from its super premium sportbike, this bike is simply too advanced to be considered a  "middleweight" motorcycle suitable for newer riders.
Things like traction control and ride modes can enhance the ride with added safety features and customized control. All this tech transfers into easier-to-ride motorcycles, making what we would call a middleweight not only a great second bike or a sensible first motorcycle for many competent new riders, but a fun addition to any rider's stable. 
With plenty to choose from, here are some recently announced new and upgraded motorcycles we think women riders looking for their next bike ought to check out.
Adventure bikes are built to handle the rigors of riding on- and off-road comfortably for many miles. They are taller than standard street bikes to soak up those off-road bumps and obstacles. You would think that a smaller cc adventure bike would be lighter, shorter, and easier to handle, however, that's not always the case. Sometimes even the big bore adventure bikes actually feel easier to handle. So we encourage you to test ride not only these middleweights, but their big and small brothers and sisters, too.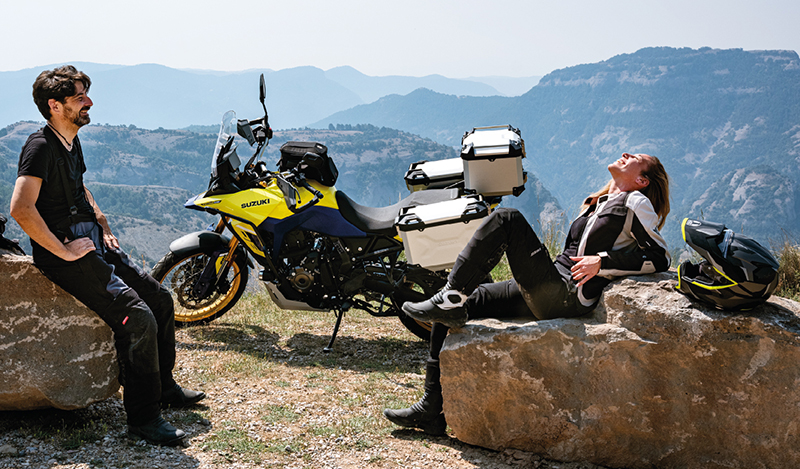 Sandwiched between Suzuki's V-STROM 650 and the V-STROM 1050, the V-STROM 800DE will appeal to riders looking for more power with today's modern technology.
Featuring Suzuki's brand-new parallel twin 776cc DOHC, 4-valve-per-cylinder engine, the newest V-STROM sports a rugged new steel frame, the longest amount of suspension travel, and the tallest ground clearance of the group.
The Suzuki Intelligent Ride System (S.I.R.S.) includes traction control with a trail-oriented GRAVEL mode plus rider-adjustable ABS with two levels of sensitivity and the ability to switch off the rear wheel ABS when riding off-road. Mono-focus LED headlights are vertically stacked with a position light below a trim, height-adjustable windscreen.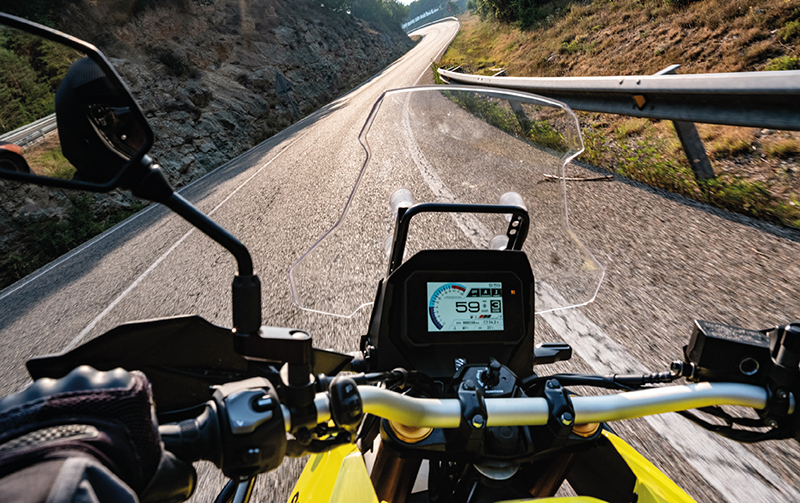 Dealer availability and MSRP is not yet available for the 2023 Suzuki V-STROM 800DE.
Kawasaki expands its iconic KLR650 motorcycle lineup by introducing the KLR650 S "Gen 3" model for 2023. The new model carries over all of the same great features as the KLR650, including its fuel-injected 652cc single-cylinder engine, multi-functional digital instrumentation panel, high-tensile double-cradle frame, and LED headlight.
Exciting for riders who are intimidated by the height of adventure bikes, the KLR650 S has a lower front and rear suspension with dedicated settings that help enhance the rider's reach to the ground yet retain the excellent handling and comfort characteristics of the KLR650.
Accompanying the lower suspension settings is a new low seat, updated shifter-to-footpeg distance, and shorter side stand. The new seat thickness has been reduced by 35mm and the urethane inside of the seat has been optimized for comfort and to reduce fatigue when out on a long adventure. The new low seat, paired with the lower suspension, produces an overall seat height that is 2.3 inches lower than that of the standard KLR650.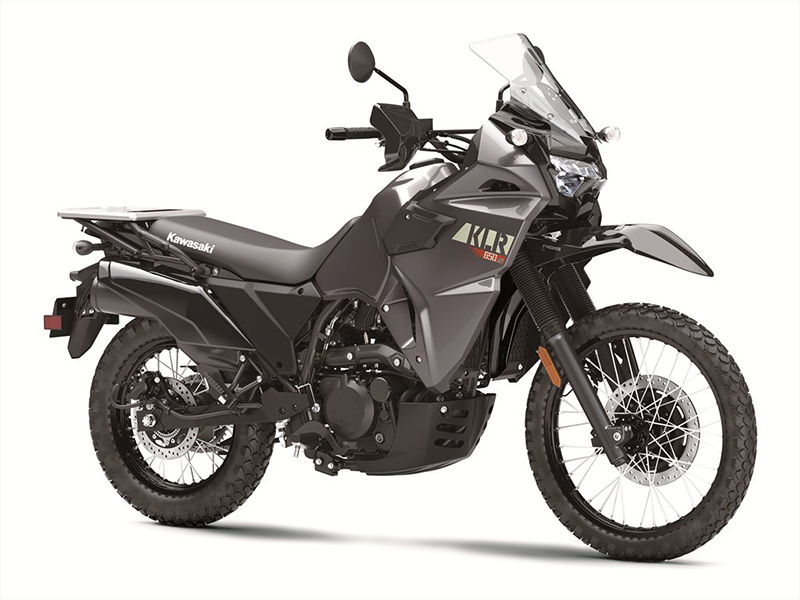 Sometimes called "naked standards," "standards," "roadsters," "streetfighters," or even "urban" bikes, these motorcycles are built for riders who don't need or want extras such as wind protection, luggage, or fairings. Instead, they enjoy ready power and torque on a motorcycle with an exposed engine and a seating position that has the rider sitting upright.
The new GSX-8S features Suzuki's brand-new parallel-twin 776cc DOHC engine mounted in a new frame design. Marking a new innovative path for future Suzuki products, the GSX-8S is a brand-new naked middleweight streetfighter with a robust engine, an agile chassis, a suite of electronic rider aids, plus stunning looks, and a smart price that's in line with the demands of a new generation of riders. Every aspect of the motorcycle is geared to deliver a satisfying experience to riders who desire more power and a satisfying ride that is exciting and dependable.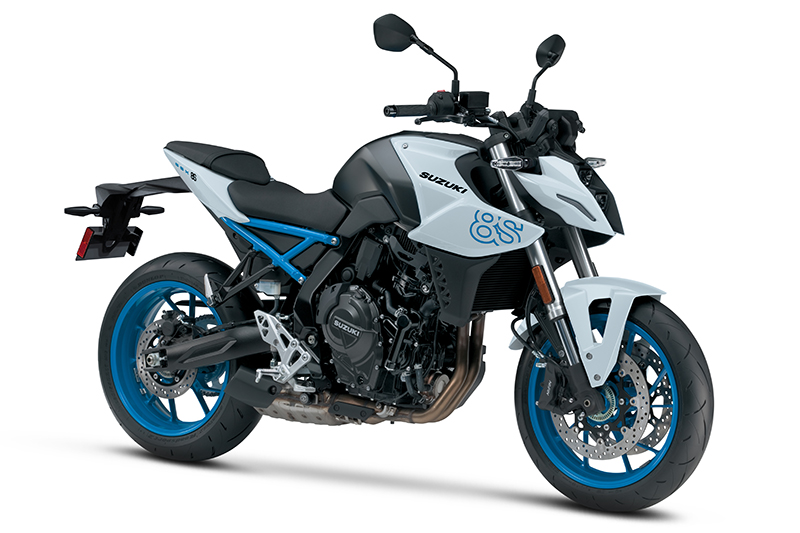 The Suzuki Clutch Assist System (SCAS) smooths shifting and engine braking, while shifting is simple with the Bi-directional Quick Shift system.
The GSX-8S uses the Suzuki Intelligent Ride System (S.I.R.S.) with a three-mode Suzuki Drive Mode Selector and the four-mode Advanced Traction Control System. The bike is also equipped with Suzuki's Easy Start and Low RPM Assist systems.
A 5-inch TFT LCD multi-function instrument panel features a colorful display offering all the information you need to know and more.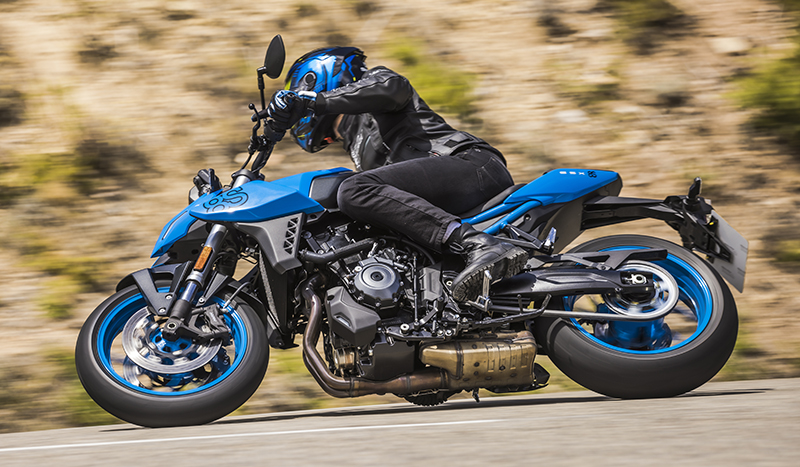 Triumph Street Triple 765
Triumph's mid-range streetfighter series, the Street Triple 765 is offered in three versions for 2023. The upgraded triple-cylinder engine boasts 118 horsepower in the base (R) model, and 128 horsepower in the RS and limited edition Moto2 version. All three models are more torquey than ever, exhilarating from low down and all the way through the rev range, peaking at a new 59 foot-pounds.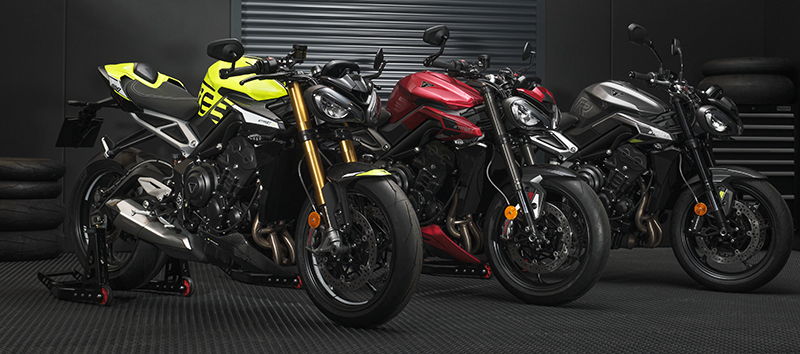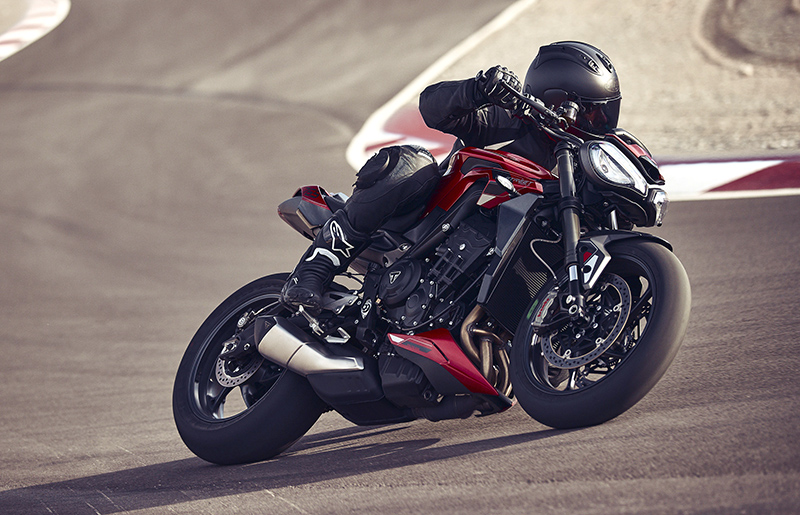 Being a triple (3-cylinder engine), its blend of usable low and mid-range torque and thrilling top-end performance makes for an exhilarating and characterful ride. The world-renowned engine is more responsive than ever, too. In addition to significant component updates, its shorter gear ratios deliver faster acceleration making this latest generation of Street Triple the sharpest and liveliest yet.
The new 3.96 gallon fuel tank has integrated side panels with an angular design that aligns beautifully with the sharper radiator cowls, further complemented by a new headlight finisher that also incorporates the air intake. Additionally, there's a new color-coded belly pan for the RS, available as an accessory option for the R.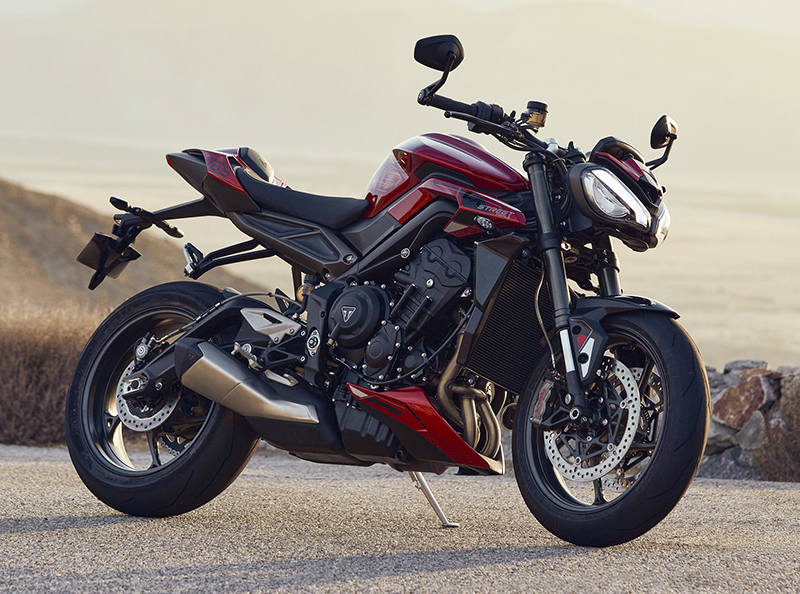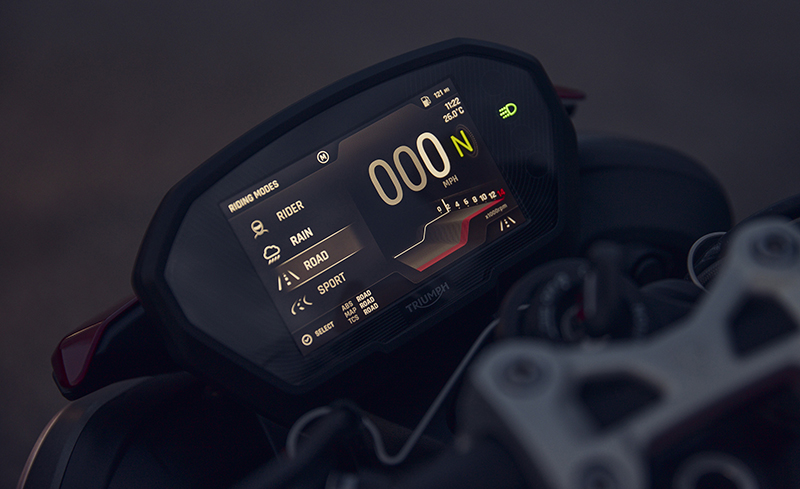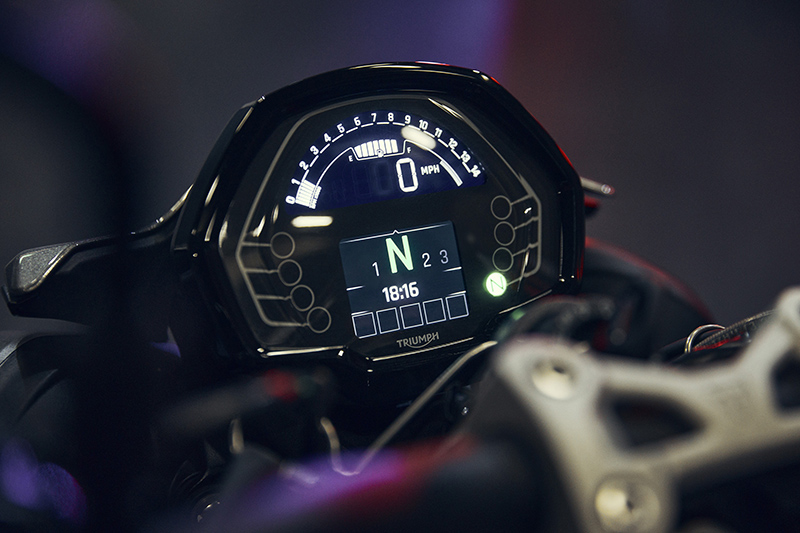 We know that lots of riders just want to sit back and cruise with the occasional weekend getaway. Check out a couple new models added to fulfill this biker bucket list.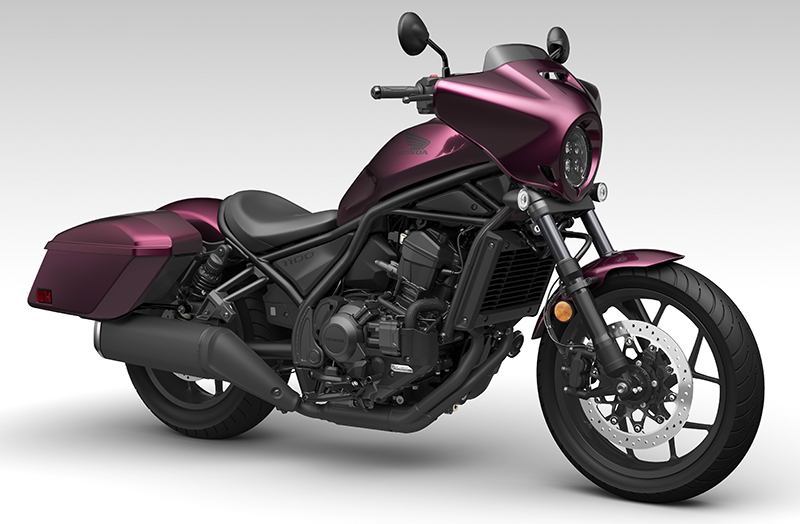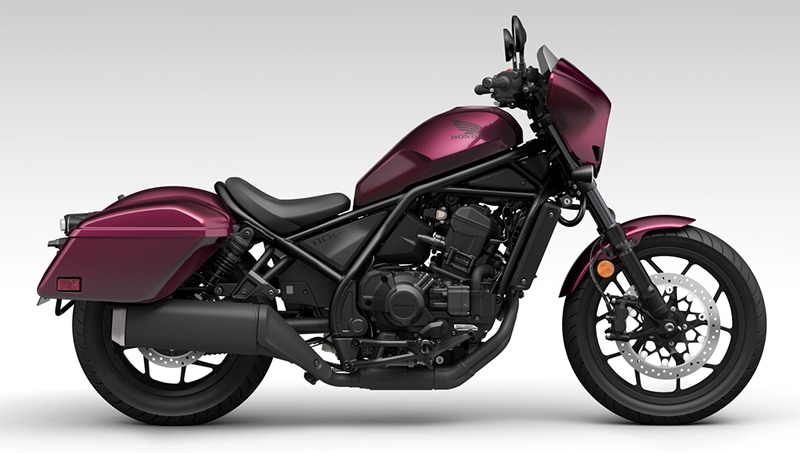 The new touring-ready Rebel 1100T DCT comes standard with a fork-mounted large windscreen for rider protection and comfort and lockable hard saddlebags offering 35 liters of storage space.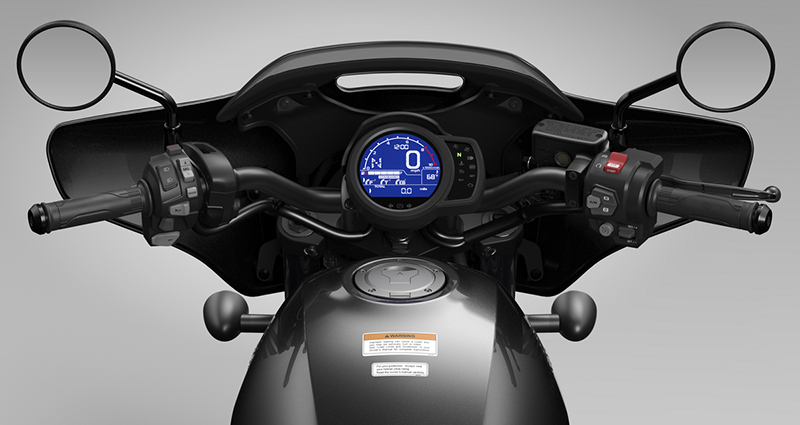 The saddle has a soft texture and progressive foam thickness, maximizing comfort for long trips. Its narrow front section and low 27.5-inch seat height makes it easier to put both feet on the ground at stops. The seat is easily removable, revealing a 3-liter storage space and 3-amp USB-C terminals, handy for stowing and charging a smart phone or other gadgets. An available accessory passenger seat bolts to the rear fender.
The Rebel 1100T provides riders with 3.6 gallons of fuel capacity, including a 1.1 gallon reserve—good to keep you on the road longer before having to stop to refuel.
In addition to this new version which is only offered with the dual-clutch transmission, the standard Rebel 1100 is back in both manual-transmission and DCT iterations. Other confirmed returning 2023 cruisers include the Rebel 500 and 300—offered in several trim levels and new colors for 2023—as well as the classic Shadow Aero and bobber-inspired Shadow Phantom.
Royal Enfield Super Meteor
The Royal Enfield Meteor 350 now has a big sister, the Super Meteor 650. The 648cc twin engine platform is the same that's been enjoying worldwide recognition within the award-winning INT650 and Continental GT 650. The Super Meteor 650 features an all-new chassis that provides a low center of gravity for high-speed stability and easy maneuverability that is confidence-inspiring for all levels of rider. Upside-down forks, LED headlamps, a state-of-the-art turn-by-turn navigation system, redesigned engine covers, and a premium fit and finish are just some of the many attention-grabbing features.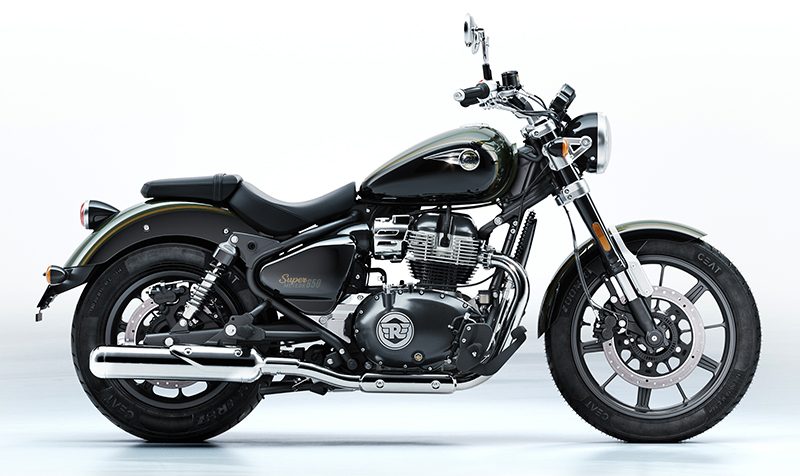 The Super Meteor 650 will be available in summer 2023 in five colors: Astral Black, Astral Blue, Astral Green, Interstellar Grey and Interstellar Green. The Super Meteor 650 Tourer will be available in two colors: Celestial Red and Celestial Blue. Prices have not yet been announced.
The Super Meteor 650 is supported by an extensive array of Genuine Motorcycle Accessories that accentuate its touring capabilities.