Interesting, I think: Harley-Davidson Unveils New Part Number System
On Dec. 15, 2009, Harley-Davidson launched a new part number format that will be used for all newly created Original Equipment and Genuine Parts amp; Accessory part numbers, replacing the current part numbering system that dates back to the early 1960s. The new part number format change was driven by several factors, with a primary reason being that after decades of new part introductions, unused base part numbers were running out. The new part number system replaces the legacy format of a five-digit base part number and a two-digit model year code (e.g., 12345-09) with a three-digit part type and a five-digit index number (e.g., 34500008). The model year of introduction will no longer be embedded in the part number but it will be readily available on part labels, parts books and other systems. Alphabetical suffixes will be added as needed to indicate retrofit and color options, along with other information. Legacy parts introduced prior to the adoption of the new system will continue to be stocked under the old format, but all newly created parts will be assigned the new format.
POSTED 12/14/09
Viva Las Vegas
I was in Las Vegas last weekend to attend the AMAs Hall of Fame Induction ceremony. Click on photos to make larger.
| | | |
| --- | --- | --- |
| The AMA Motorcycle Hall of Fame ceremony took place in high style at the Hard Rock Hotel Casino in Las Vegas. It was a quite the class event! | AMA President/CEO Rob Dingman addressing attendees. "Tonight begins a new era for the AMA Motorcycle Hall of Fame," he said. "From this point forward, we will shine the light of achievement on each and every member of the AMA Hall of Fame like we#39;ve never done before." | The 2009 inductees (l-r): Bob Rudolf on behalf of deceased inductee Robert Bates, Randy Hawkins, Mona Ehnes, Gilles Vaillancourt, Bob Fox, Chuck Palmgren, Geoff Fox, Gary Mathers, David Hough. |
| | | |
| --- | --- | --- |
| Me with Mona Ehnes who got inducted into the AMA Motorcycle Hall of Fame. Check out the Way To Go Girl! section on WRN for photos and info of the induction. | With Maggie McNally, an AMA board of directors member. | With AMA Hall of Fame inductee David Hough, the first journalist/writer to be inducted into the Hall of Fame. David#39;s famous for his Proficient Motorcycling books. |
| | | |
| --- | --- | --- |
| I#39;ve met champion dirt tracker Chris Carr, also the "fastest man on two wheels," many times and have interviewed him, but I#39;ve never gotten my photo taken with him until now. Another honor. | Margaret and Mike Wilson are Hall of Fame inductees, as well as supporters of the museum. Margaret is also a Motor Maid. | I was honored to have my photo with Gloria Struck and her daughter Lori DeSilva. Gloria is a Motor Maid and will be celebrating her 85th birthday at the MM convention in 2010 in Cody, Wyo. She plans to ride there. |
| | | |
| --- | --- | --- |
| | Andy Goldfine, the owner of Aerostich Wearhouse, who I finally got to meet in person. He was there in support of David Hough#39;s induction. | Last picture is with Ken Condon, author of "Riding In The Zone," a riding skills book we#39;ve featured on WRN. He was also there supporting David Hough. |
Posted 12/10/09
Harley-Davidson Recalling 111,569 Motorcycles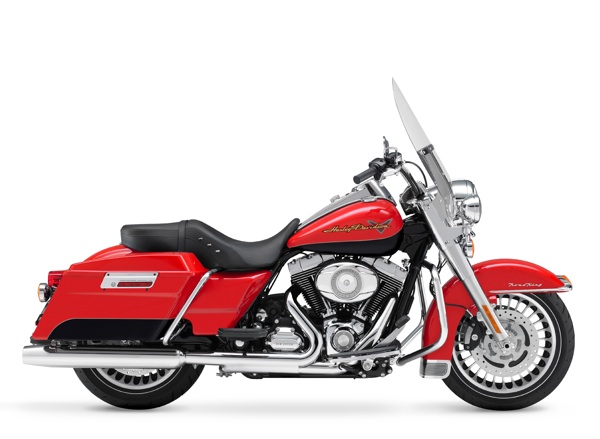 Harley-Davidson is recalling certain model year 2009 and 2010 touring family motorcycles, including CVO touring and trike products, manufactured from June 6, 2008 through November 19, 2009. The front fuel tank mounts may distort in reaction to severe frame damage from a frontal collision. This condition may cause a fuel leak at the weld of the front bracket to the tunnel. A fuel leak in the presence of an ignition source may result in a fire, which could lead to injury or death to the rider.
Dealers will install a left and right brace, which are intended to reduce front mount distortion during certain crash conditions. This repair will be performed free of charge. The safety recall is expected to begin on or about December 14, 2009. Owners may contact Harley-Davidson at 414.343.4056.
Posted 12/8/09
Bikes, Babes amp; Bling Web Site Up and Running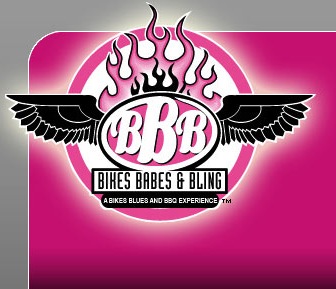 The new women rider rally in Fayetteville, Arkansas, that I mentioned in an earlier blog posting now has a formal Web site up at BikesBabesandBling.com. Looks like the logo has been changed from the purple one I posted earlier, to the one posted at right. I like the original one. Im excited to see how this event shapes up, if it will just draw locals or be more of a regional rally like its sister rally, Bikes, Blues and BBQ. It doesnt seem to be off to a good start yet. When I went on to join the Facebook page for the rally, I saw that there is a Facebook page dedicated to "Fayetteville Residents Against Bikes Babes and Bling." Wow! Opposition already! I clicked on one of the links to an article. Check this one out. Also, the BBB Web site cites an incorrect statistic. It says that 35 percent of new bike sales are to women. This is not correct. The latest statistics coming from the Motorcycle Industry Council are 12.3 percent of new bikes sales are to women. Click here for the official numbers and our story on it. I wish the organizers lotsa luck.
Posted 12/3/09
My Attendance at the Seattle International Motorcycle Show
I previously mentioned on this site that I would be attending the International Motorcycle Show in Seattle 12/7-9. I will now not be attending as something has come up that is preventing me going.
Posted 12/1/09
Jay Leno Attends 2010 Piaggio National Dealer Meeting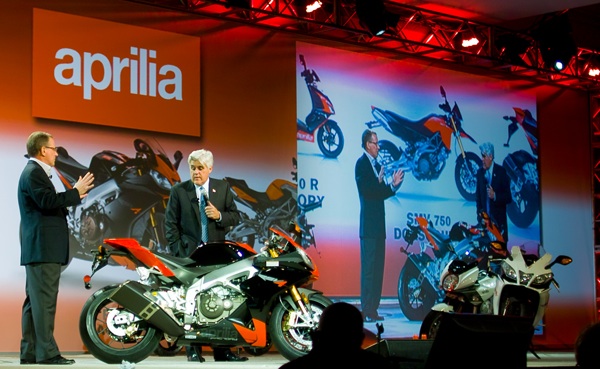 Jay Leno took a break from his primetime show duties to add his unique energy and spark to Piaggio Group America's 2010 product introduction, held during the company's October 2009 national dealer meeting at the La Costa Resort and Spa in Carlsbad, Calif. Leno, a devoted ambassador of motorcycling, kept the crowd laughing during his stand-up routine, and then, along with Gary Pietruszewski,v.p. of sales and marketing for the Piaggio Group, wowed the dealers with the presentation of Piaggio's much-anticipated 2010 model lineup, starring the award-winning Aprilia "Superbike of the Year" RSV4 Factory and RSV4 R models.
In the photo at right, Pietruszewski and Leno share the stage with the Aprilia RSV 4 at the dealer Meeting. This was Mr. Leno's second consecutive appearance as keynote speaker at the annual gathering. Additionally, Aprilia introduced the 850 Mana GT ABS. Other new scooters and motorcycles introduced included, the Vespa GTS 300 the LX 50 four valve and the new fuel-injected engines on the 150cc versions of the Vespa LX, S and LXV, the Moto Guzzi Stelvio 1200 ABS, and the Moto Guzzi V7 Café Classic.
Ducati Debuts the Multistrada 1200 at International Motorcycle Show in Long Beach This Weekend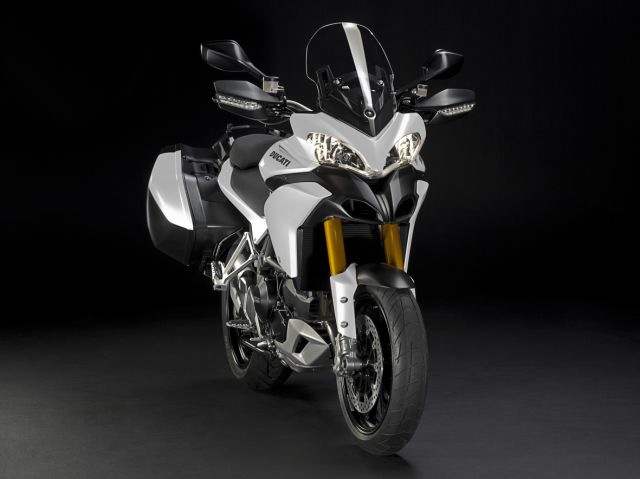 (FROM PRESS RELEASE)
Shown for the first time just weeks ago at the EICMA Milan Motorcycle Show, the Multistrada 1200 was named "Most Beautiful Bike in Show" and hailed as a true "game-changing" motorcycle. During the Cycle World International Motorcycle Show in Long Beach this weekend, motorcycle enthusiasts will see the Multistrada 1200 up close.
Because of its unprecedented technology and class-leading features this motorcycle is able to unleash four unique riding modes including Sport, Touring, Urban and Enduro, enabling the rider to enjoy a truly customizable riding experience. The power and torque delivery, suspension settings and traction control can be modified while riding this motorcycle to adapt to the rider's needs, and not the other way around. "We are very excited to launch the technologically-advanced Multistrada to North America at the world's largest motorcycle show series," said CEO Michael Lock. "The Multistrada 1200 is a unique model for us since it really attracts all types of riders. It is not only powerful and playful, but also a comfortable and versatile adventure on two wheels."
The light weight 417-pound Multistrada 1200 will be priced at $14,995, an aggressive price point for a handmade bike that boasts 150hp and 87.5lb/ft of torque. There will be three option packages available to suit the riders taste –Multistrada 1200 including the Bosch-Brembo ABS system; Multistrada 1200 S Sport package; and the Multistrada 1200 S Touring model which includes side luggage, a center stand and heated grips (shown at right). In addition to the debut of the new Multistrada 1200, Ducati will host a series of fashion shows in its booth for all to enjoy. The shows will take place Friday at 5:20 and 6:50 p.m., as well as Saturday at 11:50 a.m., 2:20 p.m. & 4:50 pm. Throughout the weekend the Ducati Freestyle Team will be doing stunt shows on the Monster 696- Ducati's most agile offering. The Multistrada 1200 will hit North American dealerships in Spring 2010. For more info on the motorcycle shows, visit click here.
Posted 11/28/09
The New Women's Center at the Motorcycle Shows
Check out the photos from the San Mateo, Calif., Cycle World International Motorcycle Show. The Women's Center is a dedicated area with clothing, apparel and helmets, as well as information just for women riders. Women Riders Now postcards are on hand for visitors to learn about this online magazine, and brochures about the national women's motorcycling clubs and beginning rider info is also available. Be sure to stop by any show on the 11-show series circuit. The tour's next stop is Dec. 4-6 in Long Beach, Calif. Click here for more info on the shows.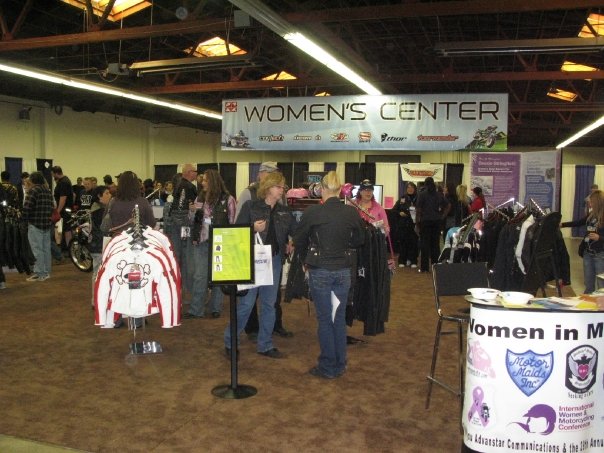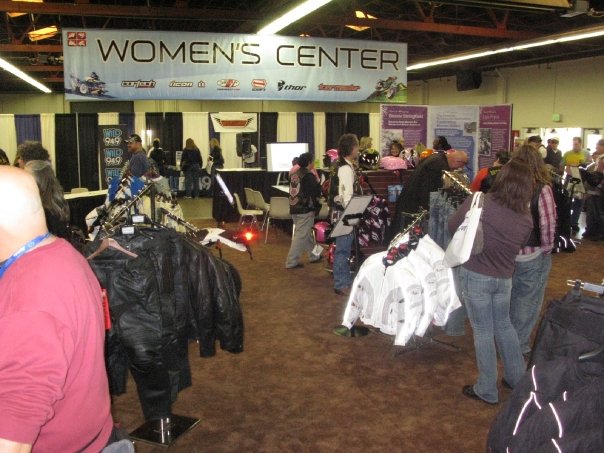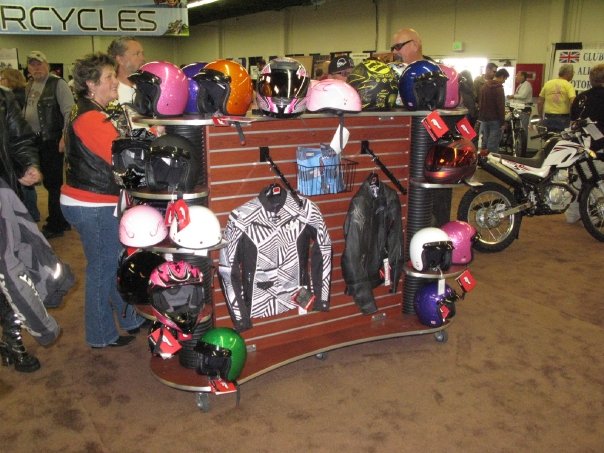 Posted 11/18/09
Great Deal Offered at Roar Motorcycles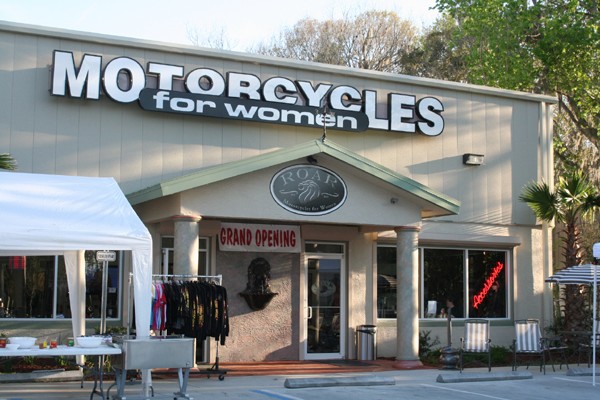 Tomorrow, Saturday November 21 2009, the staff at Roar Motorcycles is inviting all women riders to help them sell a bike to a friend. Bring a friend to Roar from 10:00 a.m. to 5:00 p.m. on Saturday and if you help the staff convince your friend to buy a motorcycle, you get $500, or $250 if your friend buys a starter bike. That's a pretty good deal if you ask me. Pus, non-bling T-shirts are buy one get one free. Roar is a motorcycle shop in Daytona Beach, Florida, that sells motorcycles custom made for women. The shop is also loaded with accessories. Visit their site at RoarMotorcycles.com. You can also read our article on this special shop in the WRN Feature Articles section.
Posted 11/18/09
New Women's Rally Announced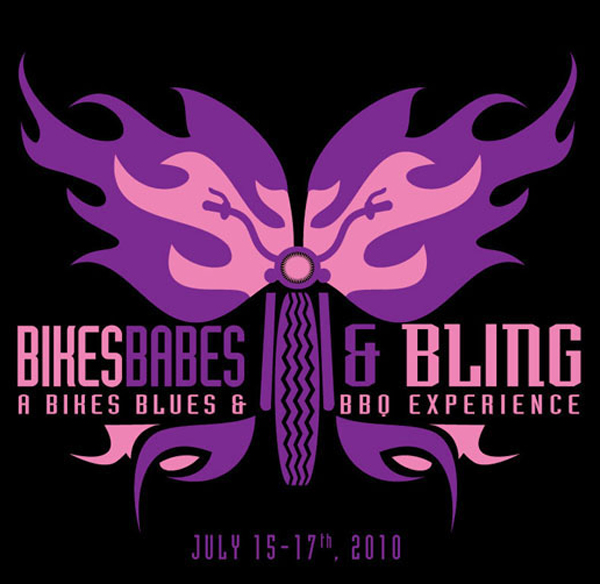 The very popular midwest regional rally, Bikes, Blues & BBQ, in Fayetteville, Arkansas, that attracts an estimated 350,000 visitors to the area in September when the rally is held, is spinning off a women's rally to be held July 15-17, 2010. It's called Bikes, Babes and Bling. The Fayetteville A&P Commission gave a $20,000 grant to organizers to jumpstart the event. A Web site is set up at BikesBabesandBling.com, but as of this writing it is still under construction.
The director of the event said the rally will be geared towards women in that only ladies will be able to enter their motorcycle in the bike show, and the parade will feature just women and their motorcycles. Bikes, Blues & BBQ raises money for local charities. Expect the women's event to be structured in the same way. I really like their logo at right.
Posted 11/12/09
Last Buell Motorcycle Built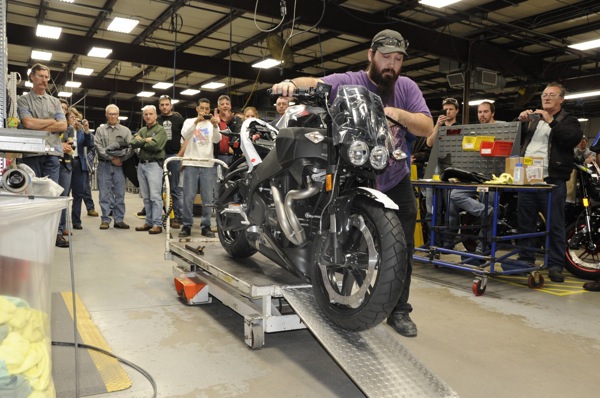 On October 30, a Buell Lightning XB12Scg rolled off the company's East Troy, Wis. assembly line, the last of the 136,923 motorcycles built in the company's 26 years of operation. Parent Harley-Davidson announced on October 15 that the Buell lineup of motorcycles would be discontinued effective December 18, 2009. Buell motorcycles will continue to be sold through existing dealers until inventory is depleted.
Posted 11/10/09
Gotta Check This Out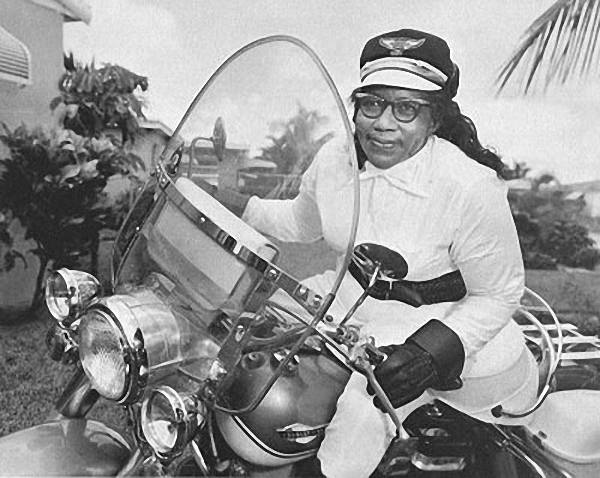 Twice a year, in spring and fall, I get an email from Suzanne Ferriss alerting me to a series of articles written and published by the International Journal of Motorcycle Studies, of which she is editor. These are fascinating in-depth articles on the culture of motorcycling. The latest issue of the only peer-reviewed journal devoted to motorcycling just came out and you can read it at IJMS.Nova.edu. The Fall 2009 issue includes an article on women's involvement in African-American motorcycle clubs; that's Bessie Stringfield at right, one of the first African-American to ride a motorcycle. It also include An Anthology of Motorcycle Travel Literature, Riding Old Motorcycles, and Harley-Davidson and Philosophy.
Plus, IJMS is excited to announce the first-ever IJMS-sponsored conference, June 3-6, 2010. In keeping with the journal's international and open approach, the group encourages readers, writers and riders from around the globe to join them in beautiful Colorado Springs, Colorado, in the heart of the American Rocky Mountains. Go to the IJMS site (link above) for for further details.
Posted 11/4/09
Harley Goes Live with "Celebrate Women Riders" Event Page Today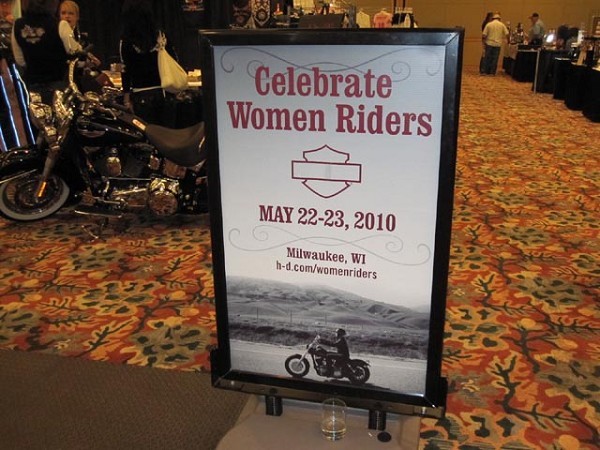 The Motor Company just turned on the page on its Web site that will have all the information for next May's "Celebrate Women Riders" event to be held in Milwaukee on May 22-23, 2010. It can be accessed by clicking here. You'll find registration information, the schedule of events, and info on local dealers celebrating Women Riders Month with their own Garage Parties and events. WRN will keep you updated as we find out the details.
POSTED 11/2/09
H-D Offers Free 2009 Holiday Gift with $300 Purchase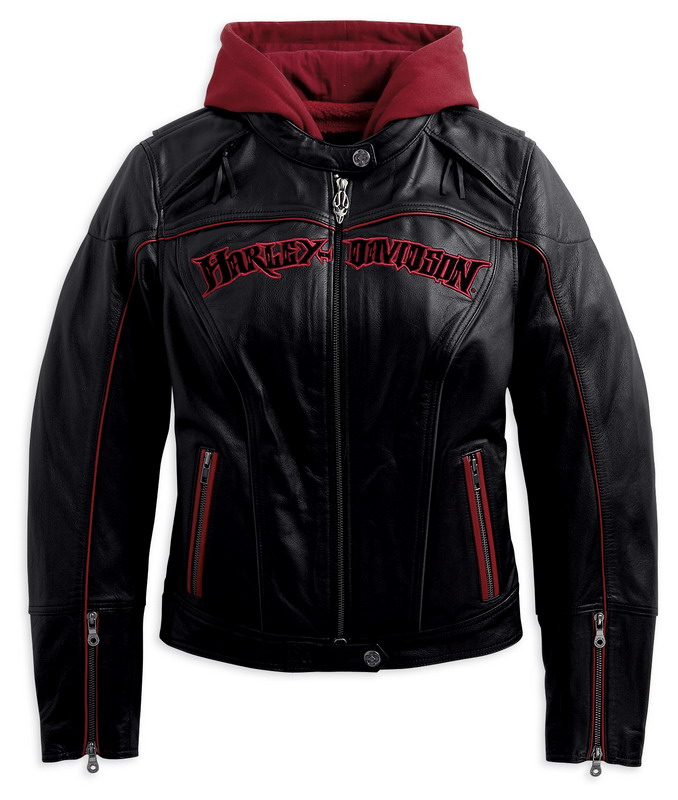 From November 7 through December 24, 2009, Harley-Davidson customers who make a $300 qualifying purchase will receive a free 2009 Holiday Heritage Collection limited-edition gift set valued at $75. The set includes five pewter finish collectible Legendary Harley-Davidson Racing Machines, each one identified by an engraved plate. The satin black frame has brushed metal corner accents featuring the Bar & Shield Logo. The 2009 Harley Holiday Heritage Collection is free with a qualifying $300 purchase of Genuine Harley-Davidson Motor Parts or Motor Accessories, MotorClothes Merchandise, Screamin' Eagle Performance Parts, Official Licensed Products or Buell Merchandise, between November 7 and December 24, 2009. Not valid on previous or multiple purchases. We are featuring Harley holiday items like the jacket at right in our 3-part Holiday Gift Guide that will be running over the next month in the WRN Apparel & Product Reviews. One great way take advantage of this offer is through Harley-Davidson.com's online Wish List, which allows you to create a list of the Genuine Motor Accessories and MotorClothes Merchandise items you've been wishing for to save and share with your family and friends. For more details, log onto Harley-Davidson.com.
New Helmet Designs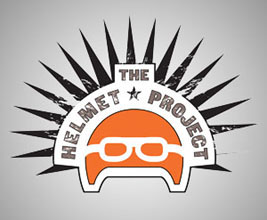 If you're in the Milwaukee area, going on until November 8, The Harley-Davidson Museum's First Feature Exhibition "The Helmet Project" is open to the public. In a unique partnership with the Harley-Davidson Museum, the Milwaukee Institute of Art and Design (MIAD) – Wisconsin's only college devoted exclusively to the education of professional artists and designers – has kicked off the fall semester with the most ambitious cross-disciplinary project in the college's history. "The Helmet Project" – involving 100 art and design students, 10 faculty members and the Museum's professional staff – will be on view as the first feature exhibition at the Harley-Davidson Museum Garage from Oct. 23 – Nov. 8.
The Helmet Project challenged students to deconstruct the conventional notion of a helmet and re-envision its function and meaning through art and design that push visual and conceptual boundaries. Students are also creating the show – from exhibit fabrication and installation to exhibition graphics and marketing. The Helmet Project is located in the Garage exhibition space west of the Museum building. For more information, Museum hours and tickets, visit Harley-DavidsonMuseum.com or call 877.436.8738.
While there at the museum, check out the women's exhibit which features a section on past publications featuring women, including Woman Rider magazine, seen in the photo below, next to Harley Women magazine. Harley Women was the first modern day motorcycle magazine focusing on women when it began in 1985. In 2000, in evolved to Woman Rider, the magazine I founded and edited until 2004. Neither are no longer in print, but they foundation for what Women Riders Now is today.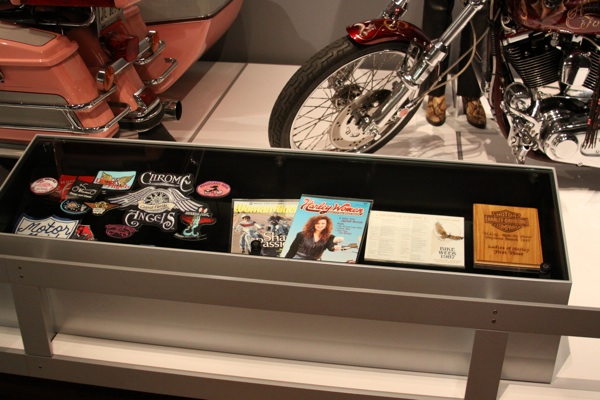 I'm A Guest on Internet Radio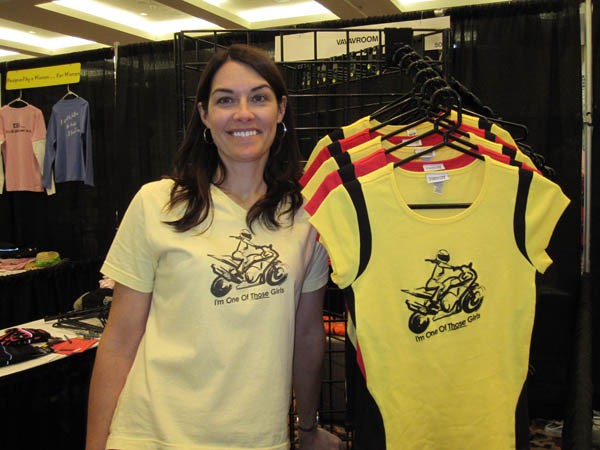 On November 8, next Tuesday, I will be a guest on SideStandUp.com, an Internet Radio Show hosted by Denise Maple (right), owner of VaVaVroom, an accessories and apparel company and long time advertiser of WRN. I'm not quite sure how all this Internet radio stuff works to be quite honest, so if you want to listen in, visit SideStandUp.com.
Lorenzo On E!I was employed by E! Entertainment Television from 1991-1995 as senior producer of E! News Daily. I was totally into the celebrity thing back then. Back then, though, celebrity journalism is not what it us today — totally out there, in-yer-face, gotta know every stinkin' thing about the celebrity. Celebrity journalism took a turn for the worse in the mid-1990s with the proliferation of 24-hour news channels and lots of air time to fill. TV went downhill from there. But that's another story.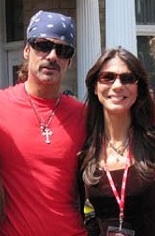 I mention E! because long time biker celeb Lorenzo Lamas — who, if you read WRN regularly — know I cover his doings since he was the quintessential biker celebrity back in the day with his Renegade TV series. Well, if you didn't know — I didn't know until today because I don't care about this stuff anymore — he has a new reality show on E! called "Leave it to Lamas," a take on Leave it to Beaver, that started in October and airs on Sunday nights at 10:30 ET. This Sunday's episode is a biker themed episode with Lorenzo heading to Sturgis, I'm assuming taped at this past Sturgis. I saw him there at the Legend's Ride and he told me that he was partnering with bike builder Eddie Trotta to build his new line of custom motorcycles. BTW, I was the first journalist he told and I broke the story — for all you journalism junkies who care about "firsts" like that. I'm going to watch the show on Sunday night, actually I'll DVR it, and see if it's worth putting in my regular DVR queue of recordings.
Gift Ideas
If you like eBay, you'll enjoy browsing and bidding on the AMA's Leather and Lace online auction, with proceeds going to the AMA Motorcycle Hall of Fame Museum. Click here to go to the auction. Have fun!
Gotta See to Believe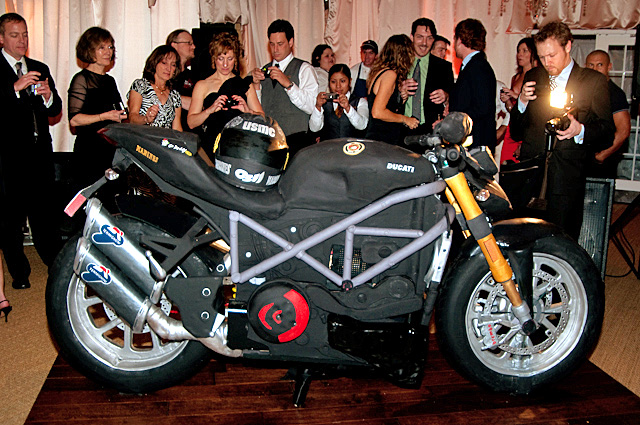 This was emailed to me. Don't know all the details, but it's a wedding cake made around a real Ducati motorcycle. It was modeled after the groom's Ducati Streetfighter. Its a "working motorcycle," functional and edible. When the bike was turned on, the engine would rev. Made of layered, yellow cake, it almost stole the wedding spotlight. It took eight men to lift (weighed around 400 pounds). The cake was designed by "Ace of Cakes" Chef/TV Star Duff Goldman and is set to be featured on his Food Network program in 2010. More info on the show, visit FoodNetwork.com.