For the last few weeks, weve been running stories here on gift ideas for motorcyclists, mostly women motorcyclists. We have a few more items we want to tell you about—great ideas if youre still struggling with what to get that motorcycle-riding friendor what to tell others to get you. Take a look at these fun items.
Clever Idea
La Femme Biker is the name of biker-inspired perfume—a natural scent its Web site says is "a touch of chrome, a touch of leather, united by the Queen of Night Jasmine. Other scents laced into this perfume are rose, vanilla, cognac, labdanum, frangipani, and blood orange." Sounds truly interesting!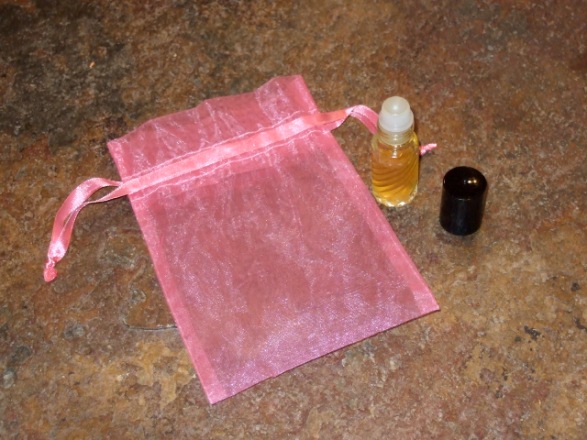 La Femme Biker is the brainchild of Dabney Rose, a botanical expert who loves to create sweet water distillery hydrosols. She says its an artistic expression. Dabney is a motorcyclist who decided, like many women do, to combine her two passions—riding and perfume. To learn more about La Femme Biker and to order, visit Dabney-Rose.com/Perfume.
Perfect Carrying Pouch
Carry necessities on your motorcycle right where you need them—in front of you. Mustang Seats now offers tank bibs—expandable pouches to hold things like sunglasses, sunscreen and lip balm. Lined with soft fabric, the pouches are held tightly closed with Velcro but easily expand open to about 3.5 inches deep at the top. They are contoured to hug the tank and are backed with felt to protect the paint. The edges are finished with braided trim. The bibs are easy to install.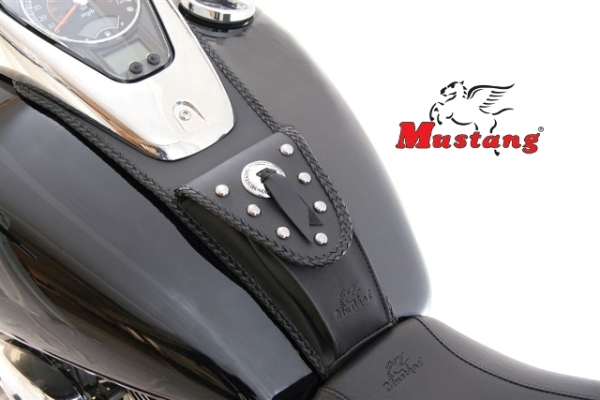 Pouch Tank Bibs are available plain or with studs and a concho. The decorative studs are plated brass, not steel, so they wont rust. Conchos are custom, heavy die-cast zinc and are hand-tied with genuine leather straps. Mustang Pouch Tank Bibs are available to fit numerous Harley-Davidson and metric cruiser models. Plain bibs are $65; bibs with studs and a concho are $75. Visit MustangSeats.com to order.
Unique Western Gifts
By Genevieve Schmitt, Editor
If youve ever ridden across the western states in out-of-the-way places, you know that some of the coolest places to stop are those roadside galleries and gift shops. Often youll find one-of-a-kind handmade crafts made by talented artisans—items that are part treasure, part art, part discovery. Steel My Heart Forge and Gallery in Paradise Valley, just south of Livingston, Montana, is one such place. Artist Tom Mosher designs western and Native American pieces that can be found nowhere else. Im lucky enough to call him a neighbor. Heres a sample of items I like.
For more photos, more information or to order, visit TomMosher.com and click on Toms photo to enter the site and see the gallery of items.
Inspiring and Motivational DVD
By Genevieve Schmitt, Editor
I first met the narrator and featured rider in this DVD at the AMA Women amp; Motorcycling Conference in Keystone, Colorado, last summer. Lois Pryce was a featured speaker who shared how she, like a lot of women, was working a mundane 9 to 5 job where she yearned for more. One day she quit her job, learned how to ride a motorcycle and embarked on a cross-continent ride in South America all by herself! She followed that up with a solo ride across Africa. This DVD, Ladies on the Loose, is part four of the "Achievable Dream: The Motorcycle Adventure Travel Guide" series. It chronicles women just like her whove done global motorcycle journeys, changing their lives in the process.
You dont have to be a rider interested in cross-country or global rides to enjoy this DVD. Its for every woman who enjoys a good human interest story about real women doing what they love. Its about women being women, dealing with challenges that come up when riding in a foreign country. If by chance you want to do what these women do, youll certainly learn a few things, as there is plenty of advice packed in the 2.5 hour DVD. But more than that, its downright entertaining, with great footage and interesting interviews. I think every woman rider should own this. Visit HorizonsUnlimited.com to order.
A Book To Empower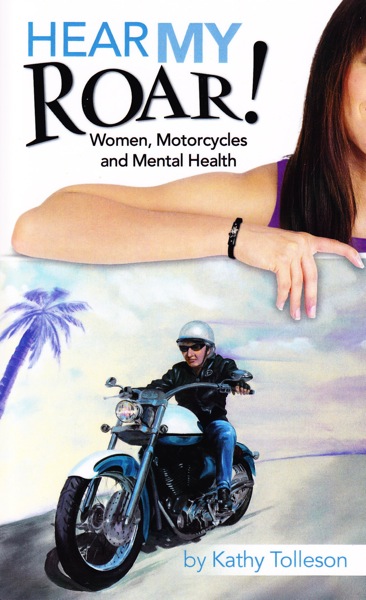 Dont let its small handbook size fool you. Contained within the covers of Hear Me Roar! Women, Motorcycles and Mental Health are huge words of encouragement, inspiration and advice on how motorcycling can change ones life. Kathy Tolleson, the founder and CEO of ROAR Motorcycles, a motorcycle shop for women in Daytona Beach, Florida, wrote this motivational and thought-provoking book using metaphors from riding to inspire ones life. There are 12 short chapters in its 89 pages, but the personal stories and real-life examples told from Kathys point of view will either have you smiling to yourself, knowing youve experienced what shes talking about because youre already a motorcyclist, or looking for where to sign up to learn how to ride.
Kathys shop makes motorcycles designed specifically for women. You can read more about her shop here on WRN. But Kathy sells more than motorcycles. She sells dreams, and this is a handbook on achieving those dreams. Even if motorcycling is not your thing, the words of encouragement Kathy shares are powerful enough to getsomeone moving to go after any dream.Visit RoarMotorcycles.com, or call 866.621.ROAR.
Related Articles
WRN Advertisers Holiday Gift Guide
WRN Holiday Gift Guide #1
WRN Holiday Gift Guide #2