American Honda is introducing four new cruisers for 2010, one of them being a new Shadow, one of Hondas longest running and most popular model lines among women riders. These join the Fury and the Phantom, 2010 models released earlier this year. Here is the press release we received from Honda today outlining the four cruisers, and also an upgraded ST1300, the companys popular sport tourer.
Shadow RS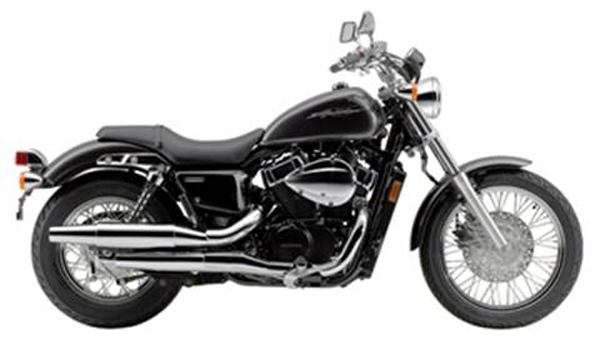 Heres rolling proof that classic ideas never go out of style: the 2010 Honda Shadow RS. This agile and responsive V-twin roadster has clean, crisp lines and a standard riding ergonomics. The Shadow RSs higher pegs enhanced ground clearance, and its thoroughly modern liquid-cooled 745cc V-twin engine with Hondas sophisticated Programmed Fuel Injection adds to the riding pleasure. Savor the open road aboard the Honda Shadow RS. Available in Metallic Gray and Pearl White. In dealerships in March. MSRP: $7,799.
Sabre/Sabre ABS

Sometimes you just want to wear your aggression on your sleeve, and thats why the new Sabre is ready to do your talking for you. The Sabres muscular pro-street style provides a classic ride, with ergonomics to match. Add an impressive 1300cc V-twin engine complete with Hondas sophisticated Programmed Fuel Injection, and youll be rolling down the meanest streets with a bike thats as tough as it looks: the 2010 Sabre. Also available with Anti Lock Braking, the Sabre comes in Black and Candy Red. In dealerships in March; ABS model April. MSRP: $11,799; ABS model $12,799.
Stateline/Stateline ABS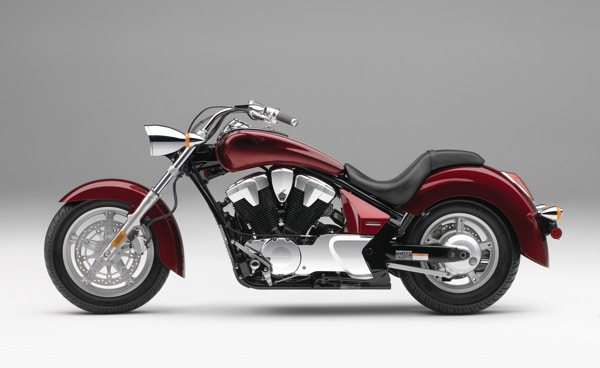 Featuring long, low lines that embody what cruising is all about, the Stateline blends two worlds of motorcycling style: traditional looks plus progressive elements. The deeply valenced fenders arc downward in classic retro style, yet the all-new rolling chassis and overall lines bring a fresh look to the class. Add to that the deep throaty rumble of a big V-twin engine with Hondas Programmed Fuel Injection and that classic big V power pulse, and you have a machine thats the perfect choice for cruising-any time you want. The Stateline is available with or without ABS in Black and Candy Dark Red. In dealerships in February; ABS model available in March. MSRP: $11,699; ABS model $12,699.
Interstate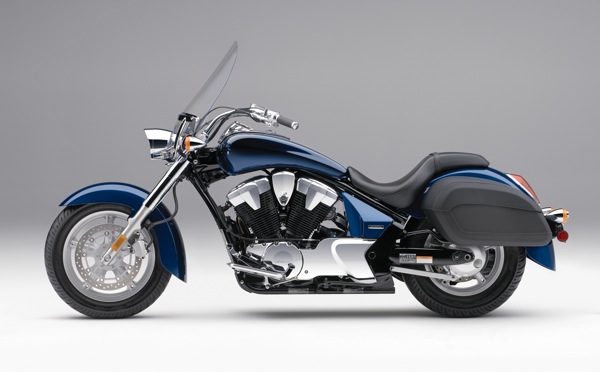 When youre aboard one of the coolest rides around, sometimes you just dont want the ride to end. So for those who enjoy their long rides in high style, Honda introduces the new Interstate. Along with good looks and a big V-twin engine with Hondas Programmed Fuel Injection, the stylish hard leather bags offer ample room for a long getaway, with a traditional windscreen and floorboards delivering all-day riding comfort for those extra-long hauls. Available in Black and Pearl Blue. In dealerships in February. MSRP: $12,749.
ST1300/ST1300ABS

Long distance adventure is best experienced aboard a machine thats keenly in tune with your riding senses. For years, the Honda ST1300 has answered the call of the open road by setting the standard for power and handling in a package thats the perfect fit for crisscrossing the USA, or just enjoying a long weekend on the road. Equipped with a powerful 1261cc V-4 engine and Hondas sophisticated Programmed Fuel Injection, plus full-coverage bodywork, three-way adjustable riders seat, motor-driven adjustable windscreen, dual saddlebags and more, the ST1300 remains the choice of dedicated long-haul riders. The ST is available with and without ABS in Black. In dealerships in March. MSRP: TBD
"These five street bikes add even more excitement to our lineup for 2010," said Powersports Press Manager Bill Savino. "Four of these bikes are new V-twins that dramatically expand our line of cruisers. The Sabre, Stateline, Interstate and Shadow RS V-twins unveil new styling and functional variations for Honda buyers, and were excited about the new opportunities these machines present. The ST1300 continues to extend its reputation for long-haul performance with a sporting flair and it remains a popular choice among riders who live for the open road. This 2010 model year is shaping up very well, with lots of exciting options for Honda fans."
More detailed information and images of Hondas model line can be found at Powersports.Honda.com or see your local Honda powersports dealer.