ICON Merc Textile Jacket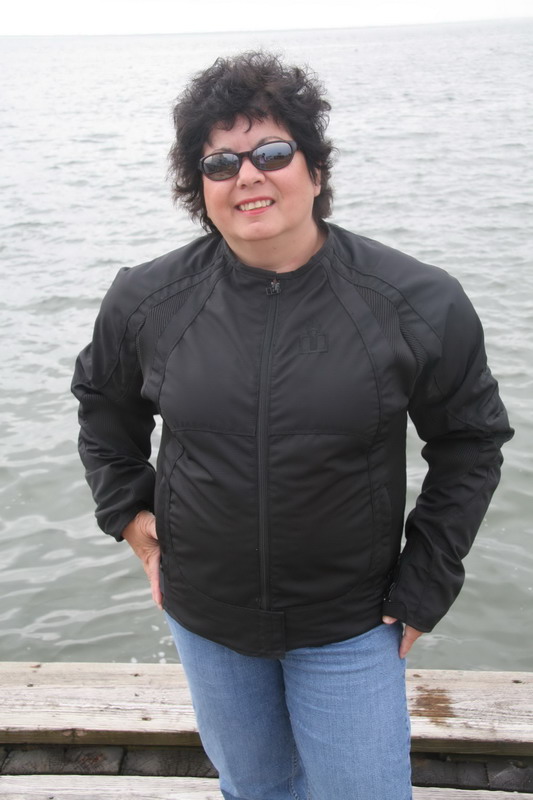 ICON is known for its motorcycle clothing in the loose-fit "extreme street style" category and the companys research and development team includes master stunt rider Jason Britton of Team No Limit. In expanding ICONs women's line, Brand Manager Phil Davy shared that ICON recognizes that women want reasonably priced motorcycle gear designed just for them. This includes adding important details like a perforated polyester lining, sleeves that end in a lined zipper and covered snap on the bottom of the padded waist so you dont scratch the paint on your motorcycle. Many of those features and more are found in ICONs Merc Jacket.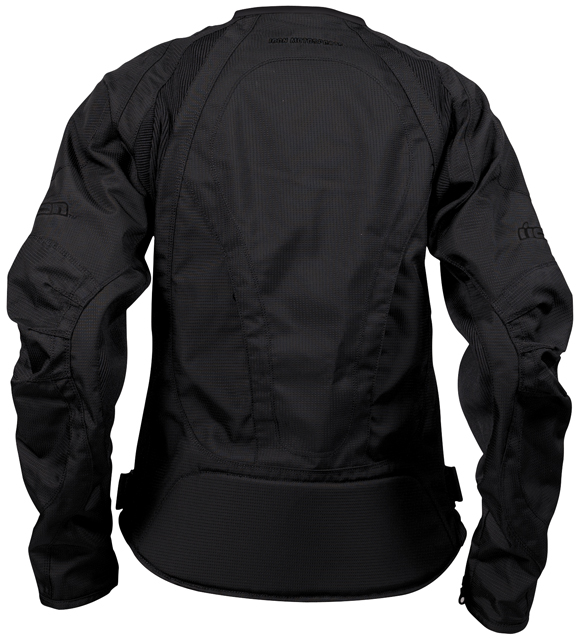 The first thing I noticed when I tried on the Merc was the ample room in the chest and upper arm areas. Im a size 16 and I was very happy when their size XL zipped up easily and had enough room in the shoulders and arms to move around easily. The Merc also has two roomy exterior zipped pockets and one interior zippered pocket with ICON's signature "Saint Christopher Protect Us" medallion sewn inside. ICON's street roots show up in unexpected places such as the white embroidered "Ride Among Us" on the inside of the back waistband. The outer shell is made of water-resistant 100 percent nylon and has many of the features youd expect to find in a more expensive garment. The textured material is relatively soft and most of the seams are double-stitched. There are strategically placed ribbed spandex panels under the arms and down the sides for cooling airflow. Velcro tabs allow you to cinch the waist for a custom fit. An additional flap covers the bottom of the front zipper and keeps it from scratching your motorcycle tank.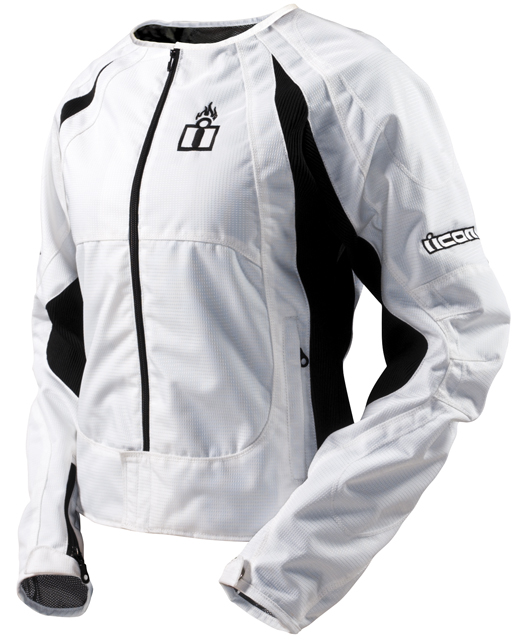 While one of the least expensive jackets in the ICON line, it has many of the features you would expect in a pricier garment. The foam back pad and CE approved elbow and shoulder armor are easily accessed via Velcro openings so you can readjust or remove them for washing. Whether in the drizzing rain in New York City or the hot desert of California the Merc was comfortable to wear and kept me dry. I would have liked to see a tabbed collar closure and additional snaps or Velcro at the wrist for extra adjustment, as well as some reflective material for safety. Overall, I felt this was an attractive, well-made garment that is comfortable for riding in average conditions, offers some protection, and is reasonably priced. At approximately 5 feet 2 inchex, Im a "petite." I found the arm and torso lengths a little long for me. The ICON Merc comes in sizes XS-XL and is available in all black, or white with black accents. MSRP: $130. Visit rideicon.com for more information.
ICON Super Duty 2 Boots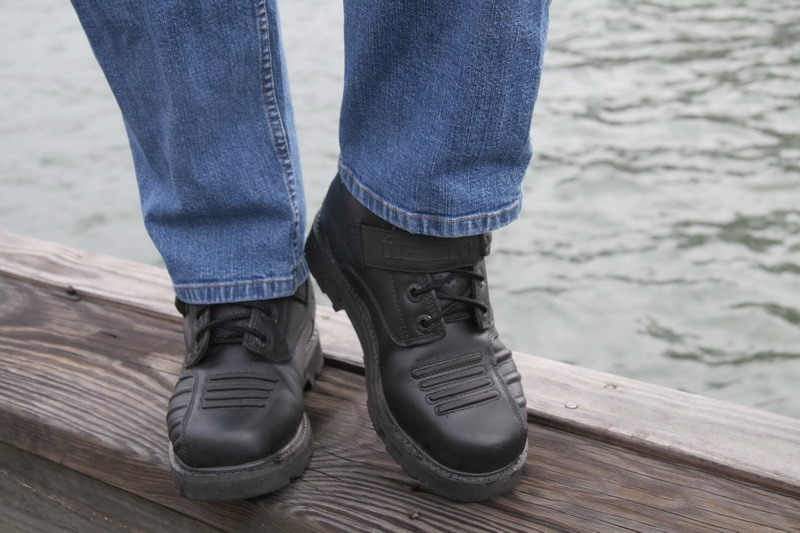 My mother always used to say if your feet hurt you'd be uncomfortable all over. It was her way of telling me to not skimp on footwear. I wish I had listened to her this summer when I chose to wear my "comfy" broken-in leather motorcycle-style boots to the mid-Ohio AMA Superbike races. I had developed blisters when my old-reliable boots seeped water from a puddle and got my socks wet. After hobbling around in pain for awhile, I finally sat down in the vendor area right in front of a display of some interesting-looking boots. These boots turned out to be the ICON Super Duty 2 Boot for women. I tried them on and right away they felt so good that I bought them and wore them walking, standing and riding for the rest of the day. It wasn't long before my grimaces of pain turned into smilesmom would be proud!
Months later, I'm still impressed by the many features that make these boots durable and useful. They cover the ankle and are not too high which gives you flexibility of foot movement, and the generous padding doesn't bind. The tongue is also padded and perforations allow more air in to keep your feet cool. According to ICON, less than 1 percent of motorcycle riders actually wear a motorcycle-specific riding boot. The Super Duty 2 was made to compete with casual wear and is not just for riding motorcycles.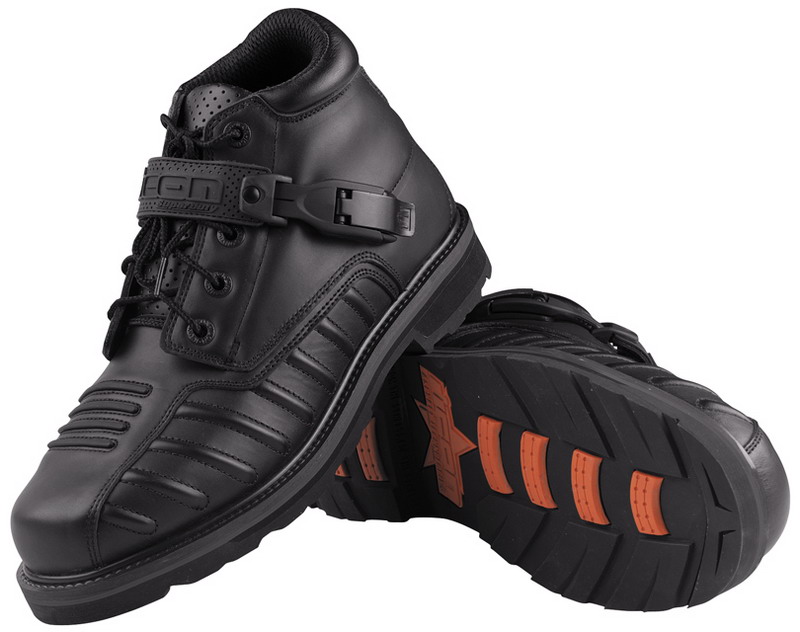 One of the significant features of these boots is the steel shank on the inside. It really stiffens up the bottom of the boot and doesn't allow your foot to bend around the foot pegs on a motorcycle. There is an aluminum ski-boot style buckle with support strap that keeps shoelaces in place and locks the boot securely on your foot. There is a slip-resistant rubber outer sole that is approximately 1 inch thick and a slightly higher integrated heel area. Some nice touches include the removable foot beds, rubber shift lever nubs, ICON branded steel lace holes and the subtle "From the Streets, For the Streets" molded into the inside edge of the rubber heel.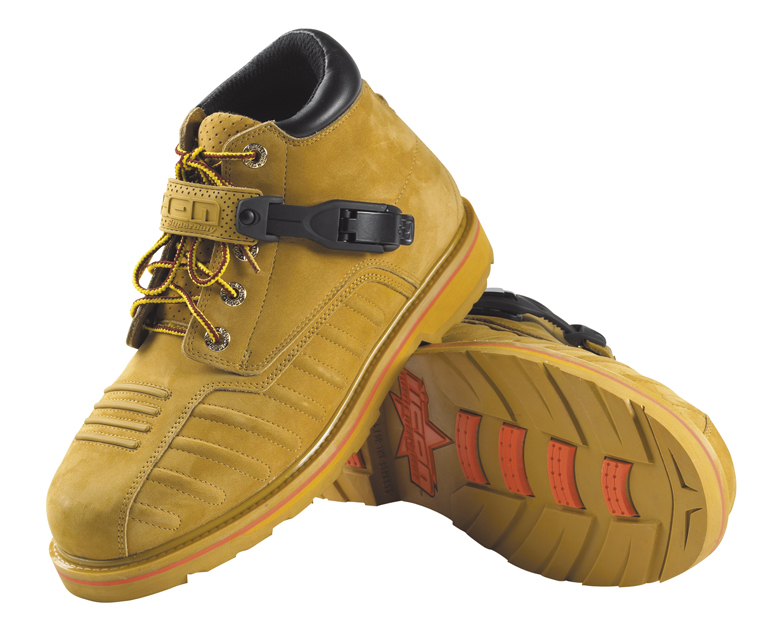 Sizing is generous and the reinforced toe box and instep are roomy. I usually wear a size 7C and these boots fit comfortably even with heavyweight socks. While these may not be the boots you want to wear in extreme conditions, they are a good alternative for everyday normal wear. Available in women's size 5-10 in Stealth (black) or Wheat (tan). MSRP: $90. Visit rideicon.com for more information.
ICON Tarmac Gloves
Motorcycle gloves are more than just an accessory. They need to protect as well as feel comfortable and look good. A recent entry into the glove market that addresses all these items is the ICON Tarmac V2.0, a lightweight glove for women. It incorporates the fit of a motocross glove with features needed for the street.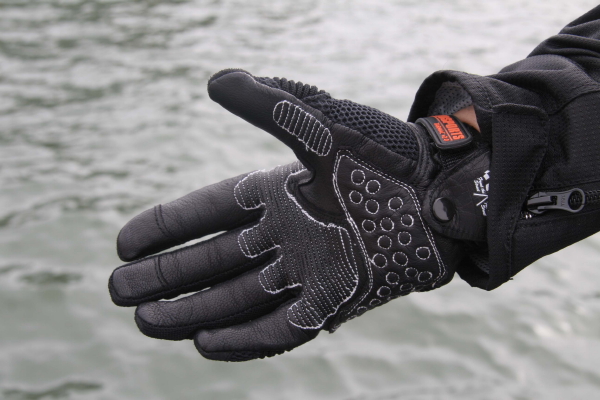 The gloves are built on a mesh chassis that is breathable and fully lined. Safety features include a hook and loop closure at the wrist (the kind that won't catch on your clothing), so they stay on your hands, and goatskin palms for abrasion resistance. They have an overlay of ribbed rubber covering the area around your knuckles and a separate piece that extends to the wristband embossed with ICON'S signature "Ride Among Us." The fingers have leather bottoms and ribbed areas around the joints with reinforced leather at the tips. The glove is pre-curved and comfortable to wear.
I generally prefer a gauntlet style glove that goes over the sleeve of your jacket, but for "shorty" gloves these are a lot better than the fingerless gloves I see on many riders. They come in cool colors like red, blue, gray, yellow, white, pink, and light blue, and are available in sizes S-M-L. I wore a size large and they fit comparable to an XL from manufacturers like Olympia and First Gear. Overall these are well made with some nifty features like snaps that keep the gloves together when not in use. If you want a ventilated glove that is comfortable, offers protection, and is reasonably priced, the Tarmac V2.0 is definitely worth a try. MSRP: $35. Visit rideicon.com for more information.20