Gravitate Jeans, the brand name of a line of pants designed specifically for motorcycle riders, has been on the market since we first introduced them to you in 2011. During that time, the designers, Bruce and Margaret Meyer, riders themselves, have been tweaking and refining the fit and design, and even lowering the price to appeal to more women and men motorcyclists and passengers.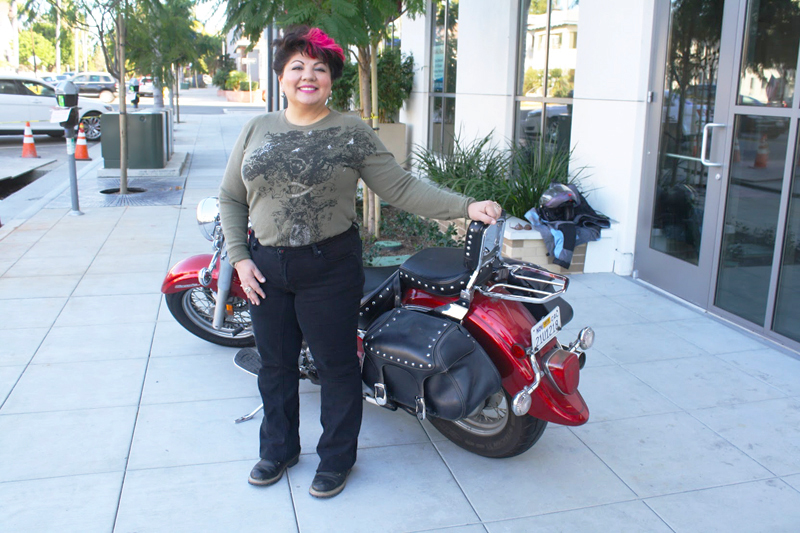 I found that Gravitate Jeans not only fit me well, but enhances my figure by hugging my curves and staying in place all day. I especially appreciate the wide range of sizes including jeans specifically cut for those larger sizes, which range from 14 to 24.
| | |
| --- | --- |
| Sash reviewed the MOTO102 plus size jeans in size 14, which come in black with a black comfort panel that runs down the inside of the legs. | The MOTO101 plus size comes in a blue wash with a blue comfort panel. |
For many plus-sized riders like myself, finding jeans that fit well can be very difficult. To prove my dilemma I found an article on the web by the International Journal of Fashion Design, Technology and Education. The reasons why women have such difficulty finding a good fit in plus-sized clothing is summarized here:
"This inconsistency in apparel sizing has caused much confusion for todays female consumers. The reason for this confusion can be attributed to many causes: the apparel industry relies on an outdated system to clothe todays women and there is no standardization of apparel sizes in the industry, the changing shape and size of the American consumers, and the practice of vanity sizing, and the downsizing of garment sizes to fit larger measurements."
That said, I was pleased to see Gravitate Jeans not only offer plus sizes but clearly have worked hard to get the sizing right. I found the jeans fit true to size, which was a relief since ordering online meant I couldn't try them on before buying. I ordered a size 14, consistent with my other jeans that fit well. Since I am only 4 feet, 11 inches with a 30 inch inseam, it is difficult to find any pants that fit my length as well.
Gravitate Jeans are offered only in 32 and 34-inch inseams. I ordered the 32, the shortest inseam available. As Iexpected, they were long on me. I will take them to a tailor to be hemmed so they fit lengthwise properly. For the review ride, I just cuffed them to the inside, as I didnt want to alter them before the review. If I were to wear heeled boots, as many riders do, they would fit perfectly.
Gravitate Jeans are made from a premium denim that has some stretch in it, making these jeans comfortable when moving around. The seams have reinforced stitching. The denim is a mix of 99 percent cotton and 1 percent spandex in the plus sizes, and 98 and 2 percent in regular sizes.
What makes these jeans a riding pant and how they're different from your store-bought denim jeans is the "patented comfort panel," a strip of material that is 97 percent cotton denim and 3 percent spandex running down the inside of each leg. This special design means the jeans hug hips and thighs without cutting into the skin.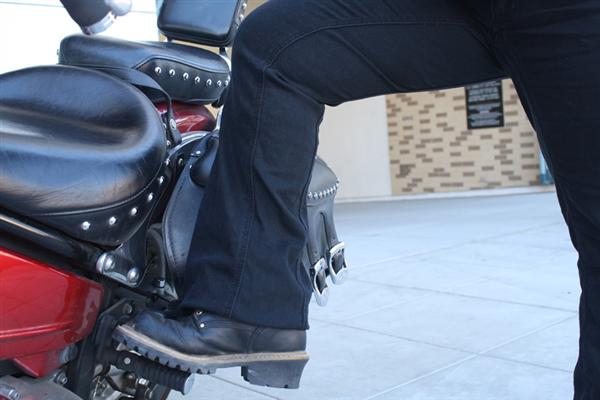 When riding my motorcycle I noticed the higher rise in the back of the jeans (designed this way specifically for motorcycle riders), that helps keep the waistband at my waist throughout the day, and preventing my lower back from being exposed when leaning forward into the handlebars.
That signature stretchy comfort panel that runs the length of the legs keeps the jeans snug against my crotch and thigh, preventing the jeans from losing shape and sliding out of place. The result was a comfortable day in the saddle without me having to tug on my belt loops or adjust the seat of my pants. The jeans stayed in place all day on and off the bike.
The rise of the jeans falls at my waistline, and they stay snuggly there without cutting into my belly while seated. After I rode 200 miles on my motorcycle, the seat of the jeans hugged my bottom as if I had just pulled them on giving me the same great fit at the end of the day.
The styling is a boot cut with a standard five-pocket design. I washed the jeans in cold water, inside out, and tumbled dry on low. They conformed to my shape and fit beautifully within a few minutes after putting them on again.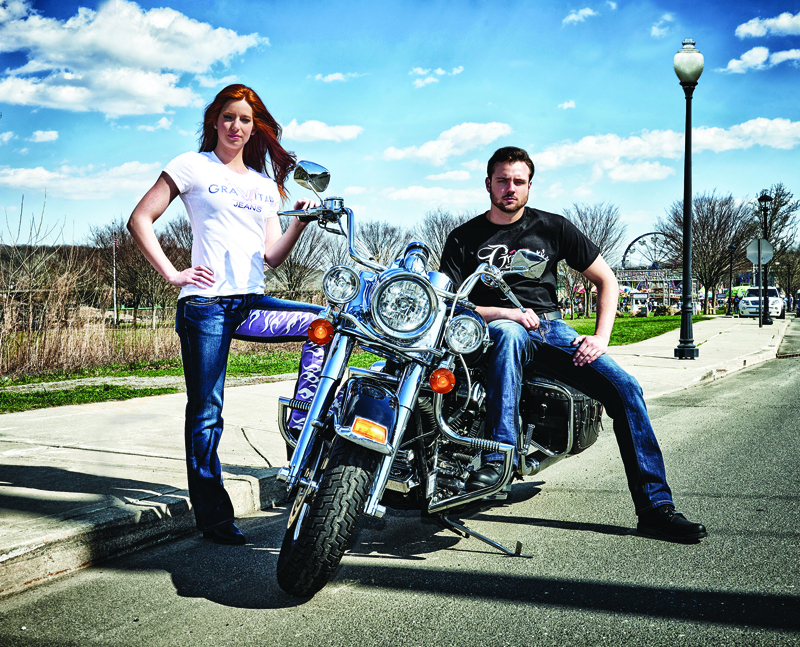 The MOTO101 and MOTO102 Plus-Size Ladies Jeans sizes run from 14 through 24 with inseam options of 32 and 34 inches. They come in Indigo or Black, with a solid color patented comfort panel. These two plus-size styles are not available in white, or with skull or flame-printed panels as offered in the regular sized jeans. Sizing for the regular jeans runs from 4 to 16 with inseam options of 32 and 34 inches.
The two plus-size styles are $79.95, and the regular sizes are priced at $74.95.
| | |
| --- | --- |
| Four non-plus sized styles, which run from size 4 to 16, offer the option of a colored comfort panel with a graphic print. Shown here is MOTO104, featuring a purple panel with white skulls. | This is another example of the comfort panel with a design, this one being white flames. |
I found Gravitate Jeans to be flattering to my plus-sized figure and very comfortable for riding. I think they are so attractive that I am wearing them even on days I'm not riding my motorcycle. Visit GravitateJeans.com to browse the entire collection and color combinations.
Here are some close-ups of the comfort panel colors and designs that are offered.
| | |
| --- | --- |
| MOTO101 inseam | MOTO102 inseam |
| MOTO103 inseam | MOTO104 inseam |
| MOTO105 inseam | MOTO106 inseam |
| MOTO107 inseam | MOTO201 inseam |
Related Articles
Review: Sliders Bella Jeans with Kevlar and Armor
Pros and Cons of Motorcycle Riding Jeans, Pants, and Chaps
Product Review with Video: Womens Motorcycle Riding Jeans
More Clothing Reviews