Story updated on March 8, 2015: Since this review first ran, Dowco has made adjustments and improvements to the Iron Rider Luggage line. Those include: the garment bag and commuter briefcase are no longer being produced. A new addition to the line is the Large Roll Bag, which is essentially the same size as the garment bag but without the garment hook feature to it. Reflective elements have been added to the bags for nighttime visibility and safety.
I can never have too many choices for motorcycle luggage. Ive been riding for almost 20 years and it seems every time I go on a trip, I have a new set of backrest bags Im using or in this, case, testing. The latest set I put through it paces is Dowcos Iron Rider Luggage System. (Dowco makes motorcycle covers as well. Read our review.) The system consists of five separate bags that can be mixed and matched depending what your storage needs are for that trip. The bags in the set are: a main bag, overnight bag, garment bag, roll bag, and computer briefcase.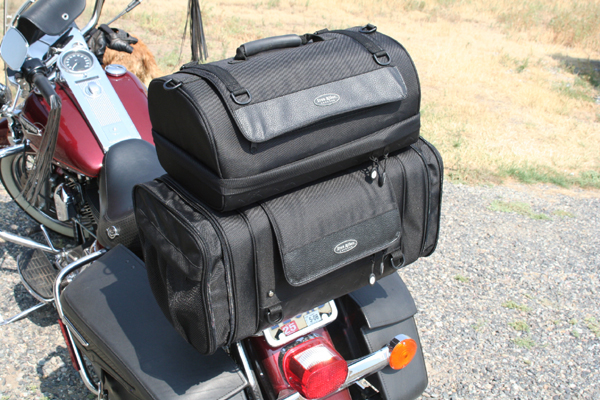 I tested the main bag on one trip because thats all I needed. And on another trip, I took the main bag and the garment bag. The most thats recommended stacking are three pieces. Any higher and you run the risk of the bags being top heavy.
Storage Capacity
The main bag carried a weeks worth of clothing to Sturgis and back. Of course, I also had saddlebags available to fill. The main bag is the largest bag at 1.26 cubic feet. How much carrying space does that translate to? See picture below.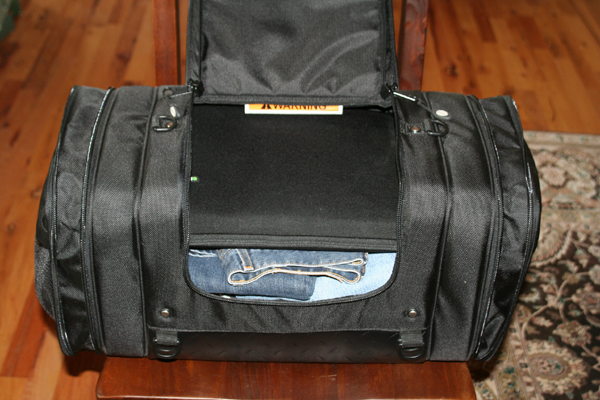 The main bag has ample room for most needs. The roomy side pockets are where I stuffed my socks and bandannas. The exterior elastic net pocket on either side are perfect for items you need to get at easily while riding like a map and sunscreen.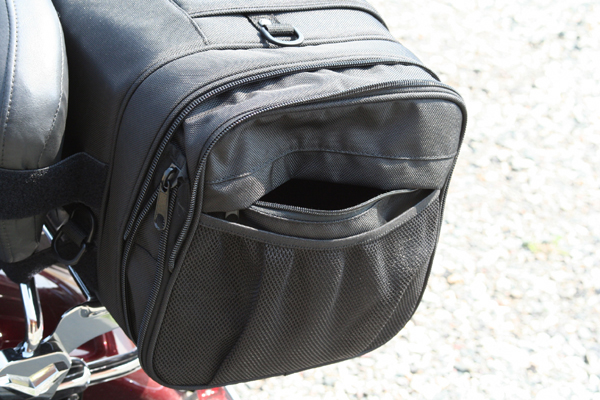 The garment bag is unique because its made for a motorcycle. It has an inside liner bag that holds up to six wire hangers. A hook on the top of the bag lets you hang the open bag on a wall or closet.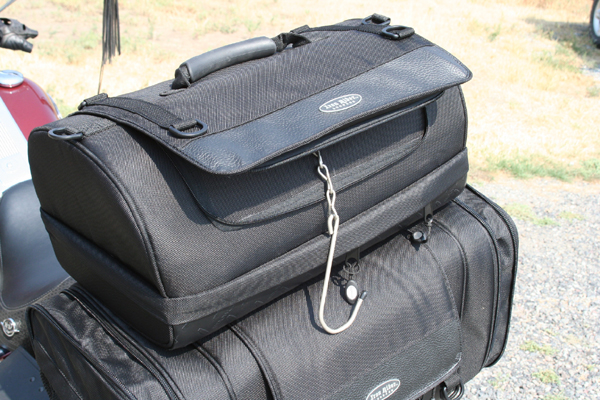 Your clothes dont lie in the bag completely flat, rather you tri-fold the liner bag with your clothes inside and place it inside the larger compartment. I could fit three or four nice shirts and a pair of jeans without wrinkling. Anything more, the bag starts to get pretty stuffed. Overall I was impressed with the storage capacity of both bags.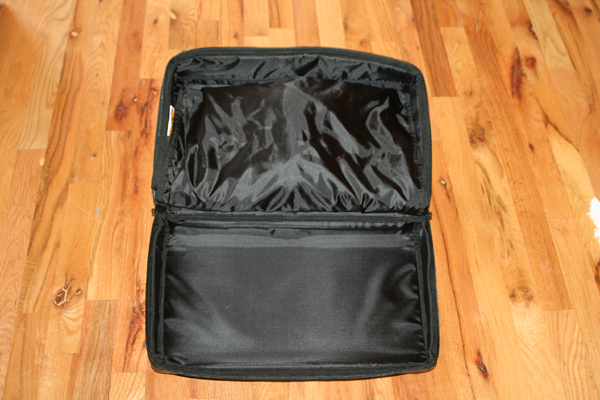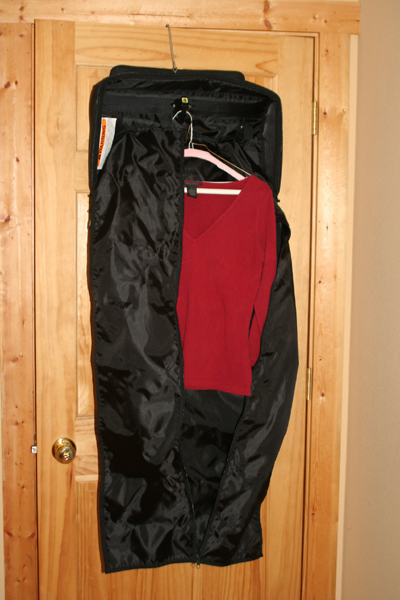 The bags are made from a durable polyester thats water resistant, not waterproof. A rain cover comes with each bag. The bags feel tough and sturdy, not flimsy. Mine held up just fine after a whole riding season. Dirt and grime washes right off with a wet sponge.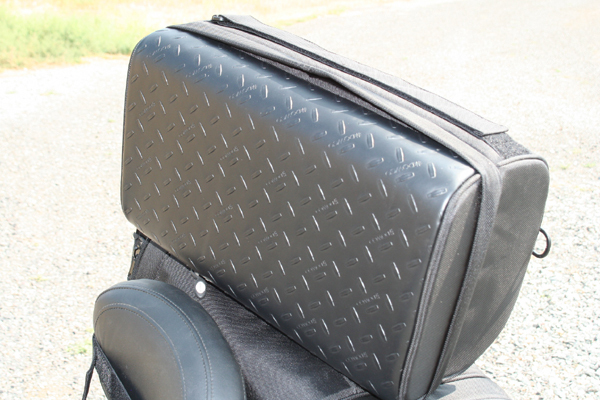 I appreciate the thoughtful features that set these bags apart from others: molded rubber handles that make them easy to carry; a sturdy rubber bottom with diamond plate design that provides traction for keeping your bag from sliding off the seat or luggage rack; large zipper pulls that make them easy to grab with gloves on; and sturdy zipper seams that are concealed with a weather flap.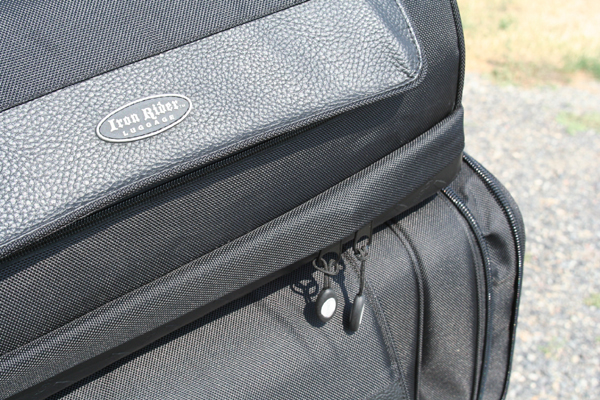 Included with each bag are straps and D-rings that attach each bag to another. The main bag is the anchor bag, the one to which you attach the other bags. It has Velcro straps so it can secure to a backrest. I never trust those straps as the sole method for keeping my luggage secured to the bike so I use bungee cords to secure the bag additionally.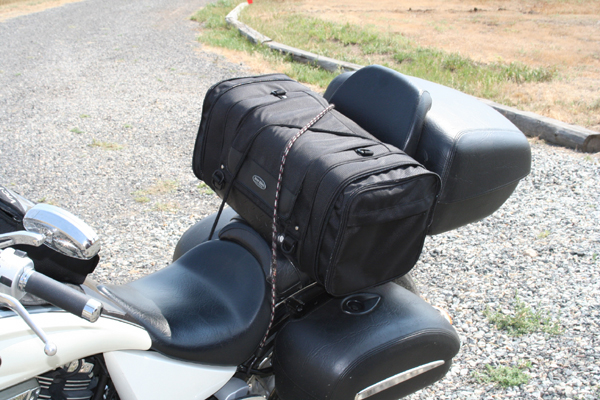 The commuter briefcase bag thats part of the set is designed specifically for a motorcycle with straps that secure it to the main bag only, or to the bike. Lots of room inside accommodates more than a standard laptop. Notebooks and files fit as well. Great bag for motorcycle commuters!
A shoulder strap comes with the garment bag, roll bag, and computer bag. The only thing that did not work for me is that the main bag does not come with a carrying handle. That bag ends up being the heaviest and was cumbersome to carry without a handle. Im guessing a handle on top would get in the way because the other bags are being stacked on top of it.
The main bag, when the expandable side pockets are unzipped, make the bag wide so I would only use it on wide bucket seats or luggage racks. It would hang off narrow seats too much. The other bags are not as wide and would work well as stand alone bags on just about any style of motorcycle.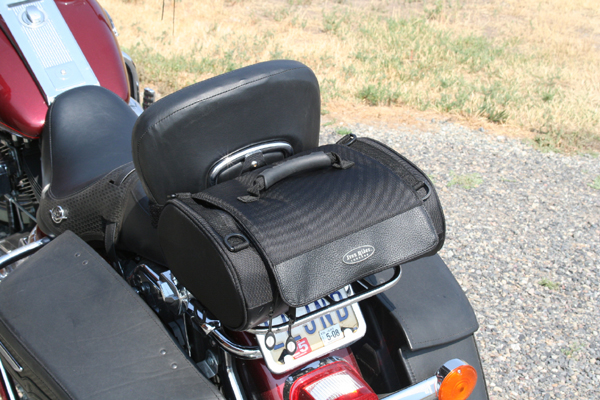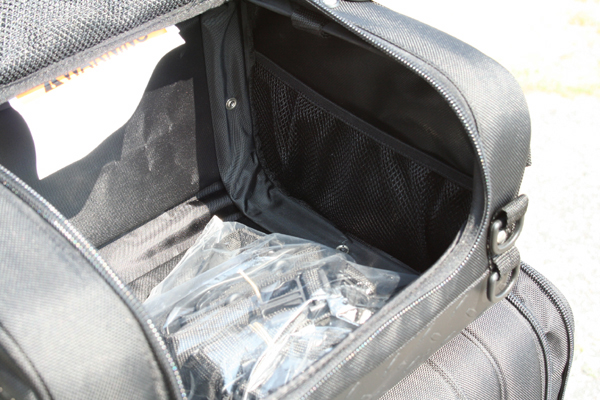 Prices are reasonable for the quality and space this system gives you. It comes with a two-year warranty. Prices start around $55 and go up.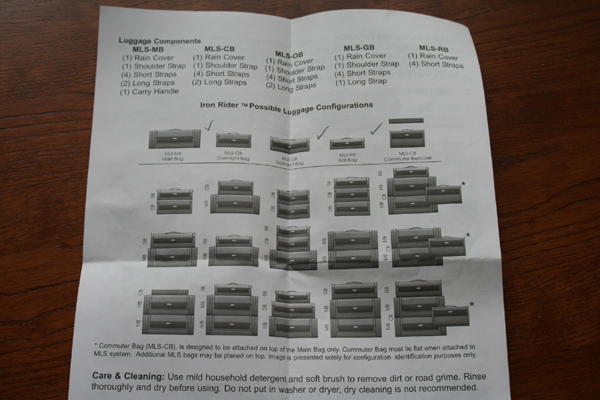 Dowco products, maker of motorcycle covers as well, are sold at most motorcycle dealerships. Visit Dowco-Inc.com for more information.

Related Articles
11 Motorcycle Touring Packing Tips
Dowco Fastrax Sport and Adventure Luggage
Review: Dowco Guardian Motorcycle Cover