I was excited when asked to demo the Dainese Tempest D-Dry Lady jacket and pants — meaning they were specifically cut for women — because my
first solo overnight trip
was coming up and I knew it would be a great couple of days to try out some new gear.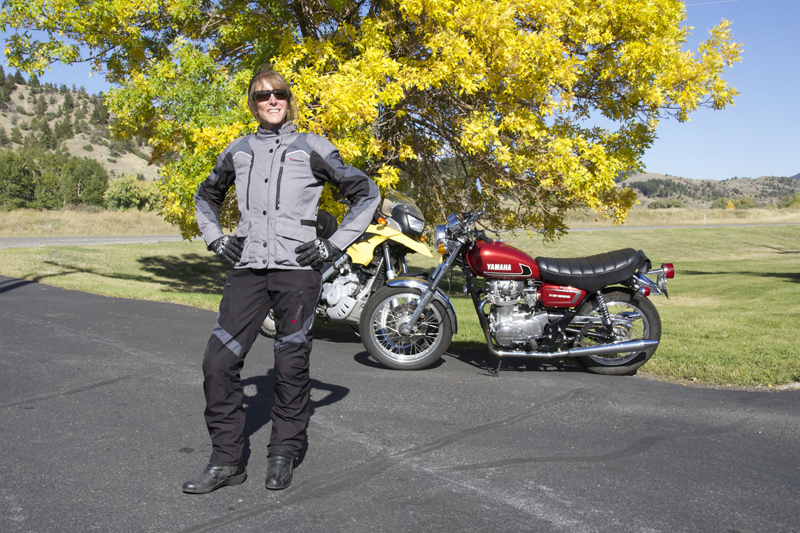 Based on the Dainese size chart I fell between a size 42 and 44 jacket and size 40 to 42 pants. I opted for a size 42 in both pants and jacket and they turned out to be a good fit. I had good mobility with all the liners in, but was not swimming in the shells with the liners out.
Here are my measurements:
Weight: 117 pounds
Height: 5 feet 5 inches
Waist: 27 inches
Chest: 34 inches
The Tempest D-Dry jacket and pants are intended to keep you dry and warm for three-to-four-season touring. But I found the outfit to be too warm in anything above 85-degree weather.
The jacket and pants are equipped with a water repellent Duratex outer shell, a removable thermal liner and a floating D-Dry waterproof/breathable membrane. There is a jacket-trousers connection zipper that allows you to zip to any Dainese jacket/pants.
I went for a short ride the day before my overnight trip with the jacket and pants and quickly discovered that the pants were extremely slippery on my BMW F 650 GS vinyl seat — so slippery in fact that for safety, I opted to leave them home and instead wore my Dainese Horizon Pelle-Tex leather/textile pants (also size 42).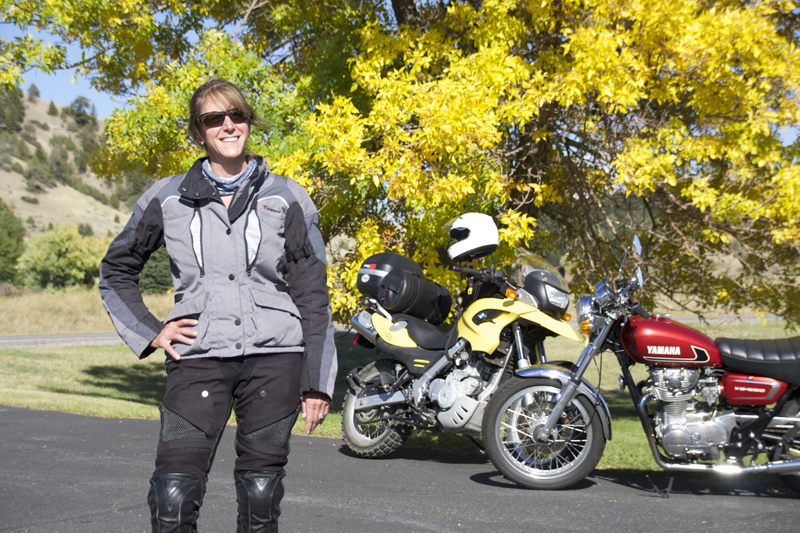 The leather coverage on the rear of the Horizon Pelle-Tex pants grip my enduro seat much better. The D-Dry Tempest pants would be fine if you ride a motorcycle with a leather seat, but not a good choice for vinyl.
| | |
| --- | --- |
| Leigh was asked to review the Tempest pants but discovered the textile slides on her bikes vinyl seat. Plus she found them to be a bit bulky for her taste. | This is the Pelle-Tex pants from Dainese, a leather/textile combination that Leigh says works better for her, preventing her from sliding on the vinyl seat on her BMW F 650 GS. |
During my test ride with the D-Dry Tempest pants, I found them cozy and comfortable. The pants come standard with composite knee and shin protectors, certified to the highest European safety ratings, but do not come with hip armor (which I require when riding), so I wore my Dainese hip armor briefs underneath.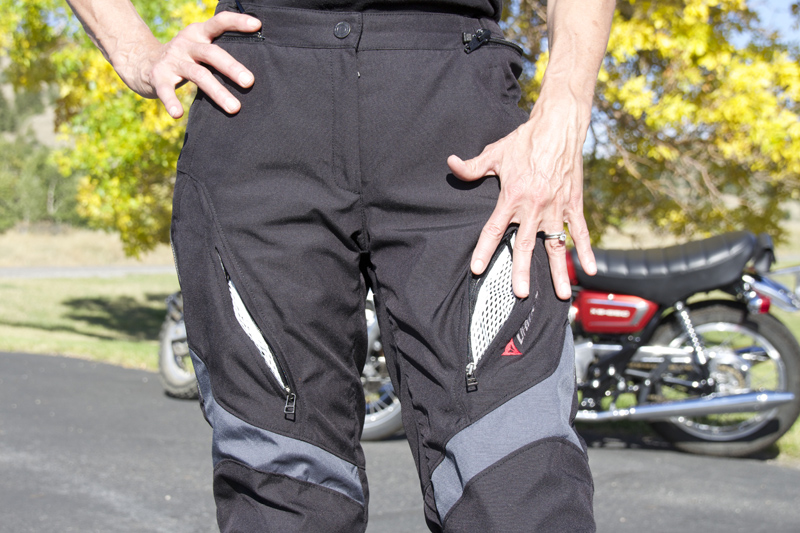 | | |
| --- | --- |
| Leigh is wearing the Tempest pants here without the liner. In this photo you can see the zipper that circles three-quarters of the waist for optimal connected jacket/pants protection. | A generous Velcro adjustment on each side of the waist allows for a perfect fit there. |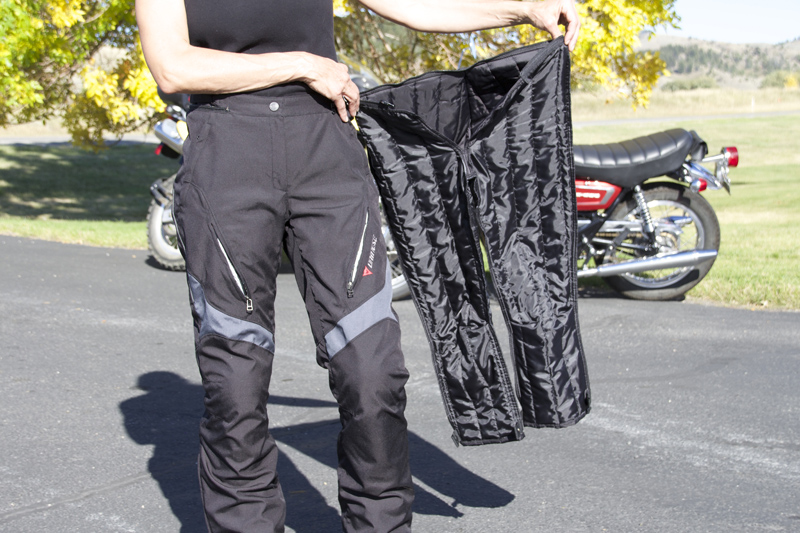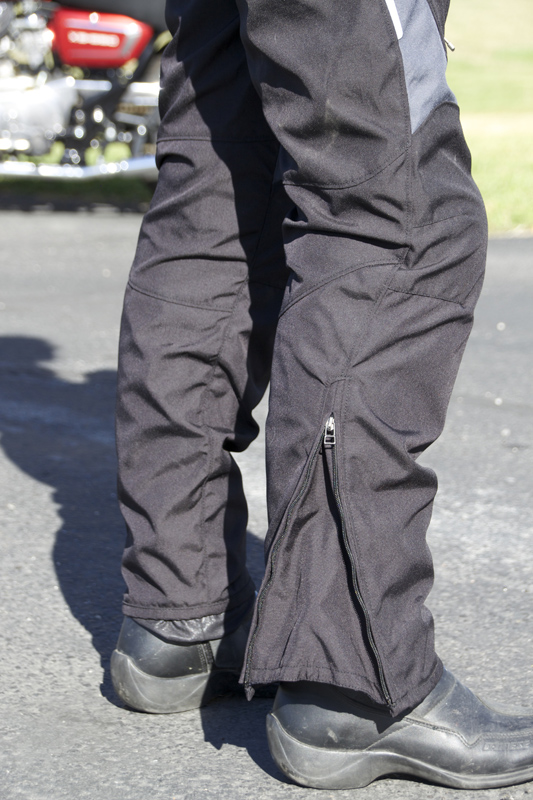 My only criticism with the Tempest D-Dry Pants is that they are a bit "puffy" and look and feel more like winter ski pants. I prefer the look and slim fit of the Dainese Pelle-Tex pants, but they are not waterproof and do not come with a thermal liner, so are not as well-suited to touring as the D-Dry Tempest pants. What you sacrifice in style with the Tempest pants, you make up for in comfort, versatility and protection.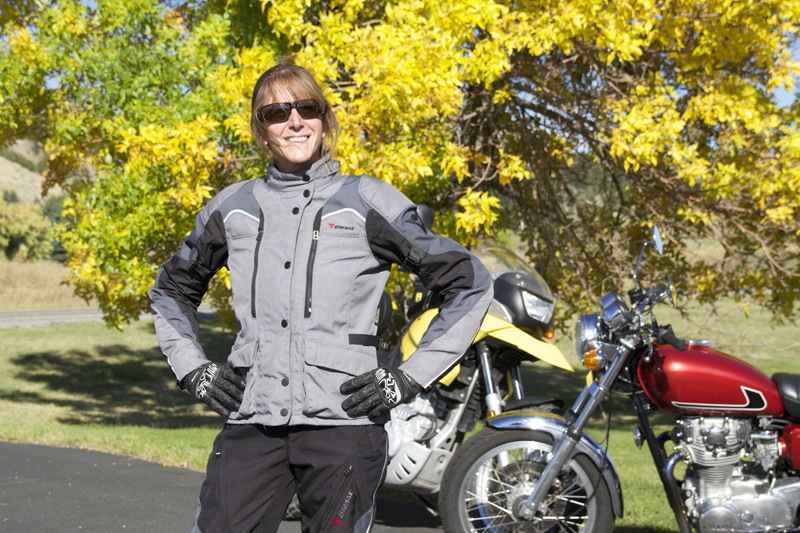 Since I'm an "all the gear all the time" kinda gal, I opted to spend the extra $80 for a Dainese G1 back protector, which does not come with the jacket. The back protector fit easily into the pouch designed for it and while I did notice the protector while riding, it did not alter the fit of the jacket.
Everything about this jacket says heavy duty. The beefy front zipper is covered by a weather-proof overflap secured by five large snaps.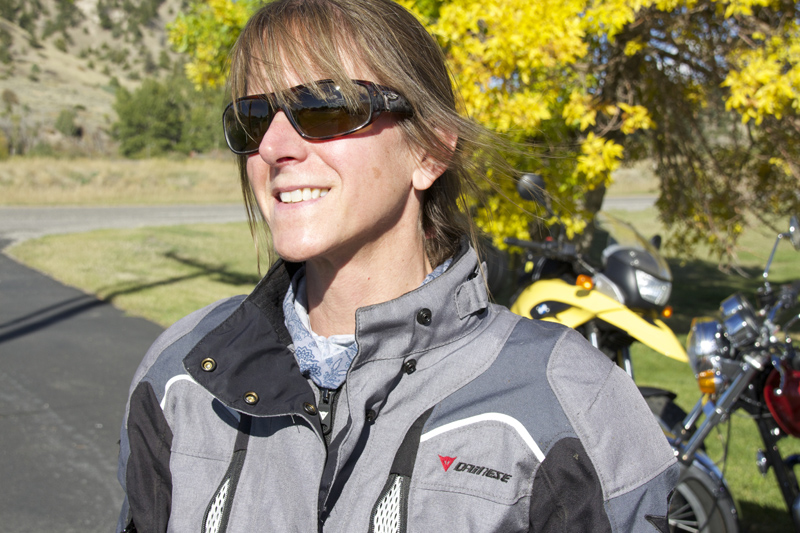 | | |
| --- | --- |
| The wrist cuffs on the Tempest jacket are each sealed by 5-inch gusseted zippers. | There are two flap pockets on the front, and one zippered pocket inside that's accessed just inside the outer snap closures. So you dont have to unzip the jacket as you can see here. There's also a small breast pocket in the thermal liner. |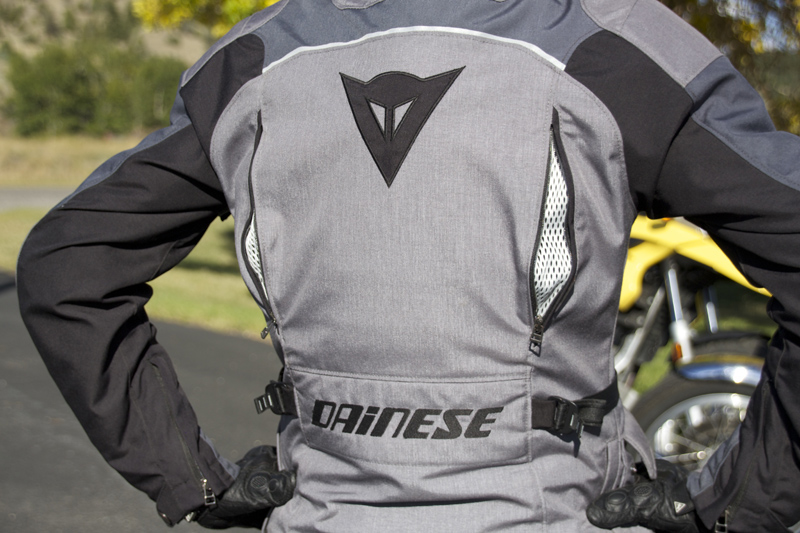 The jacket is designed with multiple adjustments to help achieve a custom fit including snap adjustments at wrists, snap adjustments at the biceps, Velcro adjustments on both sides of neck, two strap adjustments at the waist as well as an internal drawstring at the base of the jacket and two vertical zippers at the hips.
| | |
| --- | --- |
| You can see the generous waist Velcro adjustment and a zipper at the waist that allow for an optimal fit. | Unlike some textile jackets that have a mesh liner, the inside of the Tempest is a black light textile material that Leigh found to be comfortable against the skin but doesn't allow for much breathability. |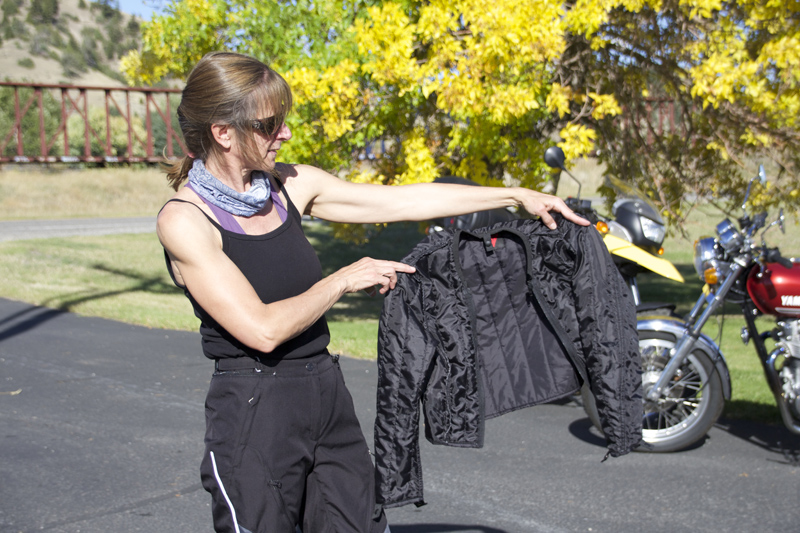 My first solo overnight trip was to Billings, Montana, about a 300-mile round-trip journey on a mix of major interstate highways and winding backroads. The ambient temperatures ranged from 50 degrees Fahrenheit in the morning to mid-70s in the afternoon. Although the skies were often threatening, it did not rain.
I zipped in the detachable thermal liner in the morning and took it out and opened the chest and back vents by mid-day. Montana temperatures can go to extremes throughout the day, so I wore a tank-top base under a Smartwool zip thermal in the early mornings.
My Dainese Pelle-Tex pants with a lightweight Patagonia Capilene baselayer underneath provided enough warmth in the morning and I opened the thigh vents about mid-day for air flow.
Although it did not rain on my trip, I did get caught in an afternoon thundershower one day, so had a chance to test the jacket's rain protection. When the rain started, I just pulled over, closed my chest vents, snapped the collar and stayed dry and comfortable all the way home. No leaks!
Summary Dainese Tempest D-Dry Lady Jacket
Pros
• High quality materials and construction.
• Warm, waterproof and breathable with large vents to flow air through
• Looks great
• Excellent fit for slim/petite women
• Pockets are easy to access, and large enough without getting in the way
• Sleeves were a good length for my long arms
• Warm when you need it and able to vent when you don't
•Good night visibility due to the reflective inserts on the chest, back and wrists
Cons
• Low daytime visibility in black/gray color tested
• Snap for removable thermal liner rubs the base of neck when wearing a tank top
• Requires two zipper attachments and four snaps to insert or remove thermal liner
• Back protector not included
• Will not zip to other brand pants, only Dainese pants
Summary Dainese Tempest D-Dry Lady Pants:
Pros
• Very comfortable
• Knee and shin armor is placed well; I didn't even notice it when riding
• Removable thermal liner is capri-length, so doesn't interfere with your boots. Easy to take in and out and felt warm and cozy against my skin
• Ankle zips are gusseted to ensure waterproof performance
• Thigh vents are easy to open and close and provide nice ventilation when weather gets warmer
Cons
• Feel and look like bulky ski pants
• No hip armor
• Extremely slippery on vinyl seats
• Will not zip to other brand jackets, only Dainese jackets
More information and to buy:
The Tempest D-Dry Lady Jacket:
Price: $399.95
Colors: Black/Dark-Gull-Gray, Black/Fluo Yellow, Black/Black
Sizes: 4 to 54
Visit Dainese's US website here where to order the Tempest D-Dry Lady Jacket. Sizing and colors may be limited due to current inventory, so check Dainese dealer locator or shop online retailers for more options.
Tempest D-Dry Lady Pant:
Price: $279.99
Colors: Black/Fucsia, Black/Black/Fluo Yellow, Black/Black/Dark-Gull-Gray, Castle Rock/Black/Dark-Gull-Gray, Black/Black/Red
Sizes: 38 to 54
Visit Dainese's US website here to order the Tempest D-Dry Lady Pants. Again sizing and colors may be limited so shop around.
Related Articles