Air ride suspension technology has been around for quite some time. Air shocks on a vehicle—be it a car, truck or motorcycle—adjust up or down with a button using compressed air. That's the simple explanation.
Legend Air Suspensions knows women, as the shorter/smaller gender, have the toughest time getting their feet down on the ground on motorcycles, so the company wants to make sure women riders know about their product. For several years now, company representatives have been trying to get me to ride one of their motorcycles outfitted with air shocks. Last year, during the Sturgis Rally, my schedule finally allowed me the time to test ride a motorcycle outfitted with Legend Air Suspensions shocks—and the bike happened to belong to the owner of the company, Jesse Jurrens.
In the two photos below, I'm sitting on Jesse's Harley-Davidson FLH Standard. One photo has the suspension slammed as low as it will go; the other photo has it filled with air so the bike is higher, with more ground clearance. Can you tell which one is which? It's hard to tell by looking at my legs because, at 5-foot-7, I'm on the tall side for a woman, and so my legs are bent in both shots. But a good gauge of the difference in seat height is to see where the top of my head lands in relation to the display board behind me.
| | |
| --- | --- |
| Here I decreased pressure in the suspension, so the big touring motorcycle is lower to the ground, making it easy for me to maneuver around this parking lot. | Here I pressed a button on the dash to increase pressure, raising the motorcycle about two inches and making it ready for me to crank the throttle and start riding. |
Legend makes replacement shocks for Harley-Davidson models only—Sportster, Dyna, Softail, Touring, V-Rod and trikes. The company has no plans to make them for metric models at this time. Legend air shocks replace the stock shocks on a motorcycle. The range on the air shocks is about 2.25 to 3 inches lower than stock, so you can lower the bike to the point where you need to maneuver it around, and then out on the road, air it back up to a comfortable riding suspension.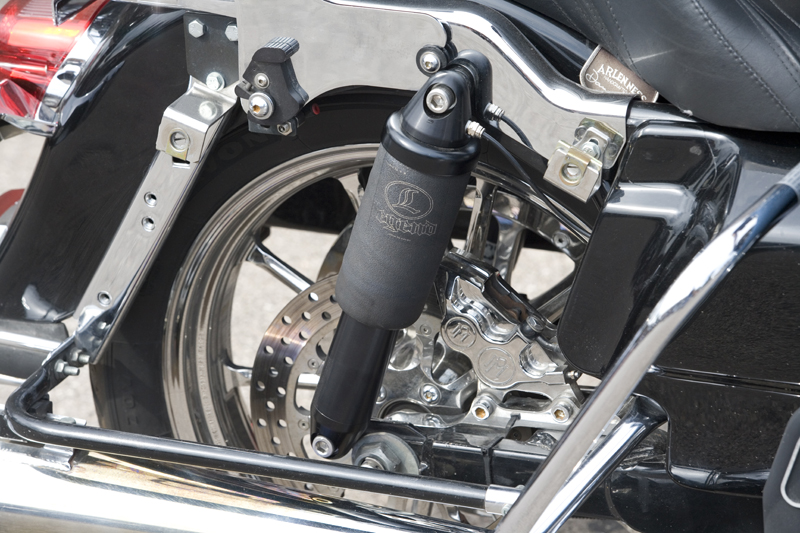 | | |
| --- | --- |
| A control panel with an up and down button is installed on the left handgrip, allowing the rider to increase or decrease air in the shocks. | A gauge installed on the dash indicates the PSI as the rider increases and decreases pressure. |
I rode Jesse's air ride bike around Sturgis and found the convenience of adjusting the shocks quite appealing. Out on the highway, the ride was smooth—no different than any other suspension setup. You certainly want to make sure you "air up" before taking off so that you have some suspension and dont feel like you're riding a hard tail (a motorcycle with no rear suspension).
I met up with one of Legend Air Suspensions' most satisfied customers, Tami Walker, who owns Diva Customs, a motorcycle accessories shop in Virginia Beach, Va.
The entire Legend Air Suspensions system sells for $1,600, so this is a bit of a commitment. But as Tami says, you could end up spending that much or more trying out different aftermarket seats or other suspension systems that don't quite get you down low enough.
Homegrown mechanics can install the kit themselves. Legend has a five-step plug and play wiring system that makes it easy for those who know what they're doing to install the system. Others will want to bring the kit to their dealer. I'm told installation averages two hours. For more information, visit LegendSuspensions.com.
Related Articles
Changing Your Motorcycles Shocks to Get Lower
Air Suspension Lets You Adjust Height On the Fly