Planning for the 2012 AMA Womens Conference is in full swing, and weve got the latest updates on everything you need to know. Read below for new information about speakers, events and social media for the biggest women and motorcycling event of the year. And be sure to visit our dedicated AMA Women amp; Motorcycling Conference forum thread to talk with other women riders about the event.
Speakers
Many of you have asked me about the AMAs planned lineup of speakers and seminars. The deadline has passed to apply to be a speaker. The schedule is now being put together.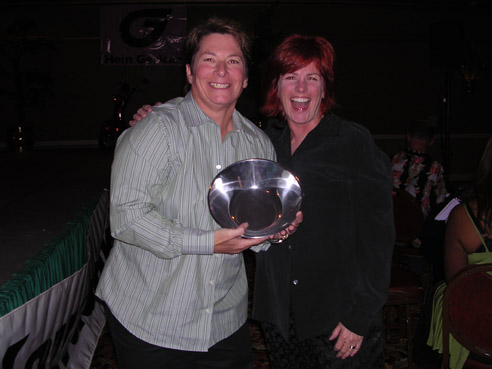 Schedule of Events
Here is a preliminary schedule the AMA has released for planning purposes. A more detailed schedule will be issued as the conference date draws closer.
Vendor Information
There is an application available to download from the AMAs Web site for those interested in becoming vendors at the conference. Note that the majority of booth spaces are located outside.
Registration Information
There's a little over a month left for AMA members to take advantage of the discounted pre-registration rate of $125. That discounted rate expires on April 30, after which it bumps up to $175. So be sure to register now if you can— being an early bird will save you $50!
Twitter Updates
The Twitter account @WomenandMoto has been set up to provide updates on the conference. I just read a March 6 entry announcing that the host hotel, Gold Dust West, is sold out. There are a fair amount of nearby hotels, and all are offering an AMA conference discount. I booked my room at a nearby chain hotel that I prefer and discovered my AAA discount is actually a few dollars cheaper than the conference discount, so ask about that if you have AAA.
What Happened to Tracey Powell?
Those of you who have attended one or more of the previous AMA Women amp; Motorcycling Conferences may remember Tracey Powell. Tracey was heavily involved in organizing all of the AMA's women's conferences. She always took a behind-the-scenes role, but she nevertheless appeared to have her hands in all aspects of the planning stages, as any talented, take-charge administrative person would.
Tracey wore many hats during her time at the AMA. Her main role at the conferences was with registration, as she led the team signing up attendees at the registration table. However, she also pulled up the rear for the leaders of the event as they scrambled to get through their long lists of tasks before the conference and scurried to put out fires during it. Tracey was always there helping out with a calm demeanor and a smile on her face. The event needed a strong woman like Tracey behind the scenes, content to let the leaders get all the glory.
Tracey will be noticeably absent at the 2012 conference in Carson City. She left the AMA in October 2010 after 32 years working with in various positions, including legislative coordinator, assistant to the president, advertising representative and event planner.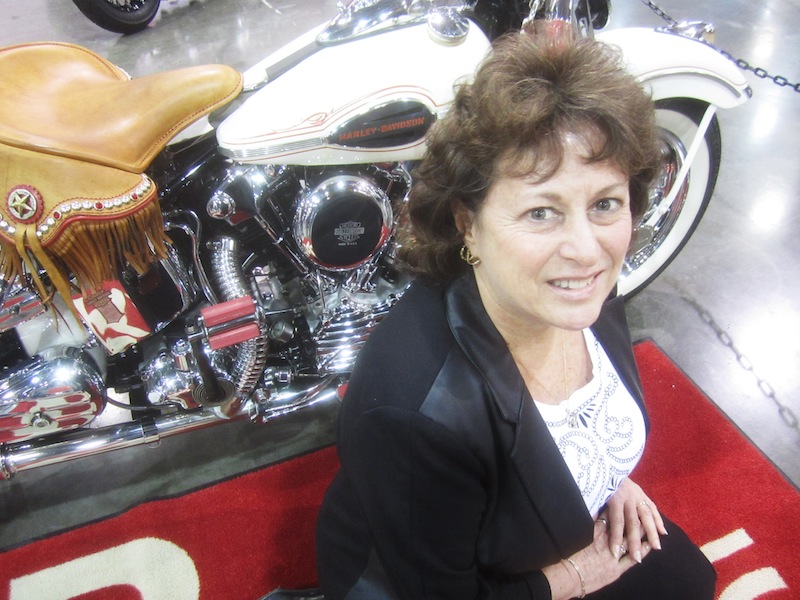 I reached out to Tracey a few weeks ago when I saw that she was recently elected to the board of the Antique Motorcycle Foundation. Though her new job has her working in administration outside of motorcycling, she told me that working with the Antique Motorcycle Foundation, volunteering at various events (like the Easy Riders show), and serving on the Ohio Motorcyclists for Children planning committee have helped her stay involved in motorcycling. "After 32 years of working at the AMA in various positions, [not being a part of motorcycling] is a hard habit to break," she said.
She added, "While working for the AMA, I made a lot of friends along the way, and I would welcome anyone to contact me at traceypowell@mindspring.com." Well miss you, Tracey.
Cris Sommer Simmons Releases New Book
Motorcycle author and multiple Hall of Fame inductee Cris Sommer Simmons has just released her latest book, "The American Motorcycle Girl's Cannonball Diary," chronicling her history-making cross-country ride on a 1915 Harley-Davidson as part of the Cannonball Coast to Coast Endurance Run in September 2010.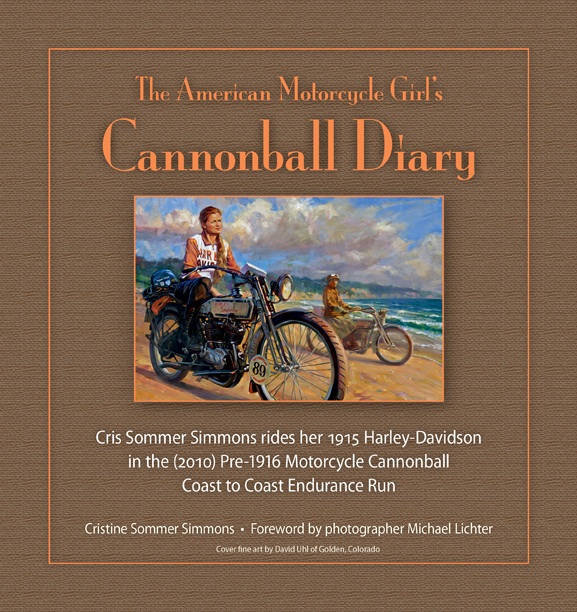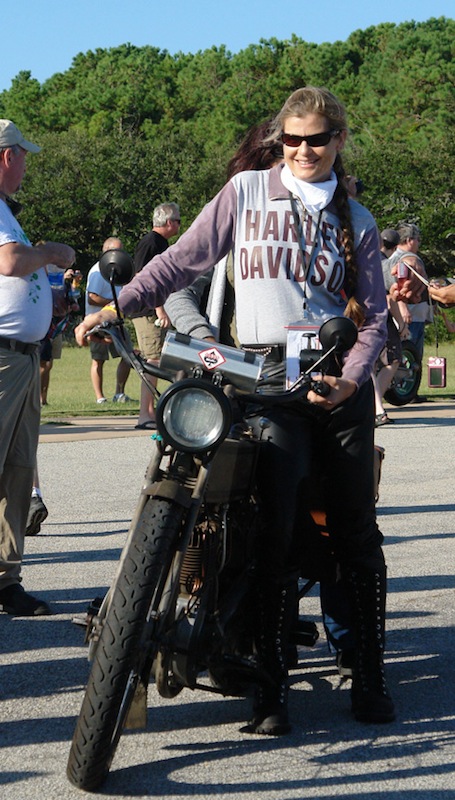 Cris debuted the book with several book signings during Daytona Bike Week last week. You may recall that Cris is also the author of "The American Motorcycle Girls 1900-1950," a coffee-table-style book chronicling the history of women and motorcycling during the first half of the 20th century. Cris wanted to follow up that effort with a similar book that's part history and part road diary.
To make the book even more special, motorcycle artist David Uhl created a painting of Cris using a photo he took of her on Effie (her motorcycle) at the start of the Cannonball Run in North Carolina. An image of that painting graces the cover of Criss new book.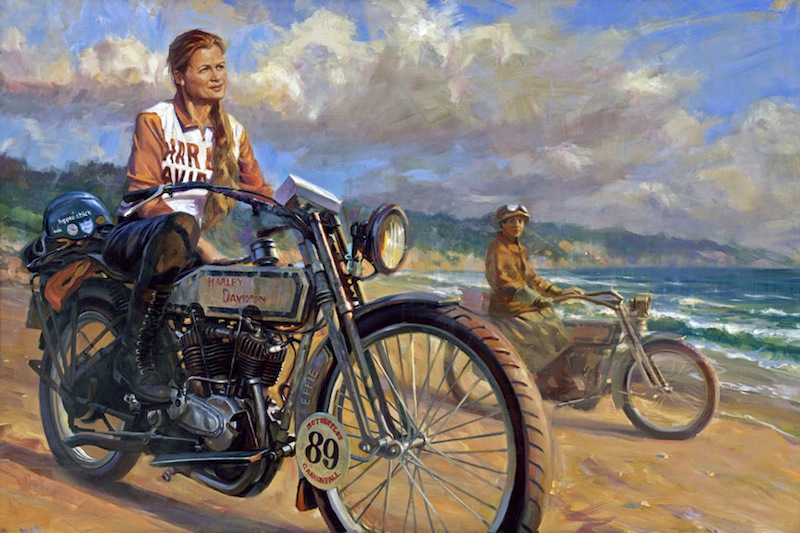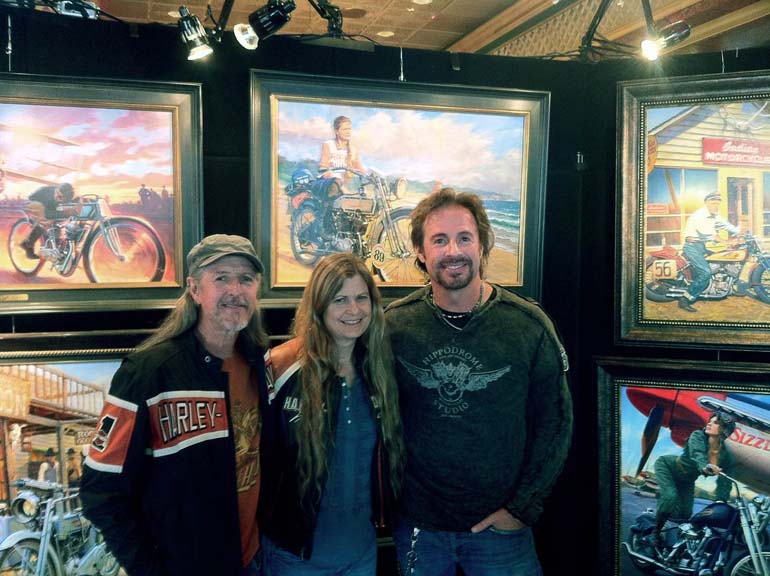 We'll provide more information on how to buy the book as soon as it's available. To learn more about the painting and order prints, visit UhlStudios.com.
Related Articles
Official Announcement for 2012 AMA International Women amp; Motorcycling Conference
First Interview: Cris Sommer Simmons on her Cannonball Run