Laura Klock, along with her husband, Brian Klock, are two of the industry leaders being inducted into the Sturgis Motorcycle Museum Hall of Fame this summer. The museum is inducting Laura and Brian as a couple for their impact on the motorcycle industry together and as individuals. The two own Klock Werks Kustom Cycles in Mitchell, S.D., a company theyve grown to include more than 350 Klock-Werks-brand parts, including the award-winning Flare Windshield designs.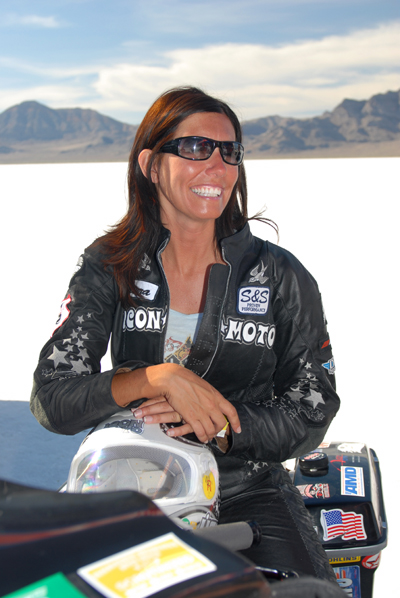 Laura made a name for herself when she rode a bagger (a large touring motorcycle) at the legendary Bonneville Salt Flats in 2006, setting her first National Land Speed Record. Since then, she's been joined on the salt flats by both her daughters, making them the first mother-daughter-daughter trio in land speed racing history to hold records at the same time. Brian made it a complete family affair by setting his first land speed record in 2011, the family's sixth year racing on the salt flats.
In addition to setting racing records, Brian and Laura are recognized builders and designers, working with their team at Klock Werks to build custom motorcycles and innovative parts. Most recently, Laura cofounded Helping With Horsepower, a charitable organization that designs volunteer programs to empower, encourage and raise funds for worthy charities.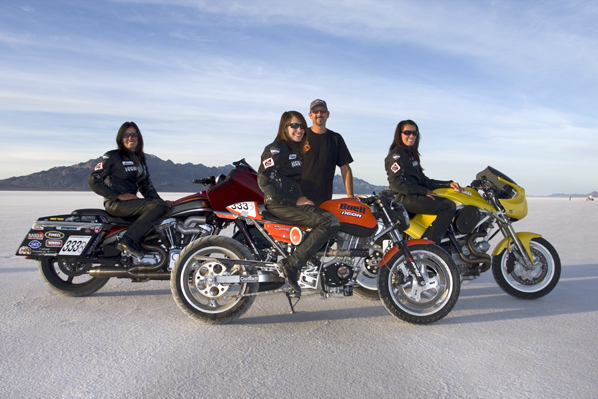 The other inductees into the Sturgis Motorcycle Museum Hall of Fames Class of 2012 are Buzz Kanter, Steve Piehl, Ed Kretz Jr., Ron Stratman, Dave Barr, and Rodney Roberts. Buzz Kanter is publisher of American Iron Magazine, for which WRN Founder/Editor Genevieve Schmitt is a contributing editor, and of RoadBike magazine, for which WRN contributor Tricia Szulewski is art director and contributor. Buzz's company, TAM Communications, also publishes several other magazines, all of which have had a large impact on the motorcycling industry.
Steve Piehl is receiving the museums J.C. Pappy Hoel Outstanding Achievement Award. He has worked at Harley-Davidson for nearly 30 years and has made his mark in various capacities, most recently as Director of Customer Experience. Steve is being inducted for his contribution in making Harley-Davidsons customer experience what it is today.
Ed Kretz Jr. was a talented competitive racer who competed in road racing, TT racing, dirt track racing and short track racing. A top finisher in races all over the country, Ed was an AMA Grand National Champion in the 1950s and 1960s. He is being recognized by the museum for his contributions to the sport.
Likewise, Ron Stratman is being inducted for several contributions to motorcycling, including his career as an amateur and professional racer over more than two decades, his founding of the Sturgis Harley-Davidson dealership, and for riding the first Buffalo Bike (a motorcycle covered in buffalo hide) down Main Street in Sturgis in 1991. We always wondered who that was!
Dave Barr is an ongoing inspiration to motorcyclists with physical disabilities, a challenge he faced and persevered through after losing both legs in a landmine explosion while serving in Angola in 1981. Since that time, Dave has ridden around the world, across Russia in the dead of the Siberian winter, and to the four farthest points of Australia. He's written books, produced documentaries, earned two Guinness World Records, and established Patriot Express, a foundation that supports injured military members and their families.
Rodney Roberts is being inducted into the Freedom Fighters Hall of Fame, which recognizes the commitment and sacrifices individuals across the nation and world have made to protect the rights of motorcyclists. Rodney has spent countless hours fighting for motorcyclists rights since the late 1980s, particularly at the state level. In 1997, in large part because of his efforts, the state of Arkansas became the first state to repeal its helmet law—and he continues to fight for motorcyclist rights in the Arkansas General Assembly any time a law impacting motorcyclists comes up.
The annual Sturgis Motorcycle Hall of Fame induction breakfast is scheduled for August 8 at 9 a.m. at The Lodge at Deadwood. Breakfast tickets are available for $35 apiece, while a table of eight costs $300. Tickets can be purchased from the museum by calling 605.347.2001 or by visiting SturgisMuseum.com.
Related Articles
Laura Klock and Her Two Racing Daughters
Way To Go, Girl! Fastest Woman on the Planet? Oh Yeah!