Updated content on November 5, 2014.
First a note from editor Genevieve Schmitt: One of the most common questions Im asked is if changing out the stock suspension on ones motorcycle to lower seat height will compromise ride quality. Im answering the question here based on my experience riding and owning five motorcycles since 1990. Following that is a more in-depth explanation by an expert of why and how this done.
"Having the ability to lower a motorcycle has enabled me to
buy the bikes Ive always wanted."
I have owned one Honda and four Harley-Davidson motorcycles. I changed out only the rear suspension on three of those bikes. The very first time I did, I asked the same question many of you have asked:

Will shorter shocks comprise ride quality for worse? Will I regret getting rid of the stock shocks?
I took the plunge and changed the suspension on my second bike, a 1993 Sportster 1200 with a 28-inch stock seat height. The shorter shocks lowered the bike down to 26 inches. Same with my 1994 Dyna Low Rider (stock 28 down to 26 inches), and later with my 2008 Street Glide (stock 26.5 inches down to 25 inches). I opted not to change the front fork springs on the Street Glide because its a major job and I first wanted to see how much lower I got with the just the new rear shocks. It was good enough for me, and thats all Ive ever done with my motorcycles.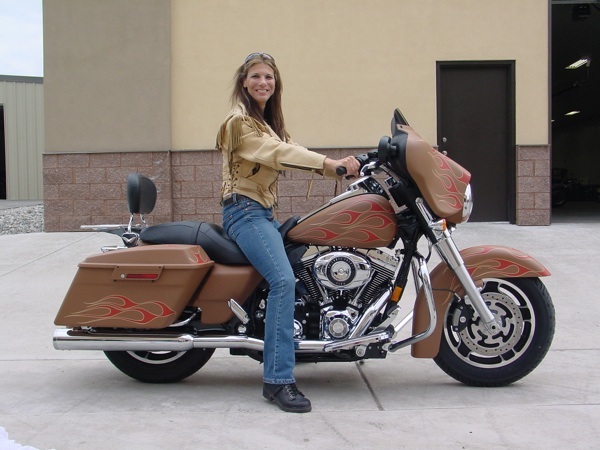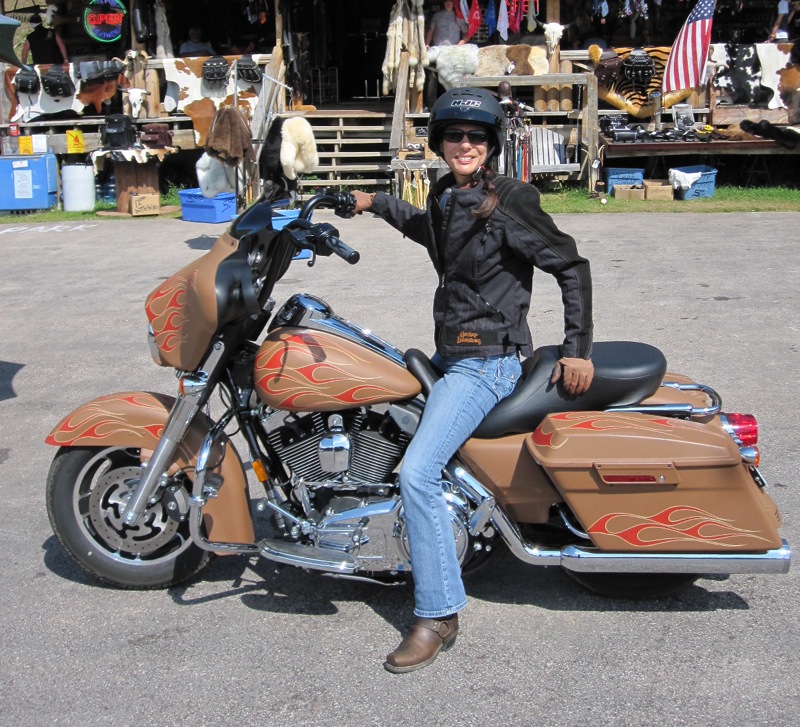 Yes, the ride is compromised in that you no longer get to feel the stock suspension set up that Harley-Davidson, Kawasaki, Honda, Yamaha, and Suzuki (and other major manufacturers) spend millions of dollars researching and developing. However, Ive never regretted changing out the shocks to lower seat height.
Heres how I describe the new ride. At first if youre used to the cushy stock suspension, you will notice a tighter, slightly bumpier, more rigid ride as the shorter shocks have less suspension travel as you ride over bumps and potholes. For me, however, it wasnt long before the new suspension felt normal and I never noticed the difference anymore. I was focused on the fact that I could maneuver my motorcycle much easier around parking lots, in gravel, and on grades. And for me, controlling my motorcycle in all conditions without anyones help is my first priority with any modifications.
"…of all the modifications Ive made to my motorcycles over the years,
this is by far A-number-1! "
So, if seat height is an issue and a lower or custom seat solves only some of the problem, I recommend splurging on a high quality shock and having an expert technician install and adjust. This takes time and research, but of all the modifications Ive made to my motorcycles over the years, this is by far A-number-1! The most important! The one Ive never regretted! The one I cant do without!
Having the ability to lower a motorcycle has enabled me to buy the bikes Ive always wanted. If lowering was not an option, I would have ended up with motorcycles that were smaller in size and probably smaller in engine displacement despite my advanced riding abilities.
If youve not read our article on
Options for Lower a Motorcycles Seat Height
with a focus on changing out the seat, I urge you to do so before doing anything. Its important you consider all your options before spending the time and money to make your motorcycle fit your just right.
In the past Ive used Works Performance Shocks where the shocks were tuned for my height and weight. For my Street Glide, I chose Progressive Suspension as they make a high quality touring shock to lower an already lowered-at-the-factory Harley touring bike, the Street Glide. David Zemla is the director of marketing at Progressive. I asked David to explain some fundamentals of aftermarket suspension set ups. If you have a question for David, submit it at the end of the article and well post his answer.
Heres Davids article:
Get in a typical car and you can tilt the wheel, slide the seat forward and generally make whatever size car it is fit whatever size you are. The same is not true with a motorcycle as packaging and weight prohibit such accoutrements. Proper fit in the two wheel world often requires swapping out a fundamental part. A flourishing aftermarket makes this fairly easy, but what parts should get binned first? How much can change before it impacts other things and how can it be done without breaking the bank? All great questions and all lead us to look at the suspension (shocks and forks) as the go-to tool to better fit your bike to your body.
OEM ("original equipment manufacturer" basically the stock part) motorcycle suspension is quite the compromise to begin with as the factory has to make a guess as to how much the intended rider might weigh or how hard he or she will ride. A pretty broad assumption has to be made often leaving the bulk of riders to adapt to the bike instead of the inverse and preferred method.
Beginning with the shocks in the rear, ample opportunity is available to adjust the height of the bike to fit your inseam. The rider sits closer to the back and any change on this end has more immediate impact to ride height than the front would. An inch or so drop in your bikes suspension is often all it takes to get your feet flat on the ground, and a high-performance shock even in lowered form comes with the added bonus of improving the quality of your ride.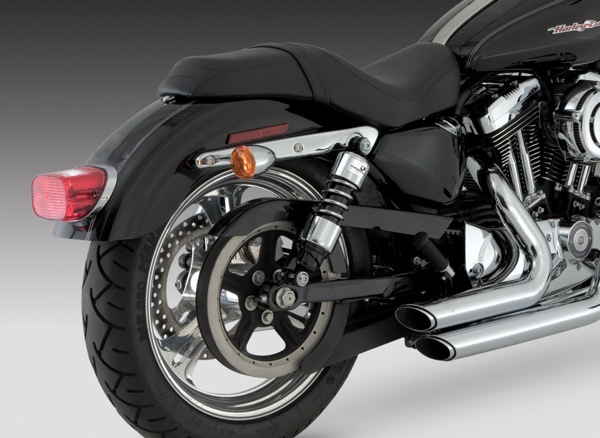 Beginning in the $300 range, a lowered height shock can transform your bike from tippy behemoth to comfy road chariot. A higher end aftermarket shock is also far more tunable to your weight. This adjustment is called preload and changes the amount of tension the spring is under within the shock assembly. Preload adjustment can greatly influence comfort.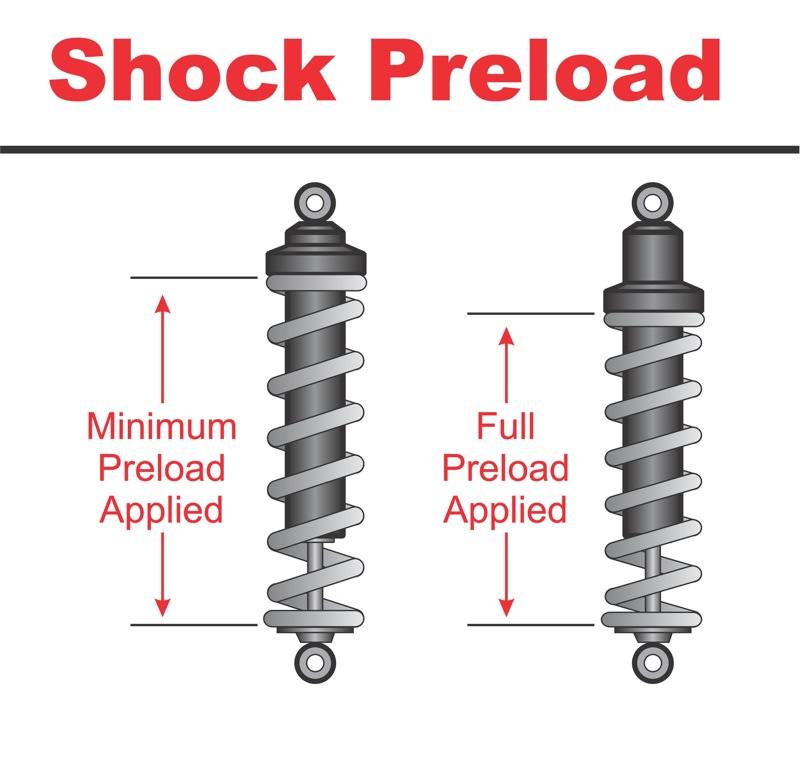 To better understand preload tuning one must recognize that suspension works in up-travel (called compression and explained as the reaction of the shock to a bump) as well as down-travel (known as droop/rebound or the response of the suspension to a hole in the road). With roughly 4 inches of suspension travel in an average motorcycle shock, setting up preload correctly can be critical to rider comfort.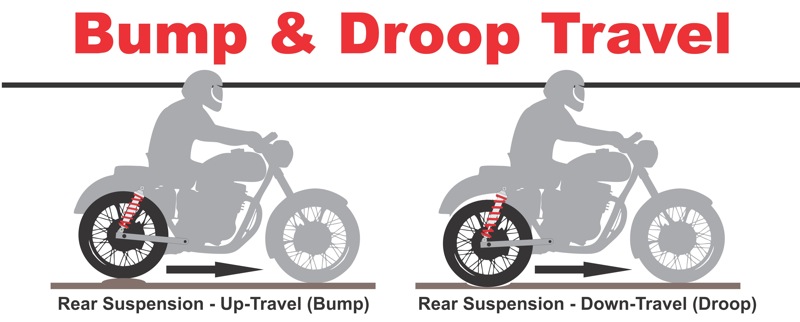 To allow a shock to best handle down travel as well as up travel, it must sit part of the way into its travel with a rider on it. This allows the wheel and suspension to drop into a hole without taking the entire bike with it and thereby smoothing out the ride. This is why you feel your bike compress a little when you get on. This is called sag and it is generally understood that the bike should sag approximately one third of the total travel with a rider in place. This is where preload tuning comes into play. Using the adjusters on your shocks (some are simple five position cams; others allow a broad range of adjustment via a threaded area) one can "tune" suspension to suit your weight. The higher quality the shock the more finely it can be tuned.
There are two key Sag measurements: the first is Free Sag which is your suspension's extended height, ideally measured from the center of the rear axle to an arbitrary point directly above the axle (a fender bracket, for instance). This is done off the stand and with a helper holding the bike straight up. A solid lift of the rear end (simply pick up the bike by the fender or rack as far as you can) will unladen the shocks and a Free Sag measurement can be taken.
The next critical measurement is Rider Sag. This is the ride height of the bike with the rider on it, hands on the bars and feet on the pegs with a helper or two supporting it. A measurement is again taken from the center of the rear axle to the same point as before. The difference between the two measurements is your final Sag and for cruiser and touring bikes is generally expected to be .75 inches to 1.25 inches (depending on application). If your number is less, then the bike will require less preload, and if it is higher, more preload is needed. Twin shock bikes should always be adjusted with the equal preload on both sides.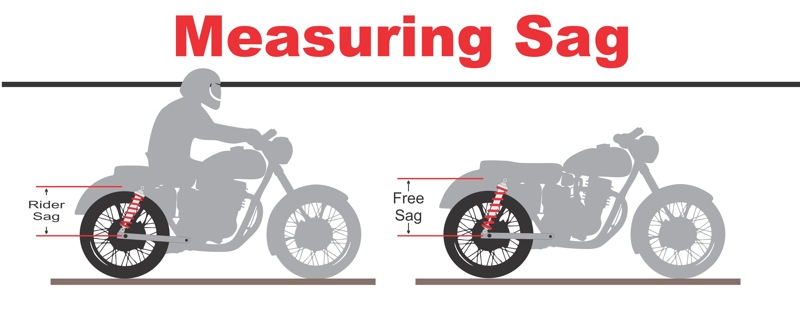 Properly set up shocks even lowered will greatly increase ride quality over stock units and the reduction in ride height will help keep your feet planted during those parking lot and gas station maneuvers that haunt many riders.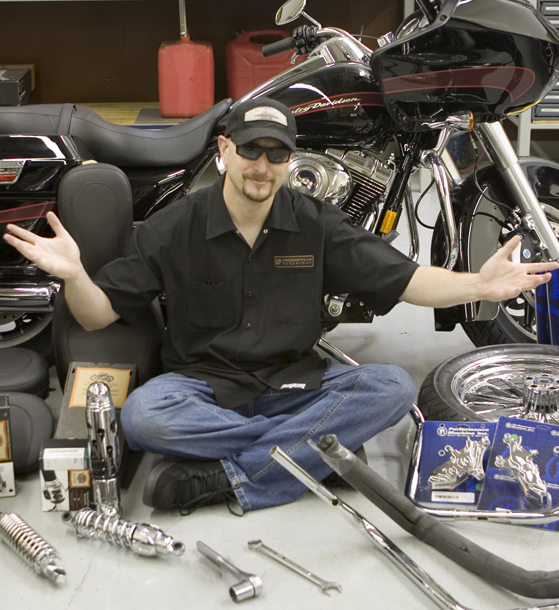 About the Author:
David Zemla is a lifelong two-wheel enthusiast who currently directs marketing efforts for Progressive Suspension and Burly Brand. David considers himself lucky to work in a market he's completely passionate about. Prior to working for Progressive Suspension, David spent 10 years working for Performance Machine. He also has the distinction of writing articles and product reviews for countless motorcycle magazines and Web sites. Visit ProgressiveSuspension.com for more information on that company's line of aftermarket front and rear suspension products.