Kawasakis Ninja 250R
has long been a popular choice for beginning riders who prefer the look of a sportbike but like a comfortable sit-up seating position. The smallest Ninja has been replaced for 2013 with a new 300cc platform featuring a slew of updates that promise the novice plenty of rideability and two-wheeled excitement to foster the learning process while ensuring the bike won't be quickly outgrown.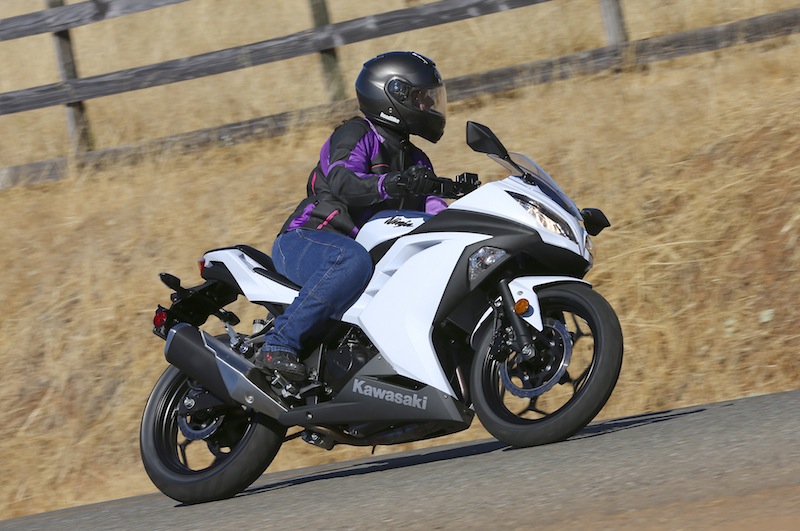 Kawasaki clearly wants entry-level riders to start out on this Ninja—which would ideally attract those novices to make larger-displacement Ninja purchases when theyre ready to upgrade—but the truth is that there's plenty for experienced riders to love about this fun starter bike. For just $4,800 (or $4,900 for the SE and $5,500 for the SE with ABS), Kawasaki's Ninja 300 has plenty to offer for all kinds of fun-seekers.
| | |
| --- | --- |
| Kawasaki Ninja 250 | |
The Ninja 250R (left) is still a great beginner bike, but the new Ninja 300 (right) is even better, with updated looks and technology.
Comparing the250R and300 side-by-side, its obvious Kawasaki made styling improvements to the 300. New features like a minimalist tail section, angular design cues, flush-mounted front turn signals, a new windshield design, and a dual headlight are consistent with the ZX-14R and ZX-6R.
| | | |
| --- | --- | --- |
| Kawasaki Ninja 300 | Kawasaki Ninja ZX-6R | Kawasaki Ninja ZX-10R |
The aggressive forward stance of the 300 more accurately reflects the designs of the larger Ninja sportbikes.Pictured from left to right are the Ninja 300, the Ninja ZX-6R and the Ninja ZX-10R.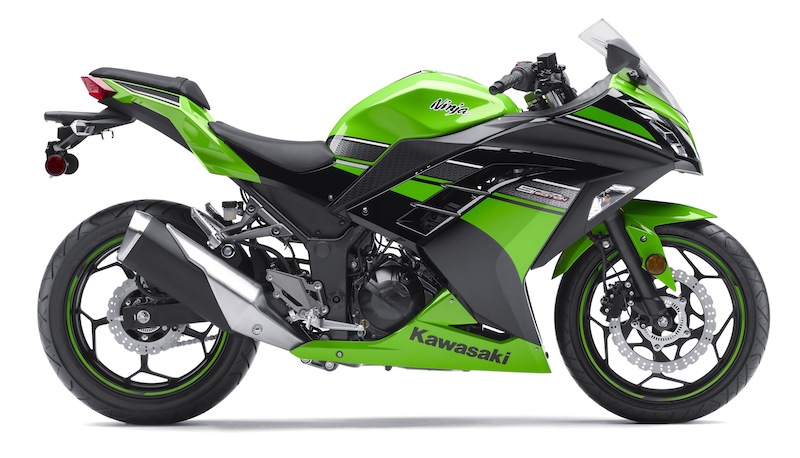 With refinements to the engine, chassis and general aesthetics, the 300 has pulled far ahead of the Ninja 250R and its only true competitor, the Honda CBR 250R. Although the 300's four-stroke, liquid-cooled, parallel twin engine looks similar to that of the Ninja 250R, 45 percent of the engine parts are new. Displacement grows from 249cc to 296cc, delivering more useable power, especially in the bottom end, making takeoff easier. Digital fuel injection (DFI) has been added to the Ninja 300, eliminating the need for long warm-ups or fumbling with a choke. The DFI offers optimal fuel delivery for quick and precise throttle response, cleaner emissions, and better fuel economy. In addition, the Ninja 300's header pipes have been redesigned to improve low and mid-range torque for smooth acceleration.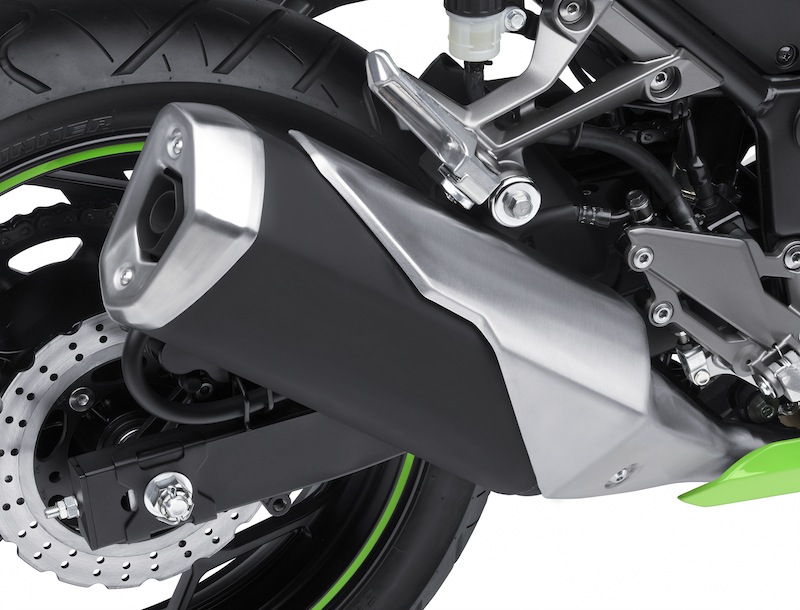 The 300snew slipper clutch is ahuge improvement that specifically benefits beginning riders with less-than-perfect shifts through the gears. Sloppy downshifts are forgiving, as the slipper clutch works to prevent rear tire lockup. Several times on my test ride I dumped the clutch lever too quickly during downshifts, but never once experienced that "chirp" you hear when the rear tire skids momentarily during a messy downshift.
| | |
| --- | --- |
| Smaller riders will appreciate these redesigned levers that require a shorter reach by 8mm. | Shorter riders will also benefit from a tapered front seat design offering an easier reach to the ground. |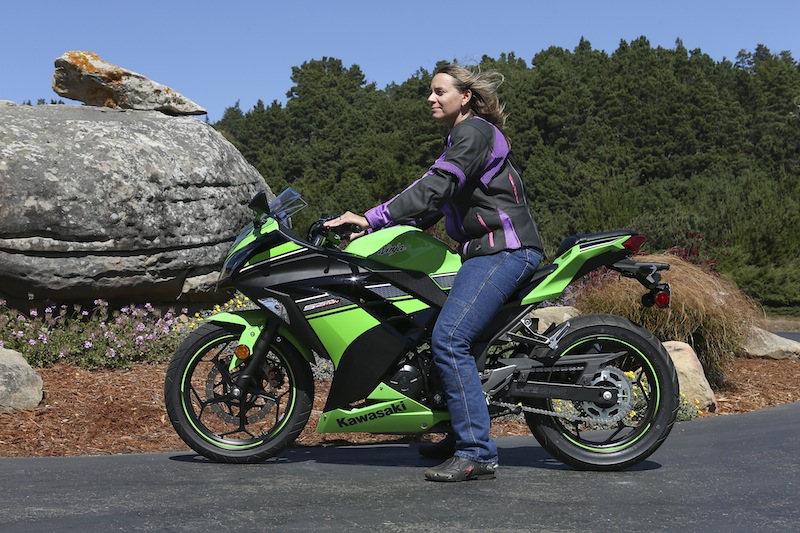 The ride is further improved withtweaked suspension settings anda new, 150 percent stronger mainframe. The stiffer chassis incorporates front rubber engine mounts that transfer much less vibration to the rider. The revised subframe incorporates a flatter angle that offsets a larger rear tire (140/70-17") and maintains a seat height of30.9 inches,relatively low seat for a sportbike.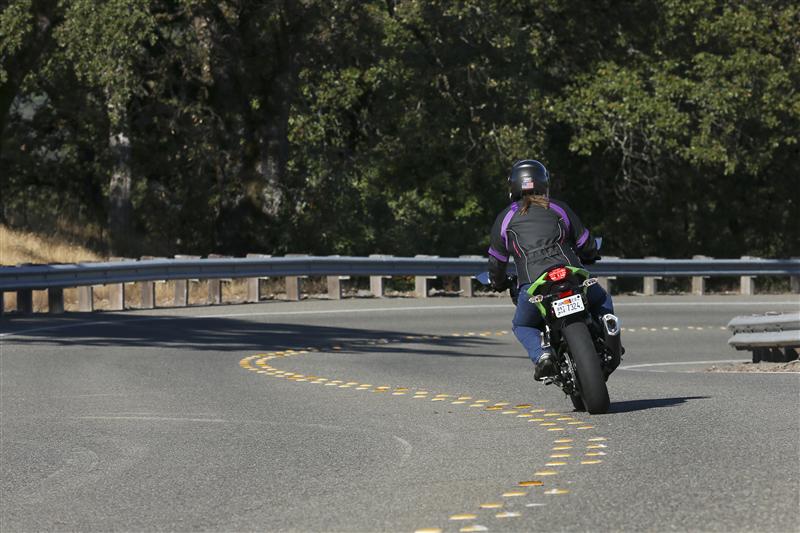 | | |
| --- | --- |
| The new supersport spoke wheel design shares its aggressive likeness with the Ninja ZX-14. | Single discs in the front and rear offer smooth, responsive braking. ABS is optional for an additional $500 on the SE (green/black) version. |
| | |
| --- | --- |
| The cockpit is vastly improved from the 250R, with a sleeker, less distracting instrument display. An analog tachometer is front and center, with warning lights around it. A large, easy-to-read digital speedometer, fuel gauge, and clock are always visible on the backlit LCD. An odometer and two trip meters are toggled with a push-button on the dash. The economical riding indicator displays an "ECO" mark when fuel usage is optimized. | Wide, clip-on-style bars offer easy maneuverability and maintain the sportbike look, but unlike larger sportbikes, this bikes sit-up, ergonomic seating position prevents pressure from being put on the riders wrists. |
| | | |
| --- | --- | --- |
| The Ninja's mirrors have been redesigned, offering a wider viewing area to the sides. However, some riders will have to shift their shoulders a bit to see behind them. | The Ninja 300 uses regular octane gas, and the new flared gas tank holds 4.5 gallons of fuel. | For easy maintenance, Kawasaki designed the lower cowl so that the Ninja's engine oil will drain without the need to remove the plastic bodywork. A new spin-on oil filter is also easily accessible and replaceable. |
Official averages for fuel consumption were not available at press time, but riding conservatively, it's possible to achieve triple-digit numbers. Riding normally on back roads, we averaged about 87 mpg. Add that to what youll save by using regular gas and the Ninja 300 proves to be a truly economical ride.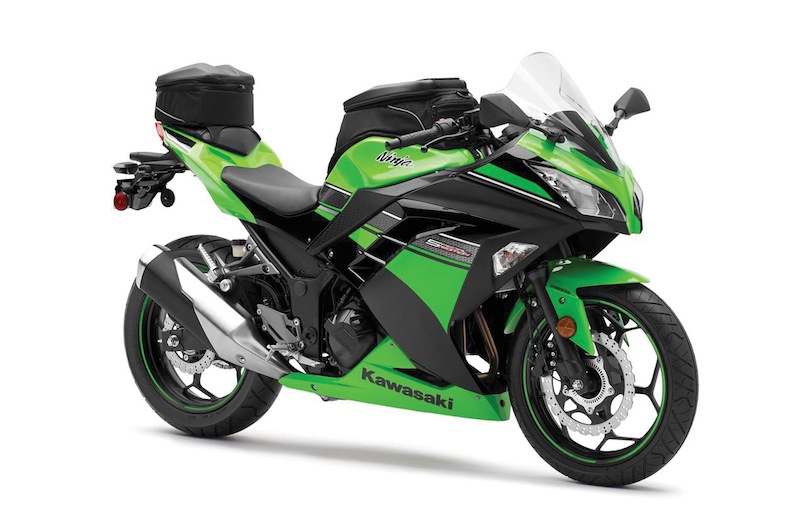 | | | |
| --- | --- | --- |
| Cargo hooks and a flat passenger seat allow you to easily secure luggage to the rear seat. The passengers seat pad pops off with the ignition key in the tail section to reveal two storage compartments. | Two storage compartments are located under the passenger seat. The first one is big enough only for a pair of gloves. | This plastic lid pivots up to reveal a larger compartment underneath. This is where you'll find the factory tool kit, but there's plenty of room to add a rain suit and spare gloves. |
Pinning the throttle on some pretty technical roads, the 300 proved it can outdoevenbigger sportbikes when it comes to fun-factor. The Ninja's lightweight and easy shifting makes it easier to concentrate on choosing the right line and perfecting riding techniques.
Power for the 300 is immediate and available throughout the powerband. I was impressed with the bikes responsiveness on the highway,even at 70 mph. Passing was no issue, and handgrip vibration was minimal, even at high rpm.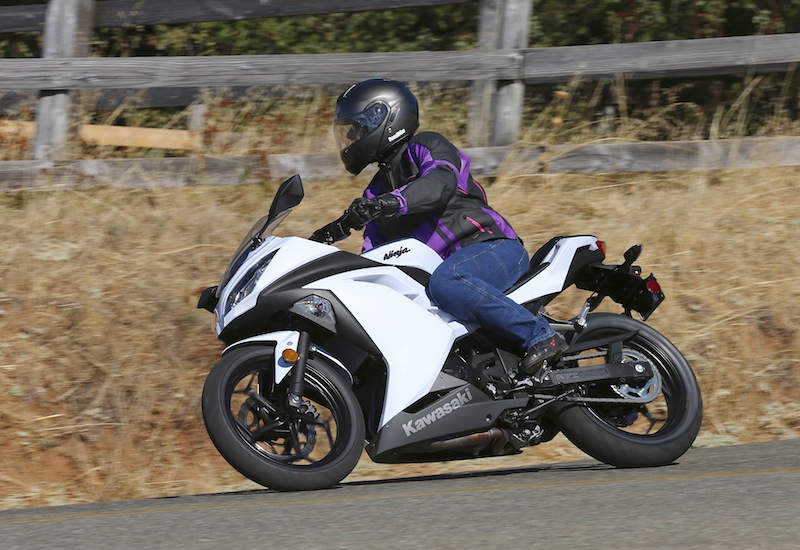 After switching to a 250R for comparison's sake, I immediately noticed the difference in power. Shifts on the 250R were much harsher, and throttle response was vague. The250Rsrequired higher rpm and solid mount engine sent so much vibration to my hands that after a few minutes I was begging for my 300 back.A budget-priced, sporty standard offering high value and guaranteed excitement, the Kawasaki Ninja 300 would be a great addition to anyone's motorcycle garage.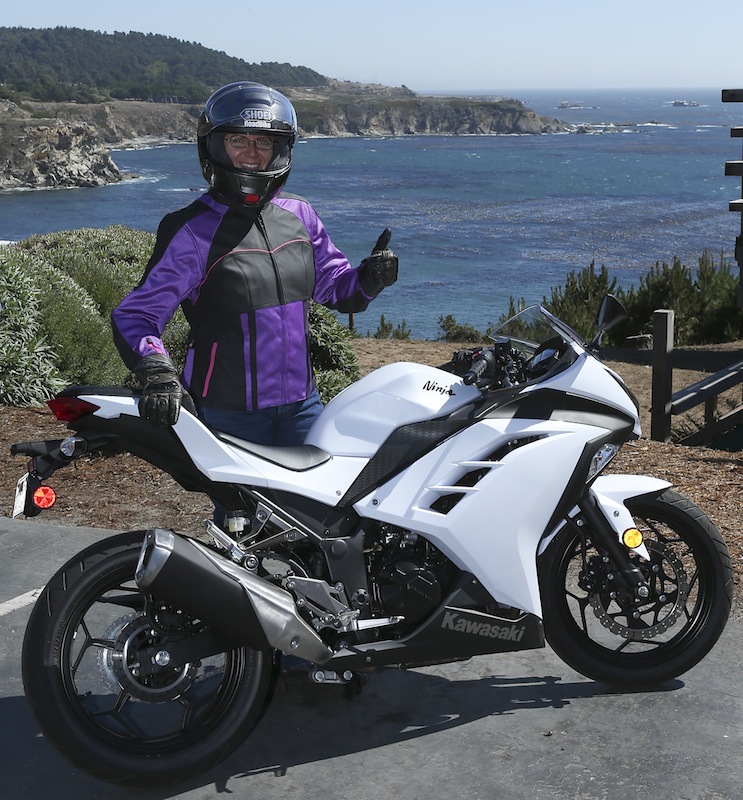 Specs At A Glance: 2013 Kawasaki Ninja 300
Displacement: 296cc
Seat Height: 30.9 inches
Weight: 379 pounds
Price: $4,799 (Standard); $4,999 (SE); $5,499 (SE ABS)
Colors: Ebony; Pearl Stardust White; Lime Green/Ebony (SE only)
WRN Recommendation
Kawasaki has a hit on its hands with the new Ninja 300. (right) is even better, with updated looks and technology.