The Honda Shadow Spirit VT1100C is aptly named because its spirit the essence of this solid middleweight has inspired thousands of people to own one since it was introduced in 1985. It has survived changes in Hondas lineup for more than two decades.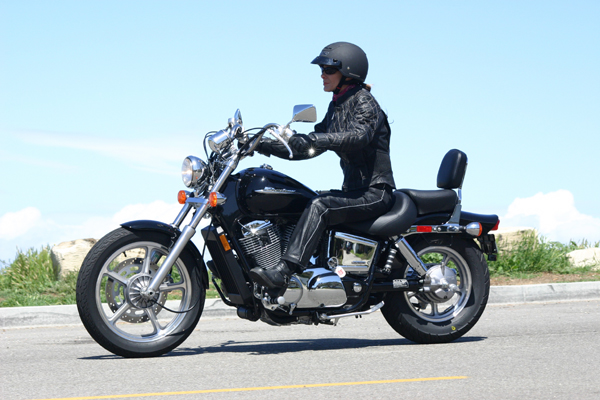 Today, you can still buy a new Spirit VT1100C as part of Hondas family of motorcycles. I tested the 2007 model. Honda did not introduce a 2008 Spirit 1100. When asked if this is the end of this enduring motorcycle, a Honda rep told me, "Never say never." The company has been known to hold off releasing a model for a year or two only to re-introduce a new and improved version. Coincidentally, the 1100cc Shadow Sabre also disappeared from the 2008 lineup. I suspect these two models may be going through an extreme makeover, perhaps combining the best of both for one 1100cc model. Well have to wait and see.
In the meantime, Im told there are new 2007 1100s on showroom floors to be had, while there are also plenty of used ones around in relatively good shape given Hondas incredible track record of reliability. A bit of trivia: Honda did not produce the 1100 in 1991 because of a backlog of unsold 1990 1100s. (Back then, the 1100 was called Standard, not Spirit. The bike was renamed Spirit in 1997.) When dealers heard about this oversupply of bikes, they bought up the leftover inventory. Subsequently, the 1992 1100 was reintroduced with a big splash boasting several new colors including custom two-tone paint options.
With all the fancy, new technology powering motorcycles these days, its nice to ride a new one with features reminding us of where weve been, like the analog controls. Many motorcycles today have high tech digital displays. I like the Spirit 1100s analog display, each number individually rotating showing the miles Ive traveled.
The Spirit also still runs on a carbureted 5-speed engine, but dont think this makes the bike any less because it doesnt have 6 speeds or fuel injection. It has plenty of power and torque that commands the road just as well as those modern middleweights. Dual 36mm constant-velocity carburetors offer a crisp throttle response across a wide powerband that was felt every time I rolled on the throttle. Maintenance free features (read more modern engine technology) include a digital ignition and automatic cam-chain tensioners.
When I thumbed the starter button, that trademark deep, slow cadence Honda rumble coming from the liquid-cooled 45 degree V-twin engine reminded me of my very first motorcycle, a 1983 Shadow 500 the year the Shadow line was introduced. Twisting the throttle on the 1100, Im immediately propelled forward thanks to huge amounts of low-end torque. Shifting through the five gears as I throttle up to highways speeds I find power output is smooth with minimal vibration. The valve train consists of a single overhead cam and three valves per cylinder.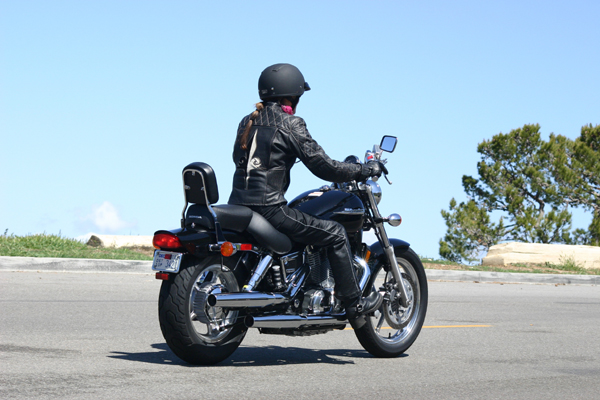 The transmission is forgiving if you find yourself in the wrong gear. No sputtering or choking, just a constant output of power. A low maintenance shaft drive (versus a belt drive) sends power to the rear wheel. The suspension is superb on the 1100 gliding over imperfections in the pavement. The front consists of a 41mm fork providing 6.3 inches of travel, while the rear cushions the ride with dual shocks with a five-position spring preload adjustability. The stock setting provides 3.9 inches of travel. With a body weight of 117 pounds, I needed to tighten the preload a bit as I felt the suspension was too bouncy for me. Stock settings are based on a 180-pound rider. Brakes are standard fare with a single disc twin-piston caliper in front, and drum brake in the back.
Fit and Feel
Straddling the motorcycle, the first thing I notice is how I sink into the cushy, wide bucket style saddle. Its so wide, theres room left over on either side for me. I also like that the bike has a decent-sized passenger seat and comes with a backrest as standard equipment. Not many middleweights in this class do. The buckhorn style handlebars are positioned comfortably in front of me (no extra reach here), and the forward foot pegs are easily within reach for my 5-foot-6 inch frame. (A 5-foot-11 guy also fit on the bike just fine, too.) The seating position puts the rider upright instead of leaned over in a more aggressive riding stance. Seat height is 28.7 inches, higher than most of todays modern middleweights boasting seat heights at least an inch lower to accommodate the rising number of female riders.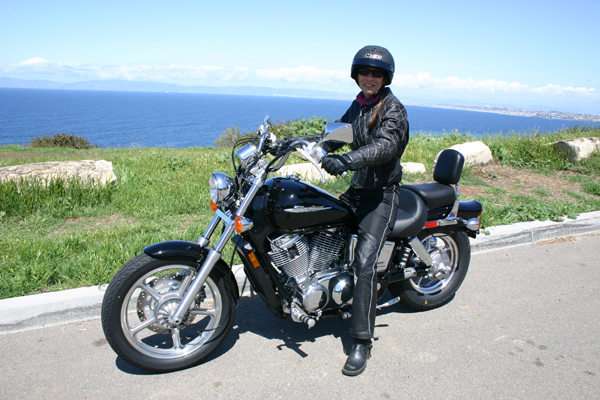 While the 1100 is moderately light at about 560 pounds, it feels a bit large and bulky to me, something Im not used to with todays middleweights. Modern middleweight cruisers like the Kawasaki Ninja 900 (27-inch seat height) and Yamaha V Star 1100 (27.2 inch seat height), Suzuki Boulevard C50 (27.6-inch seat height) have a lower center of gravity and modern streamlined styling rendering them more compact making them feel lighter because theyre lower.
Styling wise, the VT1100C hasnt changed much since it was introduced in the 1980s. While its not as streamlined and loaded with chrome as many of todays cruisers, it still holds its own in a sea of modern cruisers. Its upswept rear fender, full size fuel tank at 4.2 gallons (including 0.6-gallon of reserve), and high pullback handlebars give the motorcycle a cool cruiser look. The 2007 model costs $8,699, a decent price for motorcycle with a long track record of success.
For more information, visit HondaMotorcycles.com.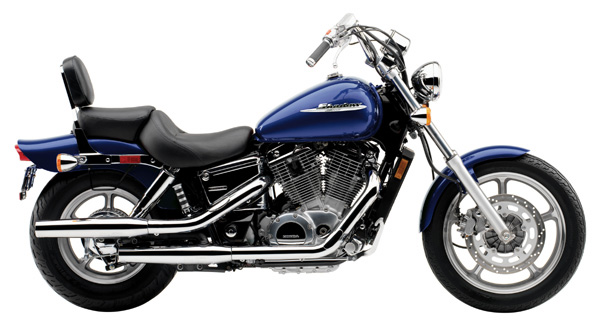 The Specs at a Glance: 2007 Honda Spirit VT1100C
Displacement: 1099cc
Seat Height: 28.7 inches
Fuel Capacity: 4.2 gallons
Dry Weight: 556 pounds
Colors: Black; Metallic Silver
Price: $8,699
WRN Recommendation
The Spirit 1100 is an old stalwart with creature comforts and power that still hold today. If Hondas newer VTX1300 family of bikes are just too much bike for you and the Spirit 750 C2 is not enough, the Spirit 1100 falls in the middle and might be just right. I suspect the 1100 is going through a makeover and may be re-introduced in 2009 or later, so try and find a used 1100 or bargain with your dealer on a new 2007.

Related Articles
MOTORCYCLE REVIEW: Honda Shadow Spirit 750 C2
MOTORCYCLE REVIEW: Honda Shadow Aero 750