Do you have a story to share? Please send it to us, but follow these submission guidelines.
Ever since I was a young child I dreamed about riding and racing motorcycles, but it didn't happen that way.As life would have it, I found a little Arab mare (or maybe she found me) that nobody could work with and we hit it off. So at 10 years of age I had my first horse.
Animals have always been a big part of who I am. I grew up on a farm in Africa where I could hear lions calling out in the night. Livestock and wildlife always surrounded me. Sometimes I brought injured creatures home to nurse them back to health. Other times I raised youngsters that had been abandoned.
My parents were always conservative and strict when it came to anything related to motorcycles.My brother, 5 years younger than me, was allowed to ride dirt bikes and race sportbikes.I was always left with the ultimatum, "If we catch you on a motorcycle your horses are gone!"So I chose my horses and hung onto my love and passion for motorcycles through the lens of my camera since I was a teenager.
But photographing motorcycles just wasnt enough anymore. I found my first bike, a 1996 Honda XR200R I named Moya, in 2009. I brought her home and sat and stared at her for five days. Then I got on her and taught myself how to ride! Once I figured out how to ride, it was an amazing feeling to come flying down the pastures!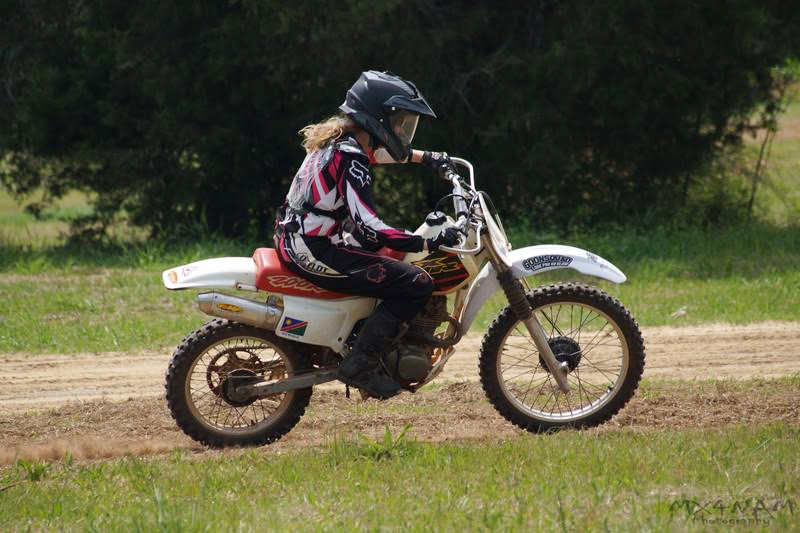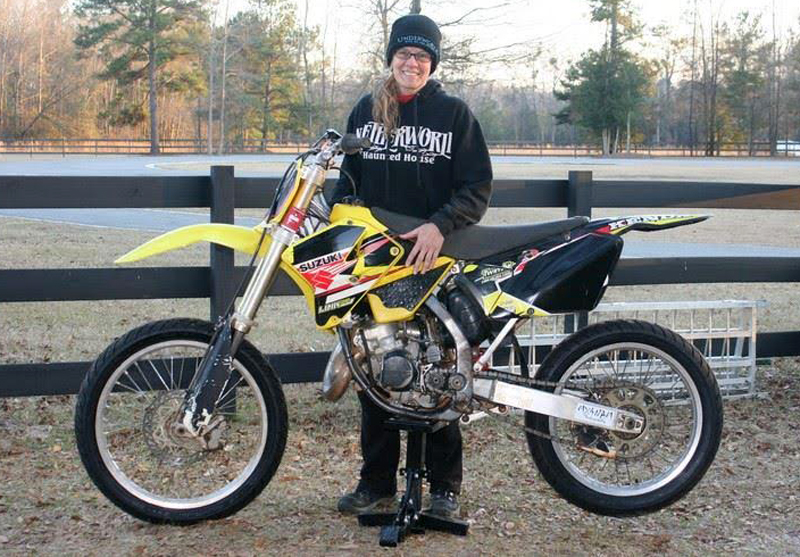 Soon afterwards, a Suzuki RM125 found her way to my home, and don't even get me started on two-strokes. I absolutely love them!Needless to say, I have never looked back.
My life really changed in early 2010 after I had to undergo surgery due to severe endometriosis.My career as an equestrian came to a halt.I will always miss working with horses but I do not regret the change. I had devoted most of my life to training horses, so it was time. I now have time to ride my own horses and the freedom to ride my motorcycles.
My boyfriend surprised me with my first streetbike in December 2010. I will never forget that Christmas morning when he gave me a little bell with a key and told me to go look in the garage.There she was, a gorgeous little 1996 Honda CB250 Nighthawk parallel twin!She was really loud because the previous owner cut the baffles out of the dual header pipes, but I loved her and had her for five years, putting more than 18,000 miles on her.She was the best first streetbike any person could want.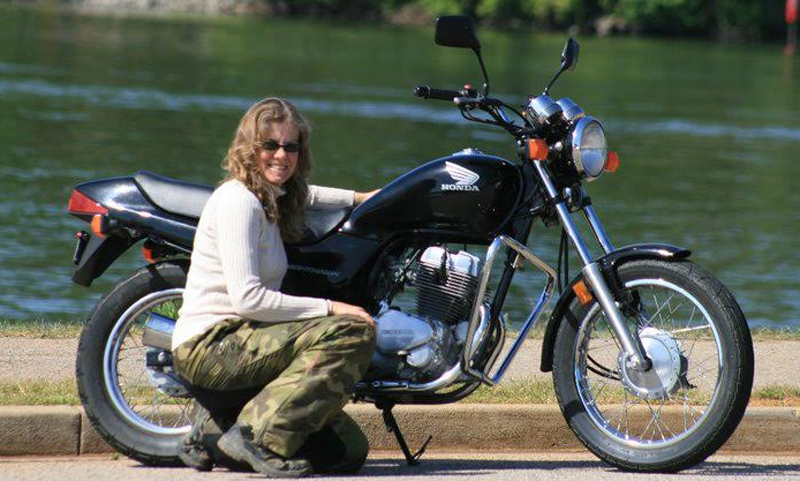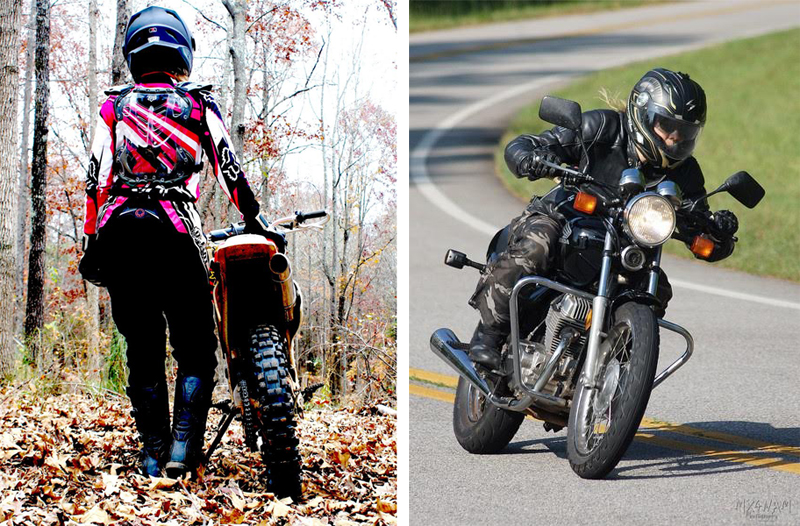 Shortly before my little Honda Nighthawk found a new home in May 2014, I bought a 2002 Suzuki SV650. The SV is a naked standard streetbike with a similar upright riding posture like all my other bikes. The SV650 is a V-twin and just a fabulous machine with a lot of torque and power, but yet easy to ride and not nearly as aggressive as a sporty inline-four of similar size.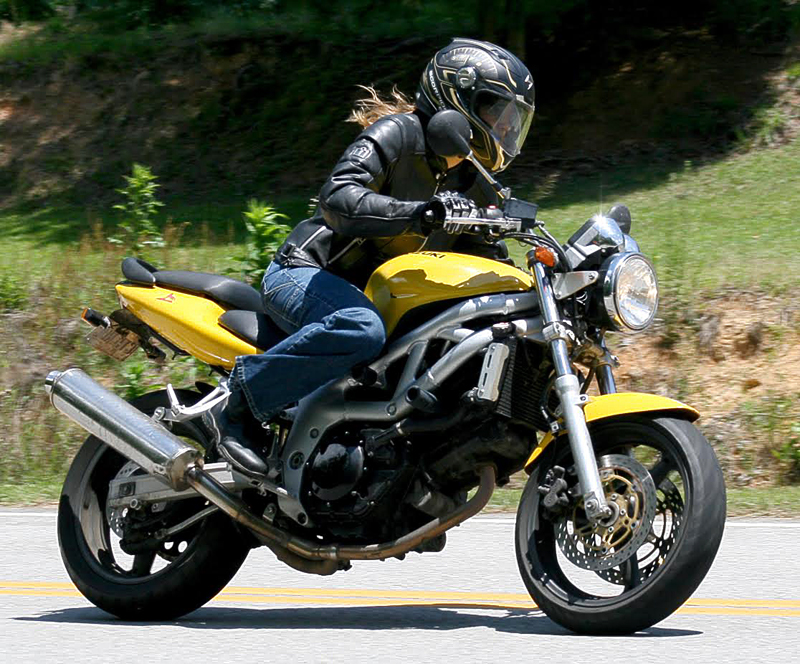 As a middle-aged woman I feel immense pride when I get on my motorcycles and ride.There is nothing more soothing to my soul or therapeutic to my spirit than this.
The racing and track days teach you so much more about riding and your motorcycles. You learn about the mechanical aspects of it, like how changing one little setting can make a huge difference to the performance of the motorcycle.You learn how to identify and control when your motorcycle moves a certain way under you. It's an incredible feeling, and most certainly equips you for the road.
I hope that my love, passion, and joy for motorcycles will always be infectious.I also want to encourage other women my age through what I do to go get on that motorcycle and ride!You are never too old, and life is too precious and short not to do it.It is never too late to start and it has changed my life in so many ways.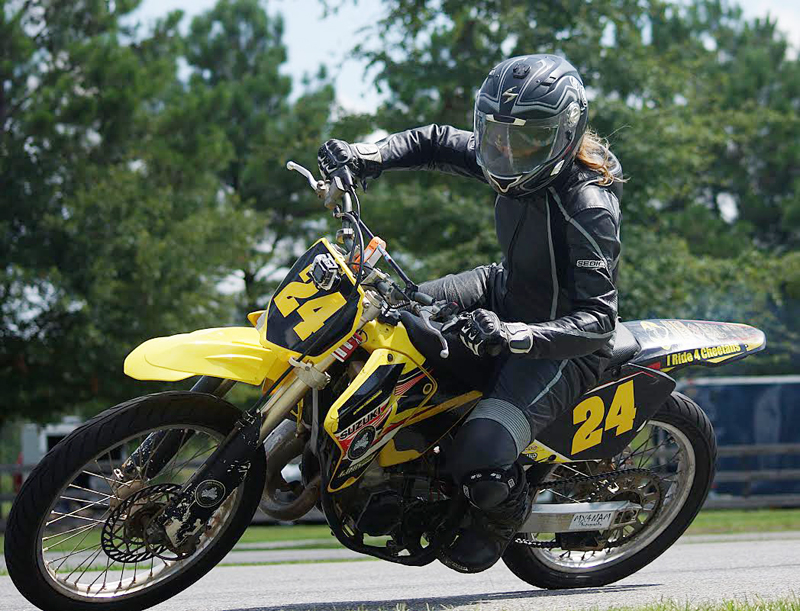 I never would have thought in my wildest dreams I would race a two-stroke, but I absolutely love it. No amount of words can describe just how absolutely passionate I am about motorcycles; the sound, the sheer power of an inline four screaming down the track, the thumping of a big twin as she roars down the road. I get all jittery and weak in the knees when I hear and race a two-stroke.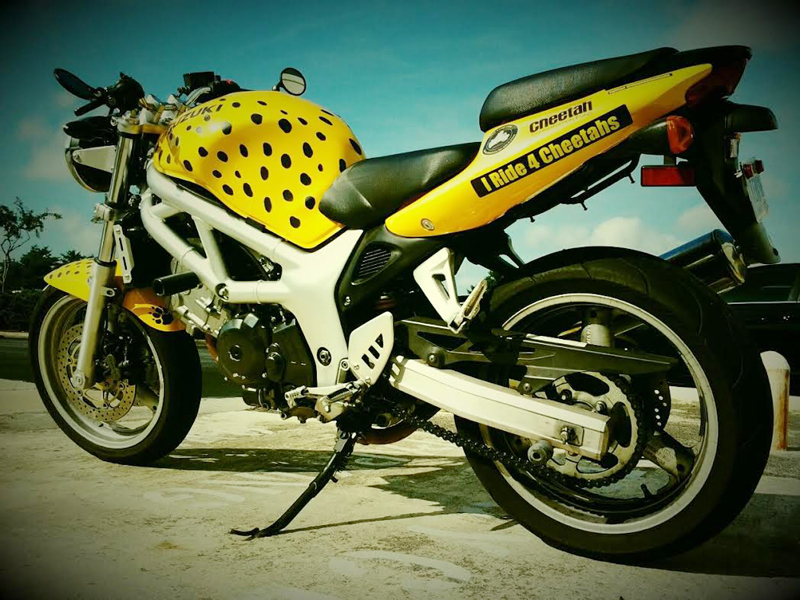 I now have the best of both worlds, combining my love and passion for my motorcycles and wildlife though the foundation called "I Ride for Cheetahs." I started the foundation last year and use it to raise awareness for the fight of the cheetah and other endangered wildlife that face possible extinction.
Life is short, so why not fulfill that dream, get on that motorcycle and ride!
Do you have a story to share? Please send it to us, but follow these submission guidelines.
Related Articles
Learning to Ride the Right Way One Step at a Time
Beginners Guide: So You Want to Ride a Dirtbike?