AMCA Riveter Ride—Chix on 66 Presented by Harley-Davidson
Editor's note: This June, WomenRidersNow.com (WRN) is proud to be the premier media partner with the Antique Motorcycle Club of America's (AMCA) Riveter Chapter for its woman-focused Chix on 66 ride. We are excited to meet the owners and participants, many of whom will be riding vintage motorcycles on the two-week journey from Chicago to Santa Monica. Follow WRN's social media feeds from June 11–25 to watch these incredible women chase their dreams on this journey of a lifetime.
I'm inspired to participate in the upcoming Chix on 66 adventure because my focus has been elsewhere since my last trip in autumn 2019. I'm in desperate need of recharging—the kind that only comes from being on a motorcycle experiencing the open air. My body, mind, and soul ache for the rhythm of the open road.
For my 50th birthday, my better half of nearly 20 years, Marlin and I planned an epic 18-day ride to South Dakota, Montana, and Wyoming from our home in Pennsylvania. But life tossed all of us a hell of a curve ball with the COVID-19 pandemic, so I have some making up to do. A leisurely pace taking in Americana on the Mother Road (Route 66) is exactly what the doctor ordered. The stars have aligned! I need this now more than ever and am so grateful to be selected to participate in the ride.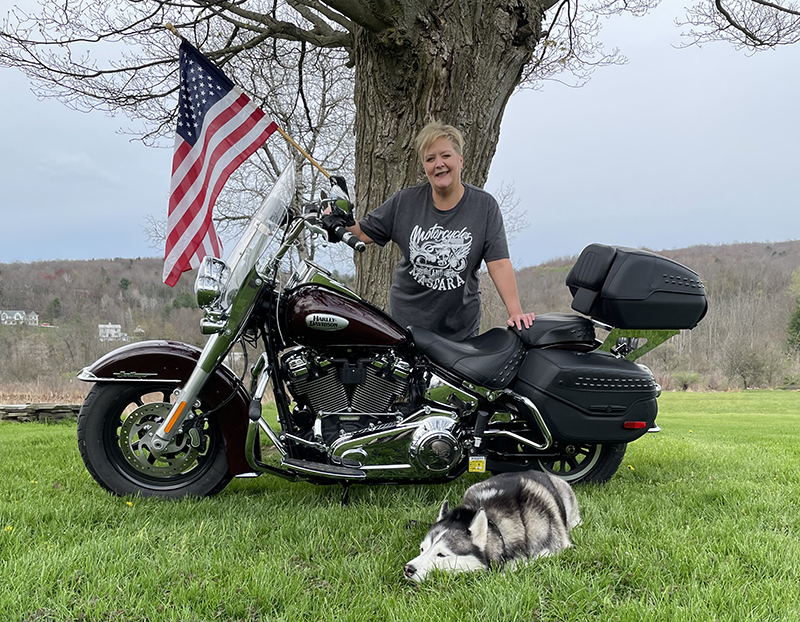 I was born to ride, of this I'm certain. My motorcycle story picks up in the early 1980s. Riding isn't just something I do, it's who I am. As one of five girls in my family, I'm the boy my parents never had. (They really were expecting a boy, so "Christopher" turned into just "Chris.") I've been on and around motorcycles since 1984, when I was 14. A ride on a ratty Harley-Davidson Sportster down a washboard dirt road that had intended to terrorize me instead lit a HUGE fire. To this day, each time I throw a leg over a motorcycle saddle, my heart flutters the way it did then. The combination of fear and exhilaration I feel is intoxicating!
Many bikes have been part of my riding life during the last 38 years. My new Harley-Davidson Heritage Classic will be the fourth one I call my own. Others included a 1983 Honda Nighthawk 550, a 2003 Harley-Davidson Super Glide, and more recently, a 2015 Harley-Davidson Road Glide. I've adored and ridden my motorcycles well over 100,000 miles in the U.S. and Canada—solo, with Marlin at my side, or as a lifetime Motor Maid, with hundreds of sisters who share my wanderlust. 
I'm not religious, but riding has always resonated with me on a spiritual level. It's the one place I feel comfortable in my own skin. I feel fierce when I'm behind the handlebar and riding is incredibly therapeutic. It soothes my mind, shifts my focus, and balances me. The sound of the engine shifting through the gears, twistin' that wick through a turn and the hum of the tires on the pavement drowns out all the white noise. My bike becomes an extension of me and I consider it "meditation in motion." I crave the confidence that magically replaces all my insecurities. While I'm in that saddle I'm invincible! Riding centers and rejuvenates me and is as vital to my head and heart as air is to my lungs.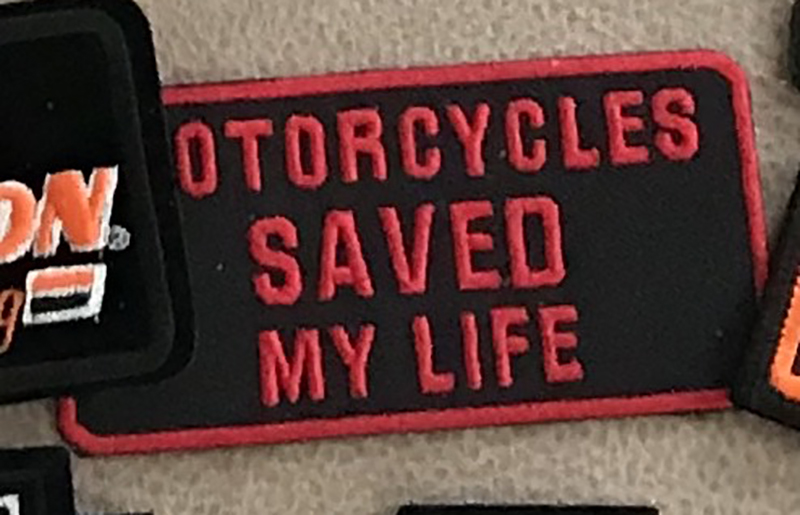 My earlier years were better spent as what I affectionately call "fender fluff." This includes wandering around foreign countries during my active-duty Air Force years, the majority of which was spent internationally. I loved being on the back of a motorcycle, but when my destructive streak finally quieted for good in 2005, it was time to ride my own.
Riding parallels life in so many ways and the road is a fabulous teacher. I've learned the wisdom that comes with easing off the throttle (which of course has infinitely better outcomes than grabbing too much brake!) Knowing when, where, how, and if to apply the best riding advice I was ever given—respecting limitations—is a work in progress.
I'm learning to lean into life's curves. It ain't always graceful, sometimes you have to zig until you can zag, and at times the real magic happens outside our comfort zones. I'll never make the mistake of thinking I've "arrived" at a place where I've learned all there is to know. I'm constantly evolving, pushing boundaries, and discovering what I'm capable of both on and off the bike. It's powerful stuff.
We've all heard it said you don't know what you've got until it's gone—but for me, I honestly didn't know what I'd been missing until it (riding) arrived.
Follow WRN on Facebook from June 11–25 to watch these incredible women follow their dreams on a journey of a lifetime.