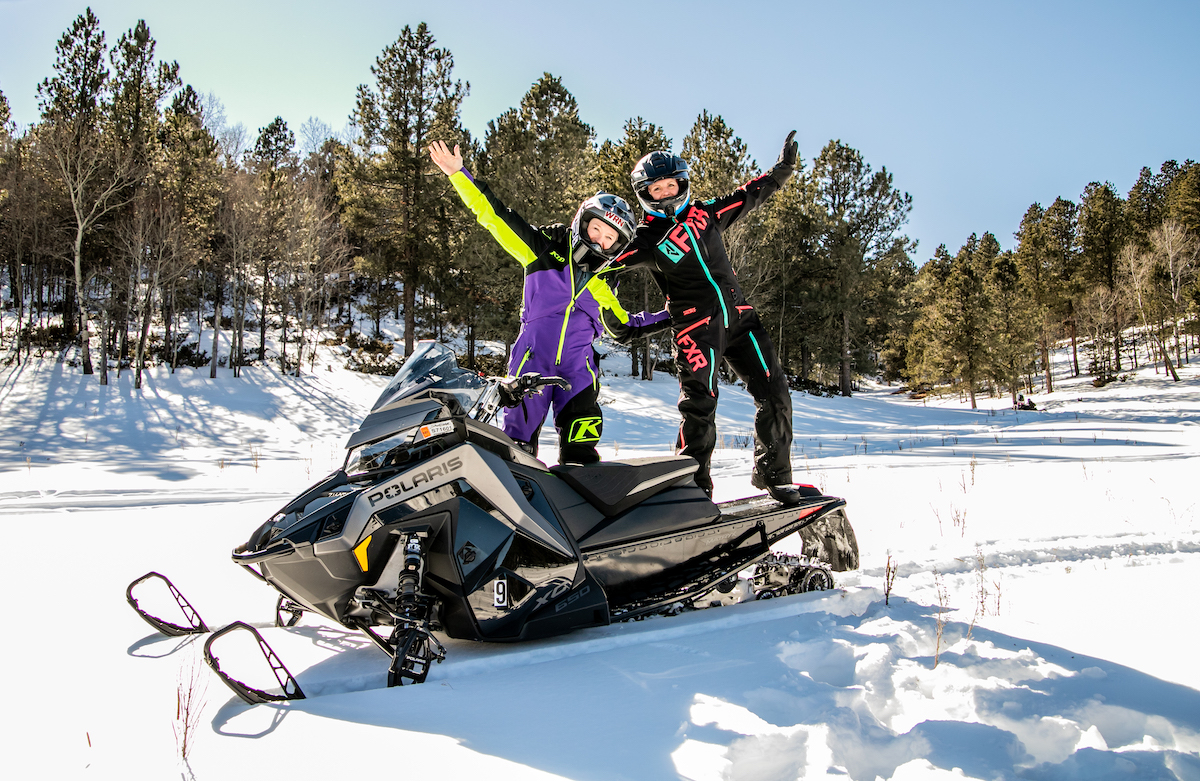 WomenRidersNow.com (WRN) Co-chairwoman Sarah Schilke is always up for an adventure and has been interested in trying snowmobiles for years. However, just like many new motorcycle riders, she hasn't been sure where to start. As the Oregon winter started to cause serious PMS (Parked Motorcycle Syndrome,) she decided 2022 would be the winter she tries out this segment of powersports with a Polaris Adventure.
Polaris Adventures is a network of scenic destinations in the U.S. that connects people with unforgettable experiences on its on-road vehicles, off-road vehicles, snowmobiles, and even pontoons. As part of this program, vehicle rentals, guided tours, and self-guided tours are offered for a variety of motorsports. If you are looking to try out a different genre of powersports or get a longer test ride on an Indian Motorcycle or a Polaris Slingshot, a Polaris Adventure is the perfect way to experience a new passion. Costs for these adventures vary by vehicle type, location, and partner. Check out Polaris Adventures to explore the different types of adventures offered.
Polaris Adventures even offers a monthly membership program with three levels to offer riders the amount of participation that works for them. For example, occasional rides cost $149 per month and anytime adventures are $799 a month. The packages include discounts on gear and can be used at any Polaris Adventure partner.
Polaris Adventure snow trips put on by Polaris ambassador Kelly Yazdi and her Ride Wild team is the perfect cure for winter's "PMS." A weekend of snowmobiling with a group of women motorcycle riders at a retreat in Spearfish, South Dakota is just the ticket. There are plenty of women's snowmobile groups for experienced snow riders, but for nervous first timers the Ride Wild trip is a great option. Sarah and WRN Co-chairwoman Erin Sills recently decided to share this adventure together and write about their experience here.
Rustic, But Not Roughing It!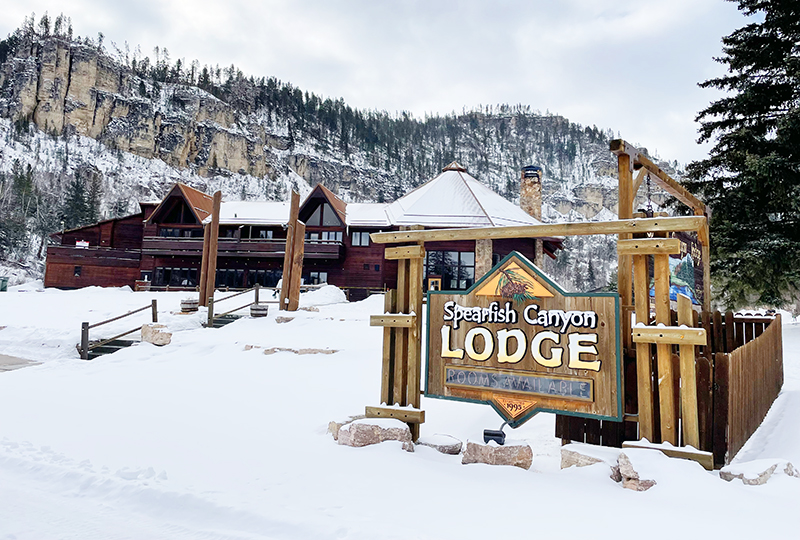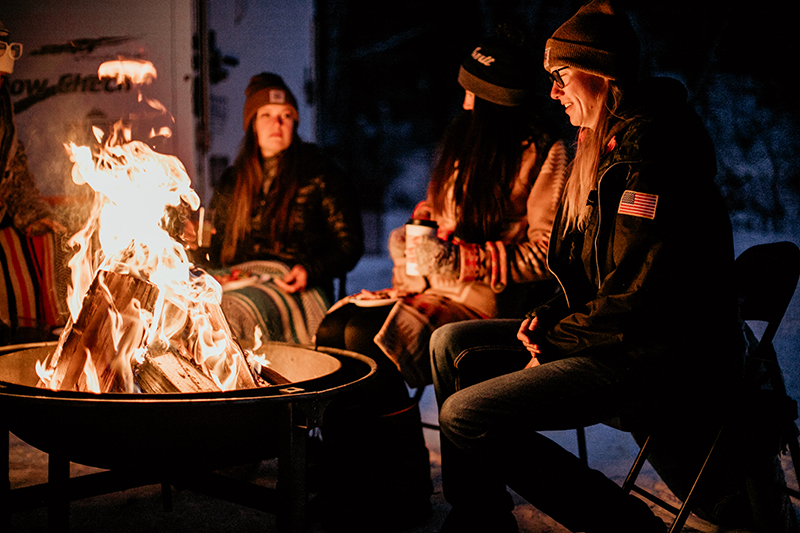 Our group of 12 women motorcycle riders came from Portland, San Francisco, Los Angeles, South Dakota, Minnesota, and Idaho making for a fun diverse group with different lifestyles and interests. Staying at the beautiful Spearfish Canyon Lodge nestled in the Black Hills of South Dakota, there is even a snow sports rental shop on site. Upon arrival we had plenty of time getting to know one another while hiking, snowshoeing, and chatting around the bonfire and hot tub.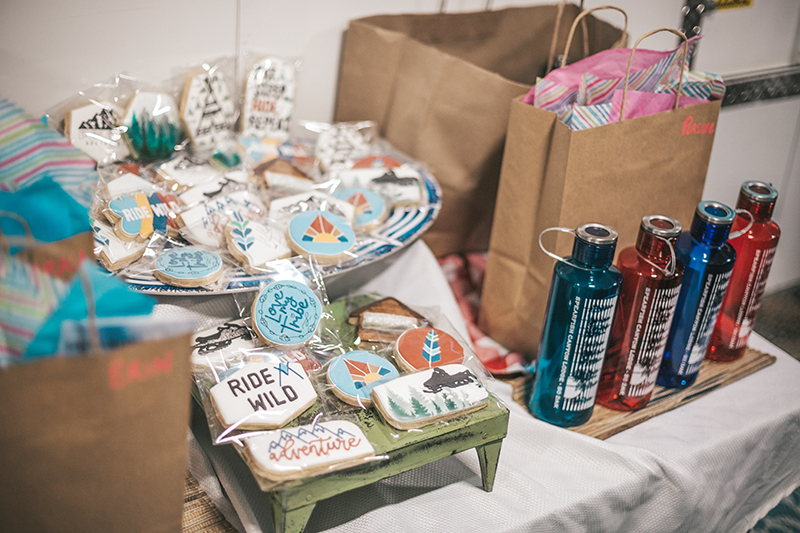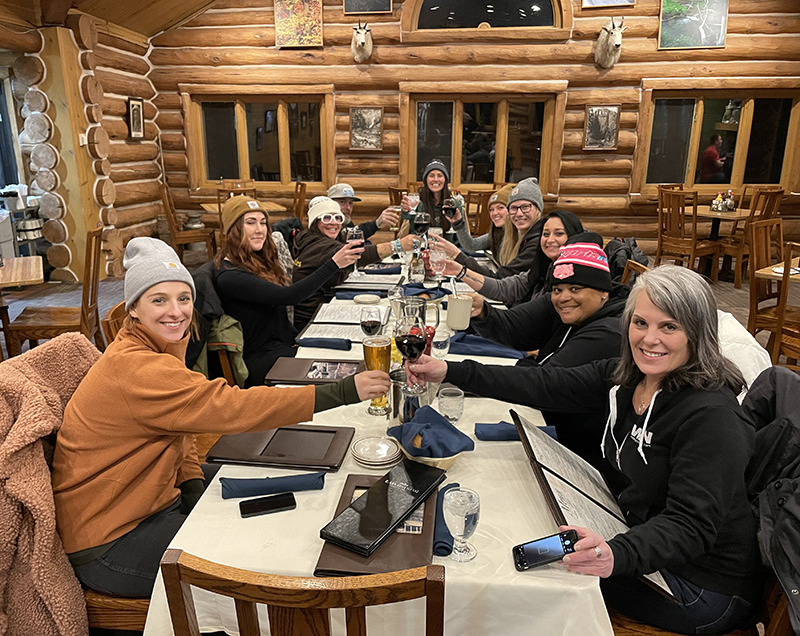 Preparing For The Adventure
Leading up to the event, we had a minor packing crisis not knowing what motorcycle gear would work or not work on a snowmobile. Thankfully, Kelly and her Ride Wild team provided a lot of great information and advice on what to bring. They also steered us toward Tara at Mountainst, a company that rents women's (and men's) snow gear. There, we were able to rent proper snow suits, boots, goggles, and gloves at minimal expense. We both wore our motorcycle ADV-style helmets which worked great. Helmet rentals are also available on site for those who chose to rent them.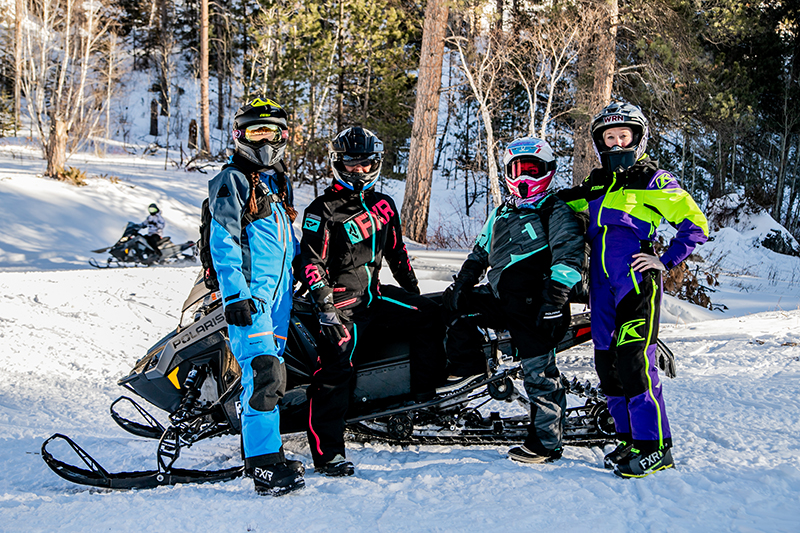 Just like with motorcycling, we struggled with cold hands and feet and were thankful for heated grips (standard on most snowmobiles), a well-insulated helmet with anti-fog visor, rented snow boots, and especially the hand warmers at breaks. Most of the riding time we stayed warm simply because snowmobiling is a full body physical sport similar to off-road motorcycle riding.
Thumbing The Throttle and Heading Out
Several of us newbies were a little nervous. We both knew snowmobiling would have similarities and differences to motorcycles but had no idea how easy or challenging it would be.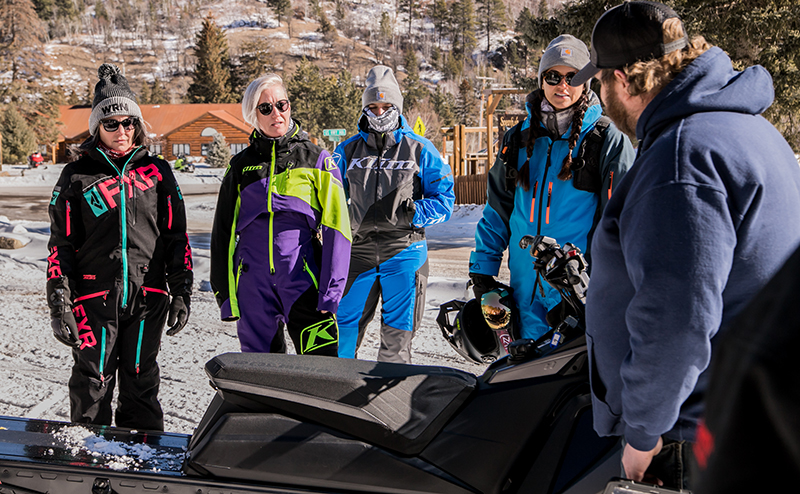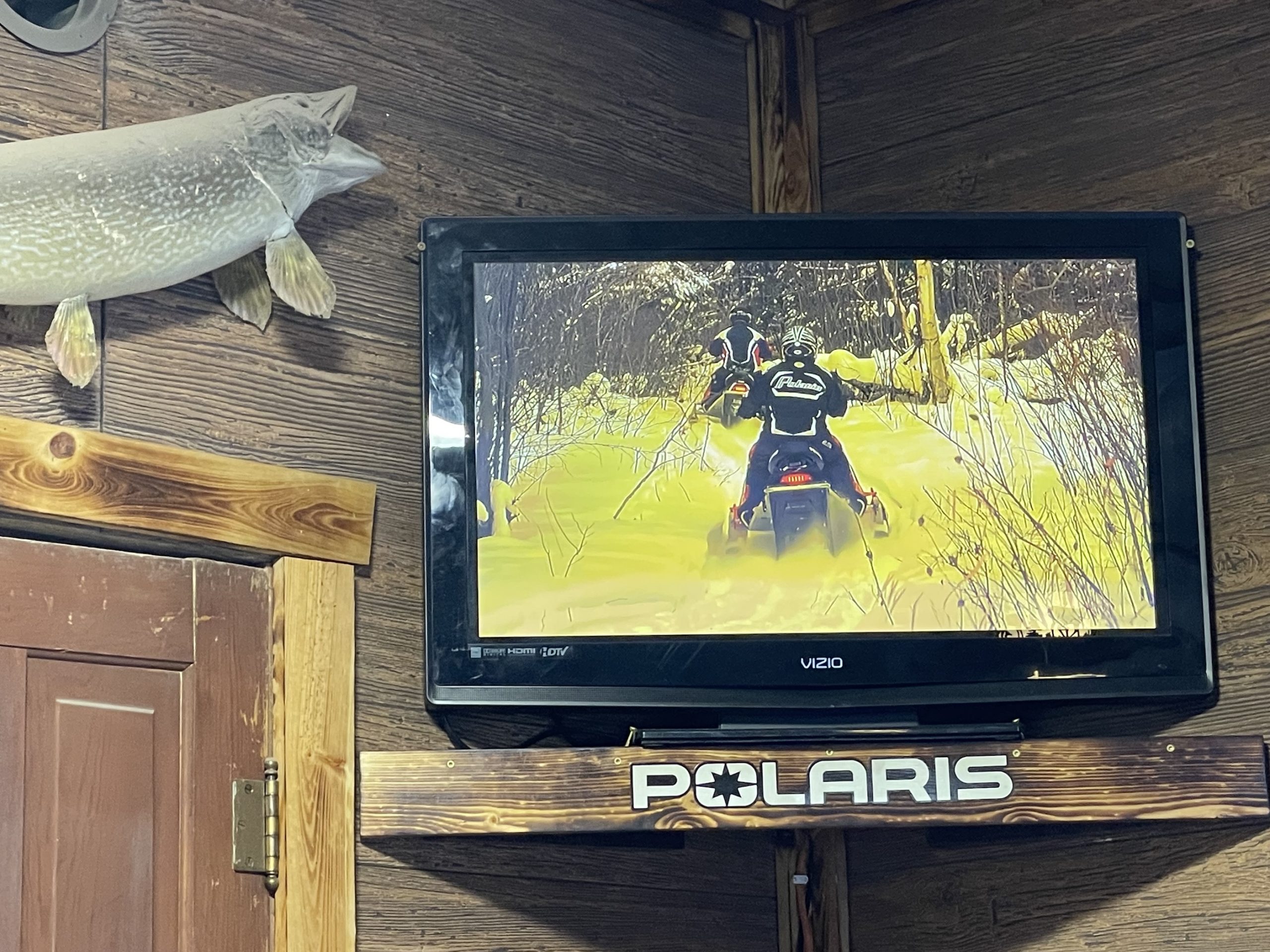 Some immediate differences between snowmobiles and motorcycles stood out, specifically the throttle mechanism. You must operate a throttle lever with your right thumb, similar to some watercraft. There is no shifting and only one brake lever on the left handlebar. The guide explained that we should ride it like a 4-wheeler. We didn't know what that meant at first but got used to the feel of not leaning through turns. Instead we leaned our bodies inward while the snowmobile stayed straight upright and at the same time we steered the bars and weighted the inside footrest.
When we headed out onto a hard packed snow covered road, the initial riding sensation was strange for us experienced motorcycle riders. Some of the riders sat (like riding a streetbike) while some stood up (like riding a dirt or adventure bike.) Cornering felt completely different on the snowmobile because there is no sensation of leaning. The snow-covered ice we were on was pretty chopped up which created a sensation that the machine was going to get away. 
But we eventually got the feel of it and were relieved when the guides said it would be much better in deeper snow.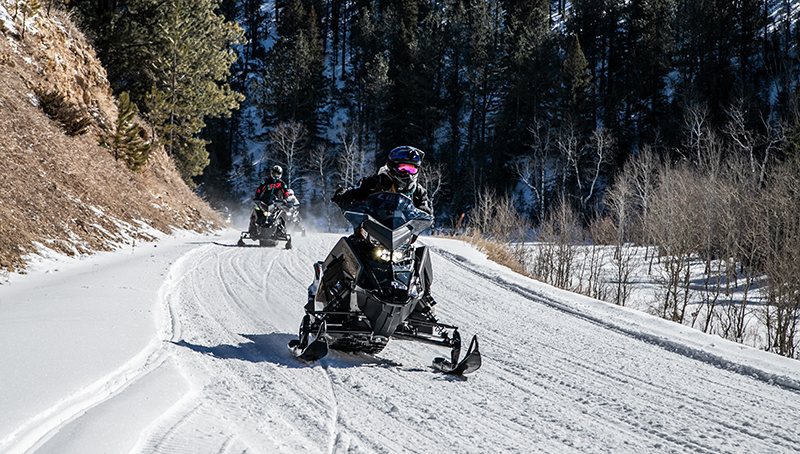 Experiencing The Open Trails and Meadows
The turns started getting tighter as the group climbed up the mountain and hit some trails. We weren't sure what to do with body placement in the turns until the guides coached us to lean into it as if we were riding a street motorcycle on asphalt, not like an ADV bike on dirt. 
At the trail side picnic lunch, our group was feeling pretty comfortable and zipping around narrower trails. Other motorcycle skills translated well. Searching skills such as looking where we want to go, reading the terrain, and watching for obstacles all came naturally as motorcyclists. Signaling our group size to oncoming riders and using hand signals all came in handy, too, as did the importance of fitness, nourishment, and hydration.
The best part came after lunch when we found an open meadow covered with deeper snow when we just played around. One of the guides coached on how to do carving turns. The group was happy zipping around doing tight turns and circles, just having a blast.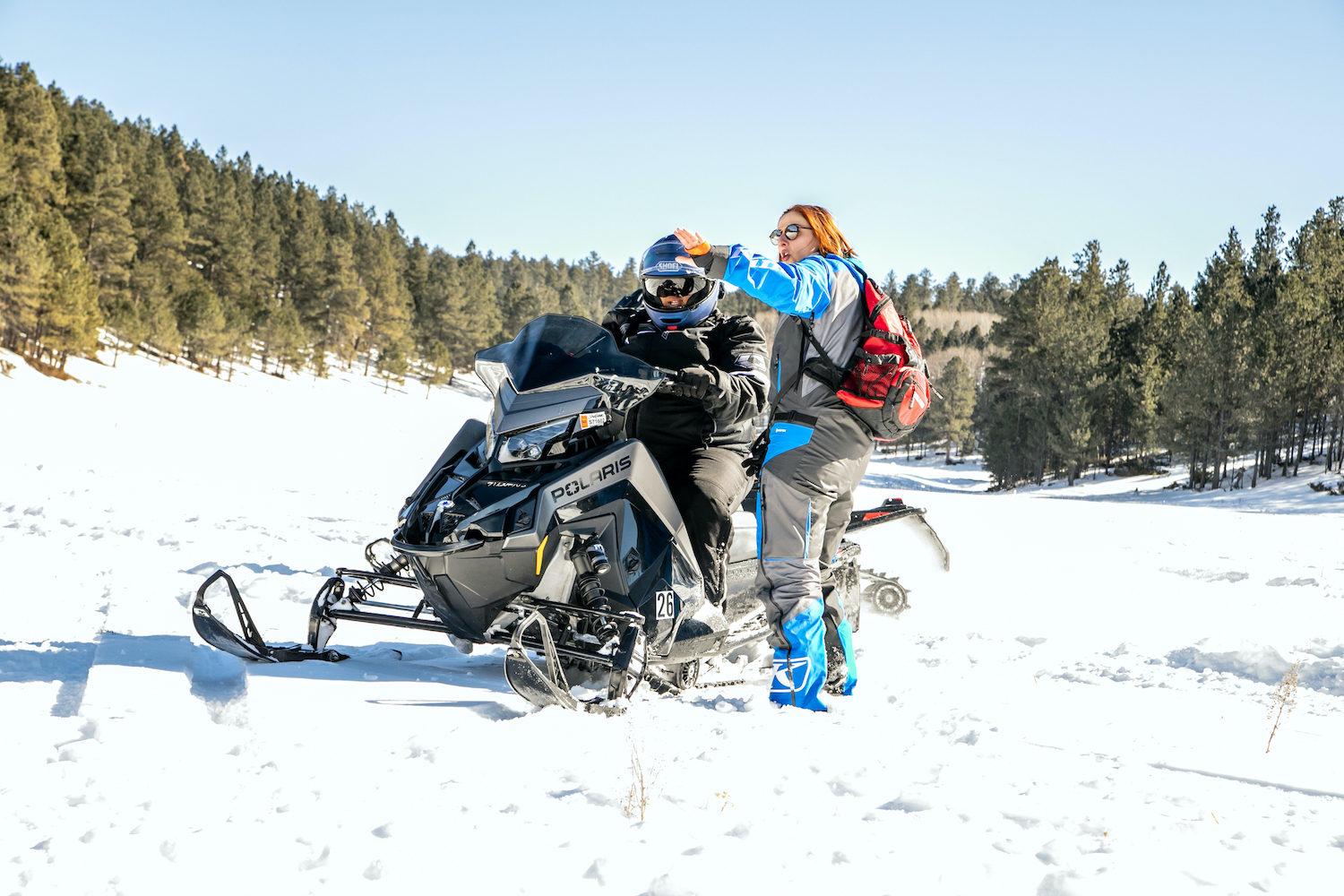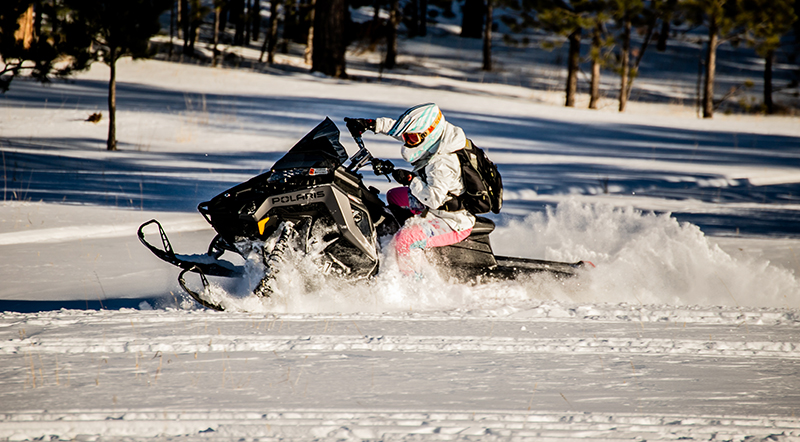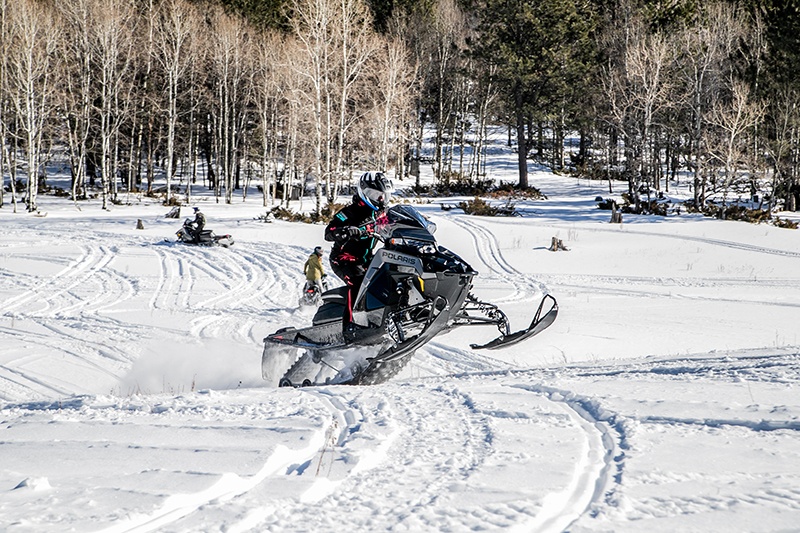 Despite all the differences between motorcycling and snowmobiling, there are enough common elements to make it feel more like cross training than starting a new sport all together. And for anyone living in a cold part of country who doesn't ride motorcycles during the winter, snowmobiles are a great way to keep the moto juices flowing.
Looking Down The Road To What Comes Next
Of course the camaraderie and new friends was really the best part of the weekend trip. In fact, we are already planning our next adventure with the Polaris and Ride Wild crew.