Good things come in small packages. For decades, Honda has been proving this to be true with its miniMOTO lineup. Honda's miniMOTOs are a portfolio of petite bikes that are guaranteed to bring a smile on your face. Maybe you're a beginner who is just learning to ride a motorcycle or are looking for an inexpensive around-town commuter. Or maybe you want a pit or camping bike, or just something a bit more manageable than a full-sized motorcycle. Chances are Honda's got a mini motorcycle for you.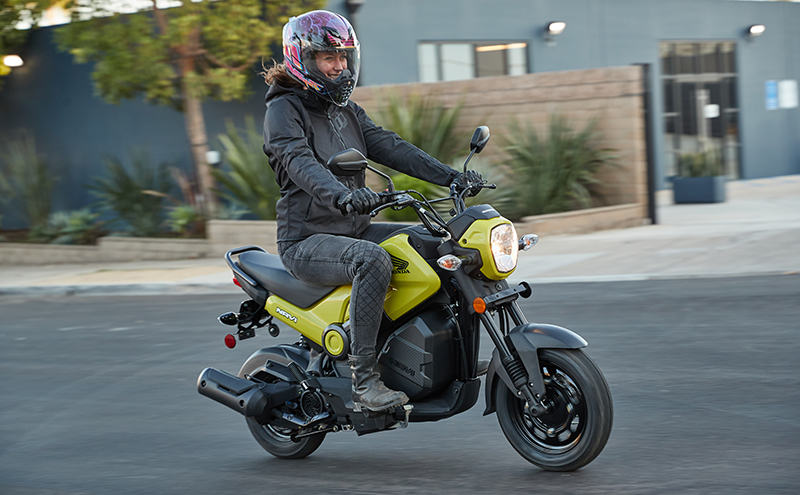 Honda has been in the mini bike game for a very long time. It's been making model after model of these small motos since 1961 when it launched the Z100 (now the Monkey) as an amusement park ride at the Tama Tech Park in Japan. Since then, Honda has added a wide range of options to its miniMOTO lineup. The company has also recently revived a number of its classic models that had been discontinued in the '70s and '80s. The result is a robust line of tech-savvy mini bikes that range from retro to modern.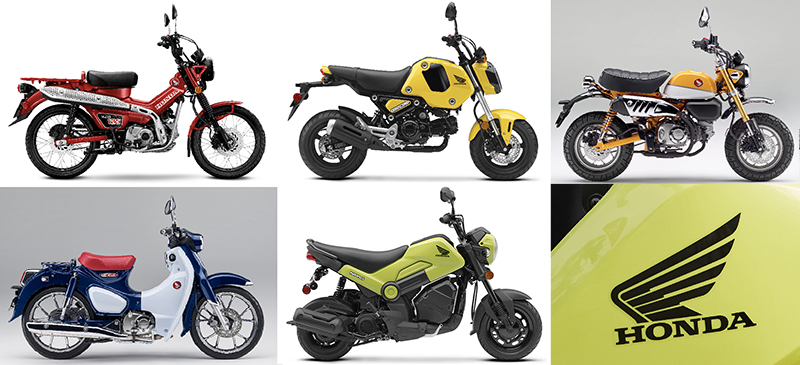 The 'Tween: Honda Navi MiniMOTO
Released to the U.S. market for the first time in 2022, the 109cc Navi mini bike walks the line between a mini bike and a scooter. With a chassis of a mini bike with some of the more appealing features of a scooter, such as its one-speed automatic CVT transmission.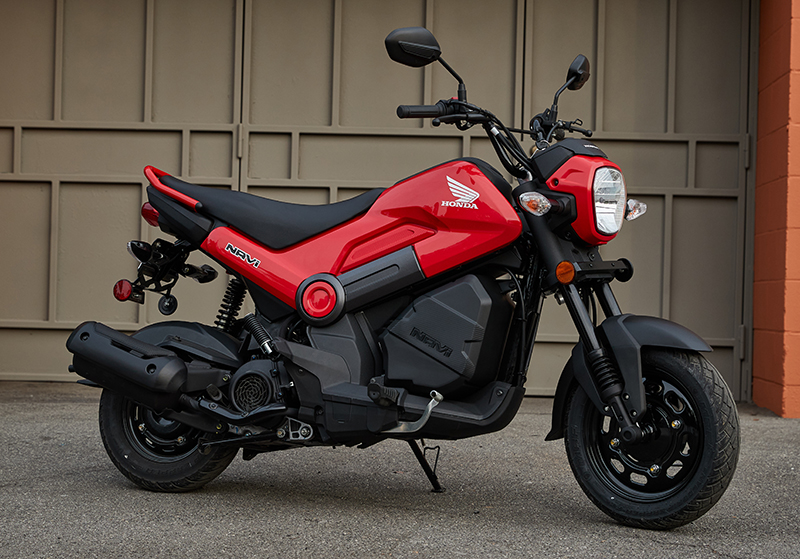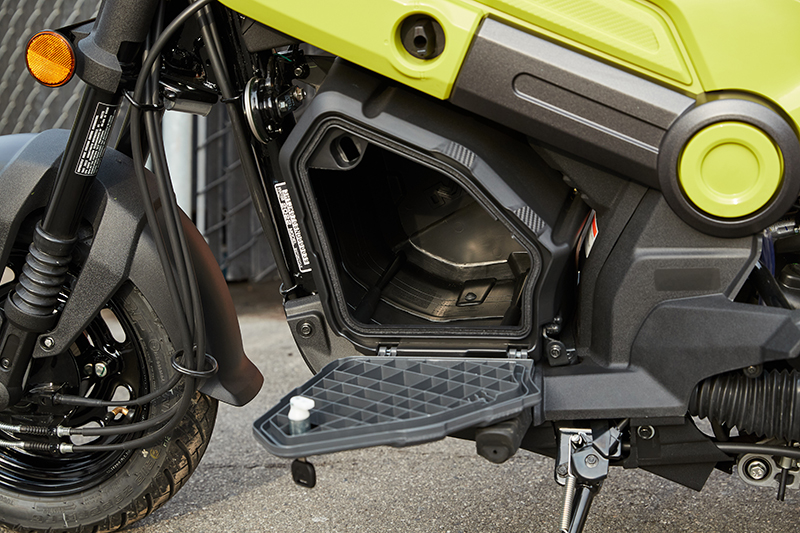 The Navi is a good option for newer riders, or those who are looking for a simple mini bike that is easy to scoot around on. However, with its maneuverability, its ability to keep up with traffic, and its customizability, the Navi makes an excellent pit bike or around-the-town ride for anyone looking to add a little joy to their life.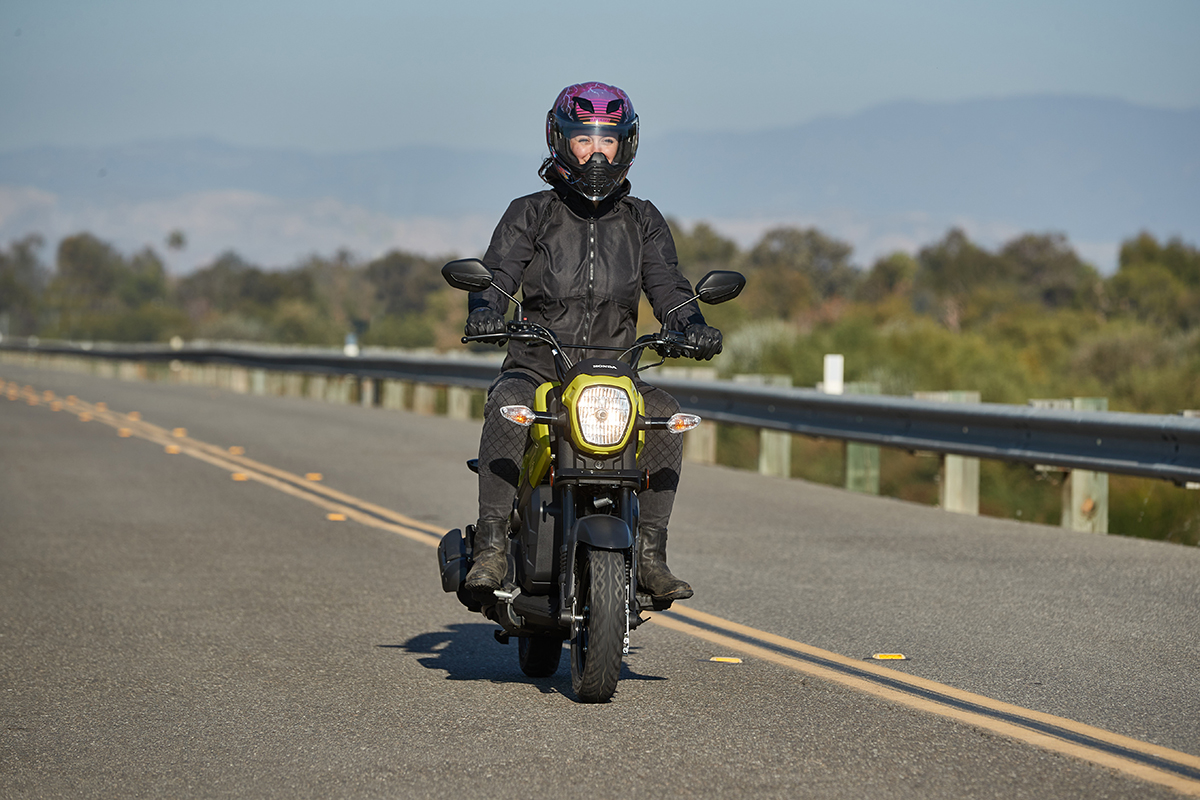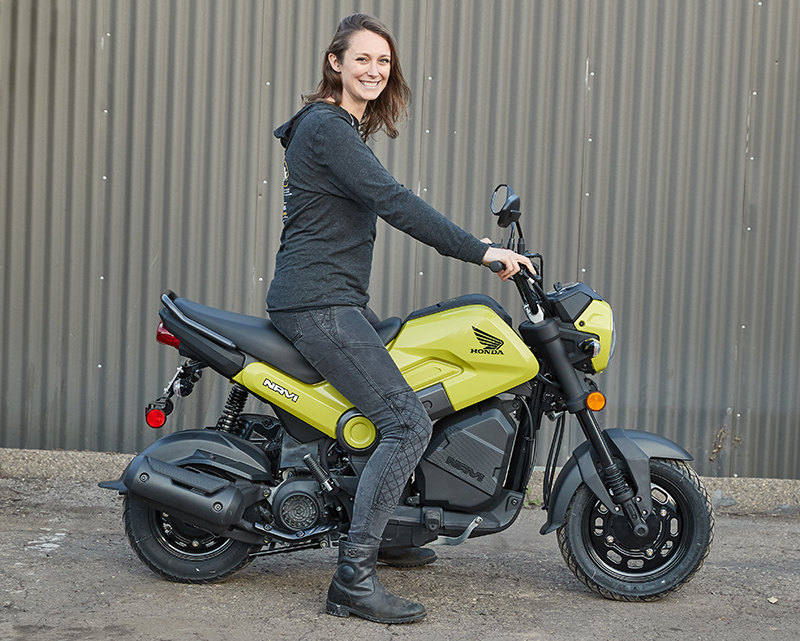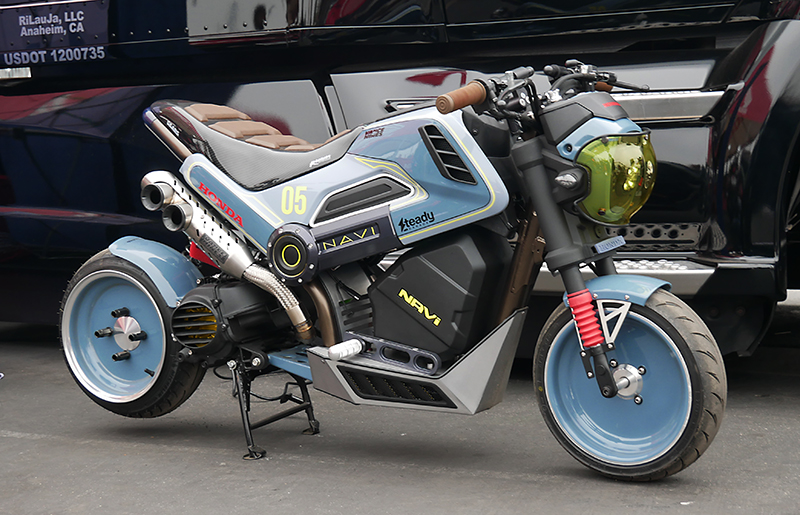 Sporty Spice: The Honda Grom MiniMOTO
The Grom is one of Honda's most successful mini bike models, with more than 750,000 units sold worldwide and a subculture that's passionately dedicated to this machine.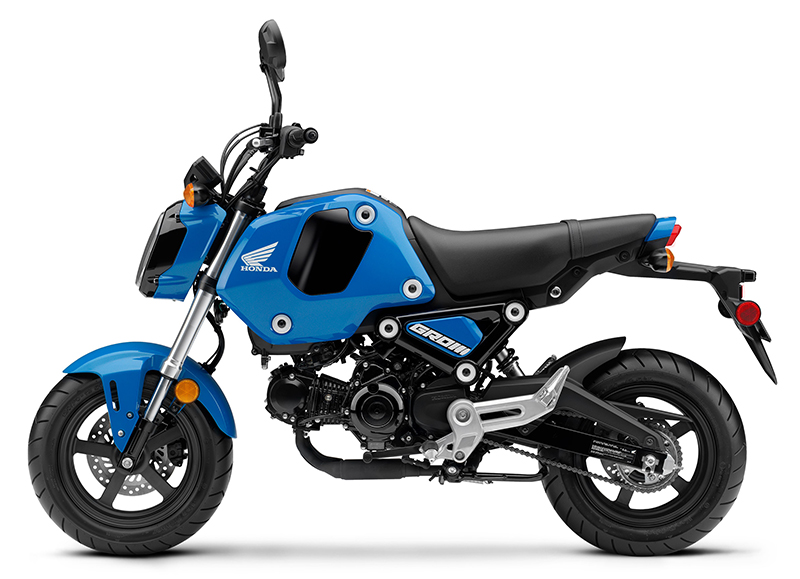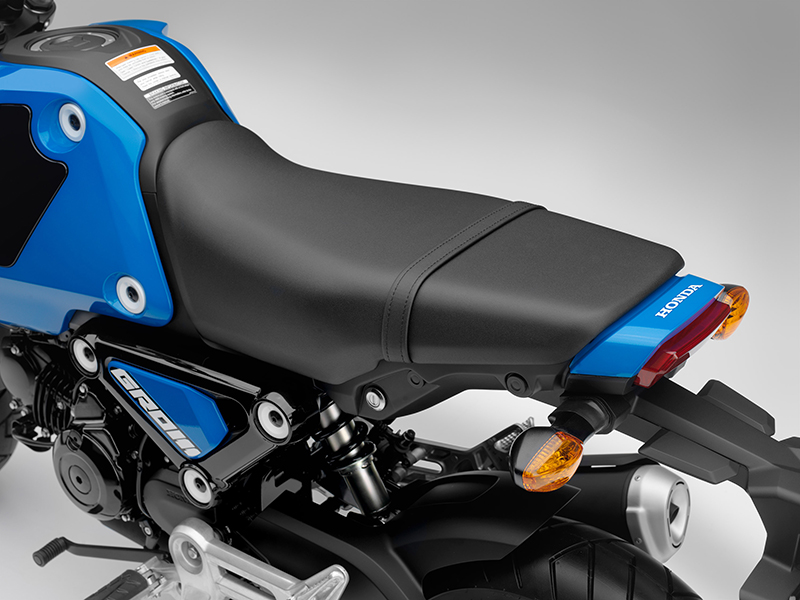 The Grom's 30 inch seat height is comparable to the Navi. However, it is a step up in terms of power (9.7 horsepower vs. the Navi's 7.8 horses), with a top speed up to 75 mph. It is more appealing to riders who want a true modern miniMOTO, with a standard 5-speed transmission, fuel injection, and optional ABS. This is why so many riders looking for a long-term mini bike they can obsess over choose the Grom.
Vintage Vibes: The Honda Monkey
The Honda Monkey is a mini bike steeped in history. The bike originally began as an amusement park ride in Japan, with a 49cc engine and 5 inch wheels. While the ride was meant for children, the bike has become a huge hit with adults who are young at heart.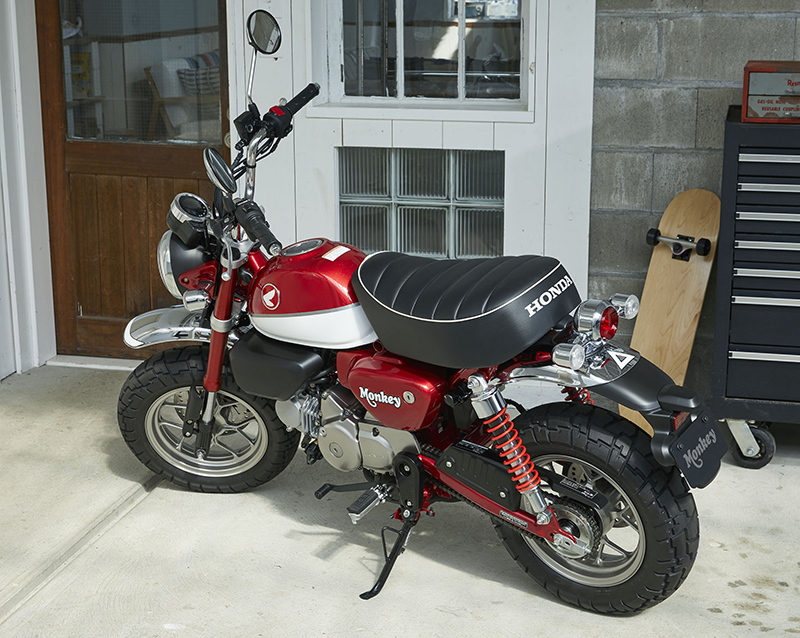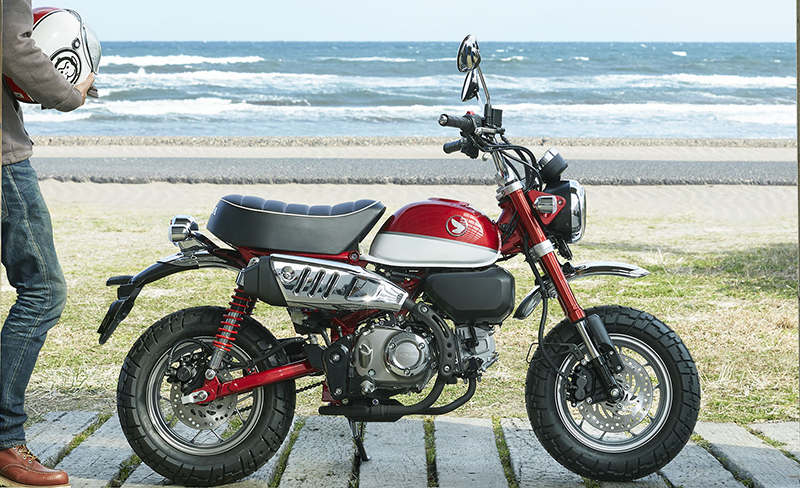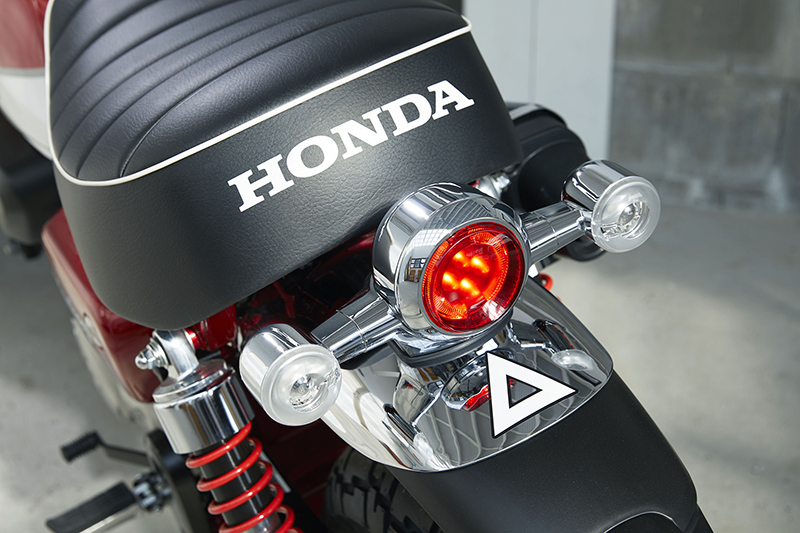 While the front suspension and disk brake setup are comparable to the Grom, the Monkey has a slightly higher 30.5 inch seat height and higher handlebars, and a softer seat. It also boasts dual-shock rear suspension, contributing to its higher price point of $4,199. The Monkey is the Honda MiniMOTO with a truly classic look.
The Big Scooter: Honda Super Cub C125 ABS
Originally introduced in 1958, the Super Cub became available to the U.S. market in 2019 for the first time since 1974. According to Honda, this scooter is the highest-selling motor vehicle in the world, even having inspired the 1964 Beach Boys song, "Little Honda."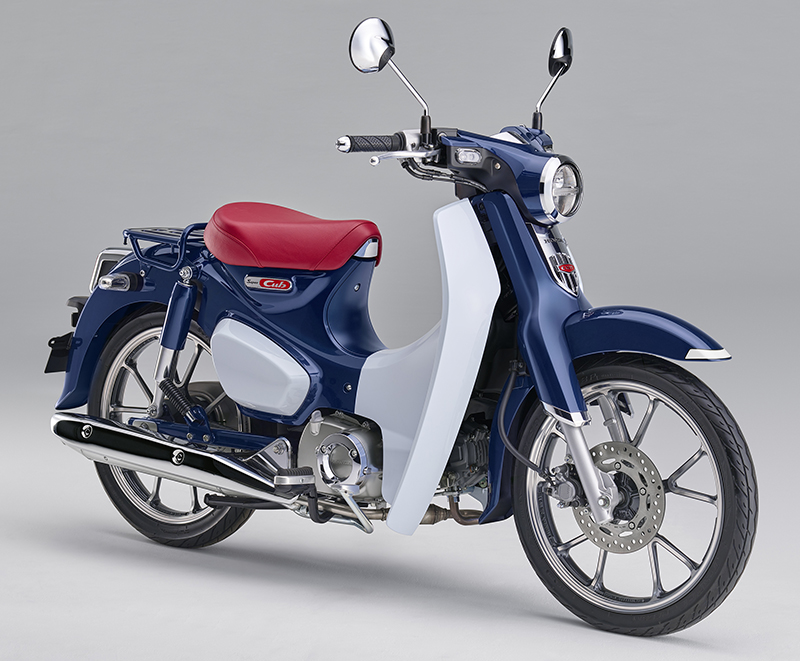 2022 models include updates such as a new, more efficient engine and reduced weight (242 pounds), as well as front-wheel ABS, electric start, and fuel injection. The Super Cub miniMOTO is great for those looking for a classic-looking scooter with modern, reliable features.
The Adventurer: Honda Trail125 ABS
Honda's miniMOTO dual-sport is the Trail125. While Honda makes 125cc dual-sport motorcycles, the Trail 125's clutchless semi-automatic transmission makes off-road terrain accessible to more riders.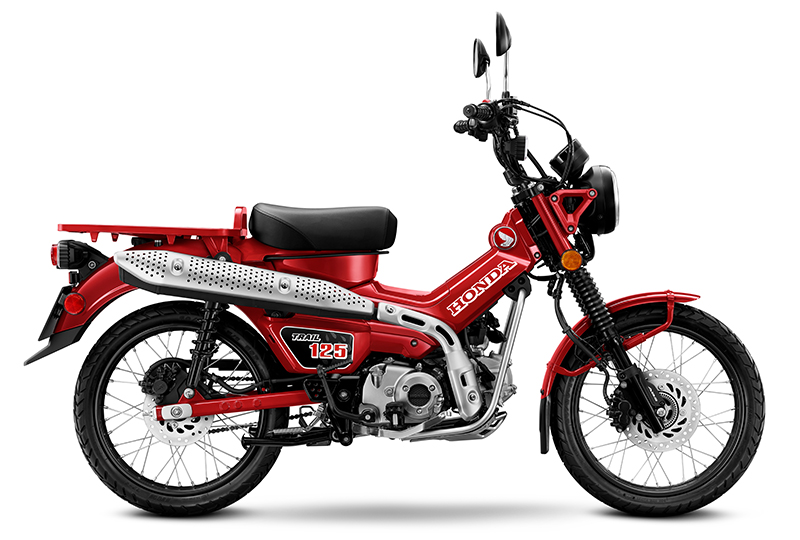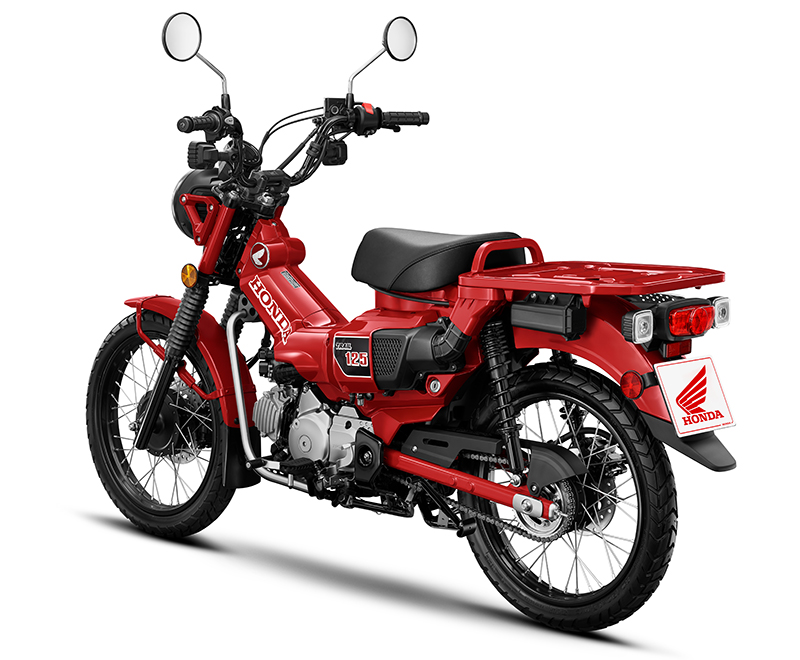 The Trail miniMOTO is comparable in many ways to the Super Cub, though the wheelbase is a half inch longer and the front suspension has .4 inches more travel (4.3 inches total) than the Super Cub. The Trail also has a 39-tooth rear sprocket to increase performance over the Super Cub, and a longer exhaust and intake tract to allow for tuning for low- to mid-range power. 
The Trail125 is a great ride for the outdoorswoman looking to add another element of fun to her excursions.
At the end of the day, Honda offers a miniMOTO option for every type of rider. Moreover, most of these models are both affordable and customizable, making it easy for your new miniMOTO to become an obsession.
Honda Mini Motorcycle Key Spec's
Honda Grom
Engine Size: 123.9cc
Seat Height: 30"
Fuel Capacity: 1.6 gallons
Weight: 227 pounds (231 with ABS)
2023 MSRP: $3,499
2023 Colors: Force Metallic Silver, Cherry Red, Matte Black Metallic; Pearl White with ABS
Best for: Riders seeking a small, sporty around-town ride
Honda Navi
Engine Size: 109.2cc
Seat Height: 30.1″
Fuel Capacity: .9 gallons
Weight: 236 pounds
2022 MSRP: $1,807
2022 Colors: Red, Grasshopper Green, Nut Brown, Ranger Green
Best for: Riders looking for an approachable and affordable mini bike
Honda Monkey
Engine Size: 123.9cc
Seat Height: 30.5"
Fuel Capacity: 1.5 gallons
Weight: 231 pounds
2022 MSRP: $4,199
2022 Colors: Pearl Black, Banana Yellow
Best for: Riders seeking a cool, vintage vibe
Honda Super Cub C125
Engine Size: 124cc
Seat Height: 30.7"
Fuel Capacity: 1.0 gallons
Weight: 238 pounds
2022 MSRP: $3,799
2022 Colors: Matte Gray Metallic
Best for: Scooter riders seeking a little more "oomph"
Honda Trail 125
Engine Size: 124.9cc
Seat Height: 31.5″
Fuel Capacity: 1.4 gallons
Weight: 259 pounds
2022 MSRP: $3,899
2022 Colors: Glowing Red
Best for: Outdoor enthusiasts