Sport touring bikes have seen a recent surge on the road as riders seek a sporty throttle feel, the capability to travel with a passenger, and bring along all the gear two riders need. Yamaha adds to its lineage of sport touring bikes with its Tracer 9 GT, an all-new, ground-up rebuild originating from its FJ-09 and MT-09.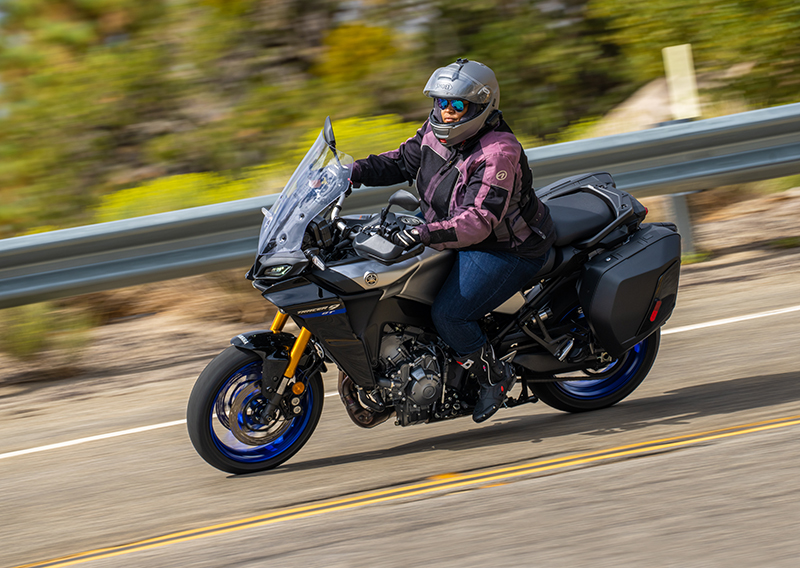 Yamaha invited us to test the bike on a 170-mile ride through Southern California's Angeles Crest Highway in the San Gabriel Mountains. The twist and turns of this beautiful scenic byway offers the perfect terrain to test the sporty Tracer 9 GT. The power of all new 890cc liquid cooled DOHC inline-triple CP3 engine is instantly notable in straightaways. The new CP3 gives 6 percent more torque than its predecessor that you feel from the first twist of the throttle.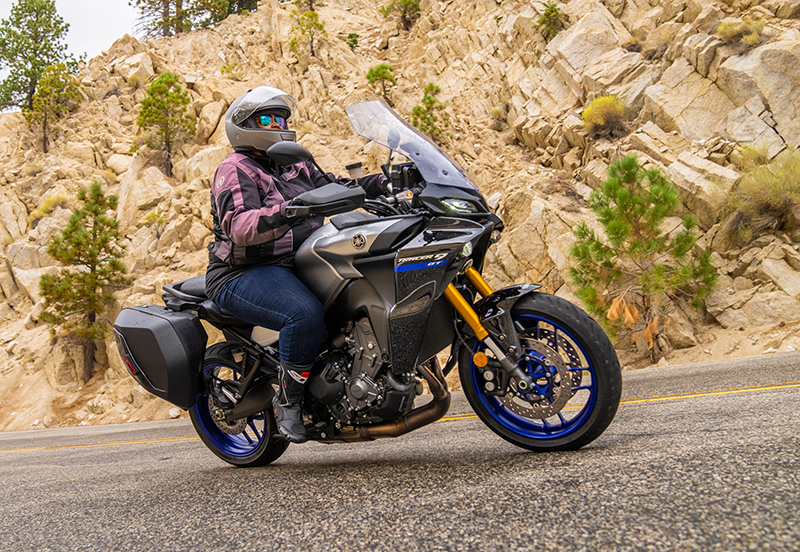 The Tracer 9 GT uses a Yamaha Chip Controlled Throttle (YCC-T) to electronically govern the throttle valves, and now features the Accelerator Position Sensor with Grip (APSG). The throttle response along with the clutchless up and down Quick Shifter System makes slicing through the curves of Angeles Crest an absolute joy. It's light, agile and easy to handle in corners.
KYB electronically controlled suspension is a new addition to the Tracer 9 GT. With two modes that allow you to customize your ride on the fly, you can set the bike up for just about any riding condition—fast or slow, smooth or bumpy, solo or two-up. "A-1" is the sporting mode that is designed to deliver taut and responsive suspension action for fast riding on dry roads while also accommodating wet conditions. This mode is a lot of fun through twisty curves. "A-2" mode gives a softer, more comfortable ride on rougher or uneven surfaces, making it the ideal choice on longer and more relaxed journeys.
For long distance rides, the ergonomics of a sport touring bike can mean the difference between 150 mile riding days and 500 mile riding days. Yamaha takes this into consideration with the Tracer 9 GT's adjustable upright riding position. The handlebar and footpegs can now be adjusted individually to two different positions. The seat maintains its two levels of adjustment from the previous model allowing riders to set a riding position that gives them a feeling of comfort the moment they get on the bike.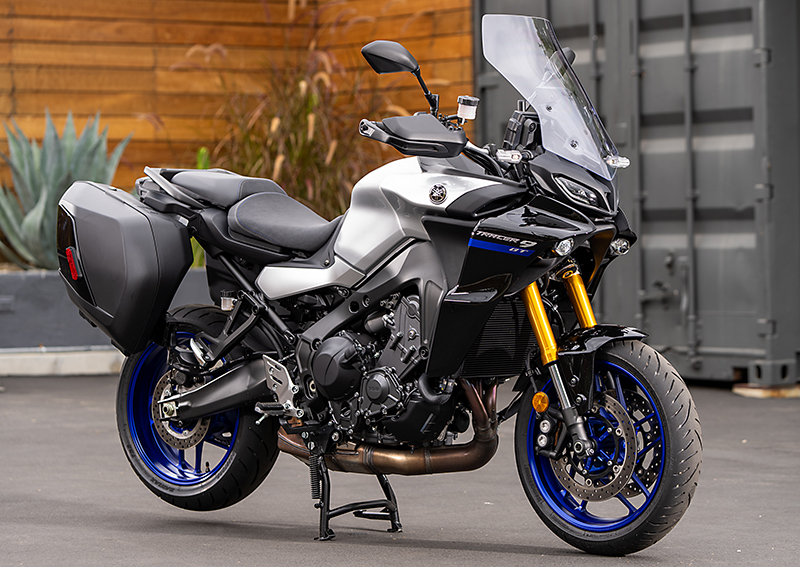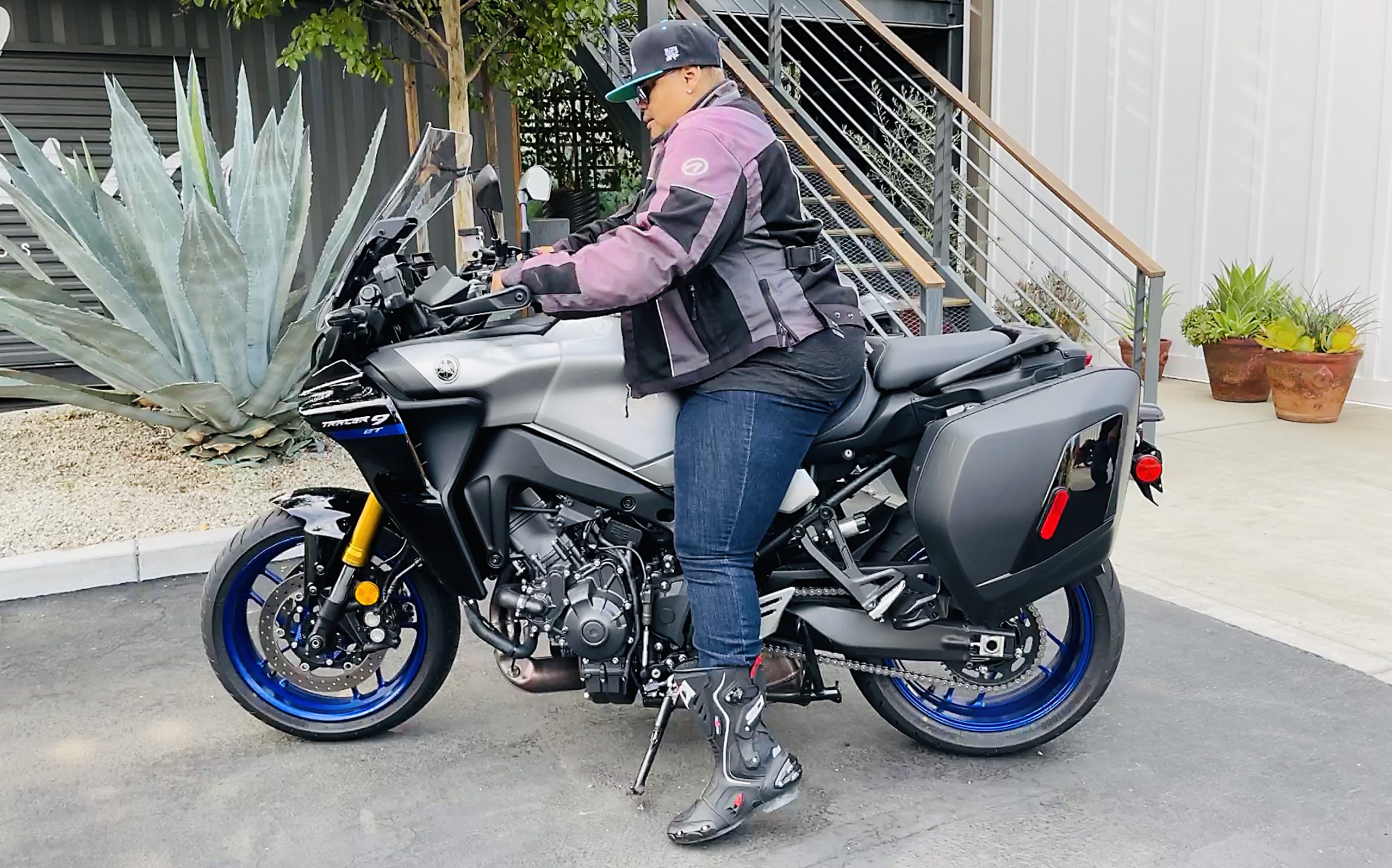 The Tracer's new 5-gallon tank is well designed and not intrusive. You'll enjoy 240 miles from full to empty, keeping in mind miles may vary based on weight and riding style.
The Tracer's newly shaped grips are easy to grasp and feature thinner rubber where the fingers touch. The new grips are very comfortable, especially for someone with small hands like me.  For colder days, you'll love the Tracer 9 GT's new grip warmers. With 10 different settings, you can set them exactly to your liking.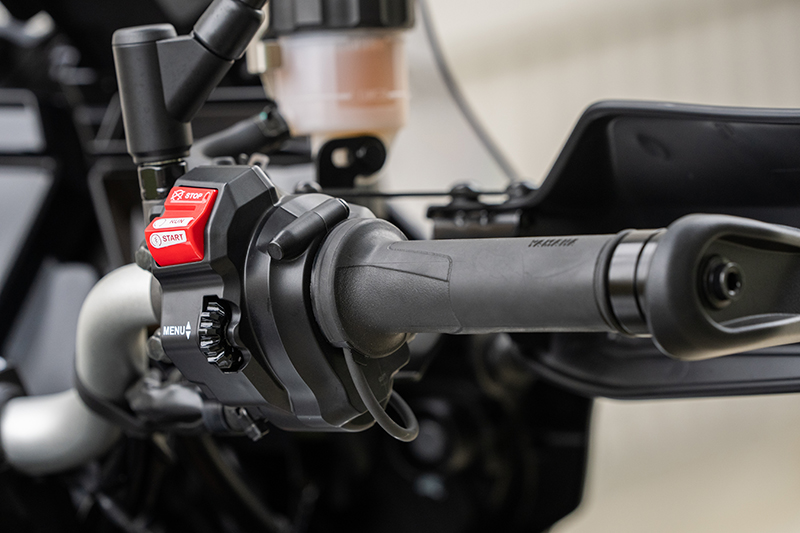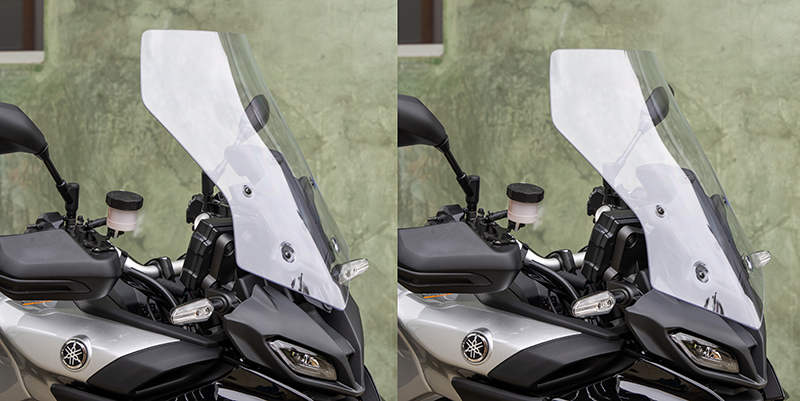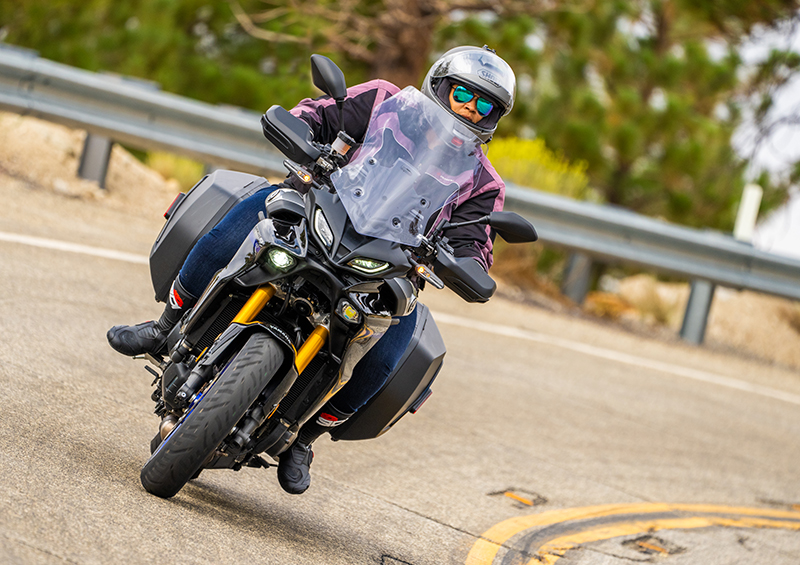 The Tracer 9 GT also features two 3.5-inch full-color TFT screens aligned side-by-side. The left screen is the main display, and shows bar-type tachometer that changes colors as rpm rises or falls, the fuel gauge, average mileage indicator, water temperature, air temperature and a gearshift indicator. The right screen enables the selection of four different types of information or indicators, allowing more information to be displayed at once with greater readability. The right side is customizable; riders can choose what info they want displayed.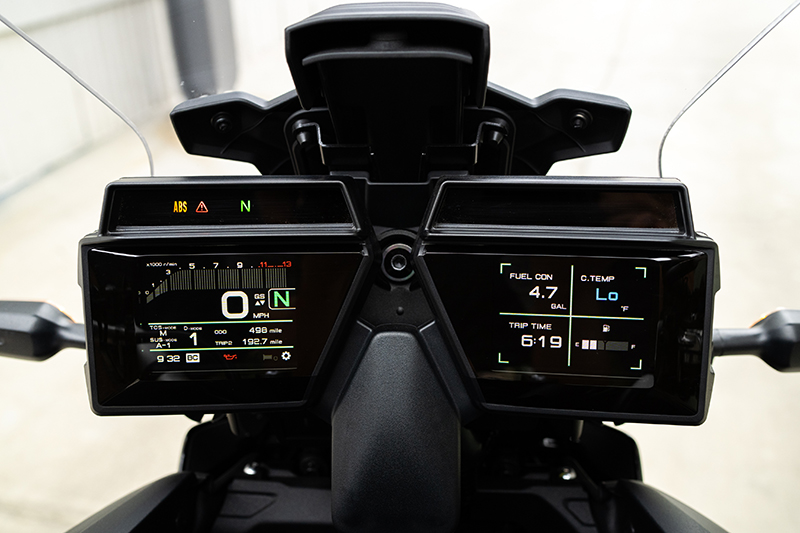 Every good sport touring bike has to consider storage—enough for a long motorcycle tour that may last a week or more. The Tracer 9 GT covers this base pretty well. The hard saddlebags provide 30 liters of storage and are slim, which works well with the overall design. The width of the bike with the bags installed is only 38 inches wide; great for lane sharing and crowded garages.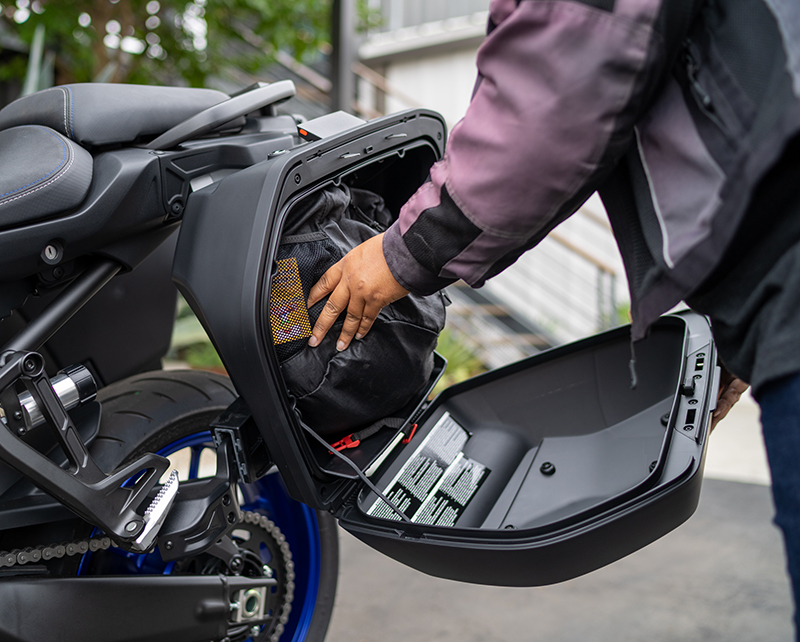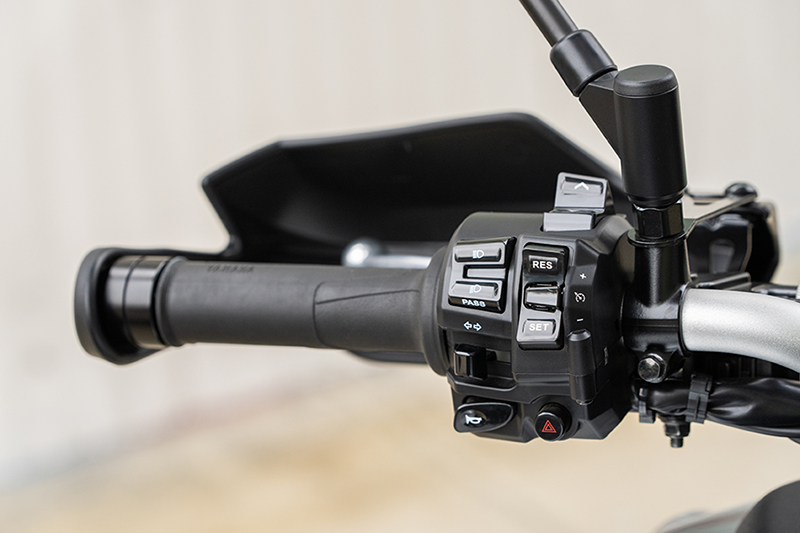 The Yamaha Tracer 9 GT is a lot of fun to ride! It's slim and agile, yet has all the power you need. With plenty of power, ample storage, great wind protection, comfortable adjustable seating position, cruise control, and much more, the Tracer is built to keep the sport touring rider exploring more roads far from home.
To learn more, visit YamahaMotorsports.com.
Specs At A Glance: Yamaha Tracer 9 GT
Engine Size: 890cc
Seat Height: 31.9–32.5 inches
Fuel Capacity: 5 gallons
Wet Weight: 485 pounds
2022 Colors: Liquid Metal, Redline
MSRP: $14,999