Do you have a story to share? Please send it to us, but follow these submission guidelines.

Anyone who knows me would've said motorcycle riding was the last thing they would ever predict I would do.Some call me high-maintenance, I just say I'm particular.I'm always made up; my hair styled just so every day; my fingernails are always perfectly manicured; I don't like being too cold or too hot.These attributes don't seem to gell very well with riding a motorcycle.
Women Riders Now E-Newsletter
Stay up-to-date on all things motorcycle! Latest gear, bikes and products reviews. Travel ideas, great product giveaways, and more.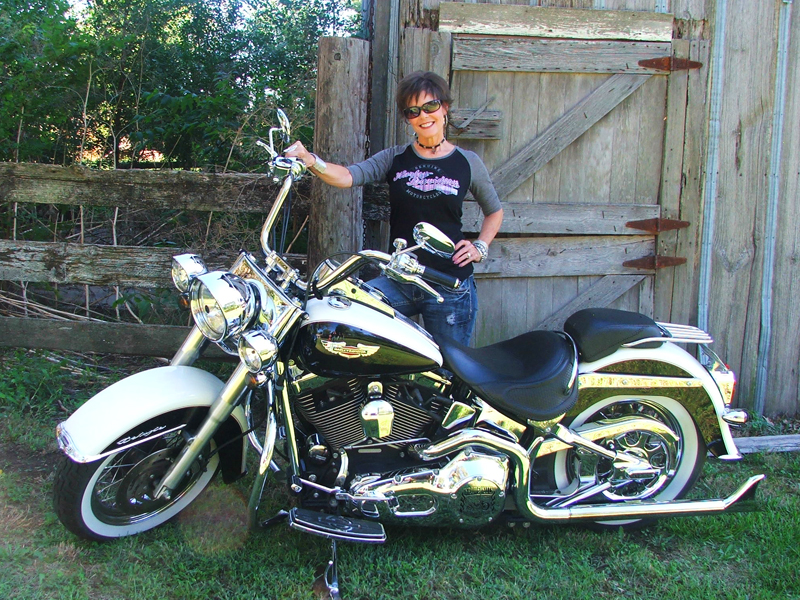 My husband had been a long time rider and I was a very infrequent passenger.It just wasn't my thing.However, that all changed in 2003 while on a car road trip to Wyoming. As we were pulling into a Harley-Davidson dealership in northern Colorado, several women riders were pulling out. To this day, I can't put into words what happened to me.I was just awestruck by these women and thought it was probably the coolest thing I had ever seen.It had never occurred to me that I could ride my own bike, and to be honest, I'm not sure I had even noticed a woman on a motorcycle before.I looked at my husband and said, "That's what I want to do! I wanna ride my own bike!"He wasn't as optimistic and commented back, "I think you might be just saying that to get all the cute clothes."
Them's are fighting words and now I was even more determined than ever to learn to ride.Immediately after returning from that car trip, I enrolled in a class to learn to ride.I have to say, it didn't come natural to me.Some women can take the class and jump on a bike and BAM! they're off and running.My lack of natural instinct was apparent to my RiderCoach, because when he handed me my certificate after completing the class, he said, "This is a license to practice.Don't get on the roads yet." Gotcha.
I purchased a Harley-Davidson Sportster and began practicing.My learning ground was a large empty parking lot. I wasn't confident enough to ride the short distance to the parking lot, so I made my husband ride my bike and I followed in the car. I immediately popped the clutch and down I went.Not a great start.I spent hours and hours in that parking lot, then graduated to the streets in my neighborhood and finally to the main roads. Fortunately, we lived very close to the edge of town so I could quickly get to roads that were less traveled so I didn't have a lot of traffic to navigate around.I practiced as often as I could over the winter. By spring I was slightly more confident.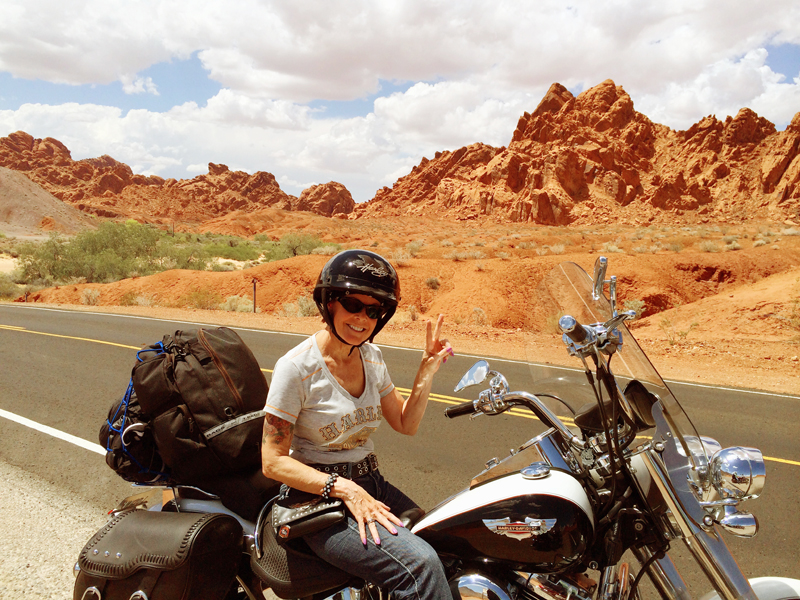 My neighbor saw me riding one summer day the following year and she had the same epiphany that I had; she wanted to learn to ride, too! So after she took the class and bought a motorcycle, I had a gal pal to ride with.Then a friend of hers who already rode started joining us on our little rides.That got us to thinking … we wondered how many other women out there who rode would like to join us. We jokingly said, "We could start our own gang!"
That joke evolved into reality in August 2004, when my neighbor and I formed the Krome Kitty Motorcycle Club. We are a great group of women who share the passion of riding on two wheels that has withstood the test of time and is still very much active to this day, although my co-founder stopped riding five years ago.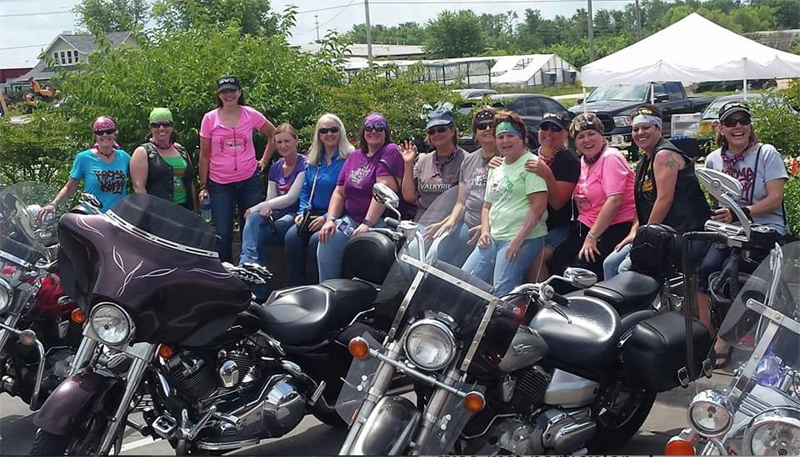 Over the club's 13-year history, we've shared incredible adventures together and have formed friendships that will last a lifetime. We've all learned from one another and shared tips on how to stay warm, which are the best saddlebags, where to put a water bottle, the best way to ride in a group formation, and much more. We have also adopted the Wichita Family Crisis Center, a domestic abuse center, as our charity and do a lot to support them.
I'm now 60 years old and while it didn't come easy, I can say I'm a confident and skilled rider. I have ridden my Deluxe with my husband on his Harley-Davidson Road King in all but a few states in the U.S. and parts of Canada. I've ridden in every kind of weather imaginable; intense heat, frigid cold, driving rain, hail, high winds … you name it, I've done it! I've been on roads that no motorcycle should ever be on (by accident!), and sure, I dropped my bike more than a couple times in the early years. All these experiences is what made me a better rider and when I think I can't do something, I remind myself that if I can do such-and-such, I can do this! And then I do.
I hope that my story is inspiring to others who feel they aren't strong enough, big enough, young enough, or good enough to learn to ride. I've told many other women who are considering riding that anyone can do it, so long as they have the tenacity to keep practicing and the passion to be on two wheels. If this 5-foot-3-inch, 110-pound gal, with absolutely zero natural instinct can do it, you can too!
And, by the way, my husband has eaten his "cute clothes" comment many times over!
Do you have a story to share? Please send it to us, but follow these submission guidelines.
Related Stories
Training Classes for New Riders
How to Start a Women's Motorcycle Riding Club
Beginner's Guide: 10 Steps to Becomming a Motorcycle Rider