(From Press Release)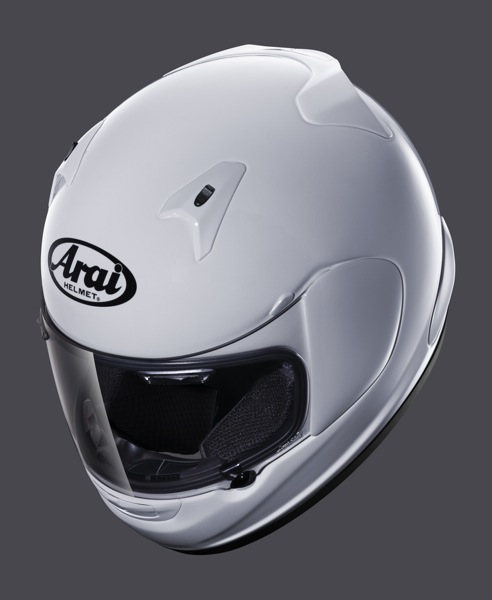 Arai is introducing what it claims is not just a whole new helmet, but a whole new class of helmet. A helmet purpose-built to be "the ultimate street helmet, to set a new benchmark in street comfort, quiet, ventilation and stability, every feature optimized for the conditions, speeds and environment of the real world. A helmet for other top-of-the-line models to compete against."
Its called the RX-Q. (To anyone familiar with Arai model lineage, the RX prefix is well-known. It began with the original X-7 back in 1979, evolving a few years later into the iconic RX-7 model series that effectively changed the face, literally and figuratively, of helmet design from that point on. Given the new models up-side mission, the RX prefix was a natural.)
The RX-Q was specifically created to be a cut above all other street helmets, even Arai's own helmets. According to an Arai spokesperson, "It's not a street helmet by default, its one by design, not just a description, but a new definition." To get there, Arai applied the same tireless 24-7 focus usually reserved for race helmets to designing an ultimate street helmet, a Corsair-V for the street they say, refining and adapting those proven concepts to this new purpose. As a result, the new RX-Q is aimed at the rider who take his or her helmet wearing seriously, one who can readily feel and appreciate the differences built into the helmet.
Key features of the new RX-Q include:
• A new level of stability, quiet, and comfort in a road helmet.
• Extremely wide peripheral view for better visibility and awareness of the world around you. The RX-Q uses the same new wider-eyeport SAI faceshield as the Corsair-V, 5 mm wider on each side.
• Even more comfort. The RX-Qs truly unique, newly-sculpted cheekpad shape cradles the head from underneath for a level of comfort Arai says needs to be felt to be believed. The new cheekpad has more surface area, and moves away from the typical "pressure fit" to a more "comfort fit" based on the designs "cradle" support for the jaws. The result is a more secure fit in a more comfortable package. The design was influenced by Arais F-1 drivers, the most demanding of all for fit.
• Very, very quiet. Again, a result of the new cheekpad design. The sculpted flange under the jaw also blocks more noise entering the helmet from underneath – the major source of helmet noise – by creating a better noise seal. This, combined with new sound-deadening foam in the cheekpad, gives the rider an extremely quiet helmet. Plus, the cheekpad also has Arai's innovative Emergency Cheekpad Removal System.
• All this innovation and benefit from a simple cheekpad. Except that in Arais world, no part of a helmet is "simple." This unique new cheekpad is nothing short of a marvel, very labor intensive and costly to make. In fact, the design utilizes 12 separate pieces specifically placed, by hand, by Arais skilled crafts people.
• The RX-Qs advanced ventilation combines more efficiency with even less interior noise. Arais ability to further refine proven designs to increase helmet performance proves that you dont have to reinvent the wheel to make substantial improvements. While not very aggressive looking, the vents are extremely efficient, flowing huge volumes of air through the interior to improve ventilation at road speeds, not race speeds. Not a lot of vent holes – just the right ones, in the right size, in the right place.
• A uniquely-designed lower Hyper Ridge circles the shell bottom to improve strength and aerodynamics. Its also designed to lower the center-of-gravity for an exceptionally light feeling on your head. And a larger bottom opening makes for easier on-off without enlarging the helmet.
• New more aerodynamic upper and side exhaust vent cowling, sculpted to enhance stability while increasing exhaust efficiency. The side vent cowls are tailored to the needs and speeds of the street. Compared to the Corsair-V, the RX-Qs cowlings are larger and more aggressively styled, as lower street speeds require more surface area and a more refined shaping in order to deliver the increased stability. High speed performance is also excellent.
• Small, more aerodynamic, hand-formed natural shell shape and size aids stability and stillness – not only in straight-line wind-tunnel stability, but it also minimizes the negative aerodynamic effect when turning your head to check traffic or in a cross wind. And it looks better on your head than other bigger, rounder balloon-style shell designs on the market.
• The RX-Q has an evolved version of Arais very popular Intermediate-Oval (IO) interior shape. Arai is the only company offering multiple interior-fit packages to better address the infinite variety of consumers head shapes and sizes. Its interior fit shapes evolve and improve as company research recognizes trends based on consumer feedback. The RX-Q shape is similar to the current Corsair-V and Vector models, and the former RX-7 Corsair, but the RX-Qs shape represents a further refinement of interior shape configuration based on Arai's continual comparison, measurement and testing of human head shapes.
• Brand new, one piece bottom edge trim, gives an incredibly clean look by eliminating the need for seams. Admittedly not a major innovation, but still another example of Arai's unceasing attention to details and aesthetics.
• Arais exceptional handmade craftsmanship, made to a higher standard of protection, comfort, and quality thats difficult to put a price on.
The new Arai RX-Q is available in a variety of graphics and colors, in sizes XXS – XXL. Suggested list prices range from $539.95 to $679.95. For more information and to locate a dealer, visit AraiAmericas.com.
Related Articles
New Helmets from Arai
Arai Proper Fit