Want to share your motorcycle or product review? Click here to find out how.
I just traded my 2002 Harley-Davidson Sportster Hugger for a 2009 Harley-Davidson V-Rod and wish I would have done it sooner. Im only 5-foot-4-1/2 and couldnt find anything that fit me. There were other Harleys that were lower; however, they were so wide I couldnt get my legs around them and still reach the ground. I fell in love with the look of the V-Rod when it first came out, but I really wanted a bigger tank, as that was one of my issues with the Sportster. I was always stopping for gas and holding everyone else up.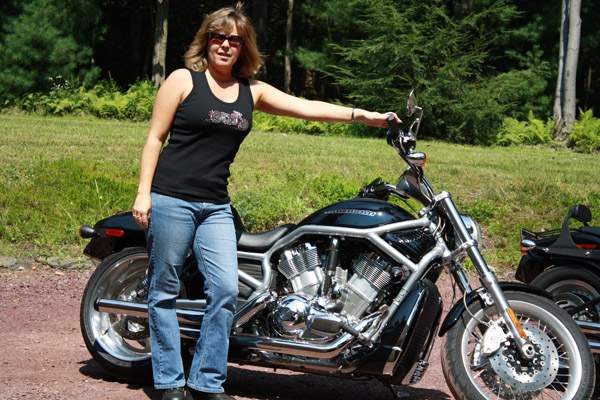 When the V-Rod went to the 5-gallon tank, I was hooked for sure but a little intimidated because everyone talked about all the power it had. The fat rear tire also made me hesitate after reading comments from guys saying the big tire made it hard to corner. Well, after much urging from my husband, I took one for a test ride and fell in love. Cornering was no problem—I actually feel like it holds the road better in corners. Of course, Im not going 140 miles per hour like some of the guys. With the gas tank under the seat, the center of gravity is really low so the bike handles like a charm and is exceptionally balanced. However, putting gas in it does take some getting used to, as you really need to bend down to dispense the gas. That is just a minor detail that Im sure Ill get used to.
I put on a Reach Seat, which brought me about an inch lower, and I swapped out those huge stock pipes with Rinehart straight pipes, making the bike even narrower. It is now perfect! Of course, more chrome wouldnt hurt.
To any women considering going bigger, dont be intimidated by what you hear. Take one for a test ride and decide for yourself. Women ride a lot differently than most men, so it really is an individual choice. I love the fact that not only can I keep up with the guys, but there are no more 100-mile gas stops and no more messing with the choke. I just hit the button and go.
Want to share your motorcycle or product review? Click here to find out how.
Related Articles:
Lowest Seat Height Bikes On The Market