One of the greatest challenges I experience as I mature is learning how to keep the many different aspects of my life fresh and exciting. I am a person who constantly hungers for new ideas and experiences. Yet I am such a creature of habit that unless I make a conscious effort to re-energize certain areas of my existence, I often find an area of my life getting stagnant, or stuck in a rut. Having ridden a motorcycle in southern California for 20 years, I have seen many of its back roads, with a variety of different friends, and Ive visited many a local biker hang out for a bike night, or a sunny Sunday afternoon. But lately I have found that on many picture perfect sunny California Sundays, the girlfriends I have left who still ride are all busy with other aspects of their lives. There are days when a long ride alone in the hills is therapeutic, but sometimes you want to share the day. There have been times in my life when a motorcycle was my only means of transportation, and I didnt want it any other way.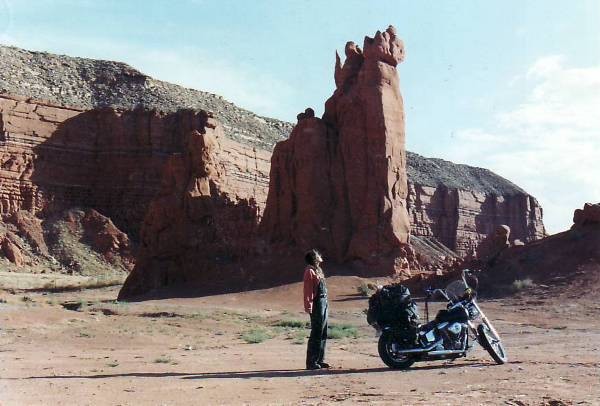 But now I find myself looking back on those times when a big group of us used to ride every week to new destinations, and relish in spending a day sharing all of the elements of nature, riding and laughing with friends.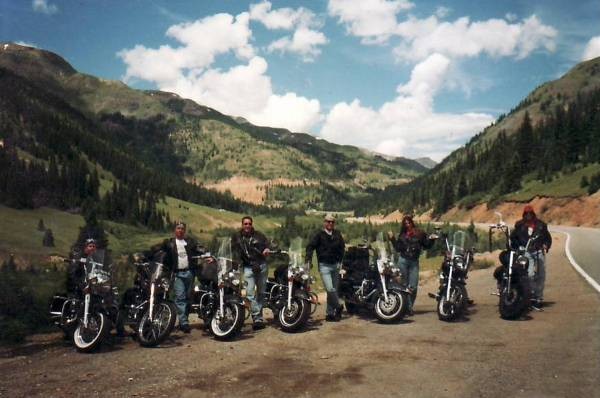 I dont even know when, where, or if there are any bike nights anymore. Im out of the loop. My idea of a party is my dog, Ute, and I sharing a Subway sandwich in bed, while we watch "The Biggest Loser" on TV. I fear I am in a self-created motorcycle rut! One of my best buddies Qian (pronounced Chin), with whom Ive spent the majority of the past decade traveling, has gotten quite busy with the many other aspects of her life. For awhile now she has been inviting me to ride with some of her newfound friends who also have motorcycles. And being the creature of habit that I am, I had not made myself available for that.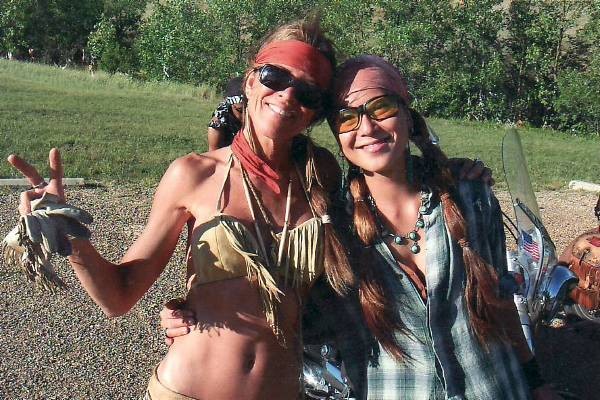 Its easy and comfortable riding with my same small group of friends, riding down the same roads, to the same hang outs. I know that change is essential for growth, but I always seem to resist it. Sometimes I fear that if my local grocer Pink Dot would deliver food to my door, I might not ever leave my own safe compound of tranquility. So I came to the realization that perhaps it was time for me to broaden my horizons and get back into the heart of the motorcycle scene. So I told Qian to go ahead and invite a handful of people for a Sunday ride. "OK, where should we ride?" she asked. Where should we meet? What time should we get started?
About a decade and a half ago, Genevieve and I had a different destination every week. Some were local, and others took us all over the country together. Some were just the two of us, but many involved big groups of people: guys and girls, old and young, rich and poor, experienced and inexperienced riding has introduced me to all types of friends. Looking back on what kept that going and what kept it new and exciting, was the love of riding that Genevieve and I shared, and a love of nature and the great outdoors. It didnt matter if that was riding with a group of friends to the beach in Malibu, going cross country to Sturgis, or just the two of us poking through old ghost towns in the wild west.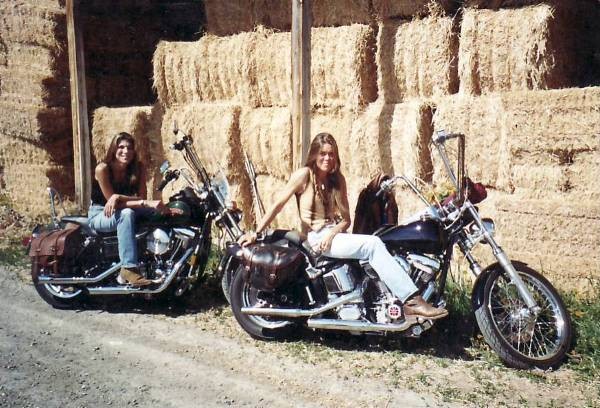 I have long missed the riding buddy that I had in Genevieve, but what I just came to realize was that she was a lot more than that. She was the trip planner, the location scout, the detail organizer, and a map professional! I am just the wild girl looking for adventure, and whatever comes my way. I tend to wander a bit aimlessly, and blow where the wind takes me, which is fine if you are riding alone. But if you want a group of motorcycles to travel safely from one place to another, a certain amount of organization is required. Somebody has to take the time to make the decisions, and set it up.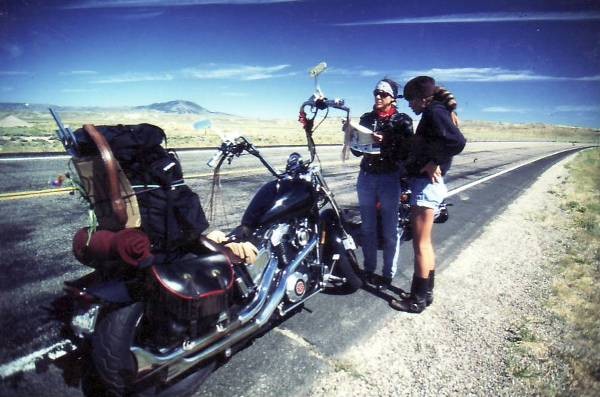 All this reflection is making me think about the different groups I have ridden with over the years, and what made them work or not work. The more personalities you throw together on one road, the more ideas and riding styles you are trying to meld. I have found that most people who ride any type of motorcycle have a strong personality unique unto themselves. I remember riding a few times with big groups, and I would sort of blow ahead just enjoying the feeling of speed with no concept of where my destination was and with half of the group following me I got half of the party lost in the hills. Which never bothered me, but my riding style or should I say lack of direction, used to annoy some of the other riders. I also remember a few people accusing me of riding less than safely as my need for speed encouraged the less experienced riders to try and keep up. I guess I always felt like we were all in charge of our own vessel, and that each person needs to assume responsibility for his or her own space. In my defense, I would like to say that the wisdom of my years has taught me to ride a little more respectfully, but I do so love to fly through the canyons. When a tight turn is coming up and the sign says to slow your speed that is exactly when I hit the gas. Nothing puts a smile on my face quite like the feeling of leaning and screaming through the canyon curves! Wheeeee!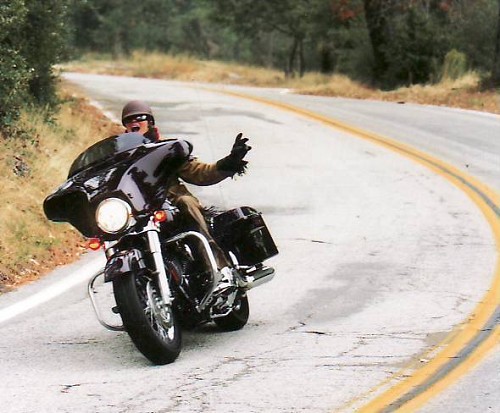 So Qian and I decided we would get a group together at least once a month. Combine new friends with old friends to ride to new destinations. Or old destinations that we hadnt seen for so long that we dont remember how to even get there. So on the first Sunday of every month that is exactly what we are going to do. And for our first outing we decided to make it easy and ride up to the Deer Lodge in Ojai, which I had not visited in years. Qians friends all showed up at my house at 10:00 a.m., and we just had an easy, carefree day riding through the back roads of the valley.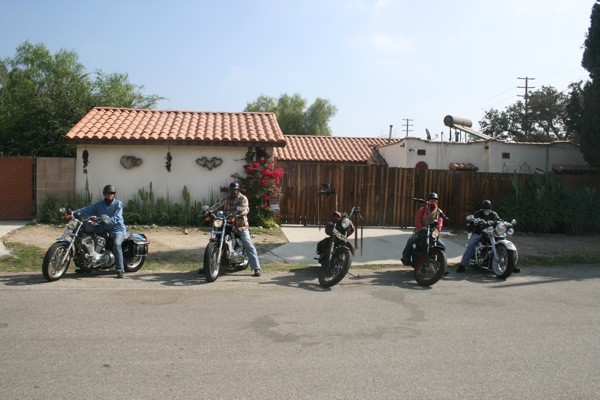 Over the years I have known many people to get hurt and even die in tragic motorcycle accidents. So it is always a good idea when you ride with a new group of people to pay extra close attention to the habits and riding styles of your new friends, especially if they are relatively new or inexperienced riders. It takes just one wrong move for a whole lot to go wrong. So ride defensively, and always leave room for error. Keep your own personal circle of safety at all times. Because this group was all riding together for the first time, we didnt exactly ride in a tight formation, but it didnt seem to matter. We all had fun, and made it safely through the day.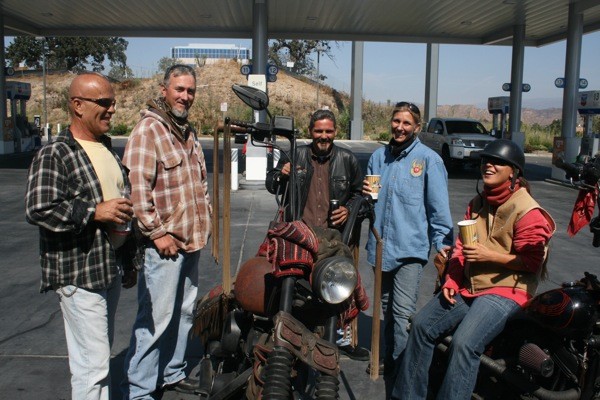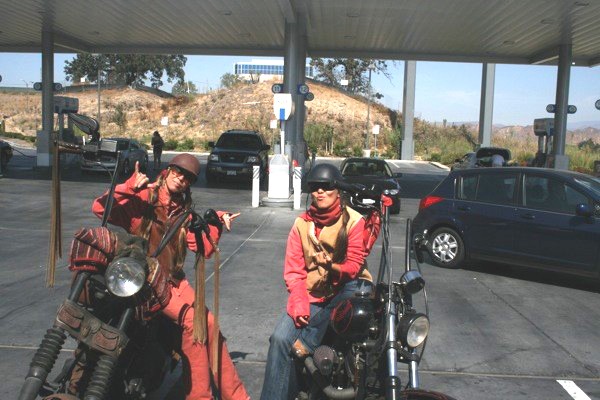 It was warm, sunny, and beautiful, and we all enjoyed lunch, and each others company. It was fun to spend the day with friends who still have that new enthusiasm for the sport and lifestyle of motorcycling. We stopped often just to talk and goof around, and appreciate the views, which along the mountain roads winding over to Ojai are fantastic. Vast horse properties and old rock houses, orchards and fruit stands are all along the way.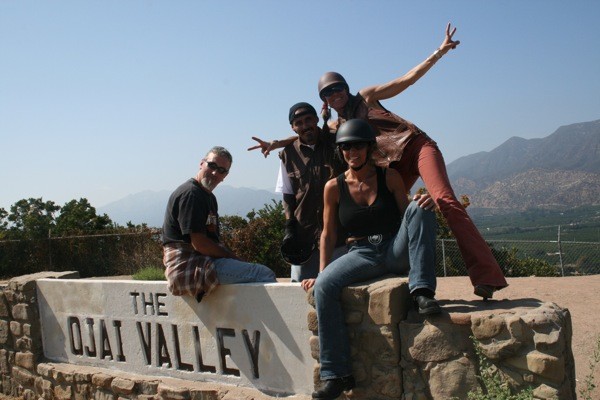 The Deer Lodge, located at 2261 Maricopa Highway, is a small, fun hangout just outside of Ojai. Its like an old hunting lodge surrounded by pine trees and palm trees, so its got that California flare.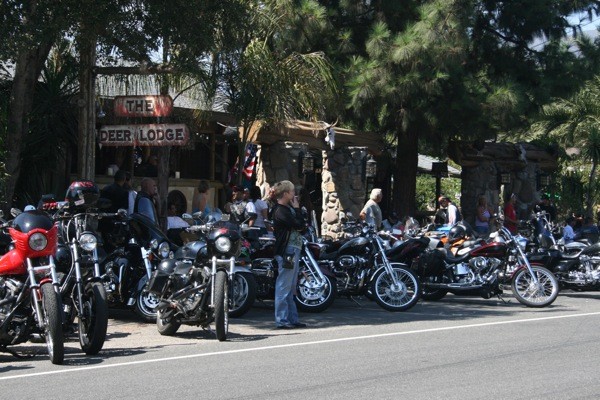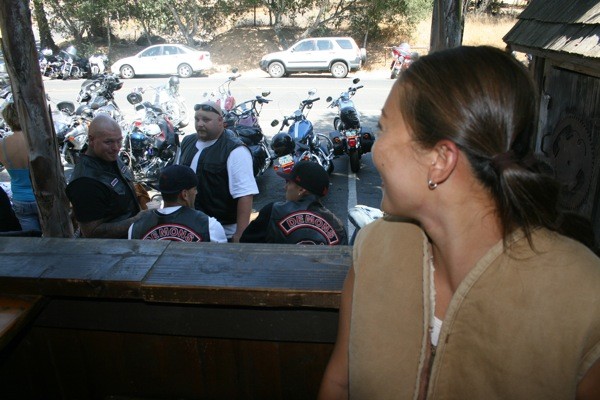 Old deer skulls and exotic taxidermy garnish the walls of the old stone structure. On weekends they have an outdoor barbeque going, and the barbeque chicken salad was awesome. Add the football screens, and cute waitresses in cowboy hats, and its got just about everything a biker needs for a fun and entertaining pit stop.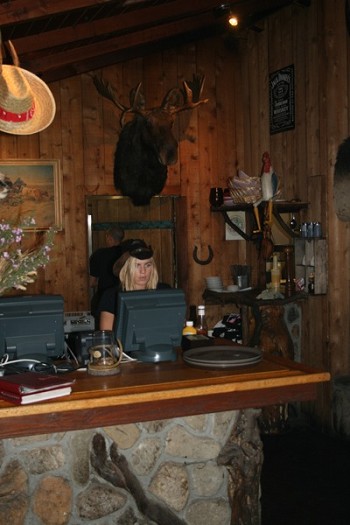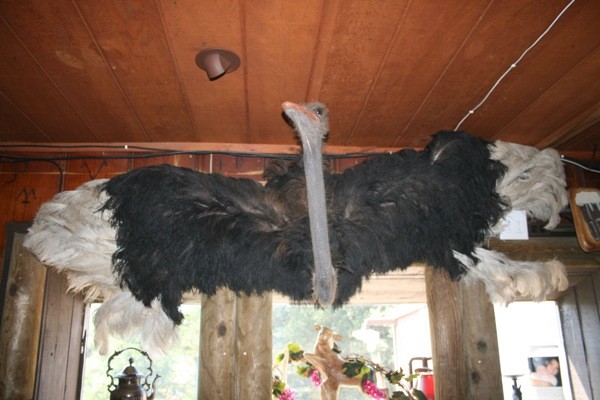 Ever since I rode in the Discovery Channels documentary "Motorcycle Women" and started writing for various motorcycle publications, a lot of women have contacted me asking to join in on organized rides. So if you live in Southern California, and want to join us for a ride, contact me. If you have location suggestions, or events of interest, let me know. Bike nights, weekend runs, anything somewhat local and fun. You can email me your contact info at: calamitybz@aol.com.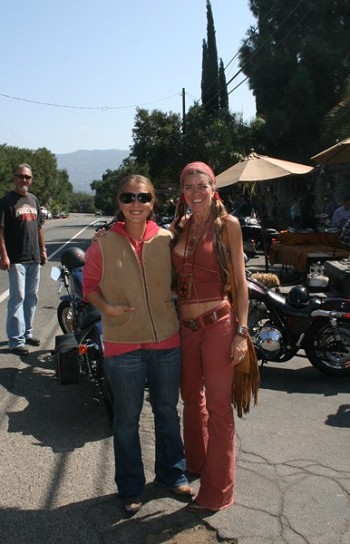 And here's the next big ride you can start thinking about and planning for now! A documentary film will be shot this summer covering my annual trek from Sun Valley, California, to Sturgis, South Dakota, for the rally. Many events during rally week will also be shot. If Sturgis is something you'd like to join in on, here are the details:
The Sturgis Rally official dates are: Monday, August 3 through Sunday, August 9. We will arrive the Friday before the rally and stay from Friday, July 31 to Sunday, August 9. The schedule and route are still under planning, but we could leave Southern California as early as Sunday, July 26th. We will ride through Utah, Colorado, and Wyoming, if anyone along that route, man or woman, wants to join in. It is being filmed by my good friend and independent filmmaker RJ Joseph, and will be shopped around at film festivals. This is a bottom of the barrel adventure, and everyone is responsible for his or her own health, safety, accommodations, food, and bike maintenance. The only thing being offered is a guaranteed adventure full of surprises, laughter, friendship, sunshine, and fun, mixed in with the usual rain, wind, flat tires and other obstacles life inevitably throws our way. If you should choose to join in on this ride, you will be required to sign a release form. Stayed tuned for further details about the Sturgis trip.
To read more about Betsy, visit her Web site, BetsyHuelskamp.com.