Want to share your story? Click here to find out how.
In 2000 I was transferred from California to Florida to work at the Kennedy Space Center on the space shuttle program. I was an avionics technician and crawled inside and out of the space shuttles. I was very dedicated to my work as well as dedicated to riding my motorcycle. I decided I wanted to ride my own motorcycle so I took the safety class. I recommend it to everybody; you will be surprised what you can learn from that class.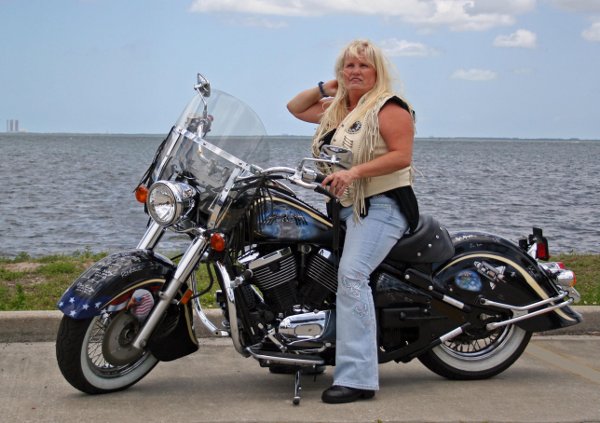 I looked at Harley-Davidsons first but they were too much money for my budget. I ended up with two bikes, a Yamaha 1100 Silverado that I bought from a friend, and a Kawasaki Vulcan Drifter that I bought from someone at work.
When I was in California on the space program sometimes the astronauts would come and visit the orbiter to see the progress. I had a big poster and had the astronauts sign it. It was a great thrill. Well one day the astronauts came unannounced to see the orbiter in Florida and I didnt have my poster. I rode the motorcycle to work that day so I asked if they would sign my motorcycle. They were thrilled to do it and that is how I got started with astronauts signatures.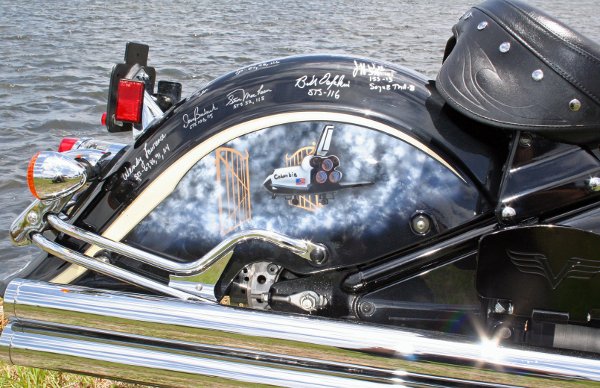 It was hard getting to them for just a few seconds with their busy schedules. I used to come in early or stay late just to get a signature. I have more than 50 astronauts who have flown in space that have signed their names on my bike! There are also signatures of seven of the famous World War II Tuskegee Airmen, two Swiss Papal Guards from Rome, World War II Wasp pilot Florence Watson, Thomas Griffin from the Doolittle raid in April 1942, actor John Travolta, and several other VIPs.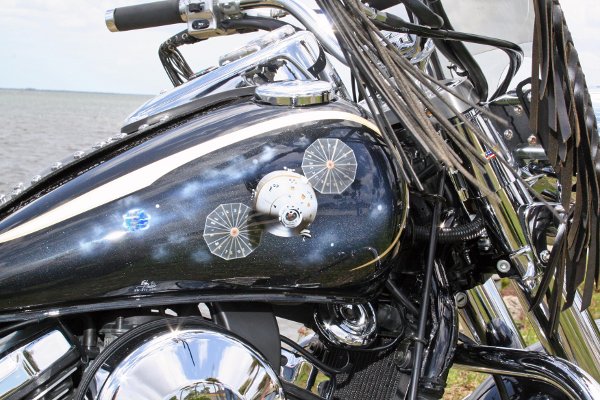 My Drifter is also adorned with beautiful airbrush artwork depicting space flight one, the first flight Apollo Mercury, and the first test flight 2014 of the new Orion program. My motorcycle is stock except for shotgun pipes and engine guards, but she is the only one in the world!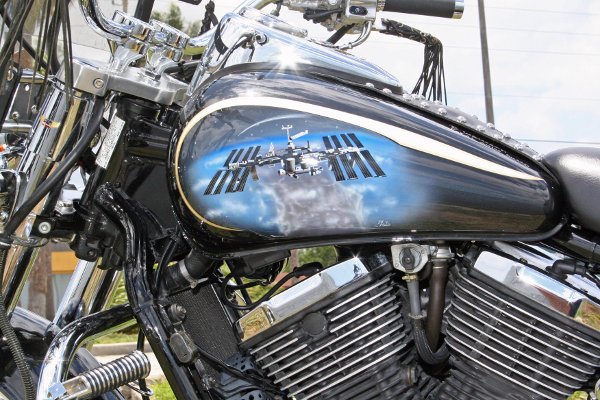 I love to ride her. It is like therapy for me. The people you meet are a special breed, happy and warm with a smile and a lot of hugs.
I retired early, cashed in all my chips and moved to Hawaii. You can wear shorts and flip flops all day long, and there are no bugs on the windshields. I ride all the time along the island in Oahu. Now, I do a lot of volunteer work for Pearl Harbor on the Might Mo and ride a lot of fund raisers like Toys for Tots.
Want to share your story? Click here to find out how.