Our readers have always been our best resource for everything to do with women and motorcycling. This month were sharing YOUR best tips for safe and fun riding during colder weather.
Good Gear Doesn't Have to Break the Bank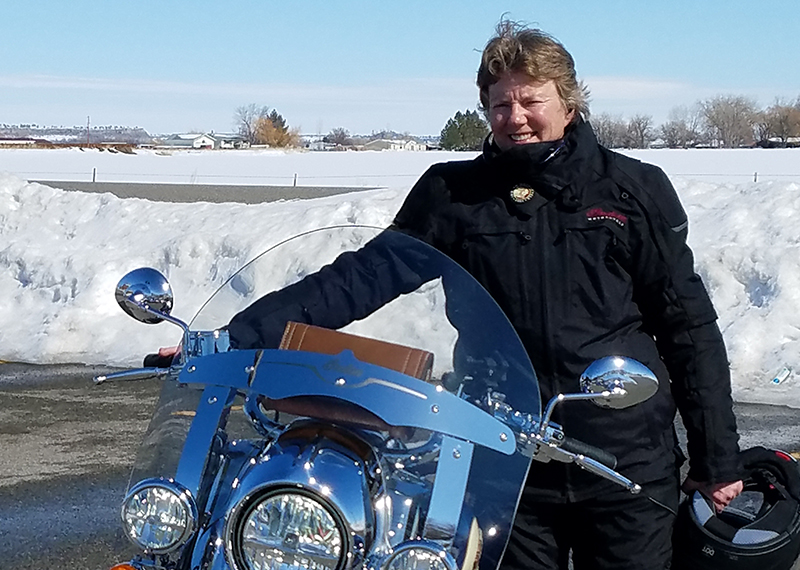 Lori Balcer
Bike: 2017 Indian Chief Vintage
Residence: Shepherd, Montana
Winter Ride: Wyoming, South Dakota
I ride about 25,000 miles a year. My friends and I can be found riding in southeastern Montana, north central/western Wyoming, and western South Dakota.
My tip for cold weather riding is buy good gear! You get what you pay for. Make sure you buy something that allows for flexibility by adding or removing layers, and should be waterproof. If cost is a restriction you still can get good gear, but look in different places: garage sales, Craigslist, eBay, and Amazon. I check motorcycle manufacturers sites for items that are on clearance. You can save up to 60% in a lot of cases. Snowmobiling gear is a great option, as it's high-tech.
If you invest in battery-operated heated gear, be advised this gear does not last long and with the cooler temperatures the batteries lose their power even faster. Gear that you can plug in will be more reliable, but you will have several cords winding through your clothes and you will be tethered to your bike. Do your homework before you buy. Read reviews and ask friends.
Quick Cheap Fix for Cold Hands
Cyndi Brandt
Bike: 2015 CVO Street Glide
Residence: Baltimore, Maryland
Winter Ride: Catoctin Mountain Park in western Maryland. The perfect combination of twisty roads and great food.
Riding during autumn always has me in a quandary for gloves. Too heavy—you sweat. Too thin—you freeze. The temperature starts warmer then drops during the day, so you go from "comfortable" to "I can't feel my fingers." My simple solution is a pair of latex gloves. They provide a quick layer of warmth, wind protection, and they keep wet weather away from your hands. I never leave home without them on the bike and take them with me on every trip. I've even been known to hand out a pair or two! (Editors Note: Cyndi is shown with her riding buddy and nephew, Harrison.)
Layer, Hydrate, and Eat Small Meals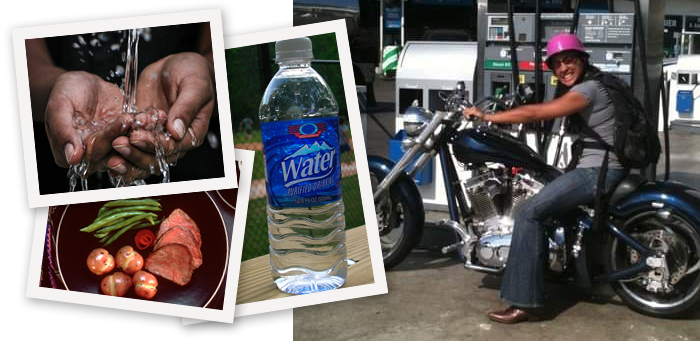 Elaine Thobe
Bike: Chopper and Harley-Davidson Heritage Softail Classic
Residence: Phoenix, Arizona
Winter Ride: California or Arizona
Gear is a must for cold-weather riding. On a budget? Layers and leathers. From undergarments to leathers and shells, this allows you to stay comfortable while being versatile enough to shed layers when things warm up. If affordable, some of the latest technology like seat, leg, and handgrip warmers or plug-in heat liners or shells are available.
Hydration is also a necessity when riding in colder weather. You may not feel very thirsty, but dehydration can lead to fatigue or dizziness (alcohol and caffeine can make this worse). It is recommended to consume at least half your body weight in ounces of water.
Metabolism also decreases during colder temperatures. The best way to stimulate your metabolism is to eat small balanced meals throughout the day. Your furnace will continue burning while keeping your mind and body awake and a bit warmer.
Need a pit-stop? Whether you're feeling a bit tired or just too darn cold to continue riding, pull over, gather your faculties, and warm up a bit. Run some warm water on your hands or warm them up under a hand dryer. Otherwise take a brisk walk or perform repetitive movements to get the circulation going again. (Editors Note: Really appreciate Elaine sending in her tips. She doesnt normally ride in just a t-shirt when it's cold, but was going into surgery and sent us the only recent photo she had. Thanks for sharing, Elaine!)
Cuddl Duds and Lots of Wool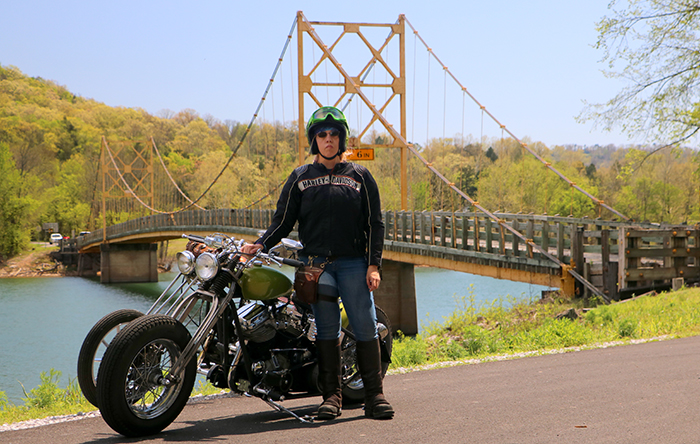 Chris Gibbany
Bike: Chopper; 1956 Harley-Davidson Panhead and 1939 Harley-Davidson Knucklehead
Residence: Harrison, Arkansas
Winter Ride: Northern Arkansas
I ride vintage choppers; a 1956 Panhead and a 1939 Knucklehead so I usually stay within a 100 mile radius in northern Arkansas. First, make sure your tires are properly inflated. A hot, protein-packed breakfast helps your body and stopping as often as you need to for a warm cup of coffee or hot chocolate really helps.
Since I run open belts on both of my bikes, I wear:
Cuddl Duds (base layer garments), jeans, thin athletic zip-up sweatshirt, flannel shirt, and riding jacket.
Handmade Portuguese gaiters that not only protect my legs, but provide additional warmth in the winter.
Knee-high wool socks and 9 inch Wolverine boots.
Thin pair of knitted gloves under Viking gloves.
A wool hat over a bandanna.
I continue to wear a three-quarter helmet as I prefer the air hitting my face and a pair of Epoch Eyewear goggles that easily fit under the helmet. I wear a leg bag on my right leg and in it I carry Chapstick, Vaseline, and an extra bandanna.
Living for the Moment and Experiencing Freedom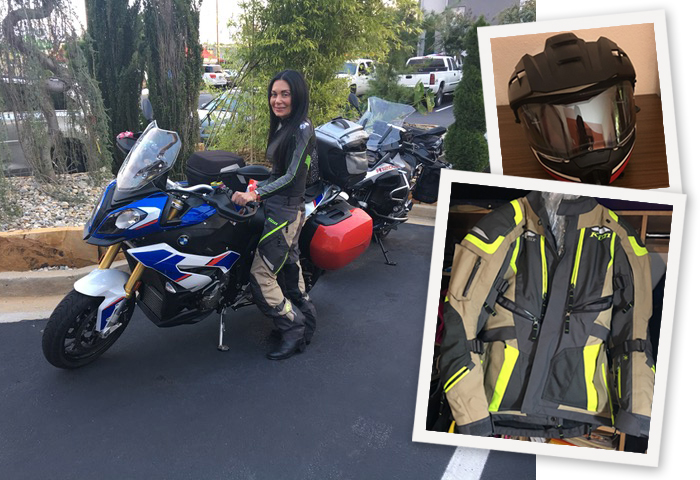 Dorothy L. Gulla
Bike(s): 2018 BMW S1000 XR
Past Bike(s): 2013 BMW S1000 RR, 2016 BMW S1000 RR, Triumph Daytona 675, 848 Ducati, Kawasaki Sport Bike
Dream Bike: 2019 BMW S1000 RR!
Residence: Fort Myers, Florida
Winter Rides: North Carolina (Little Switzerland, Deal's Gap, etc.)
I love riding in colder temperatures versus the heat and humidity of warmer locations. Having moved to Florida from New York and Danbury, Connecticut, I truly miss the change of seasons and the cooler temperatures!
My "go-to" gear items for colder weather riding are:
Gerbing heated jacket
Gerbing heated gloves
Gerbing controller (plugs into my motorcycle's battery charger unit)
KLIM Artemis jacket (wear over my heated jacket)
KLIM Artemis pants
MotoChic women's base layer
Forma women's motorcycle boots
Rev'it! Tour winter socks
This past October I rode in North Carolina (Little Switzerland, Deal's Gap, etc.). Temperatures ranged from the low 30s (early morning) to the middle 60s (afternoon). I was in heaven, feeling the heat penetrate my upper body from the heated jacket and gloves. Wearing the MotoChic base layer was just enough to ensure I was toasty warm.
In closing, I would like to add that I ride because I want to live in the moment, experience freedom, be my true self—knowing that I can do whatever I set my heart upon. The result is pure bliss!
Layers From Head to Toes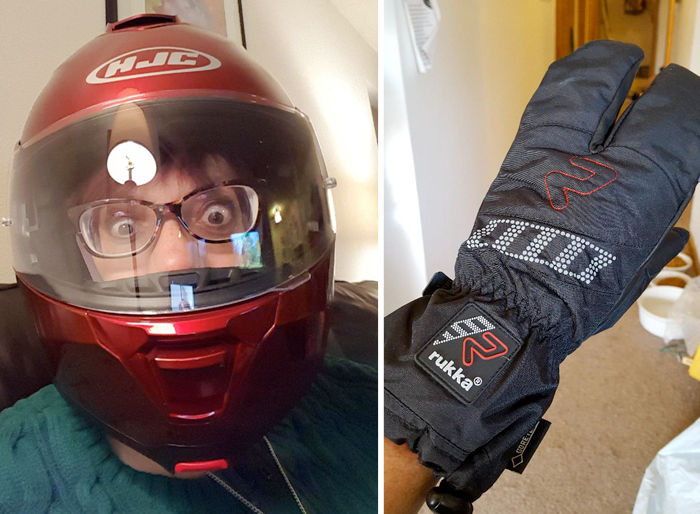 Nancy Fithian
Bike: 2015 Yamaha V-Star 950 Tourer
Residence: Lafayette, Colorado
Winter Ride: Peak to Peak Boulder Highway
I live in Lafayette, Colorado and work in Boulder.
I ride a 2015 Yamaha V-Star 950 Tourer motorcycle and commute to work on my bike during the warmer months.I do occasionally ride during the winter months on the weekends—if the temperature is above 40 degrees, there is no precipitation, and the roads are mostly dry.
I enjoy riding throughout Boulder County, particularly on the Peak to Peak Highway and through the canyons.
Tips for cold weather riding:
Full face helmet
Neck gator
Wind or rain suit over your regular clothes for insulation and visibility
Boots big enough to accommodate thick socks
Winter gloves, including heated gloves, will keep your hands toasty
My current gear:
HJC IS Max 2 full-face helmet
Turtle Fur neck gator (from REI)
Women's Joe Rocket two-piece rain suit
Women's X Element "Siren" motorcycle boots
Rukka "lobster" gloves with Seirus "Heatwave" glove liners
I hope to get heated gloves for Christmas!
Watching for Woodland Creatures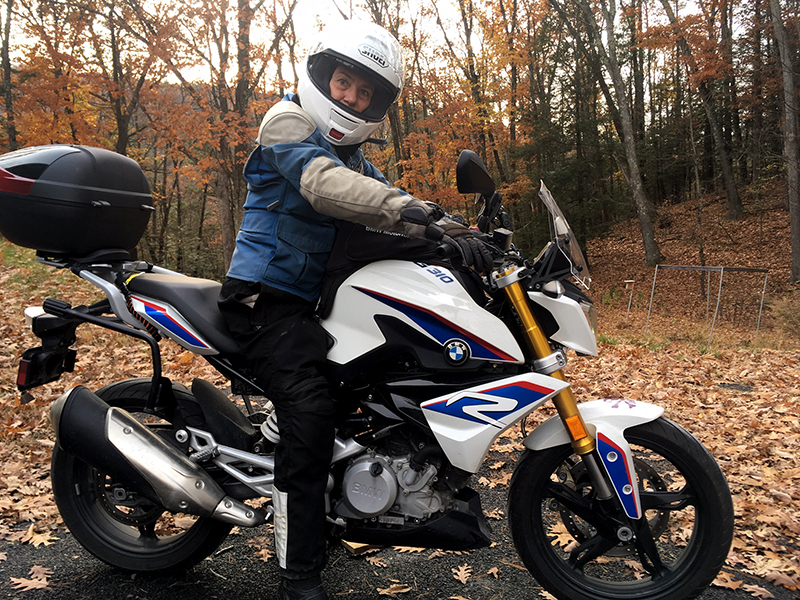 Siouxzanne Harris
Bike: Suzuki SV650, BMW G310R
Residence: Catskill Mountains of New York
Winter Ride: Across the Hudson River and through the Catskills
I try to ride whenever the roads are dry and the temperature is above 35. Here's how I ride:
Electric jacket liner—Gerbings—with a thin windbreaker on top of it, then my Aerostich Roadcrafter.
Smart wool socks and silk long johns.
My bikes all have heated grips and I wear Held heavyweight gloves.
Full face helmet (modular) with a balaclava to keep my neck warm.
My winter rides are far less "spirited" than my summer rides. I take it slow and easy watching for woodland creatures, sand/gravel or road debris. Oftentimes the hardest part is getting in and out of my gravel sloped driveway. My rides are generally shorter—an hour or an hour and half—50 miles or so, but I have done some special rides such as on Christmas Day and New Year's Day. In the past I have used my Suzuki SV650 as my winter bike, but this year I am going to try my new BMW G310R.
I have several (four) bikes and usually put three into hibernation and keep one ready to ride. I am in the process of putting my old BMW (1982 R65LS) Suzuki and MotoGuzzi "to bed."
Look Good, Ride Safely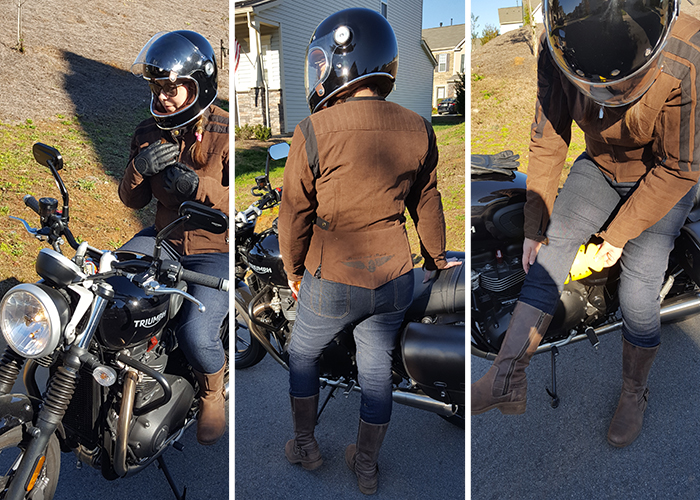 Stacey Sienkiewicz
Bike: 2017 Triumph Bonneville Street Twin
Residence: Charlotte, North Carolina
Winter Ride: Two-lane roads around Charlotte
Ever since I began riding, safety, managing risk (including where and when to ride based on my skill and comfort level) and, yes, looking good on my bike have been my focus... and my struggle.
Charlotte, North Carolina, this time of year can still be very rideable and enjoyable! Some days more so, in my opinion, than the stifling heat and humidity of high 90s during summer. So my Triumph Bonneville Street Twin and I love spending time together when possible this time of year. Prep is key, especially when it comes to gear.
Though I'm still learning and searching for things like the perfect gloves, I do have some absolute favorites.
Helmet: Getting the Right Fit Without Looking Like a Chipmunk
My helmet is the Bell Bullitt. After trying on dozens of helmets I have learned that they are kind of like women's clothing—all sizes are not created equally. An extra small in one helmet may be a small in another. Some helmets are more oval shaped inside while others are on the rounder side. The Bullitt is easily my top pick. If the fit around your face isn't working for you, there is an option to change the cheek pads (purchase on the company's website) to create a customized and comfortable fit.
At about $299 it's not the cheapest helmet but it's my noggin. This is where I decided to invest and not try to save a buck. I bought the extra small and changed the cheek pads to the slimmer ones as I have no desire to look like a chipmunk. I love the old-school styling of this helmet. It is also the only full face helmet I've ever tried on that does not make me feel claustrophobic! Great protection, comfort, and style. The trifecta for this female rider!
Gear: How to Look Svelte and Not Armored Up To Go Into Battle
Be protected and look great riding while not looking too "geared up" when off the bike. Pants are key to this. Pants that look like regular clothes, are protective, and don't make me look bigger or thicker (boo!) took me months of trial and error, but I found a winner.
For jeans, hands down the Knox Scarlett. They are high-waisted, which is great if you have a booty you don't want to share with the world while riding. They are also Kevlar-lined throughout, not just in high impact zones. I like this for the obvious safety, but also in the winter it serves as an extra layer for that cold wind on your legs. These jeans also come standard with comfortable high-quality knee armor. The best part? The armor is removable from the outside! And the zippers are discrete. There is no big ugly obvious "patch" where the armor is.
When I get to my destination, I easily remove the armor on the spot and poof!—it looks like I'm wearing a normal pair of well-fitting jeans. No bedazzled butt pockets. No looking like I'm so layered and armored up I could to go into battle. The fit is flattering and the cut is such that you can tuck or wear over your boots.
These are a few of my favorite things. Let's get out there, have some safe fun, and look good doing it, ladies!
P.S. Watch the leaves on the roads. They can be slippery.
Related Articles
Heated Gear Reviews
Review: Gloves for Warm and Cold Motorcycle Riding
Review: Merino Wool Base Layer for Motorcyclists
Our Favorite Autumn Accessories