I was introduced to the phenomenal properties of merino wool last summer when I bought a couple of Icebreaker brand T-shirts to take for a six-week summer road trip. I was so impressed, that in my quest to have the minimum gear with the maximum function, I had to try the base layer to wear under my motorcycle jacket and pants. I chose Icebreaker brand.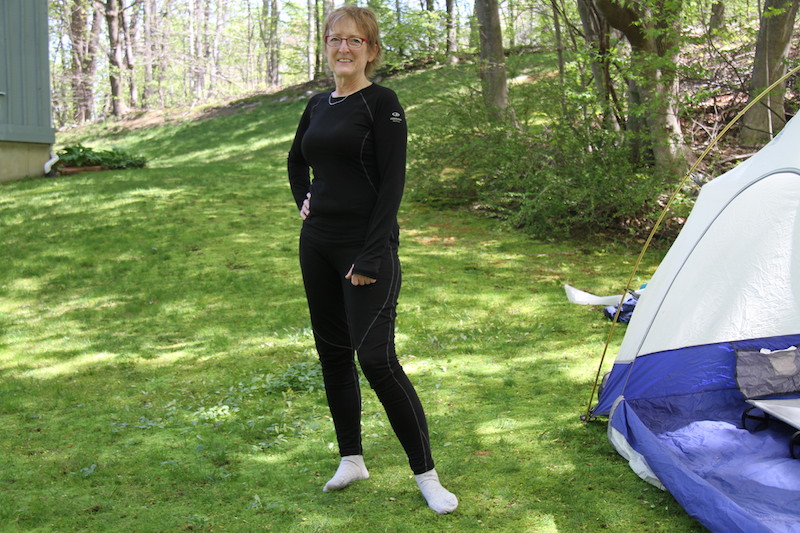 Merino wool's insulating properties keep you warm in cold weather, and its breathability and wicking characteristics cool you in hot weather, so it seemed the ideal base layer underneath a high-quality, versatile riding suit, like BMW's TourShell suit, which I reviewed on Women Riders Now (WRN).
I've not only worn the shirt and leggings on every ride since I recieved them last fall, but I've worn them under my street clothes during a long, bitterly cold winter. Merino wool properties allow these base layers to be so thin, yet so insulating. Thats the beauty of Merino wool. These items are both 200 gram weight, listed on Icebreaker's website as "lightweight." Ultralight is 150 grams, and 260 grams is listed as midweight.
| | |
| --- | --- |
| As much as I love my textile motorcycle riding jacket and pants, they are not designed for the movement needed to pitch a tent. Icebreaker's base layer garments are modest enough to wear around my camp setting up my tent. | The sleeves extend down to cover the backs of my hands with thumb loops that prevent sleeves from riding up when putting on the next layer. This design also adds an extra layer under gloves, and because the fabric is so thin, you hardly feel it. |
Don't let the term "wool" fool you. This is not your grandmother's itchy wool sweater from years ago. Merino wool (which comes from a breed of sheep called Merino) is non-itchy, naturally odor resistant, and machine washable. It dries very quickly so when it gets damp from perspiration during warm weather, it dries quickly when exposed to air flow.
I wear the leggings under my touring suit even in the summer because of the fabric's wicking properties. Wearing anything is hot when it's 90 degrees or more, but I'm always fully covered, and the wicking and quick drying properties are actually cooling.
The Icebreaker top and bottom are exquisitely designed and carefully pieced together for maximum comfort and ease of movement. These are high quality base layers you'll have for a long time.
I wore these pieces almost non-stop last winter so they got laundered quite a few times, yet they have retained their original shape and feel like new, with no bagging at the elbows, butt or knees.
The socks kept my feet warm in the cold, and wicked away moisture when temperatures warmed up. I was a little disappointed though when the Ultralight Kelple socks wore thin before I expected them to. I replaced them with a pair of Icebreaker Hike Medium Crew socks and love them.
Aside from admiring their products, I really like Icebreaker's commitment to a sustainable business model, their care for the environment and their ethical treatment of animals and growers. That certainly influences my purchasing decision. I've since purchased three T-shirts to wear in all my motorcycle travels.
The merino wool benefits to motorcyclists are:
• Extremely functional as a base layer under riding gear in heat and cold
• The quality stands up to extreme wear
• Easy to launder
• Quick drying, can hang to dry overnight
• Packs up into a small space.
Price on Icebreaker's website for these items:
• Pace Crew Base Layer $99.99
• Pace Leggings $89.99
• Ultralite Kelple Socks $20.99.
For more information, to order online, and to find a retailer near you, visit Icebreaker.com.
Related Stories
More Reviews from Liz Jansen
Review: Motorcycle Specific Undergarments
Undergarments Designed for Women Riders