Soon, women everywhere will be thinking about New Years resolutions they could make to live a more fulfilled life in 2014 and beyond. Once they make those resolutions, they may turn to self-help books, fad diets and online advice to try and make them a reality. But who knew that the key to happiness might be where women least expect – out on the open road, and on two wheels.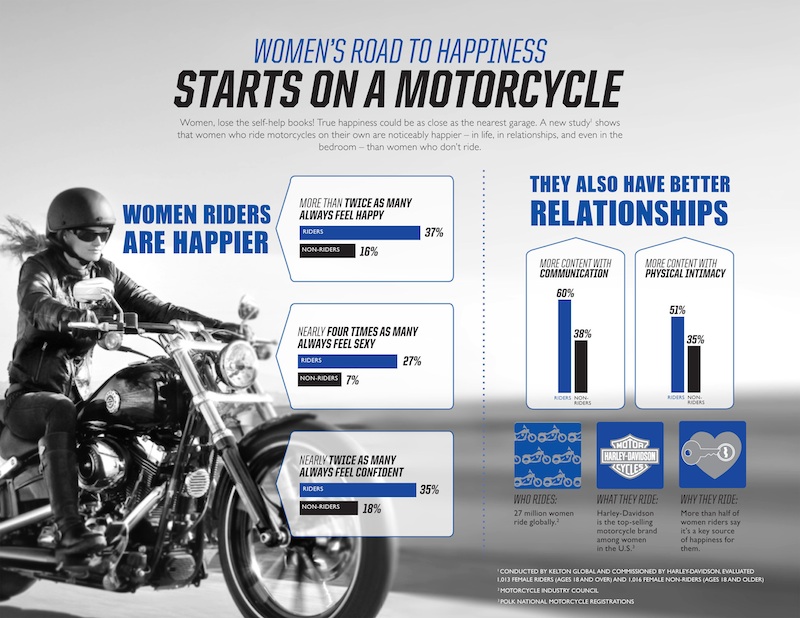 A new study shows that women who ride their own motorcycles are noticeably happier—in life, in relationships, and even in the bedroom—than women who dont ride. "I definitely see this to be true in my work as founder and editor of WomenRidersNow.com (WRN)," said Genevieve Schmitt. "As the leading resource for women motorcyclists, we receive lots of stories from women riders, and its quite evident they feel happy, fulfilled and are enjoying life to the fullest."
The study, conducted by Kelton and commissioned by Harley-Davidson, interviewed 1,013 adult female riders and 1,016 adult female non-riders, and the findings make it clear that riding a motorcycle greatly improves a womans feelings of overall self-worth. Key insights surrounding women who ride motorcycles in comparison to those who dont include the following:
• More than twice as many always feel happy (37 percent of riders vs. 16 percent of non-riders)
• Nearly four times as many always feel sexy (27 percent of riders vs. 7 percent of non-riders)
• Nearly twice as many always feel confident (35 percent of riders vs. 18 percent of non-riders)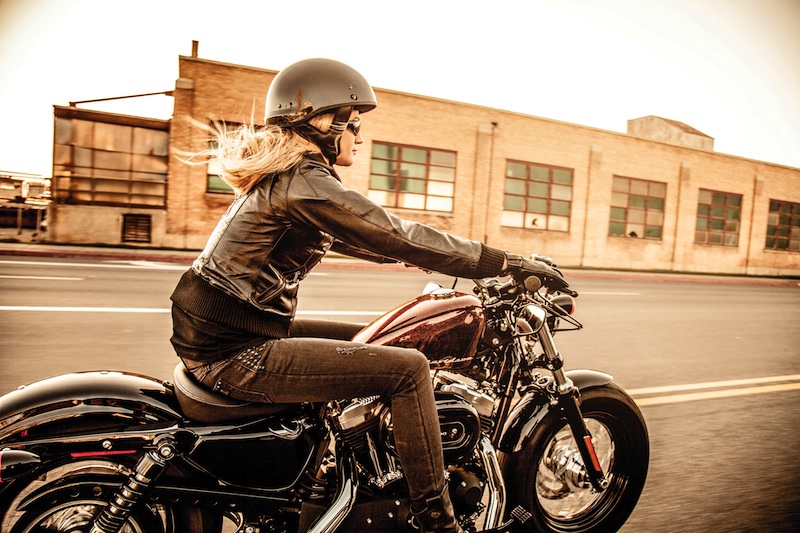 According to the study, more than half (53 percent) of women who ride cite their motorcycle as a key source of happiness and nearly three in four (74 percent) believe their lives have improved since they started riding. "Riding a motorcycle is the ultimate form of freedom and self-expression, so it makes sense that women riders are happier in life and, in general, feel more fulfilled," said Claudia Garber, Director of Womens Outreach for Harley-Davidson. "Thats why learning to ride a motorcycle is the perfect gift you can give yourself and the best resolution to make for a truly life-changing new year."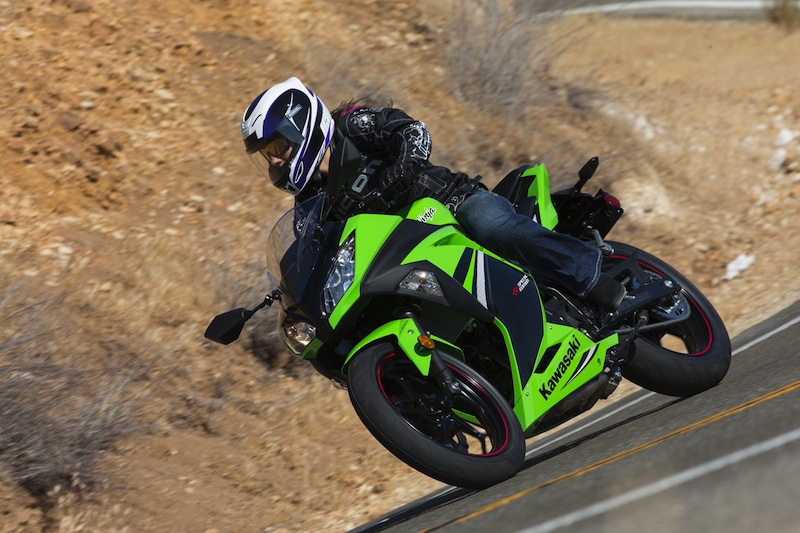 WomenRidersNow.com (WRN), the leading online motorcycle resource for women riders, has the most comprehensive beginners guide on the web for women interested in getting into riding. While women and men ride for the same reasons, women approach the activity differently than men often wrestling with notions in their head on why they should, or shouldnt ride. The WRNs Beginners Guide addresses all of those issues and provides solutions to help women get in the saddle of their own motorcycle.

Riding Improves Relationships
Beyond positively impacting a womans sense of self, the study also shows riding can improve relationships. When it comes to romance, women who ride leave non-riders in their dust, being more content with:
• Communication with their significant other (60 percent of riders vs. 38 percent of non-riders)
• Physical intimacy (51 percent of riders vs. 35 percent of non-riders)
Stress can cause tension between significant others, but since more than a third (34 percent) of women riders report that they now feel less stressed after starting to ride, its not surprising that 50 percent of them are extremely satisfied with the state of their current relationships.
The Harley-Davidson Female Riders Survey was conducted by Kelton, a leading global insights firm, May 20 to May 28, 2013 among 1,013 adult American women who ride motorcycles sometimes or regularly and 1,016 adult American women who never ride motorcycles, using an email invitation and an online survey. Harley-Davidson has a site dedicated to women motorcycles and can be found at h-d.com/women.
Related Articles
Women Motorcycle Riding Clubs
WRN Beginners Guide
Women Riders Now Reader Stories