The trials, tribulations and success of the Love Ride seem to have come full circle. The annual Southern California ride, that used to attract upwards of 20,000 riders donating more than $1 million in one day at its peak, may not have raised the kind of money this year as it has in years past, but organizers put on a successful event for its 30th year on October 20th, replete with the most amazingly talented guest stars hitting the stage from start to finish. The riders who paid the $60 ticket price this year truly got their money's worth. The day felt reminiscent of years gone by where the combination of motorcycles, sunshine, old friends, food and entertainment all came together for an easy and wonderful day.
| | |
| --- | --- |
| The Love Ride stage is picture perfect at Castaic Lake, where most of the day's festivities take place. | Me with my usual suspects enjoying the day (l-r): Masyn Moyer, Jessi Combs, me and Colleen Duffner. |
I actually got to the event late, because the day before, the starting time was moved up to accommodate a celebrity guest. Huh? What guest holds that kind of weight? I'll tell you who: Katey Sagal. But, she won the hearts and respect of everyone there. Not only is she a talented actress on TV's most popular motorcycle drama, "Sons of Anarchy," but she is beautiful, funny—and she can sing!
| | |
| --- | --- |
| Lovin' the Love Ride with the temporary tattoo of the logo. | Katey Sagal, beauty and strength. Love this woman! |
Katey joined the band The Forest Rangers on stage at Castaic Lake, and their selection of music for this event was stellar moody oldies that had the crowd singing along word-for-word.
And Katey opened the event like no other person has before. The minute she walked out onto the stage she drew the crowd in like a magnet and made everyone there feel like they were a part of something intimate and special. Her obvious enjoyment of interacting with her own band made her appear very genuine.
| | |
| --- | --- |
| The Forest Rangers with Katey Sagal. They are not only talented, but they are having so much fun up there! | What I love about the motorcycle world is that we all act "forever young." |
One of the hosts on stage asked the audience to raise their hand if they had been to the Love Ride at least five years, then 10 years, then 15, 20 and 25. I realized not too many hands were up when he pointed at me and said, "Lady, you are starting to show your age!" It's true. I have been coming to the Love Ride nearly as long as there has been a Love Ride. I remember it being a small and intimate event, only to then grow so big in popularity that it was impossible to find a place to park and it took forever to walk to the front gate. During its heyday, I remember not being able to find a place to sit on the grassy knoll because the crowd was so large and dense.
But bigger isn't always better, and sometimes less is more. The 30th annual Love Ride could not have gone any smoother. I slipped in on the tail end of the morning press conference—held outside Harley-Davidson of Glendale in the California's San Fernando Valley—just in time to catch the celebrity guests scamper out to their motorcycles. This year they included Love Ride grand marshal Jay Leno, Lorenzo Lamas, Emillio Rivera and his beautiful wife, Yadi, Rusty Coones and his beautiful wife, K.O., and the "Bold and the Beautiful" boys Ron Moss and Winsor Harmon.
| | |
| --- | --- |
| Actors Lorenzo Lamas (far left) and Emilio Rivera, with his wife, Yadi (far right), and friends get ready to take off on their motorcycles at the start of the Love Ride. | Me with the "The Bold an Beautiful" actors Ron Moss and Winsor Harmon. Photo bomb provided by Jessi Combs. |
It couldn't have been a more beautiful, sunny, warm October day. The ride was slow, orderly, and safe. As a woman who has been known for being less than slow, orderly and safe, I must say, it was a very good thing. The police escorts did a fantastic job. It can't be easy keeping that many people—more than 4,000 of them this year—together safely, in a ride.
Returning as Grand Marshal, Jay Leno was in his usual rare and funny form. He introduced all of the honorees and celebrities, the "royal" Davidson family, Harley-Davidson dealers from all over the country, and military members representing the USO, which is what this year's funds benefitted. More than $400,000 was raised this year for the USO, which offers assistance to deployed troops and their families.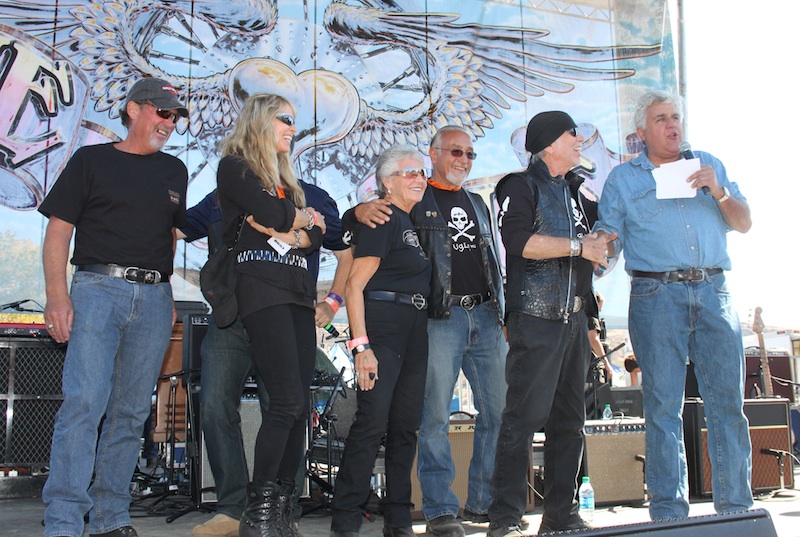 The Victor McLaglen Motor Corps Stunt and Drill Team was there to perform their difficult stunts that they somehow do in a tight area, on lumpy dirt—and still make it look effortless and easy. These guys must really put in long hours to develop that kind of skill and trust!
| | |
| --- | --- |
| The crowd seemed to trust that the The Victor McLaglen Motor Corp would turn when they were supposed to! | Now that's having your buddy's back! |
Singer Jackson Browne took the stage looking every bit as cool as he did three decades ago, and sounding every bit as clear. I just love his music, and was singing and dancing like a lunatic, and I swear it was all over in three songs! He didn't even sing "Stay Just a Little Bit Longer." But, when I started screaming "Stay" at the top of my lungs, he looked right at me, laughed and said, "I can't." So, I wandered off to see what was happening backstage—not really sure if the concert was finished—but it was done! It was way too short!
| | |
| --- | --- |
| Jackson-adorable-Browne laughing at me. | Poor Oliver Shokouh looks like he's having a rough time! Being the owner of Harley-Davidson of Glendale and founder of the Love Ride has its perks! |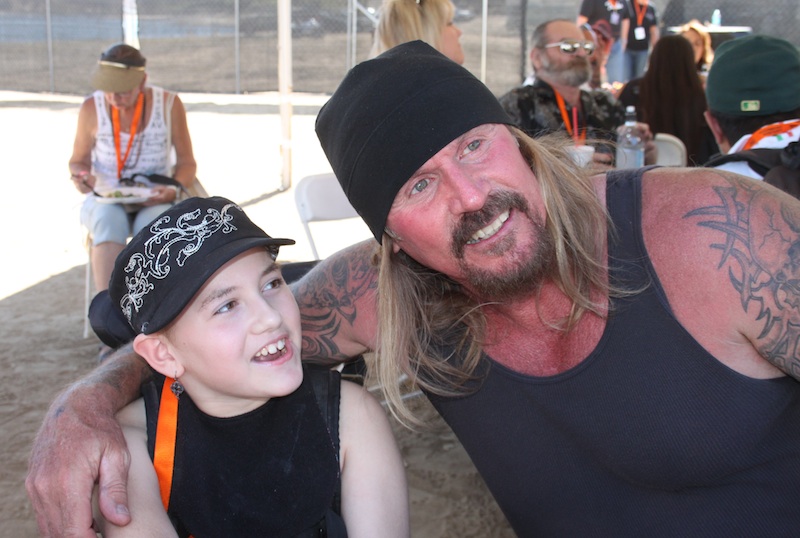 At one point during the afternoon, I strolled down to the crystal blue lake and looked back at all of the people enjoying the day. It was nice to actually be able to find my friends this year and enjoy conversations over lunch. It was a mellow and relaxing atmosphere, and I was just enjoying people watching.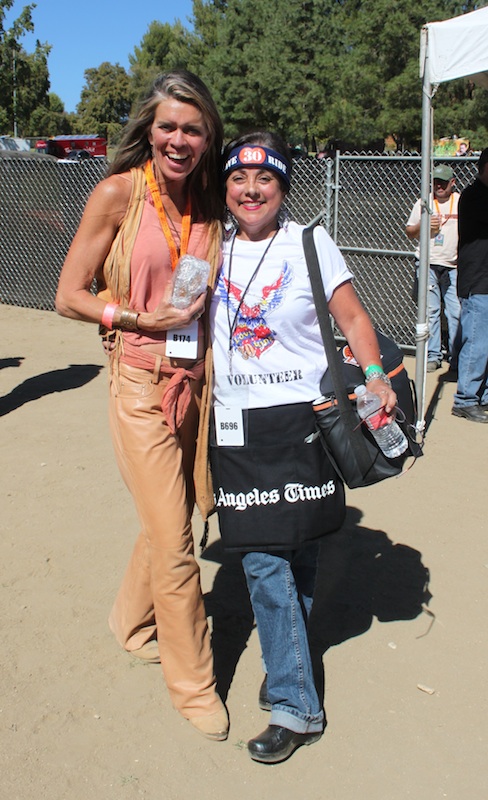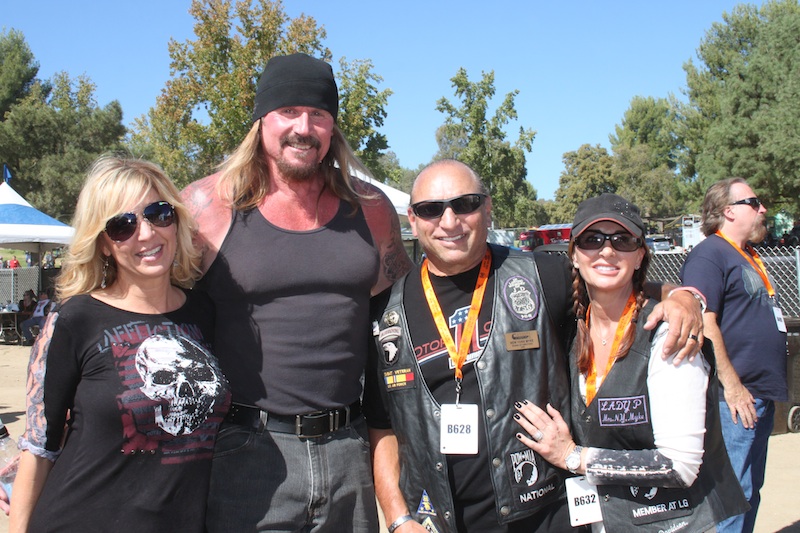 I did say it was a mellow and relaxing atmosphere until…the Foo Fighters rocked the house. Then, the Love Ride became a sea of wild hair and rock-and-roll madness well into the afternoon. Dave Grohl sets the bar high for the epitome of a rock star. The band played good old fashioned rock-and-roll biker tunes, and the crowd sang, danced, laughed and lounged. It was a perfect end to a perfect day.
| | |
| --- | --- |
| Foo Fighters in the house! | Dave Grohl of the Foo Fighters. It isn't easy to get a shot of this man's face! |
It was a fabulous surprise to have so much great talent on the stage all day long. I really wanted to hear Jackson Browne sing "Stay," and if he did, I would have "stayed" instead of leaving before the music ended. Either way, I am looking forward to the continued success of this ride!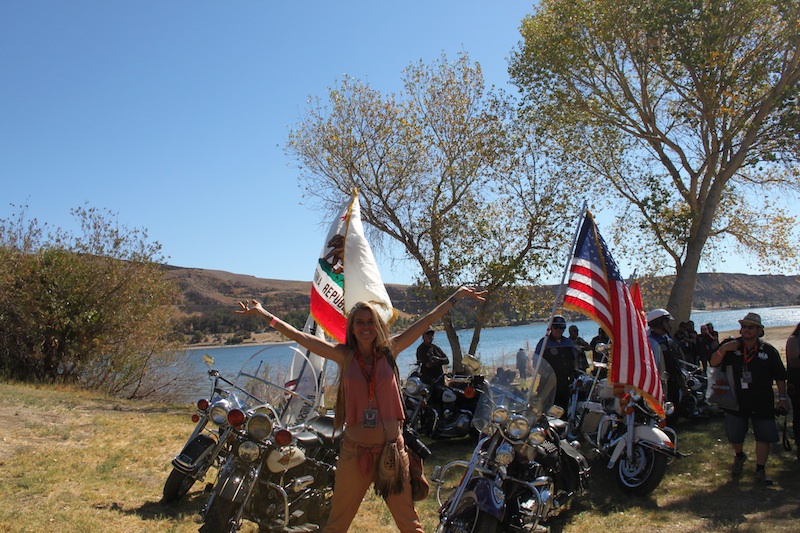 Learn more about Betsy Huelskamp at BetsyHuelskamp.com.
Related Articles
The Love Ride 2012: An Iconic Ride Back on Track
The Love Ride 26 1/2: Going Back to Simpler Times
Backroads With Betsy: Who Is Betsy?