There's nothing like the tranquility of camping—cooking fire-roasted meals, staring into mesmerizing bright orange embers of a campfire, falling asleep to chirping crickets and tree frogs. Sounds peaceful, right? Well, anyone who has ever camped knows there's a lot of work involved before you actually get to the aforementioned peace and tranquility. Motorcycle camping is even more challenging than car camping, as space on a bike is very limited and weight is a bigger factor because it will change the way the bike handles when loaded with camping gear.
Besides figuring out where and when to go, what womens motorcycle camping events to attend, what amenities each campsite offers, what sites are available, how long to stay, who to go with, etc., there is the planning, preparation, and purchasing of all the supplies. Then there is loading, unloading, practicality, durability, cost, setting up, and breaking down to consider. During COVID-19 restrictions, some campgrounds and events have been postponed, closed, or have put certain limits on what would be "normal operating procedures" at campgrounds or traveling altogether. So theres a lot of research to do long before jumping on the bike and heading to the great outdoors.
But if you plan well and do it often enough, you can become a proficient motorcycle camper in no time at all.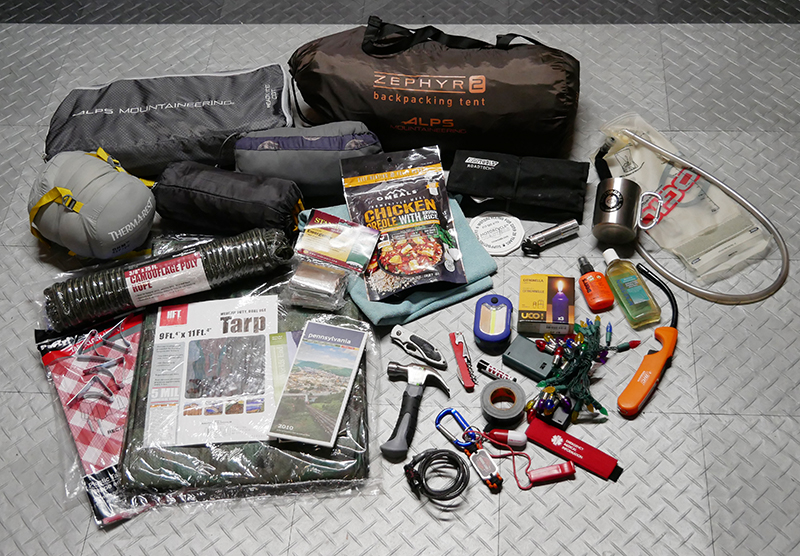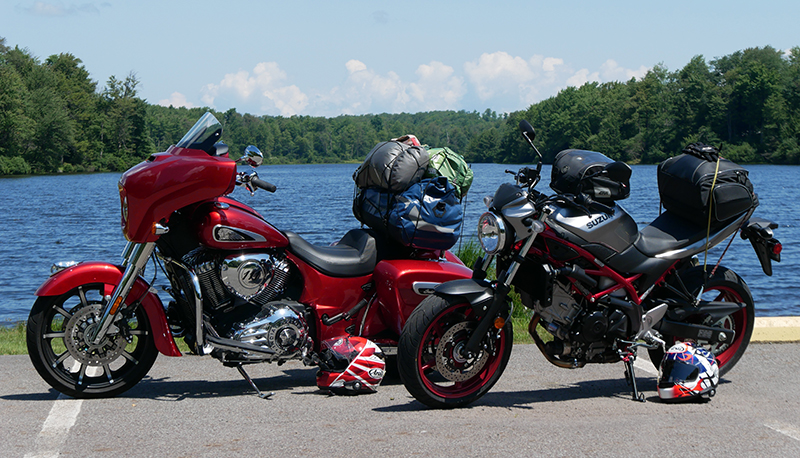 This Women Riders Now (WRN) camping guide is designed for those who have rarely or never camped with a motorcycle before and want to take the guesswork out of creating a comfortable and fun weekend (or longer) outdoor adventure. Because there is so much to discuss, we are breaking this camping guide down into three parts:
1) Motorcycle Camping Essentials
2) Tents and Sleeping Comfort
3) Camp Cooking
But first, before buying anything, you need to figure out a couple things.
Are you riding aloneor with others? If you are traveling with a spouse or partner, your tent and sleeping equipment will be bigger and heavier. If you are riding two-up you have more to carry and a smaller space to pack it on so you might not be able to bring many creature comforts like camp chairs and tables. If you're going with friends who are riding their own motorcycles, you can divvy up equipment to share, such as cooking supplies and basic sundries like bug spray, first aid, camp lighting, tools, food, etc.
WRN Tip: Invest in a hydration pack such as a Camelbak. Fill it almost to the top with water at home and put it in the freezer the night before you head out on your adventure. As you travel along it will melt slowly, offering you refreshing cold water. Depending on the length of your ride you can use the ice block to keep a few perishables fresh for a little while. You can use water bottles the same way if you dont have a hydration pack.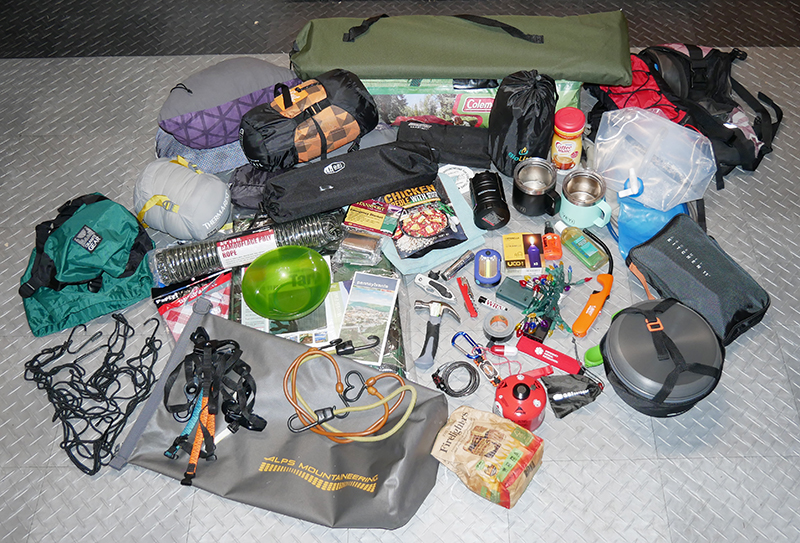 How much can you carry? We can't carry much on our motorcycles. You already know how little you can squeeze in your bikes bags, now consider adding a sleeping bag, tent, towels, and more to that. When shopping for gear and comparing items, note that equipment made for backpackers is usually the smallest, lightest, and will be the easiest to pack on the bike, but can also be the most expensive. And sometimes the smallest doesn't meet your goals. For example, pocket stoves for hikers are so small you can only cook a single piece of meat on them. This might be fine if you plan to eat most meals at restaurants and just want something to heat up water or coffee. So it's important to know and prioritize your goals.
You can camp like a minimalist if you really want to. But unless you're going to sleep on a park bench, you'll want a few basic supplies. Personally, I wouldn't consider motorcycle camping without all of these items:
• Tent

• Tarp


• Sleeping bag

• Sleeping pad, air mat, or cot

• Flashlight

• Bug repellant

• Towel

• Hand sanitizer/toiletries


• Dry bags/stuff sacks


• Bungees/rope/carabiners

• Water and water storage

• Non perishable food

• Stove, fuel, fire starters

• Coffee and cup


• Sunscreen

• Pocket knife/toolkit

• First aid kit

• Portable battery pack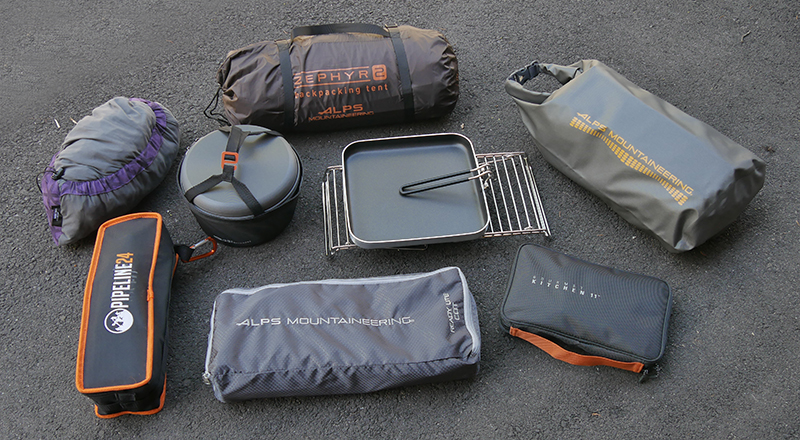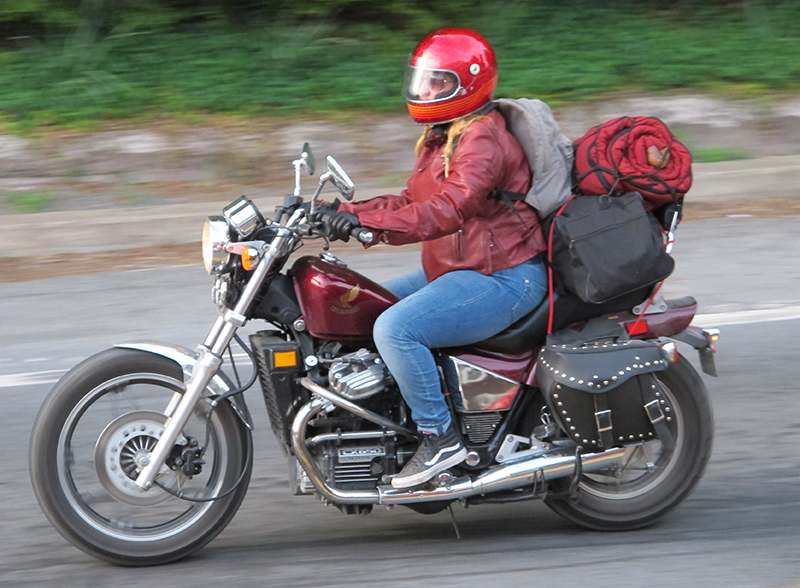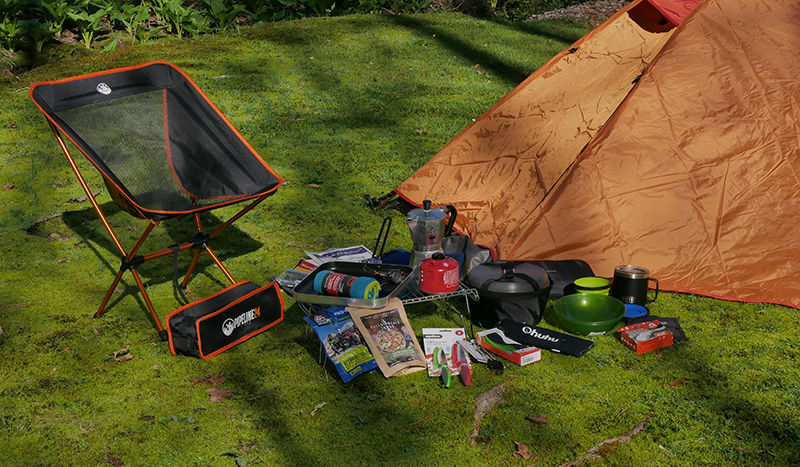 Packing Up
You'll need some additional bags besides what is mounted to your bike to load all your camping gear on your motorcycle. The best bags I've found to keep everything tidy and dry are called dry bags or waterproof tail bags. There are lots of options for different types and sizes, but most of them work the same way. They're usually some version of a thick rubber material. You put your stuff in them and roll the opening a few times. Often the two ends turn inward and clip together, making a waterproof seal and a handle at the same time. I use ALPS Mountaineering's 20L Dry Bag ($21.99) for stowing clothes, a sleeping bag, pillow, and random soft goods.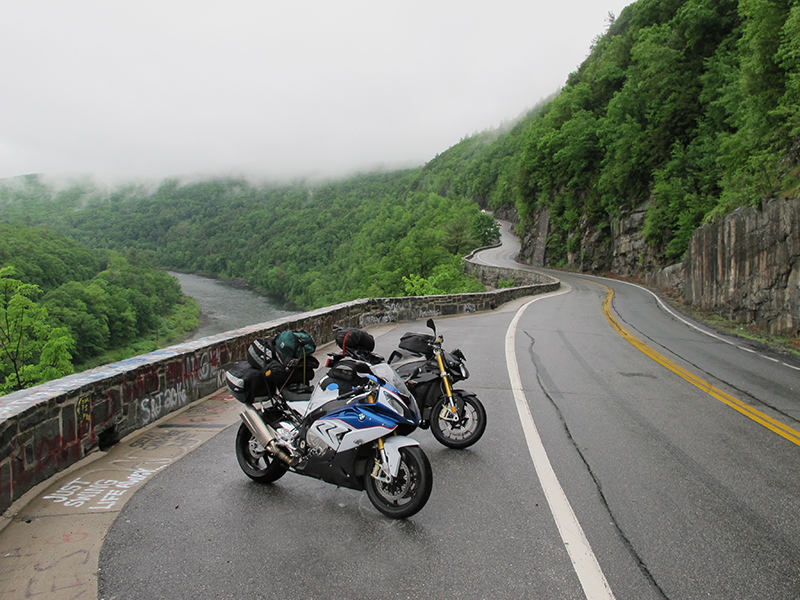 Compression bags, also known as stuff sacks, work well at squishing down soft goods into the smallest possible area. In addition to being a smaller bag to pack on the bike, I've also attached carabiners to the cinch straps to bring along extra mugs and water bottles.
| | |
| --- | --- |
| To use a stuff sack, you fill the bag with your clothes, sleeping bag, pillow, or anything soft that you don't mind squishing. This is the Therm-a-rest Ohm 32F/0C featherweight sleeping bag ($359.95) that came with a matching stuff sack. | Working in a crisscross pattern, cinch the four straps a little at a time until the bag is small and dense. You can see here that we saved about 4 inches by stuffing it. |
The bulk of my camping equipment (tent, sleeping pad, cot, cooking supplies, etc.) fits in my 50 liter BMW luggage roll ($199) that I attach to the bike's passenger seat or luggage rack. It's a large waterproof dry bag with a rigid base plate and a large wide opening at the top. It has a carry handle and a shoulder strap, reflective stripes, and is uber-tough. It also has a variety of strong mounting points.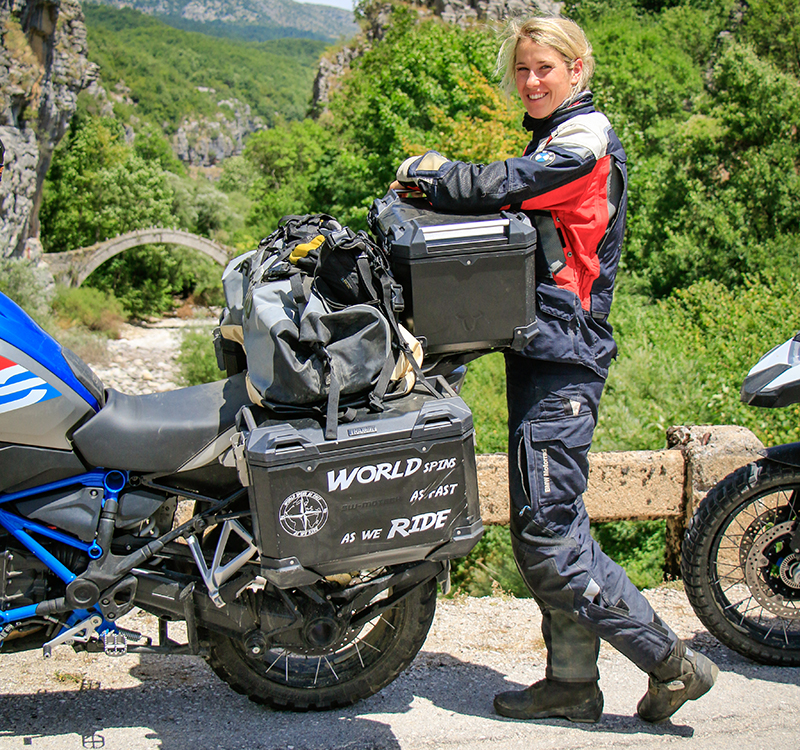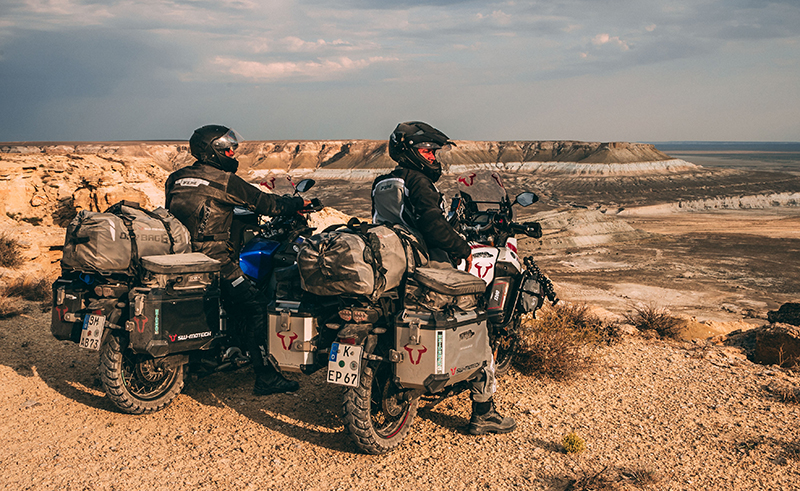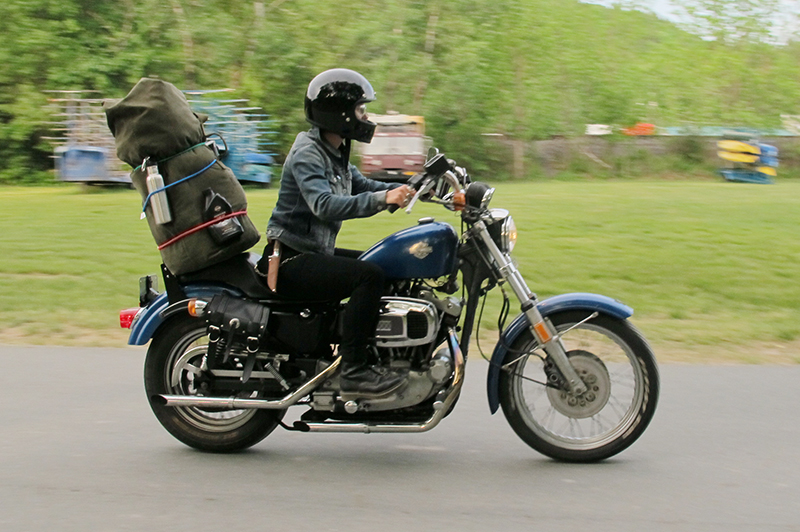 Camp Comfort
At the campsite you'll need some basics besides the obvious tent and sleeping supplies, which we will address in the next article. For example, the first thing you'll want to do is sit down. I remember my first camping trip, I never considered this. I spent the weekend splitting time between sitting on the ground and at the picnic table. My back never got relief until I was laying flat in my tent. I am much wiser now.
You want a chair that supports your back while you gaze into the campfire after a long day of riding. If you were car camping, you could just toss a beach chair or lawn chair in the trunk. But looking for something comfortable, small, and light, I found a variety of options. Sitting on all the chairs my camp store had on display, I settled on the Pipeline24 lightweight packaway chair ($39.99 at Sierra Trading Post) because of its comfort and price. But there are certainly many more options out there.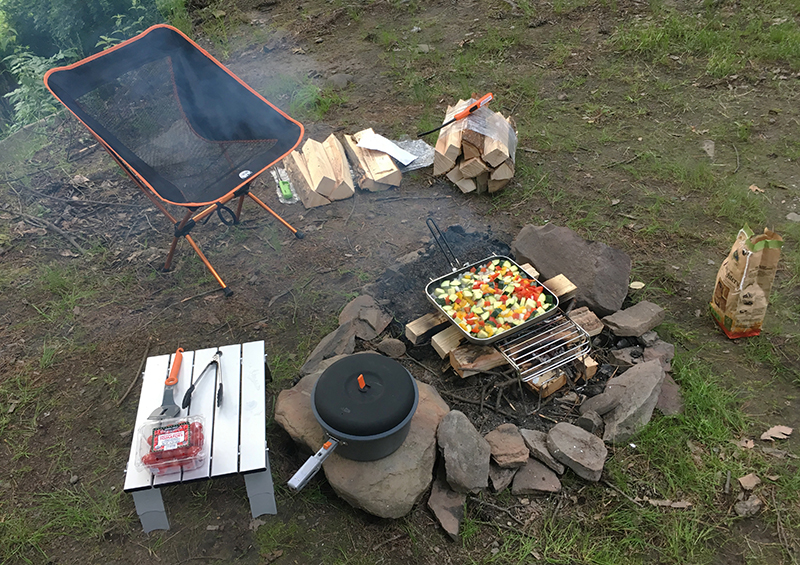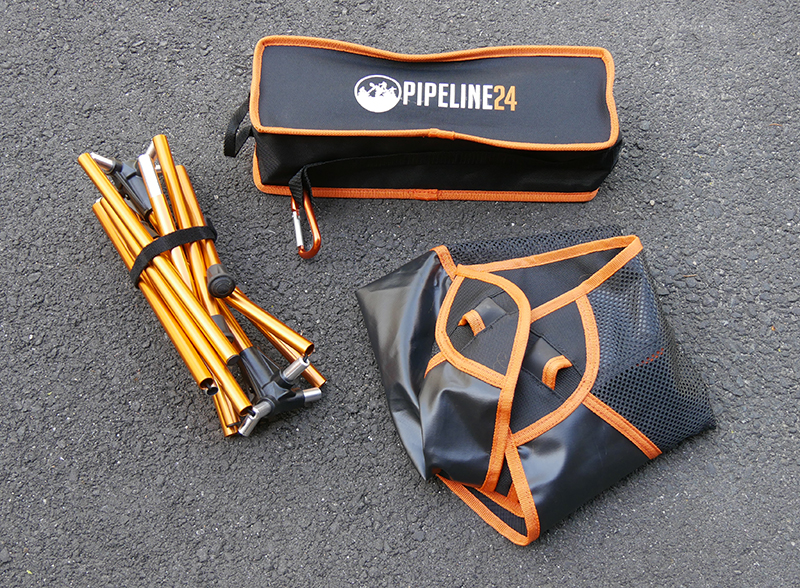 My dad, a very large man, loves his Kermit chair. The canvas and oak chair starts at $189, but is extremely durable, comfortable, can hold up to 350 pounds. A wide size is also available, as well as leg extensions, a table, and cup holders. The regular Kermit chair packs down to 22 x 6 inches and weighs just 5.5 pounds. It's made in the U.S.A. and longtime motorcycle campers have been swearing by these well-made chairs for decades.
I love to bring along battery-operated or solar powered string lights to hang around my site. Not only does it add a bit of color and fun to the decor, but it can help you find your way when you're stumbling back from the restroom in the dark of night.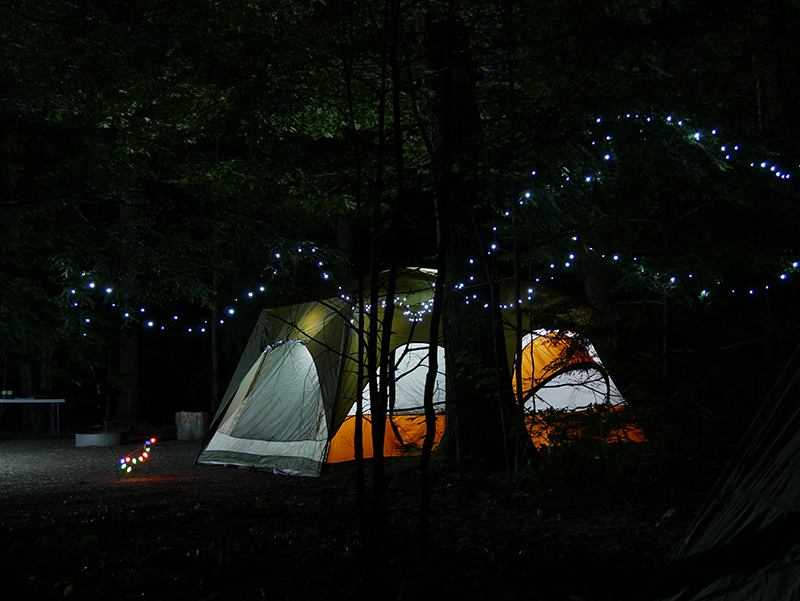 Speaking of power, if you want to keep cell phones charged, you'll need to plan for that. Some motorcycles have the plugs so you can to charge your devices while you ride. But what if you want to take a day or two off from riding? I've been at campgrounds where all the available plugs in the restroom were filled with phone chargers. That's OK if you don't mind risking your phone being stolen. There are plenty of portable chargers available now that are small and packable so you can charge your electronics in the safety of your own campsite. This one we reviewed several years ago from Weego can also jump start your motorcycle if you end up with a dead battery!
LED headlamps that can be worn on your head work for some people, especially if you need to set up camp at night. You can buy these and a small LED flashlight almost anywhere these days (home improvement and hardware stores for sure), but the best bargain is at Harbor Freight Tools (HFT). This company has regular coupons and sales, and I scored a free Ultra Bright LED Worklight/Flashlight (normally $3.99) that is perfect for camping. It's not only a flashlight, it's also a task light that can hang from a hook.

While you're at HFT pick up a tarp that fits the footprint of your tent. For just a few dollars, putting a tarp down first will protect your tent floor and keep it cleaner. If you got one that is a little bigger than your tent, you have a clean place to store boots and gear outside the tent. (I'll talk about tents and vestibules in part 2.)
Other great buys from HFT include a stubby claw hammer ($2.99), which is better at pounding in tent stakes than a rock or stepping on them, and a magnesium fire starter ($2.49) unless you carry around a lighter. A hatchet or small ax will be helpful for kindling, but collecting small sticks works well too. I also carry a few small fire starters with me because I'm not very good at getting the fires going. And what's camping without a campfire?
Last year, I camped with my cousin and his boys, who are all great outdoorsmen. They had rigged up an extra-large tarp that hung from their tent door to over the campsite's picnic table by attaching it with rope to nearby trees. It was quite a spectacle, but it was so handy to have that covered space to keep some stuff out such as candles, matches, bug spray, cooking supplies, and random things we didn't feel like crawling in and out of the tent for. And when it rained, it offered great cover. Now I include a big tarp with grommets and plenty of rope in my camp supply bag.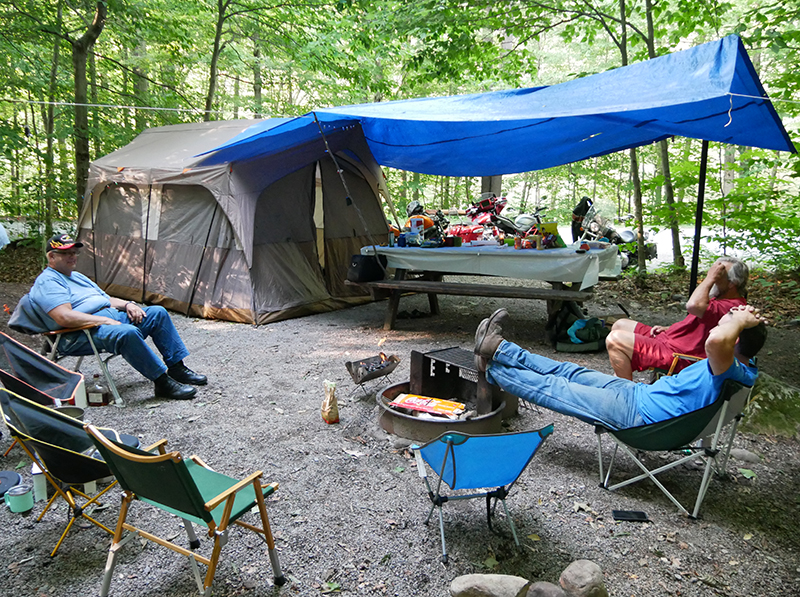 Like any sport or hobby, there are a million more items you may find invaluable or just plain useful for motorcycle camping. Hopefully, this guide gets you excited about the possibilities. The greatest thing about motorcycle camping is the freedom to explore without spending a lot of money on hotel rooms. Once you've made the initial investment for your camping gear, you can stay at campgrounds for a tiny fraction of the cost of staying in a hotel or bed-n-breakfast.
We'd love to see your motorcycle camping pictures with some words about your experiences and tips to share with our readers. Please use the comment section below or tag us @womenridersnow.com.
---
For information about camping at U.S. National Parks, visit nps.gov.com.
For information about camping at U.S. National Forests, visit ForestCamping.com.
To find a KOA campground near you, visit koa.com.
---
You can find the items mentioned in this article and more at the following retailers:

Related Articles
Review With Video: Therm-a-rest LuxuryLite UltraLite Cot for Motorcycle Camping
Review: Sierra Designs Sleeping Bag for Motorcycle Camping
Purpose-built Tents for Motorcycle Camping
Review: Solar Charger for Motorcycle Camping
Review: Waterproof Duffle Bag for Motorcycle Travel
A New Rider's First Overnight Solo Motorcycle Trip
VIDEO: Jump Starter for your Motorcycle Battery
Riding Right: Getting Loaded: Six Tips