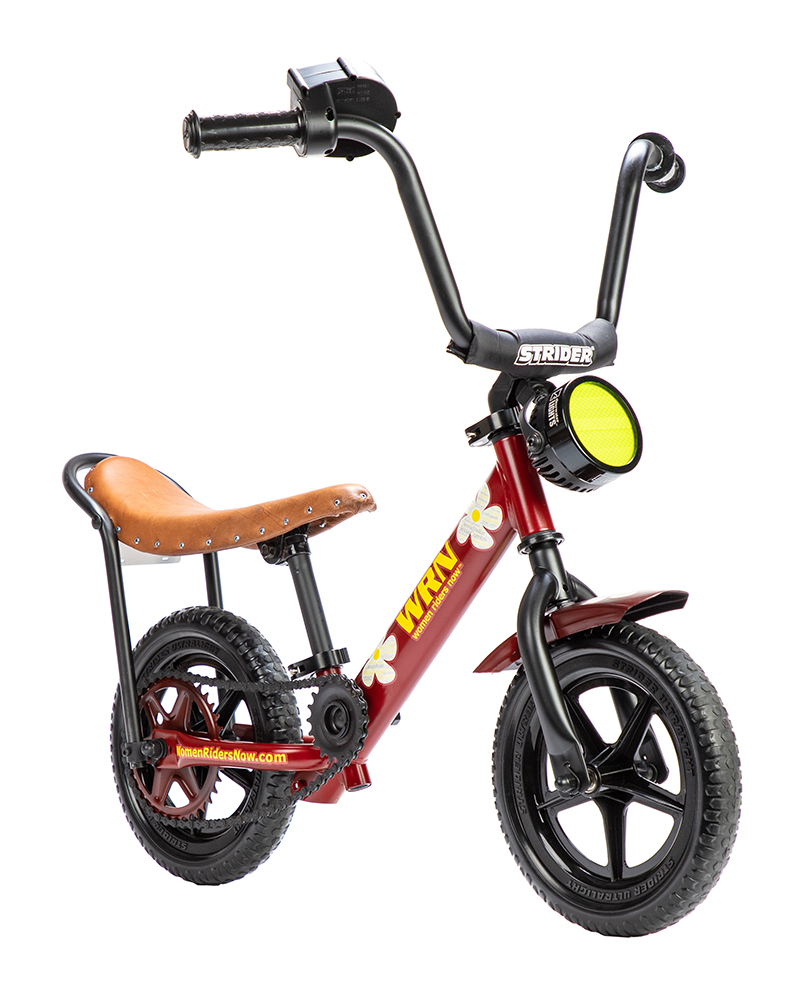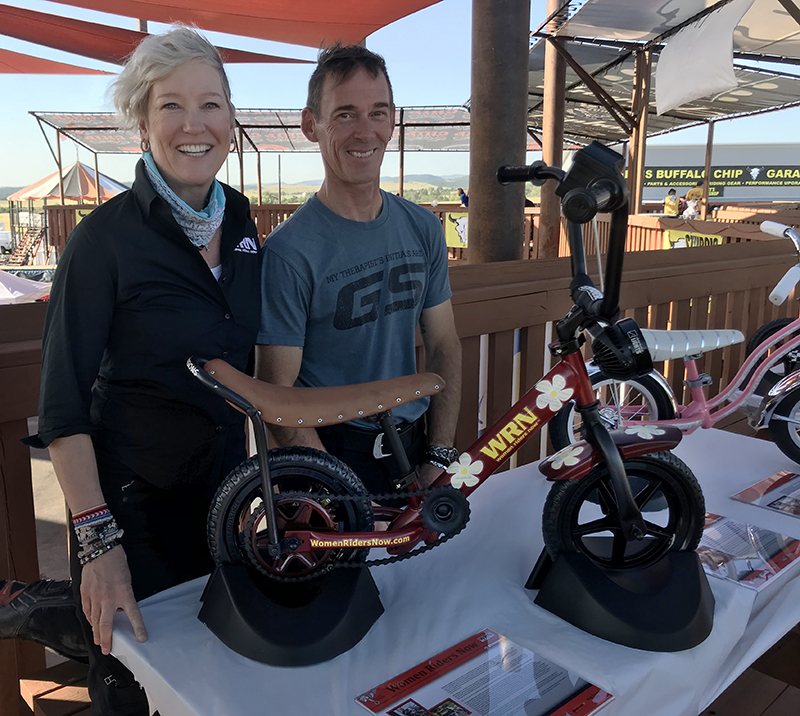 Women Riders Now (WRN) is honored to be one of 6 female-led teams to customize a Strider Bike for the Flying Piston Benefit charity organization. The Benefit is produced by WRN friend and Sturgis Museum Hall of Famer Marilyn Stemp to help raise awareness and funds for non-profits and individuals in the motorcycle community with a focus on new ridership and veterans' concerns.
The charity started holding its Flying Piston Benefit Breakfast in 2014; in 2018 Strider Bikes came on board, donating its little no-pedal two-wheelers to each selected builder challenging them to transform it into an auction-ready show piece. The customs are unveiled before an audience of peers at the breakfast each year. Funds raised from the sale of the Strider customs go to the All Kids Bike program, an initiative by Strider to place kindergarten physical education learn-to-ride programs into public schools for free, using funds raised through donations and fundraising. The bikes will be auctioned by Mecum Auctions in January. We definitely believe in getting little ones on two wheels early in their lives, so we are excited to have been invited to participate!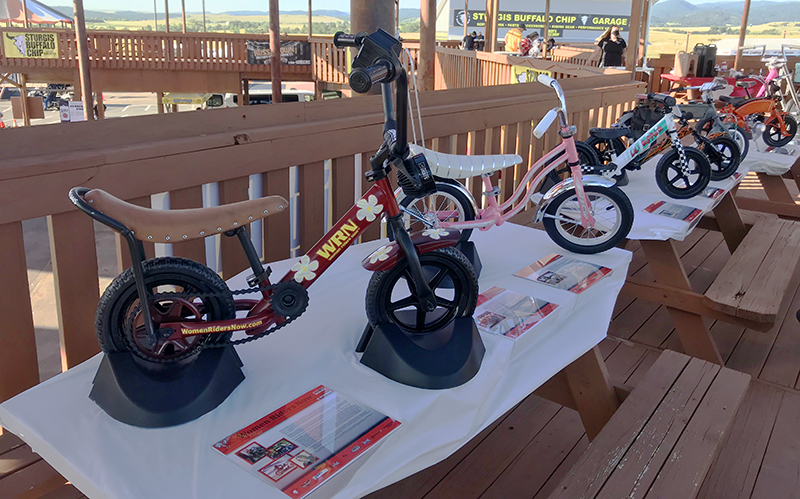 | | |
| --- | --- |
| We love this tiny Strider Cris Sommer Simmons created with obvious styling cues from her bike, Effie that she rode cross country on the Motorcycle Cannonball Endurance Run in 2010. | JoAnn Bortles Strider custom is a great tiny representation of the kind of amazing paint jobs she has been doing for decades under her company name, Crazy Horse Painting. One lucky kid is going to love riding this raked-out chopper. |
| Lena Fairless styled her custom with the trademark Fairless profile; a long fork extension and sit-up seating position. | Ashmore Ellis, co-founder of Babes Ride Out and Babes In The Dirt built this fun little Strider that adorns checkered flags and a number plate with the Babes logo. |
| | |
| --- | --- |
| The WRN team collaborated to come up with the concept for our custom, which included our favorite things from our own childhood bikes. With the goal of inspiring young people to get on two wheels, we wanted the WRN custom to be fun to ride. | Savannah Rose had a similar idea to our little custom, but she went with a shiny pink color, big spoked wheels, and a bicycle frame. |
Our team brainstormed many designs for the project and ultimately reflected on our own "first rides" by looking at our childhood bicycles to develop WRN's 2020 Strider concept. The Progressions bike is inspired by the evolving role a Strider balance bike, a bicycle, and eventually a motorcycle may have in a girl's life.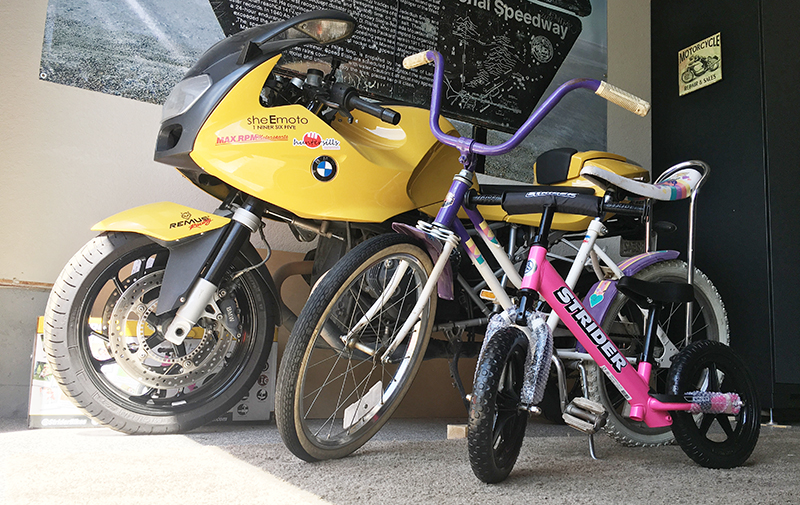 An important part of the project was to honor the amazing women who serve the motorcycle community through our design. The final WRN Progressions Strider is adorned with daisy petals carrying the names of more than 225 influential historical and contemporary women who have served the American motorcycle community. These include female motorcycle industry leaders, entrepreneurs, racers, bike builders, journalists, authors, celebrities, award winners, and more.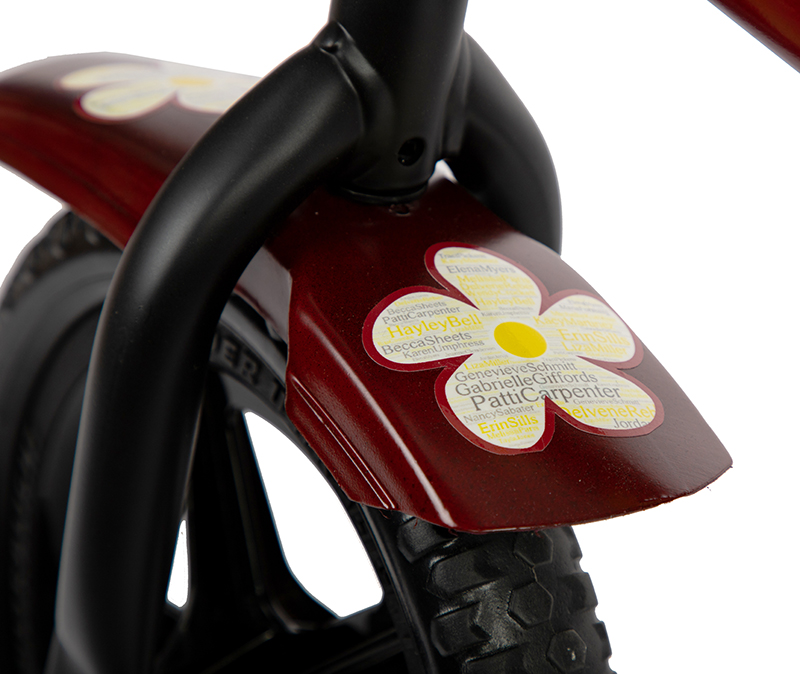 From Augusta and Adeline Van Buren, the first women to cross the country by motorcycle in 1916, to the courageous Elena Myers who made history at age 17 as the first female to win an AMA Pro Racing sprint road race, to the late bike builder Jessi Combs, to motorcycle-riding celebrities like P!nk, Katy Perry, and Queen Latifah, the daisy petal word clouds are filled with names of those who we look up to and admire.
Do you remember your first bicycle? Did you customize your own banana-seat bike with stickers, baskets, tassels, bells, and playing cards in the spokes, then rip it down the sidewalk to the park with your friends? We sure did—and we bet many of you did too.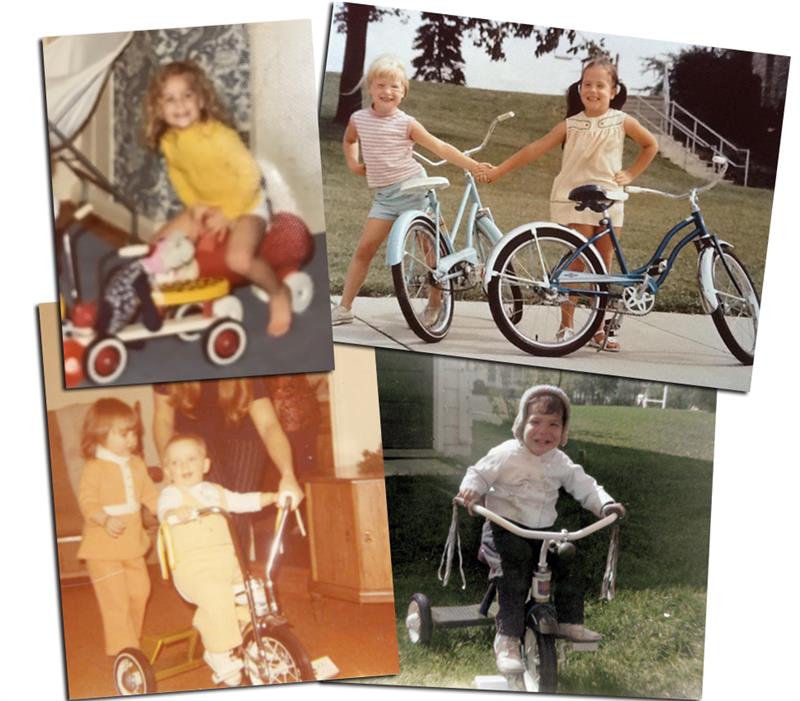 To source parts for the customization, my boyfriend, Trev Richter, and I found "Fantasia," a bicycle that was graciously donated to the project after serving a family through three generations. As a talented carpenter and builder, Trev was an integral part of helping me and the team bring our vision for the Strider to life.
After a few joy rides around the neighborhood, Trev and I disassembled both the Strider and Fantasia. The Strider arrived in its box partially disassembled so changing out the handlebars was straightforward. The banana seat on Fantasia required a bit more deconstruction as we had to cut down the rear supports to fit the tiny Strider bike.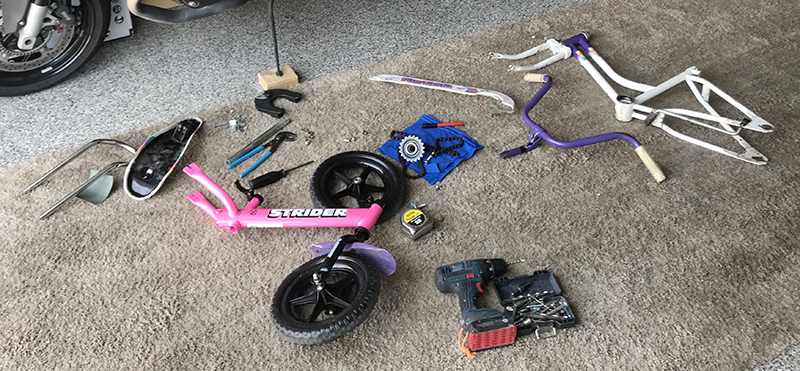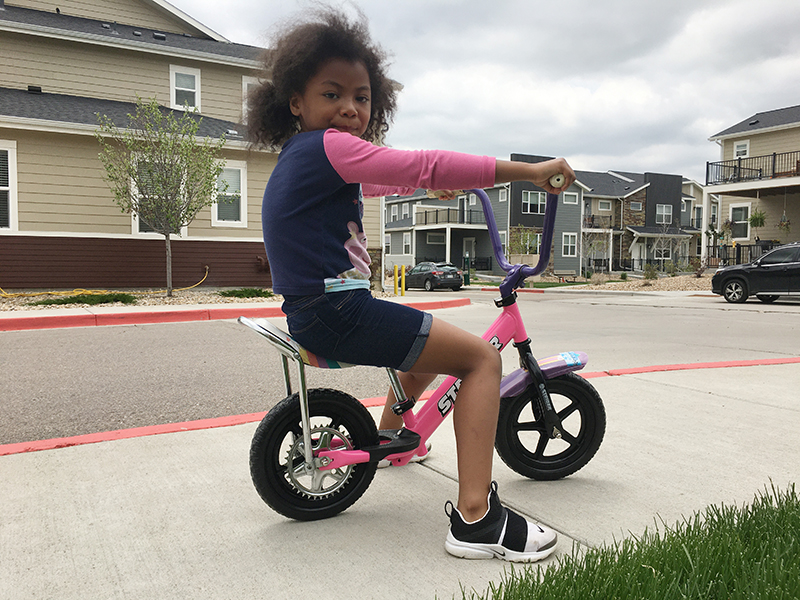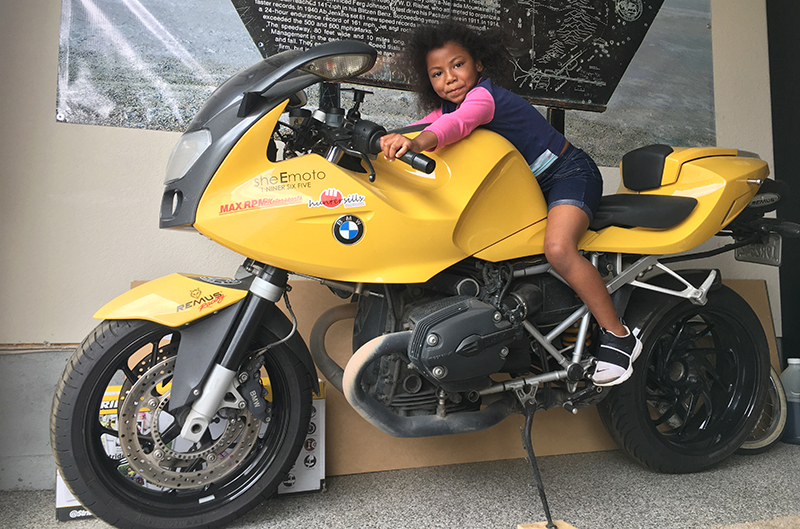 Once we had the basic elements installed the real customization work ensued. Our plan was to customize the Strider with the requisite leather banana seat, supporting frame, and apehangers, then add motorcycle-inspired gearing, chain, and a Clearwater headlight.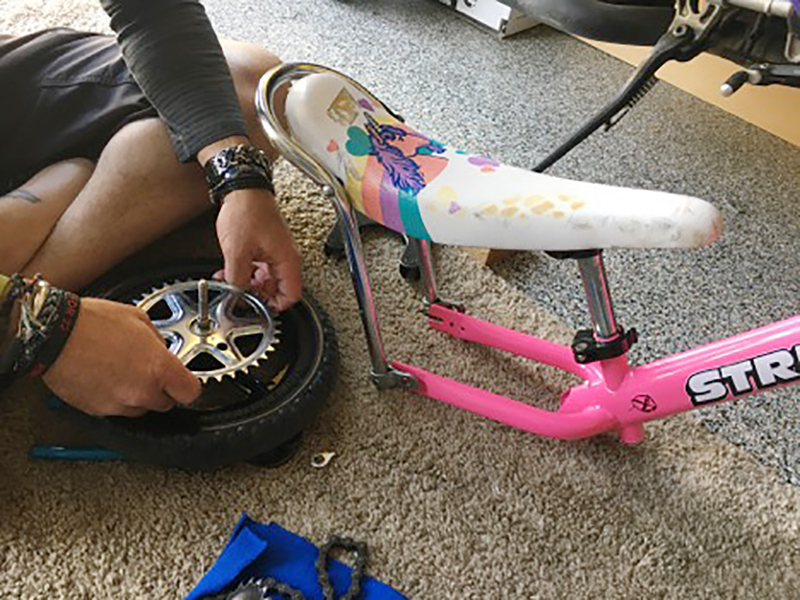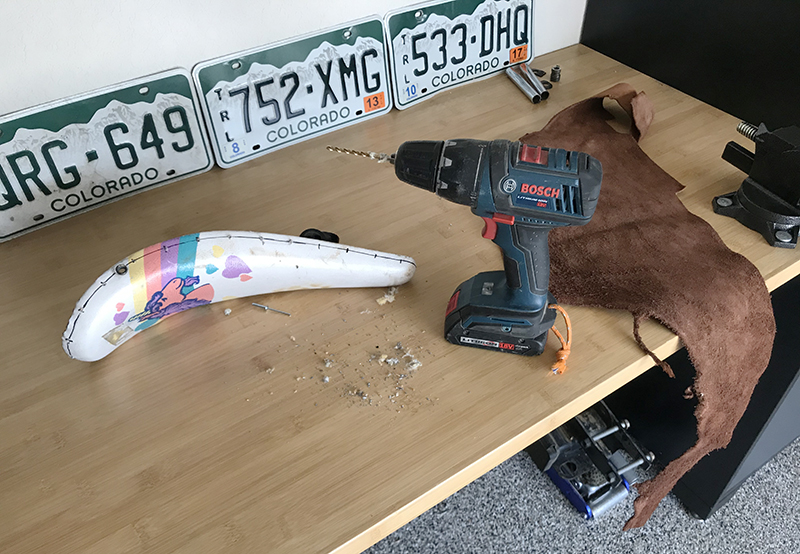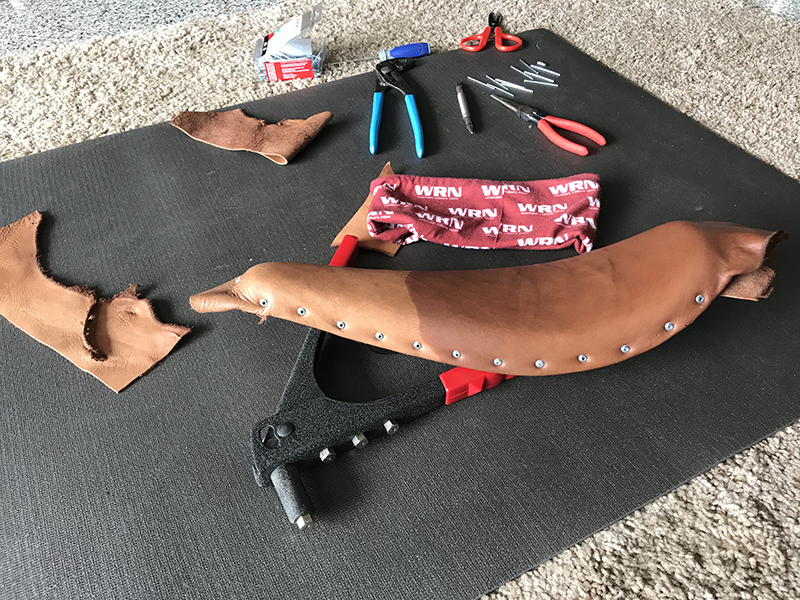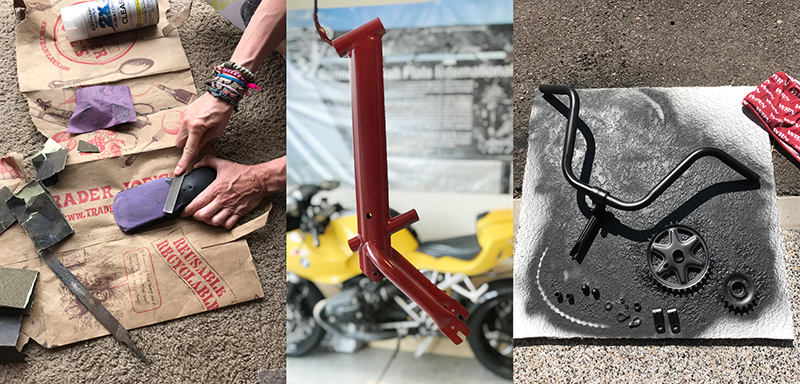 To ensure the Strider had authentic motorcycle elements, Trev installed gears and a chain that rotate as the Strider cruises down the street. We chose WRN red for the frame and fender color, with black accents on the rest of the bike and using offsetting colors to accentuate the gearing.
We decided to forgo the tassels in exchange for hand grips that twist, mimicking the throttle action and sound of a real motorcycle. A Clearwater Lights headlamp shines when the Strider cruises down the road to her next adventure.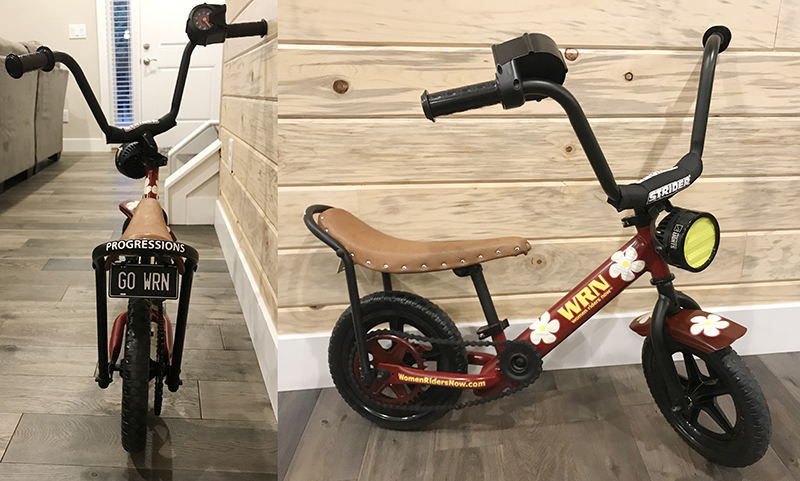 To find out more about the All Kids Bike program click here.
To find out about the Mecum auction to bid on these and other great bikes, click here.
Related Articles
Jessi Combs: Reflections on the Life of the Powersports Superstar
Strider Bikes Offering Cool New Racing Models for Toddlers
Women Riders Doing Amazing Things
Van Buren Sisters 1916 Cross-Country Motorcycle Ride for Womens Rights
Elena Myers: A Star in the Making