Can this really be true? Can you ride a Harley-Davidson motorcycle or an adventure bike like a BMW, without using the clutch lever when shifting gears? Yes you can with a product from Rekluse Clutches, pronounced Ra'-cloose. With the EXP Performance Auto-Clutch from Rekluse installed in your motorcycle, your clutch hand is free to just simply hold the left handgrip while you can focus on your motorcycle ride that much more.
Why would want to do this? Well, I met the folks from Rekluse Clutches at the AIMExpo (American International Motorcycle Expo) in Orlando in October and got the lowdown on all the amazing benefits, some of which women riders, with their small hands, will appreciate.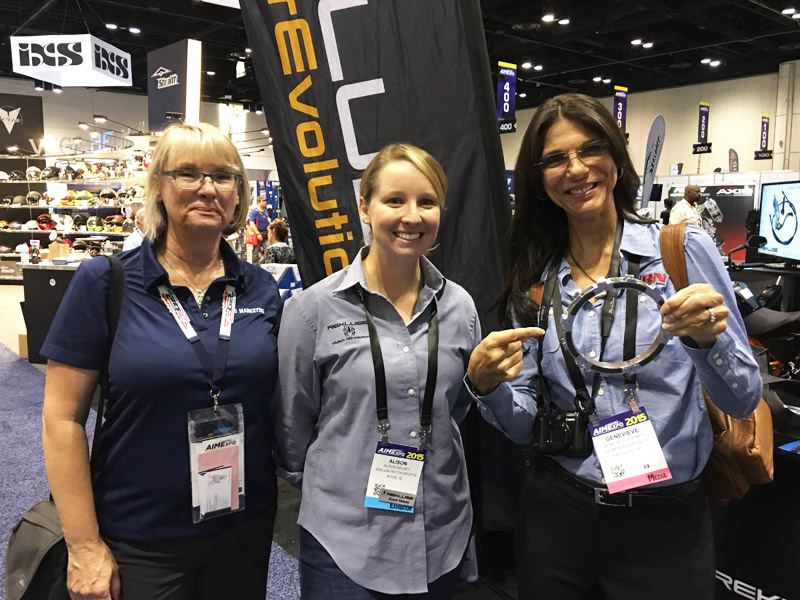 Here's what you can do with a Rekluse EXP Performance Auto-Clutch:
• Come to a complete stop in gear without holding in the clutch
• Accelerate without touching the clutch lever; just twist the throttle and go
• Since shifting gears is all part of the essence of riding a motorcycle, the Auto-Clutch lets you still do that. This is not an automatic transmission. You still get the satisfaction of shifting, but you don't have to engage the clutch.
In slow speed situations the motorcycle can be shifted without using the clutch lever. You can do this by letting off the throttle when shifting. Rekluse does recommend using the lever for hard acceleration because at high RPM the clutch will be completely locked up. The Auto-Clutch automatically engages and disengages the clutch when coming to a stop or taking off. You simply shift into gear, twist the throttle and go.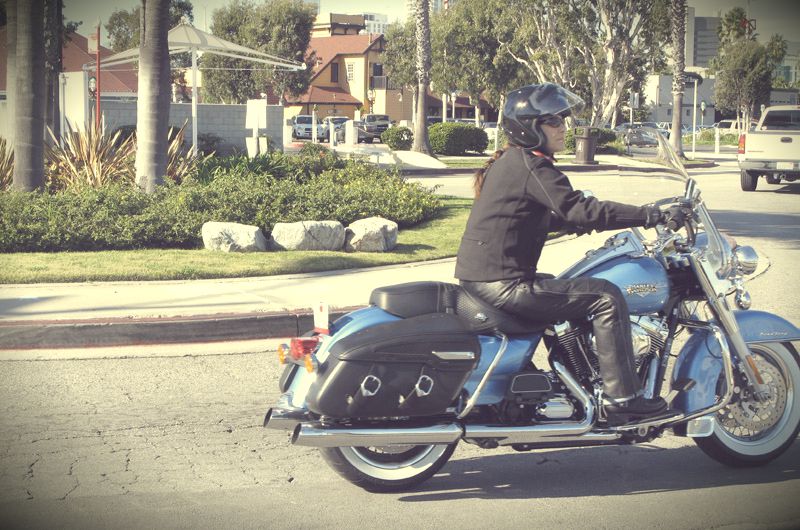 Benefits
• Riders with small or weak hands who struggle with the clutch lever-pull will appreciate that you don't need to use the clutch at all when riding.
• Riders still new at mastering when to pull in the clutch relative to rolling on the throttle have one less thing to worry about. They can practice using the clutch and make mistakes as the bike won't stall out if the lever is not engaged.
• Clutch hand is less fatigued, especially in stop-and-go traffic, because you'll not need to use it.
• When braking suddenly, you're not engaging the clutch so you can focus on safety.
• Never stall the motorcycle again! The motorcycle idles without the clutch engaged and when in gear.
• Improves your slow speed maneuverability because you're not dealing with the clutch and fear of stalling.
• Rekluse promotes that you have one less thing to think about when riding. A rep gave me this example: when you're riding through the twisties where you're constantly upshifting and downshifting, you can focus on braking and throttle control since you won't need to know when to engage the clutch.
I have not had a chance to test the product yet, but this video, produced by Rekluse, demonstrates how it works. At 55 seconds in the demonstration part starts, and at 4 minutes 30 seconds a woman rider explains how it worked for her in a common uphill situation.
What motorcycles does it work with?
For cruisers, currently the Rekluse Auto-Clutch is designed for 1998 and newer Big Twin Harley-Davidsons. One for the Sportsters is currently in development and expected to hit the market in December. There is an Auto-Clutch developed for a variety of Japanese dirtbikes, as well as some BMW and KTM dual-sport motorcycles.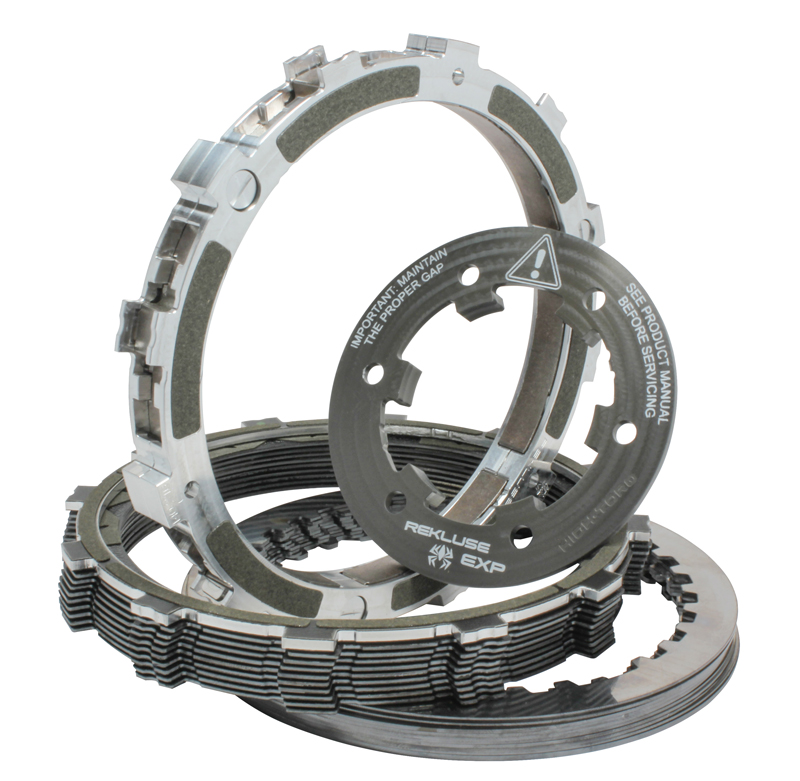 Installation
Since this involves changing the clutch plates, we recommend having a trained technician install it. There are more than 70 dealers nationwide now installing Rekluse clutch packs and a dealer locator on Rekluse's website will helped you find one. I'm told it takes from one to two hours for a technician to install.
Rekluse has several videos that explain the application further, as well as an installation video that knowledgeable homegrown mechanics can use as a guide.
A rep from Rekluse told me installing their clutch does not void the manufacturer's warranty. I checked the a Harley-Davidson owners manual in the warranty section,and in the "Other Limitations" section, it says this: "This warranty does not cover: Damage caused by installation or use of non-Harley-Davidson components, even those installed by an authorized Harley-Davidson dealership, that cause a Harley-Davidson part to fail. Examples include, but are not limited to performance-enhancing powertrain components or software, exhaust systems, non-approved tires, lowering kits, tow packages, certain flag mounts, handlebars, add-ons connected to the factory electrical system, and so on."
If your motorcycle is still under factory warranty, my recommendation is to check with your Harley-Davidson dealer before installing the product — even if that Harley dealer does not install it for you — to confirm whether the installation of a Rekluse product does not void the factory warranty.
A rep from Rekluse told me that if the clutch fails, Rekluse's warranty covers it for one year with a manufacturer's warranty. However, the company has been around since 2002 so its products, which are made in the U.S., are time-tested, and Rekluse stands behind them 100 percent. If something happens you don't believe should have happened, Im told you should contact them and they will do their best to take care of it.
Price for the EXP Performance Auto-Clutch for Big Twin Harley-Davidson is $799, and it comes with 30-day trial money back guarantee.
Other Applications
• Rekluse reps told me that the Auto-Clutch is especially useful for adventure, dual-sport, and off-road riders where feathering the clutch takes so much of a rider's focus.
• ReKluse Auto-Clutches are used by professional racers, including moto-crosser Ryan Sipes, and Honda Racing MXGP team. You can watch their video testimonials on Rekluse's YouTube Channel (link below).
• Rekluse also has a TorqDrive product that puts more plates into the clutch pack, allowing the bike to get more torque transferred to the rear wheel. The increase in plates allows for a smooth, easy lever pull and provides a significant boost in overall durability.
To learn more, visit
Rekluse.com
, or call them toll-free at 866.735.5873, or in Idaho at 208.426.0659and tell them you learned about the products on Women Riders Now (WRN). Watch more videos on
Rekluse's YouTube channel
.

Related Stories
Adjustable Clutch and Brake Levers for Small Hands