Having a patient and compassionate experienced rider by your side during the early stages of your motorcycle riding life is invaluable. Many mistakes can be avoided by having someone nearby to help advise you otherwise. Advice can include things like not wearing a big loose jacket that allows air to flow inside puffing you up like a balloon thereby causing a huge amount of wind resistance when you ride, to learning how to ride with a partner in a staggered tandem formation. The only way to become proficient at riding is by riding, and the only way to learn the "tricks of the trade" about proper gear, proper packing, proper parking, etc., is by trial and error.
A riding mentor can steer you to the right way the first time thereby avoiding that "error" and moving through the learning process that much faster. A mentor can also help you out of sticky situations like areas where you find yourself unable to turn around; he or she can also encourage you when you get discouraged. Sure, there are some things youll need to figure out for yourself and youll know what those are when you encounter them, but if you can hook up with a riding mentor who possesses the very important qualities of patience and compassion, then do so.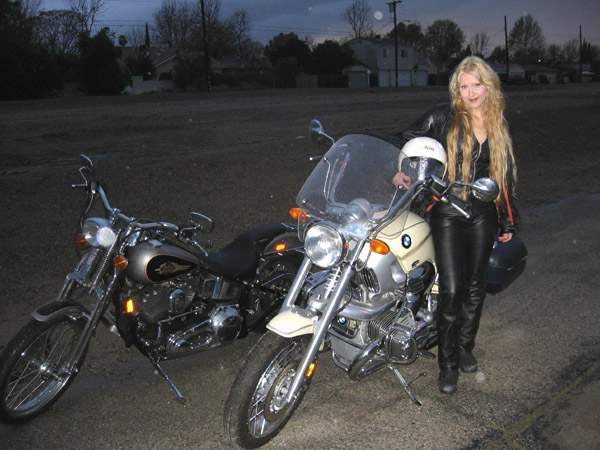 During the 20 years Helene Hodge has been riding a motorcycle, shes mentored several beginning women riders. "An experienced rider can give a new rider a valuable peek into the world where traffic situations, weather and road circumstances, bike performance and unpredictable events jump into the path of your two wheels," the Los Angeles, Calif., rider says. "A veteran rider can be a window to the fulfillment and satisfaction of riding that comes with time."
Riding Clubs
One way to find a riding mentor is by riding with or joining a motorcycle riding club. There are hundreds of riding clubs all over the country. See our list of women rider clubs by going to our Women Motorcycle Clubs Page in the Its All About You section. Some are special interest clubs with riders all sharing a particular model or brand, other clubs gather just because they share similar riding styles or experiences. There are many women-only riding clubs and organizations for those who prefer riding in a group of just women. Many of these clubs have mentoring programs designed to nurture first time riders. The oldest and largest groups in terms of how widespread their chapters are include: http://www.motormaids.orgThe Motor Maids, http://www.womenonwheels.orgWomen On Wheels, andhttp://www.womeninthewind.orgWomen in the Wind.
Harley-Davidson has a whole section of its Web site devoted to mentoring and makes a special DVD available on how to mentor for a minimal price. Click here to be directed to the Harleys mentoring site.
Testimonial
"My riding buddy is awesome. Hes very patient and understanding of my "stopping" needs. He doesnt try to out-ride me and always encourages me. The most important thing is that he never makes me nervous. Hed never leave me if I had trouble and if I was riding alone and broke down on the side of the road, he would be the one to come and help me."
Pixie Branch, Youngstown, OH
RECOMMENDED BOOKS ON GETTING STARTED IN MOTORCYCLING

The Motorcycle Safety Foundations Guide to Motorcycling Excellence, Second Edition, published by http://www.whitehorsepress.comWhitehorse Press
This 192-page soft cover book features color photographs alongside 16 chapters worth of valuable information mostly having to do with riding skills. Chapters include: The Allure of Motorcycling, Basic Riding Skills, Protective Riding Gear, Inspection Care and Troubleshooting, Traction, Countersteering, Off-Road Riding, and a whole lot more. Its a great beginners guide, as well as a refresher for those experienced riders.
The Motorcycle Book, by Alan Seely, published by http://www.motorbooks.comMotorbooks International
This 160-page soft cover book focuses on everything you need to know about owning, enjoying and maintaining your bike. One chapter covers the types of motorcycles available and how to choose one. Color photographs accompany chapters titled: Which Motorcycle, Getting On The Road, Know Your Motorcycle, and Looking After Your Motorcycle. This is a great book for anyone who wants a basic primer on the different parts of a motorcycle. It also has a section on Buying Used and Storage.
Related Articles
More recommended books to become a better rider
And one more book
Readers Stories: Mentoring Through Mishaps
Find a Mentor on WRNs Connect With Others page