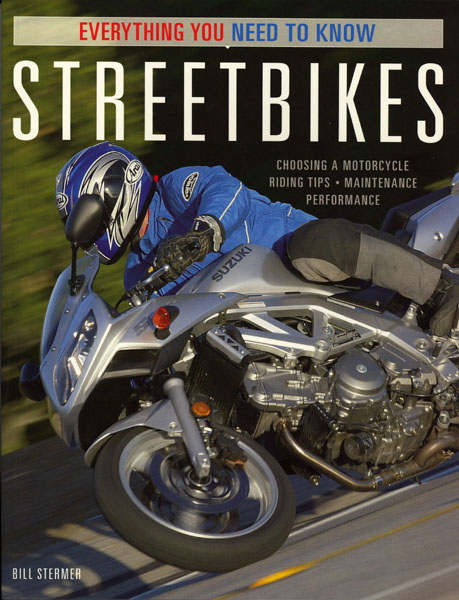 There couldn't be a more ideal book for our WomenRidersNow.com readership which consists of mostly new riders. "Streetbikes" is a must-have for anyone just starting out in motorcycling. It's also a great book to have around the house for us veteran riders who want a clearer understanding of certain aspects of motorcycling, say, like linked braking, or the difference between drum and disc brakes.
The 160-page soft cover book explores everything from choosing a motorcycle, to understanding engine factors, to maintenance and performance issues. It also examines the different brands of motorcycles, the features and options available, accessories, apparel options, touring, rallies and track days—nearly every aspect of motorcycling.
Author Bill Stermer has been riding nearly 40 years and a moto-journalist for almost 30 years. He contributes to Rider magazine and other motorcycle publications including this online magazine, WomenRidersNow.com. His conversational style makes "Streetbikes" easy to read, plus, I don't mind when he infuses his opinion as in "Whoa! Put down that saw and listen to me," when broaching the subject of trimming a windshield. I know Bill knows what he's talking about and I trust his opinion.
There are plenty of color photographs to keep the book interesting and there is no slant towards either gender. However, I was asked to write a section on women riders as the fastest growing segment of motorcyclists. I explain how to overcome the barriers holding some women back from making their dream of riding a motorcycle come true.
"Streetbikes" makes a cool holiday gift for a friend or loved one thinking about riding. You'll want to read it first, though, before giving it away. Suggested list price is $24.95 and is available from Motorbooks or by calling 800.826.6600.