Do you have a story to share? Please send it to us, but read these submission guidelines first.
Sweeties On Wheelies. Has an interesting ring, don't you think?
What do you get when you mix 49 women who call themselves "sweeties," their motorcycles, a beautiful day, an amazing ride and willing, generous spirits? You get a win-win situation for the Women's Resource Center of northeast Wyoming and you get a chance to ride with 49 of your Sweeties on Wheelies riding buddies.
Women Riders Now E-Newsletter
Stay up-to-date on all things motorcycle! Latest gear, bikes and products reviews. Travel ideas, great product giveaways, and more.
Women riders ages 30 to 87 gathered last June in Gillette, Wyoming, as they have for the past 15 years to ride the Sweeties on Wheelies ride for charity. Led by Georgette Hoffman of Gillette, 49 lady riders rode nearly 300 miles on their motorcycles to raise money for charity.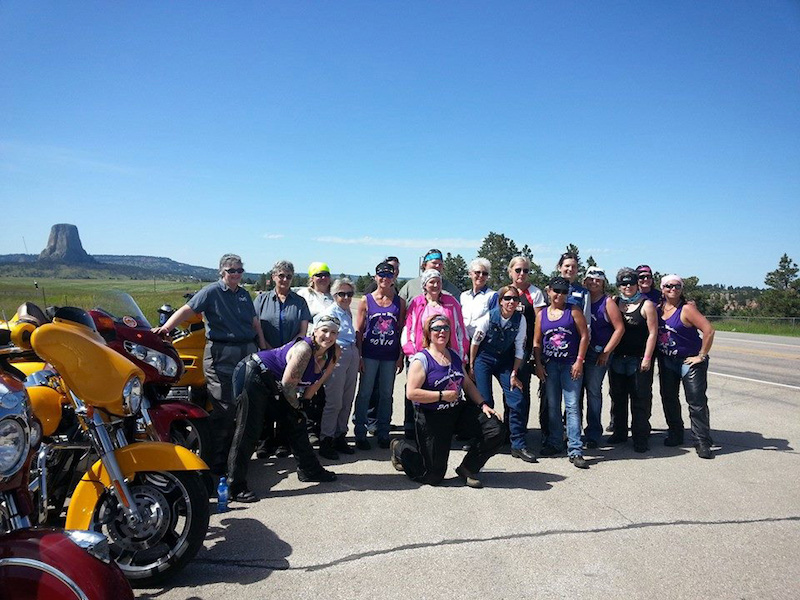 Sweeties on Wheelies is an all-women's motorcycle run, a chick's run if you will. A different Wyoming town hosts the charity ride the third weekend of June every year. The Sweeties ladies pick one charity a year and find sponsors, raise money with raffles, hold live auctions and seek always-appreciated donations to support a charity that helps women.
This tradition started in 2002 and was Wyoming's first and only all-women ride. For 10 years, lady riders from all over the northwest region of the United States gathered in Casper, Wyoming, to raise money for charity and rode to Sheridan, Wyoming, to end the day. In 2012 things changed up a bit and the Sweeties started seeking other volunteers from different Wyoming towns to host the event.
The benefactor for the 2017 ride that started in Gillette was The Landing, a new veterans center in Casper, Wyoming, that would serve as permanent housing for homeless veterans and offer counseling along with alcohol and drug rehabilitation services.
To raise money year after year is serious business and hard work; just ask event organizers Georgette Hoffman, Mary England, Jill Kamber-Knox and Cyndy Canfield. Much planning over many months went into the June event, as it does every year. Successful event planning always means stress, but thank goodness there is the promise of being able to ride their motorcycles to keep them going!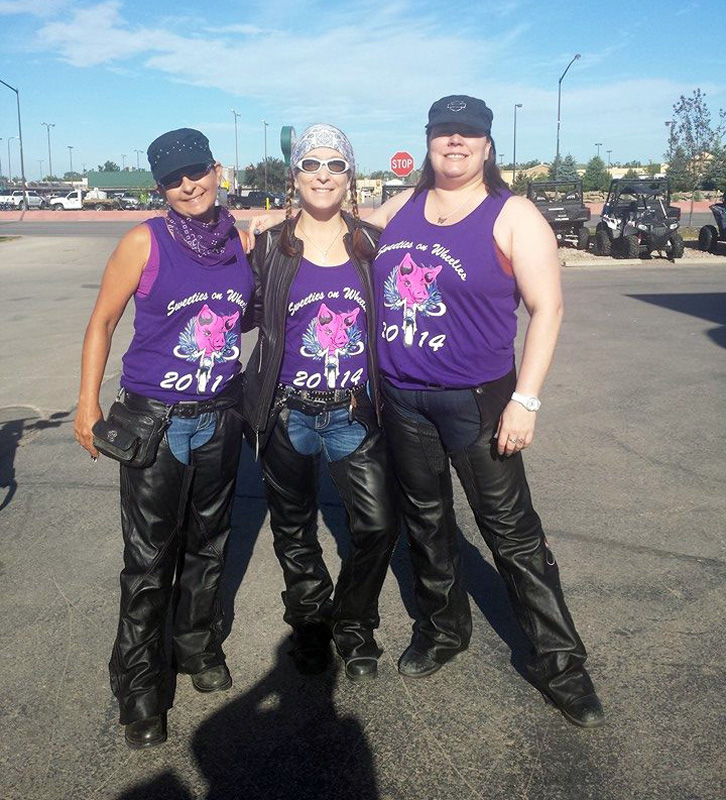 Destination X of Gillette, the local Polaris and Victory dealer, served as the starting point Saturday morning. Breakfast was supplied by McDonalds and delivered to Destination X, where the first poker draw was conducted. Then the Sweeties on Wheelies entourage was escorted through town by the Gillette Police Department, which seems very fitting, as event organizer and road captain Georgette Hoffman is also a retired police officer.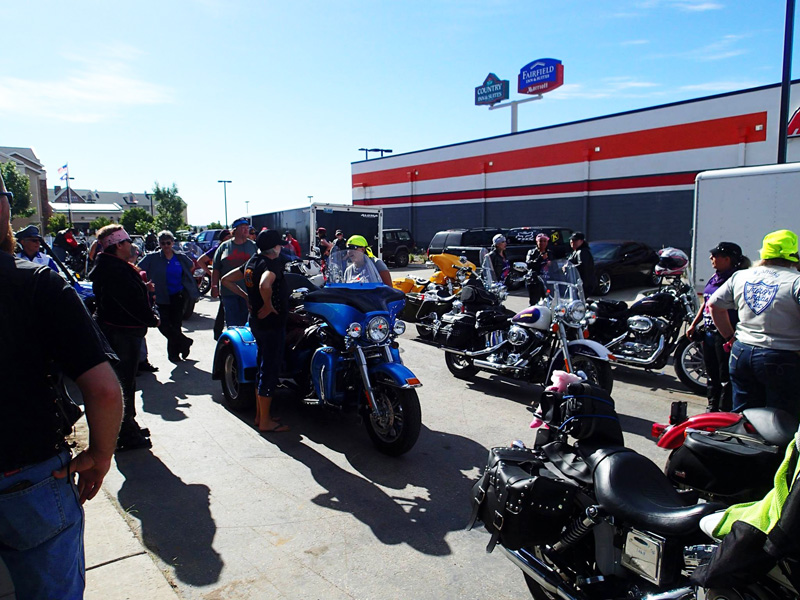 The next stop and draw was the city park at Broadus, Montana. The Stoneville Saloon in Alzada, Montana, was the stopping point for lunch. The riders were treated to pulled pork sandwiches, pork and beans, coleslaw, and one more chance to draw the ever elusive good poker hand.
It is interesting to note the ride was not only a chance for women to help women, but there were interesting historical stops thrown in. The Stoneville Saloon in Alzada is located near the historical stage coach run from Deadwood to Miles City, Montana, and is also the site of the bloody Stoneville gun fight on Valentine's Day in 1884.
After a stop in Hulett at the Ponderosa Café to refresh with cold beverages and draw the last card, they were off to the final stop at Ruff's in Rozet. Upon their return to the starting destination of Gillette, the riders were treated to a supper of pulled pork and all the trimmings from Pokey's BBQ. Prairie Fire Brewery put their trailer inside the fenced area and pledged $1 from every beer would go to the charity.
The Sweeties Ride ended with music from the Lazy L Band from Gillette at Boothill Legendary Steakhouse and Nightclub and a celebration party at the National 9 Motel.
Gillette and other surrounding communities rose to the occasion in a big way with ride donations and auctioned gifts from The Chop House, 311 Lounge, Prairie Dawn, Action Motor Sports, Home Depot, Knechts, and Metz Beverage. A Ruger LC380 was donated by Razor City Firearms and raffled off. Firemen from the local fire department also showed up but not to fight a fire. They were going to wash the Sweeties bikes, but rain threatened so they settled for the photo ops.
The day was made even more special with every biker receiving a free 5×7 photo of them and their bike from JNT Humes Photography.
So to answer the question what do you get when you mix women, motorcycles, a beautiful day, an amazing ride, and willing, generous spirits that are ready to help a good cause? You get women with hearts and stories of their own; you get women who love to ride and love to help; you get to experience new friendships and deepen old friendships. The power of women can never be underestimated.
The same can be said of the power of motorcycles. You put the two together and you end up with women who make a difference for women, or to put it another way, you get a hugely successful 2017 Sweeties on Wheelies Ride. Makes you wonder what is in store for Sweeties on Wheelies 2018!
The Sweeties On Wheelies 2018 ride has yet to be announced. For more information visit SweetiesonWheelies.org.
And for more women-focused motorcycle events, visit the WRN Calendar of Events.
Do you have a story to share? Please send it to us, but read these submission guidelines first.
Related Articles
Event: The Steel Horse Sisterhood Rocks Denver
Guerilla Fund-raising: How to Ride for a Cause
How to Start a Women's Motorcycle Riding Club
More Reader Stories