Sonya Gordon wanted everyone to know the brand new Kawasaki 650R she was riding belonged to her and not her husband or son. What was her solution? Paint it bubblegum pink with flowers and designs to match her beloved Barbie backpack! Whether shes commuting to work or just riding around her Texas neighborhood, Sonya stands out with her pink Barbie-themed motorcycle and matching accessories.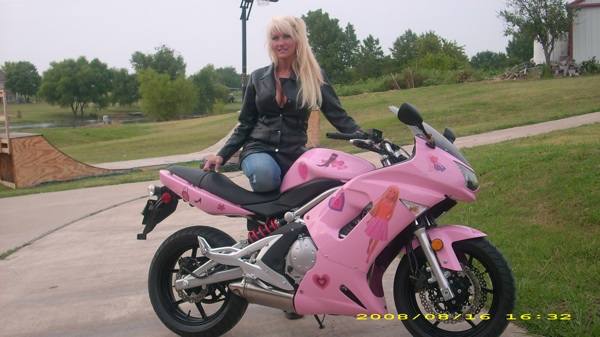 She didnt start out wanting a pink motorcycle, or any bike. "My son told me he wanted a sportbike and I didnt know what in the world that was." Sonya and her son visited a local Kawasaki dealership where he showed her a Kawasaki 650R. She fell in love with it. "Its a super bike and I was determined to learn to ride so I could have one myself," she said. It didnt take long and soon she was the proud owner of her first motorcycle, a brand new red Kawasaki Ninja 650R.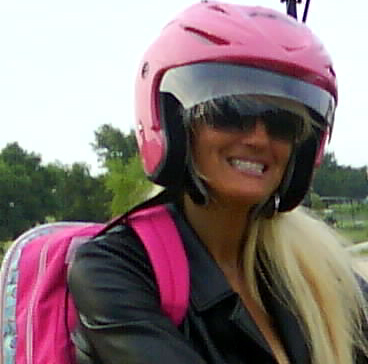 Many motorcyclists personalize their bikes and Sonya was no different. "Im a girly girl," she said. "I wanted something that was definitely not a guy bike. As soon as I got the bike I had it painted part by part with careful thought to every design. They customized it to my specifications," she said. "I designed it all myself using the colors from the backpack and pink helmet. I even found special Barbie appliques that matched!"
Although not a Barbie memorabilia collector, Sonyas usual riding attire includes a pink shirt, pink watch, pink purse, pink phone, pink lip-gloss and, of course, her pink helmet with a Barbie design to match her Barbie backpack. "I didnt start out buying pink things it just kind of ended up that way," she said. "Guess I just love Barbie pink!"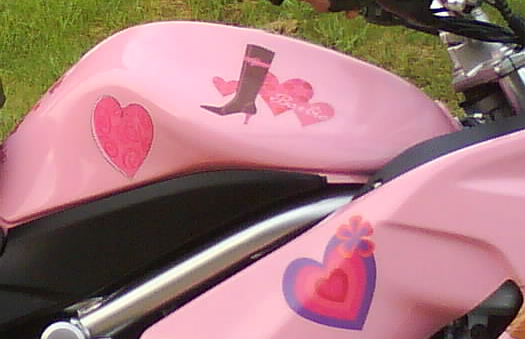 Sonya works as a business coordinator for a large corporation in Texas. She and her husband have two teenagers and are in the final stages of being licensed for foster parenting. Her family enjoys attending the local Cowboy Church in her hometown of Forney, Texas, where Stetsons and open fire cookouts are the norm. "Im not a cowboy, except for the black leather boots and gloves. Its a fun atmosphere at the church and it gives the kids an opportunity to meet others in a friendly environment." A horse named Cricket and new foal named Teardrop make up the rest of their family.
Sonyas husband was so impressed by her motorcycle riding skills that he learned to ride and also bought a motorcycle (not pink). She said, "The bike is so much fun. Im totally addicted to riding!" Sonya thoroughly enjoys the attention she gets on her pink Kawasaki, and she never has trouble finding her bike in a parking lot.
Barbie Turns 50!
The year 2009 marks the 50th Anniversary of the very first Barbie doll made. According to the official Mattel, Inc. Web site, Barbie is "unapologetically all girl" and the most popular fashion doll in the world. Barbie has always represented that a woman has choices," said Ruth Handler, creator of Barbie. "Even in her early years, Barbie did not have to settle for only being Kens girlfriend or an inveterate shopper, I believe the choices Barbie represents helped the doll catch on initially, not just with daughters – who would one day make up the first major wave of women in management and professionals – but also with mothers."
Related Articles
More Pink Motorcycles!
Harley-Davidson Adds New Items to its Pink Label Line