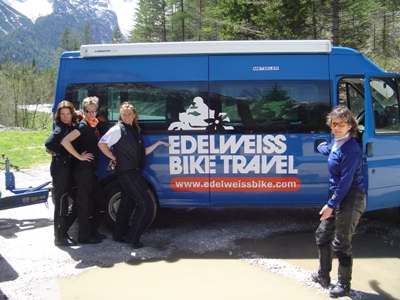 Women riders can tour the Austrian Alps on an all-female motorcycling tour as Edelweiss partners with MOTORESS, a women and motorcycling Web site. From July 24 to 31, 2010, riders will have the opportunity to ride through Austrian alpine scenic roads with the founder of MOTORESS, Vicki Gray, the woman who created the concept of a female ride day in May, with veteran motorcycle touring company Edelweiss Bike Travel, celebrating its 30th year anniversary, providing the motorcycling logistics.
This 8 day excursion allows 12 women to be part of a breathtaking journey beginning in Munich. Also included in the tour is a full day riding school instructed by Vicki Gray who has been teaching and coaching riders on the track and street for more than two decades. The tour will take riders through some of the most beautiful cities in Austria such as Salzburg and Kaprun. "I am thrilled to be a part of this and to hopefully help bring a great opportunity to women," says Vicki Gray. "For the participant, it is the occasion to get an entirely hassle-free motorcycle touring experience while enhancing their riding skills, not only with full day training but the riding they#8217;ll be doing through one of Europe#8217;s most beautiful motorcycling paradises. #8220;We are truly offering a unique tour that will be enjoyed by all in a female friendly environment with MOTORESS!"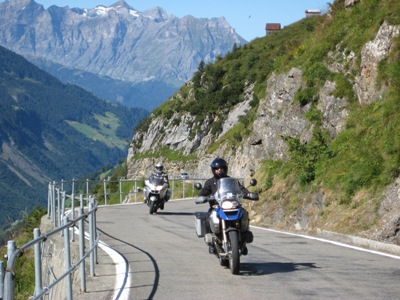 Riders will cover about 1,300 km in total through Germany#8217;s lake regions and Austria#8217;s winding Alpine roads; approximately 80 to 280 km each day. Highlights of the tour include visiting King Ludwigs castle in Herrenchiemsee and Salzburg, Mozarts birth town. A rest day is scheduled in the Alps village of Kaprun where riders can choose to relax in the hotel or take the opportunity to go skiing on the Kitzsteinhorn glacier. If riders prefer, they can ride the Gro#223;glockner High Alpine Road one of the highest and most stunning mountain passes in the area.
Vicki also points out that one of the terrific features of the tour is the option to share accommodations to lower the price point of the tour. "Within the first 24 hrs of introducing this fantastic tour, 3 women immediately signed up." adds Vicki. "If this tour is a success, we will continue to have more to varied destinations".
The increase of women motorcyclists participating on an Edelweiss Bike Tour was one of the factors motivating Farewell Travel Services (The Canadian Booking Agency) to organize this first ever event. "This tour is the perfect answer to accommodate the increase of women motorcyclists participating on an Edelweiss Bike Tour," states Nigel Andrews President of Farewell Travel Service. "We feel this tour allows women a chance to be free of the men, and to meet and mingle with other avid female motorcyclists. With Vicki, and the fact that shes a professional in the motorcycling world, we enthusiastically asked her to be part of the initiative not only as host of this inaugural event but as an instructor and participant tour guide. In addition, Vicki has done so much riding in Europe that she will only enhance the experience for all of the female participants."
Seven-night land packages start at $2,300 per person. Prices vary according to motorcycle selection and accommodation type. Most meals are also included. Airfare and gasoline are not included. For more information about the MOTORESS Austrian Lakes and Alps women#8217;s only tour, including the opportunity to sign up and join us, visit Motoress.com.