Now motorcycles with radial mounted brake calipers like the Kawasaki Concours 14 can take advantage of the extra lighting that Motolight auxiliary lighting adds to ones ride. Motolight recently introduced a version of its auxiliary lights that fits bikes where the brake caliper mount bolts are on the backside of the downtube instead of the side.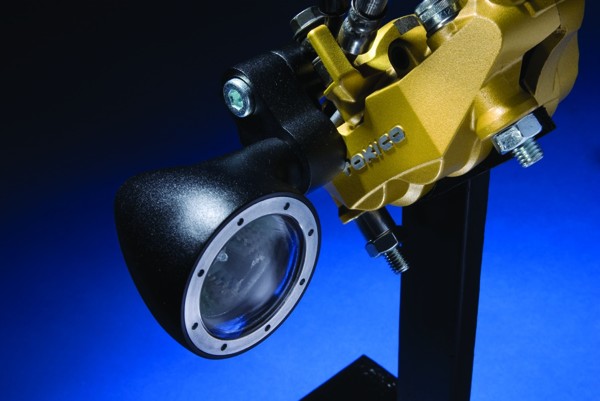 The standard light includes a 35 watt halogen MR 16 bulb, which features an 8 degree beam spread that increases daytime visibility for oncoming traffic and nighttime visibility for the rider. A 50 watt MR16 halogen bulb and 50 watt MR16 amber bulb are available as an option. Lights include a new mounting kit that uses a radial block, spacer, and special bolt for easy installation and they can be used on virtually any type of bike with radial brakes. New lights are available with either black powder coat or a brushed metal finish.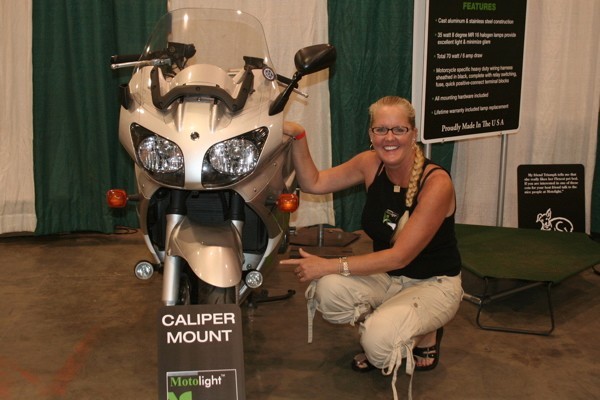 As with all Motolight products, these lights are made in America, come with a 3 year warranty. Discounts for veteran, police and fire personnel are available. Motolight is solely owned by Tina Holleander, a rider who is an expert in adding additional lights to your motorcycle to increase safety. Check out MotoLight.com for more information. Feel free to call Tina (phone number is on the Web site) to discuss what type of lighting is best for your motorcycle to increase the safety factor. Tell her you learned of Motolight from WRN.
Related Articles
<! /* Font Definitions */ @font-face {font-family:"Cambria Math"; panose-1:2 4 5 3 5 4 6 3 2 4; mso-font-charset:0; mso-generic-font-family:roman; mso-font-pitch:variable; mso-font-signature:-1610611985 1107304683 0 0 159 0;}@font-face {font-family:Cambria; panose-1:2 4 5 3 5 4 6 3 2 4; mso-font-charset:0; mso-generic-font-family:roman; mso-font-pitch:variable; mso-font-signature:-1610611985 1073741899 0 0 159 0;} /* Style Definitions */ p.MsoNormal, li.MsoNormal, div.MsoNormal {mso-style-unhide:no; mso-style-qformat:yes; mso-style-parent:""; margin:0in; margin-bottom:.0001pt; mso-pagination:widow-orphan; font-size:12.0pt; font-family:"Cambria","serif"; mso-ascii-font-family:Cambria; mso-ascii-theme-font:minor-latin; mso-fareast-font-family:Cambria; mso-fareast-theme-font:minor-latin; mso-hansi-font-family:Cambria; mso-hansi-theme-font:minor-latin; mso-bidi-font-family:"Times New Roman"; mso-bidi-theme-font:minor-bidi;}.MsoChpDefault {mso-style-type:export-only; mso-default-props:yes; font-size:12.0pt; mso-ansi-font-size:12.0pt; mso-bidi-font-size:12.0pt; mso-ascii-font-family:Cambria; mso-ascii-theme-font:minor-latin; mso-fareast-font-family:Cambria; mso-fareast-theme-font:minor-latin; mso-hansi-font-family:Cambria; mso-hansi-theme-font:minor-latin; mso-bidi-font-family:"Times New Roman"; mso-bidi-theme-font:minor-bidi;}@page Section1 {size:8.5in 11.0in; margin:1.0in 1.0in 1.0in 1.0in; mso-header-margin:.5in; mso-footer-margin:.5in; mso-paper-source:0;}div.Section1 {page:Section1;} >Riding Lightsas Bright as Police Have