We can finally keep up with the cops! Not with speed, but with safety and visibility. Motolight has been providing auxiliary riding lights to law enforcement agencies for years and has been expanding its line of halogen riding lights to adapt to almost any make and model.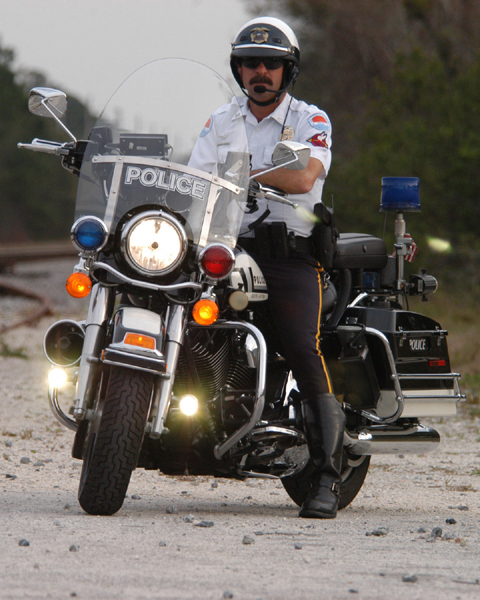 Motolights are halogen riding lights for use on just about any type of motorcycle. These 35 watt halogen MR16 bulbs are available in two different mounting sysems: either on a brake caliper or on the fender. Both systems are available in chrome, brushed, polished or black powder coat finishes. A 50 watt MR16 halogen bulb and a 50 watt MR16 amber bulb are optionally available.
Motolights increase daytime visibility making it easier for oncoming traffic to see the motorcycle, while increasing nighttime visibility for the rider. With its 8-degree beam spread, the halogen bulb enhances your visibilty without blinding oncoming traffic. You can keep them on all the time.
The caliper mounted system is designed for motorcycles with dual disk brakes. The fender mount system is for use on single disc brake bikes with access to the fender mounting bolts on the trailing side of the fork. Mounting kits are included with the lights and include everything needed for easy installation. Motolight also provides easy to read installation instructions for all products on the Web site, making them easy to install.
New Motolights for BMW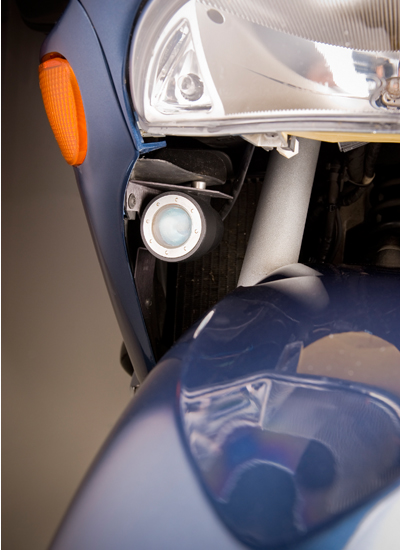 Motolight is now making halogen riding lights designed specifically to mount on the fairing of BMWs K 1200 LT and R 1200 RT motorcycles. The fairing mounted Motolights create a sleeker look centralizing all bulbs on the fairing. Right now the BMW lights are available only in black.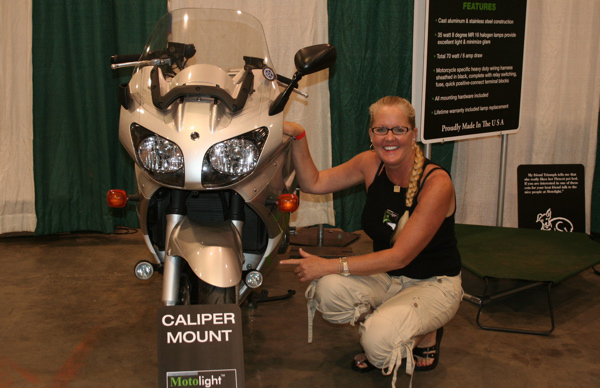 One side note: Motolight is a woman-owned company. Motolight offers a 3-year warranty from the date of purchase and the company will replace burned out halogen bulbs for life, for the lights original owner. Check out the "10 percent off retail price" for any active or veteran military, police or fire personnel. Details about Motolight are at Motolight.com.