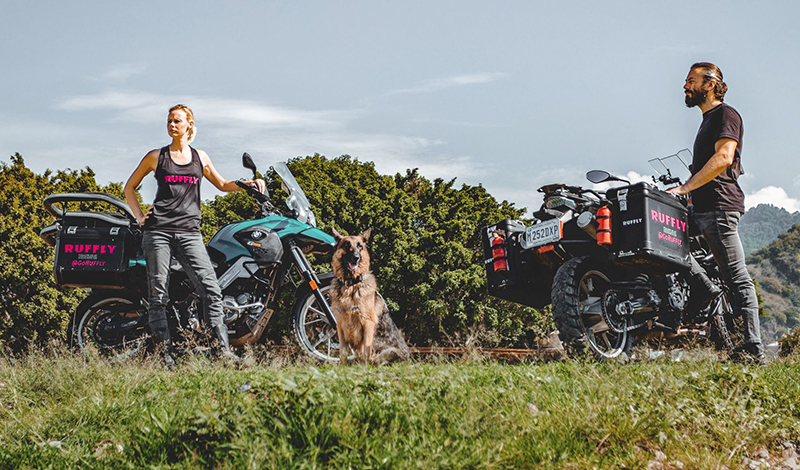 Getting Started on Motorcycles
I started to ride motorcycles when my boyfriend (who is now my husband), Greg, invited me to join him on a motorcycle trip across North and South America. I had no idea at the time that it would be the start of riding a motorcycle around the world. Entering the world of motorcycles was totally new and completely alien to me. In preparation, I studied all the mistakes I could find on blogs, forums, and YouTube because I was terrified of making them and looking silly in front of onlookers.
I was haunted for years by a disparaging, critical voice in my head. I imagine many women are familiar with the voice that says, "Silly girl, you have no idea what you're doing. You have no business playing with big toys or expensive machines!"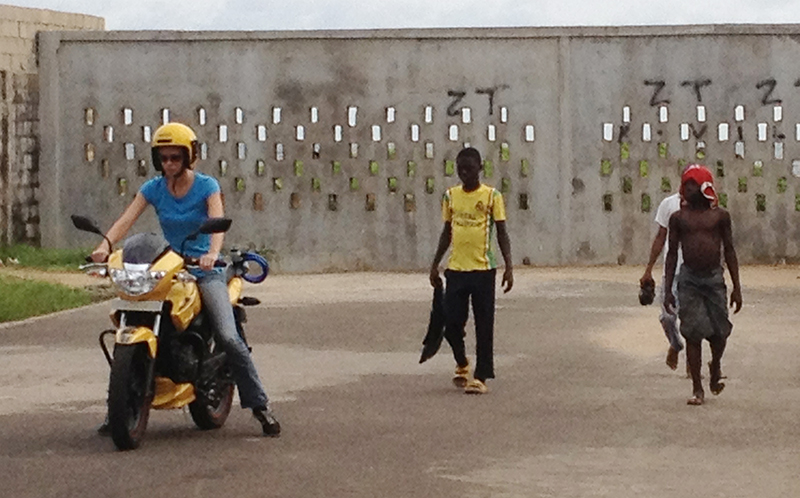 I read a blog once in which the woman rider described pulling to a stop at a red light and dropping her bike because she forgot to put her foot down. "How is that even possible?" I asked my now husband, Greg, echoing the voice in my head as a way of unloading the insecurities I felt onto someone else.
"Oh, it's possible and not even that uncommon," Greg replied, and then went on to explain that there's a lot to think about and keep track of when you're first learning to ride. I wasn't convinced but decided to let the topic lie and returned to searching for all the mistakes I'd be sure to avoid.
A couple days later I set off for my first solo motorcycle ride, 20 minutes on the outskirts of Monrovia, Liberia, where we were living as aid workers. As a foreigner and a female riding a motorcycle, motorcycle taxis called boda bodas swarmed around me like buzzards. When I finally pulled into the large hotel parking lot that was my arbitrary destination, I was an emotional cocktail of pride, enthusiasm, and utter exhaustion. I was so relieved to come to a full stop that, yup, you guessed it, I forgot to put my foot down. How was I going to ride a motorcycle around the world if I cannot even stop without dropping it?!
Even before the motorcycle went over my pride and relief turned to horror. There was a dull thud and then a deafening silence when the engine went dead. The shame and mortification blasted me like a furnace, and I felt like my life was over. Only it wasn't. Two construction workers came running over and helped me lift the bike. They asked if I was ok and then praised me – yeah, that's right, praised me – for riding all on my own.
 After completing the North and South America trip, Greg and I moved to Guatemala to support a women's microfinance and empowerment nonprofit. Shortly after moving to Panajachel at Lake Atitlan, Guatemala, I adopted my German shepherd, Moxie. It was a wonderful, life-changing experience, but it also presented me with some challenges that led me to start my own business.
I wanted durable outdoor dog gear that looks beautiful and not overly technical, and I wanted it to be made in an ethical way. After all, I was working for a women's empowerment nonprofit! Made to embody what I like about The North Face and Vera Wang, I engaged indigenous women artisans, tailors, and craftspeople in Guatemala to create the ethical outdoor dog gear brand RUFFLY.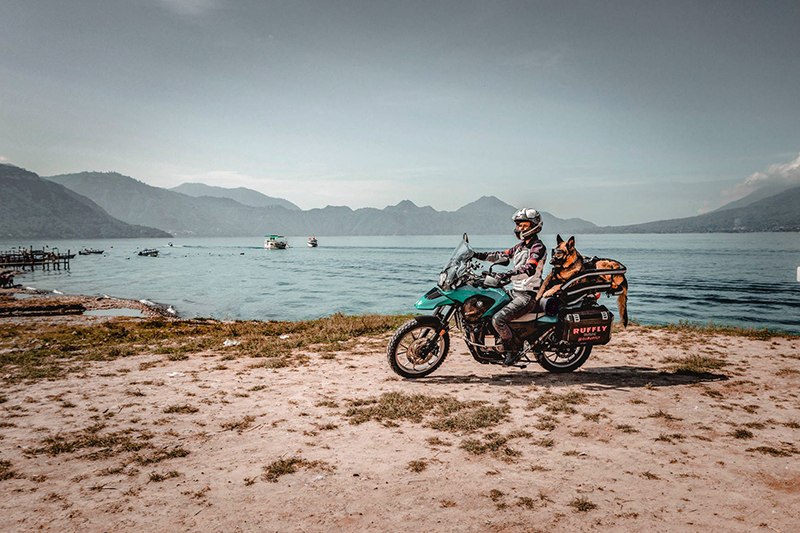 I also wanted to continue traveling the world by motorcycle with my dog. We scoured the internet for commercial and DIY options, but we didn't find anything that would be safe and comfortable for Moxie, and that would not dramatically impact the ride geometry of my tall, midweight ADV motorcycle. Undaunted—ok, maybe a little daunted—we decided to create our own.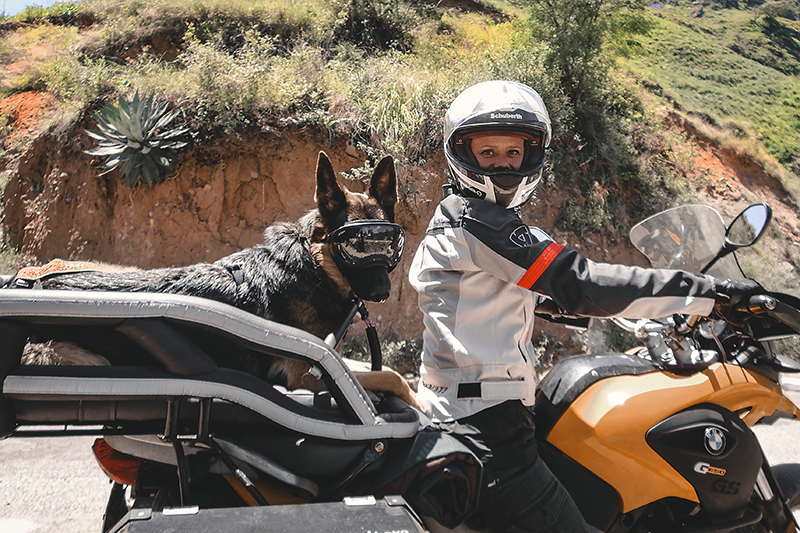 Motorcycling has given me the courage and confidence to try, to fall on my face, and to try again; the grit I needed to start a business, the stones to quit my job and go all in, and in March, the guts to ride a motorcycle around the world with my German shepherd on the back.