Seven women tell us what they ride, why they ride, how they got to riding, and who they ride with.
Side By Side for 32 Years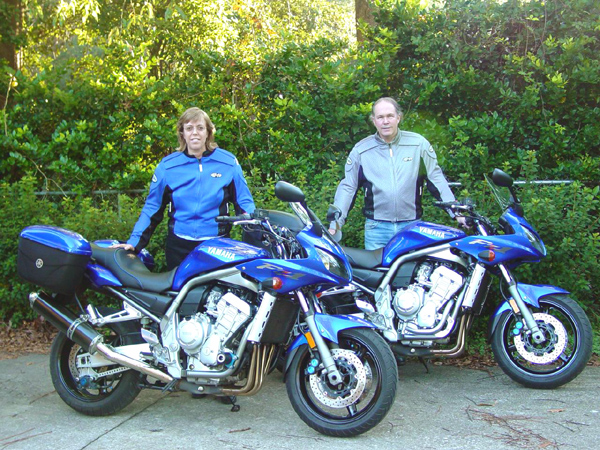 My husband, David, and I have been riding together for 32 years. On occasion, I do ride by myself, but it almost always is the two of us riding together. When I met him, he taught me how to ride in a grocery store parking lot. (This was back when stores were closed on Sundays and there was no such thing as a motorcycle safety course.) Since that time, I have owned a Honda CL450, Honda 750 Supersport, Honda Nighthawk 650, Honda 700 Sabre and Suzuki VX800. My current motorcycle is a Yamaha FZ1. My favorite riding is in the mountains of North Carolina, and we go there at least two or three times every year. Each time, we plan a trip that involves riding curvy mountain roads, seeing waterfalls and state and national parks, and staying at a different place every night. It is a lot of fun, and many times we do this with friends who come along with us.
Becky Janes
Jacksonville, Florida
Trading Up … Step by Step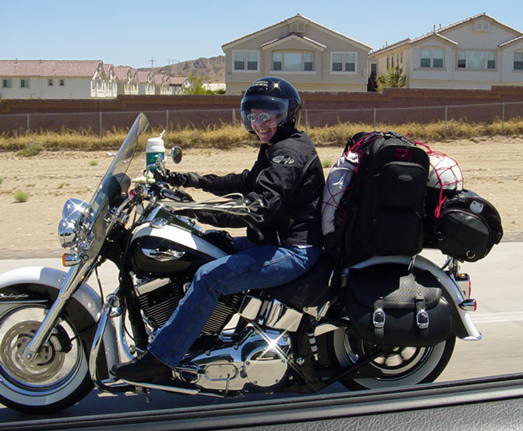 I am a 58-year-old grandmother of 15 who has been riding for almost four years now. I learned to ride after my husband was diagnosed with cancer, knowing that I could continue riding if I were to lose him, which I did in November 2004. This is my third bike, a 2005 Harley-Davidson Softail Deluxe that Ive put 30,000 miles on. My first was a 2002 Harley-Davidson Sportster Hugger that I rode for 750 miles. That was replaced with a 2003 Harley-Davidson Anniversary Low Rider that I put 24,000 miles on. The Deluxe fits me perfectly considering I am inseam-impaired (28 inches). It has the added bonus of beautiful, nostalgic styling.
Donna Yeaw
Sparta, Tennessee
An Anniversary Gift of 1900cc of Raw Power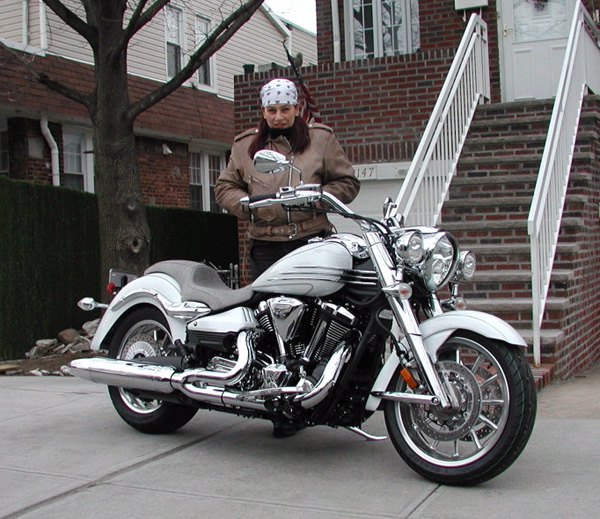 This picture was taken on March 21, 2006, the day my husband, Tom, and I celebrated our 25th wedding anniversary. The bike, a 2006 pearl-white Yamaha Roadliner S, was an anniversary gift from Tom. It has a 113ci engine and 1900cc of pure, raw power. It rides like no other bike I have ever owned, and I have owned quite a few different makes. I am president of the Star Touring amp; Riding Associations Brooklyn, N.Y. chapter and ride with my chapter every chance I get. I have been licensed through the MSF for the past six years and am proud to be a woman riding her own!
Christina Shaw
Brooklyn, New York
From Cruiser to Sport Tourer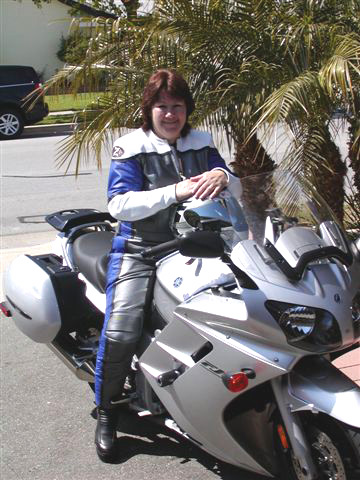 After riding a cruiser for a while, I went to last years Femmoto event. Right there and then, I knew I wanted a sportbike, but it would have to be something that was also suitable for touring. Yamahas FJR1300 does it all. It will dance through tight, twisting canyons all day and beg for more. There is ample power for the freeway. A light touch on the throttle is essential because triple-digit speeds are all too easy to reach without any effort. The side bags each take a full-face helmet, and the top case swallows all kinds of goodies. An electronically adjustable screen provides excellent weather protection. The controls accommodate small hands easily. The FJR is said to have a problem with heat collecting around the riders legs inside the fairing. I havent yet experienced this but have ridden the bikeonlyin the winter. The biggest drawback for me is the seat height. [Editors Note: Seat height is 31.5 inches.] I wear elevator boots to ride but cannot back the bike up on any but the flattest surface.
Jill Hall
Huntington Beach, California
Skipped a Step … or Not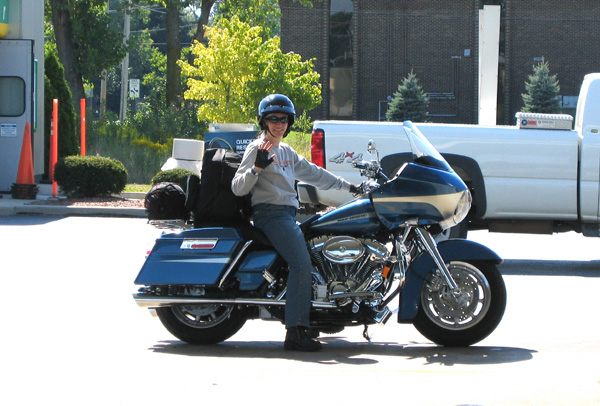 I began riding in 2003. I took the MSF course and purchased a Buell Blast. I rode the Blast for 18 months and 1,500 miles. I wanted a larger and more comfortable bike. My friends all say I skipped a step. They asked me why I didnt buy a Dyna or something smaller. The answer is easy: I wanted a big bike! In 2005, I purchased a 2005 Road Glide. It has gone through a few changes this winter. I am glad spring is here! I would like to see more women on large bikes. You can do it!
Stacy Schneider
Cincinnati, Ohio
King of Her Road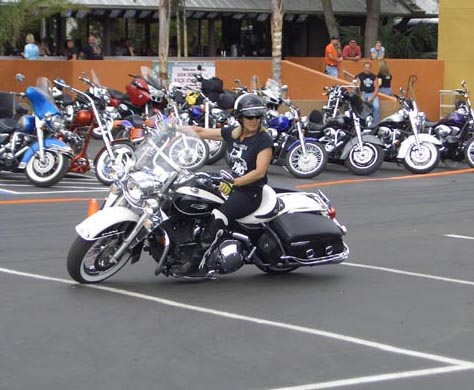 I ride a 2005 Harley Road King Classic. I love it! As you can see in my picture, it handles like a charm. Although my Road King is heavier than any bike Ive owned, I have no problem turning or maneuvering at slow speeds. It turns on a dime. At highway speeds, its smooth as silk and makes those long rides even more memorable. Miles and miles of smiles!
Donna Palladino
Hudson, Florida
Sabre Show-Off
I have a 2004 Honda Sabre 1100. The paint is stock, but I had the bags painted to match. I added a light bar, floorboards, luggage rack, engine guard, and a windshield—a must for the long-distance rides I do. This picture was taken at a motorcycle expo put on by our local ABATE of Iowa chapter, where I won second place in the import class.
Melita Miller
Clear Lake, Iowa
Sportster Therapy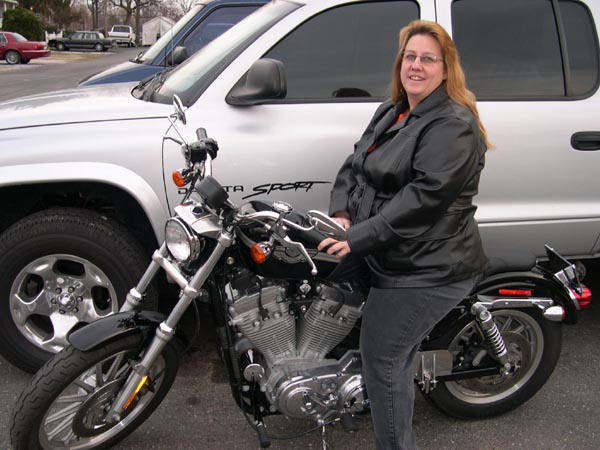 I have always been awed by motorcycles, but I have to say they honestly scared me—not the motorcycle itself, just the idea of riding one. When I got married, my husband and I took the MSF course together. Unfortunately, shortly thereafter he was in an accident and injured badly. After his accident, I swore I would never ride again, even as a passenger. My husband bought another sportbike and continued to ride, but I stood fast on my decision not to. Well, in April 2005, my husband bought a brand-new Dyna and I went for a ride on it. I fell in love with the bike and the idea of riding all over again. In June, he bought me a Buell Blast of my own. I rode it for about four months, then my husband persuaded me to try the Sportster to see how I liked it. I absolutely loved it! I purchased a 100th anniversary Sportster and have been in heaven ever since. Am I still a little scared? Of course. But my pleasure far outweighs my fear.
Mary Tress
Baltimore, Maryland