When traveling through southeastern Illinois you have to make the trip to Moonshine to experience the ambience from days gone by. As they say youll need a compass, plat map and a little luck to find it, but its worth the trip.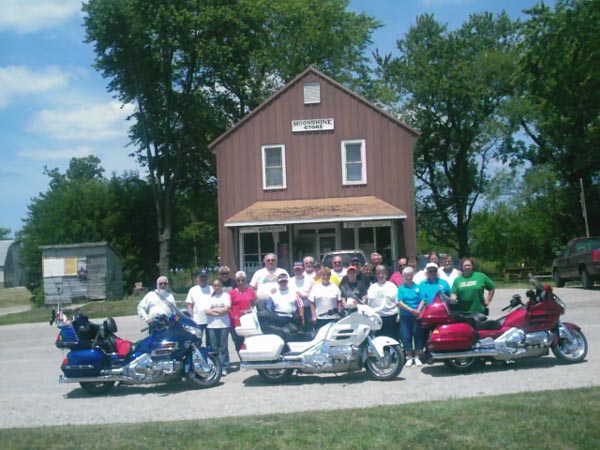 My suggestion is to travel to Carlyle Lake and spend the weekend at one of the many state campgrounds around the lake. If camping is not your style but you still want to experience the outdoors than the Hickory Shores Resort north of Carlyle offers a unique opportunity. In addition to their regular campsites they offer themed camping cabins. You can spend the weekend in the Redneck Cabin, the Titanic, The Wizard of Oz, the Roar of the Jungle, or the Love Shack, just to name a few.
When leaving the campground travel south on Rt. 127 to Rt. 50 in Carlyle. Leave early as it is approximately a 3-hour ride to Moonshine and the grill closes precisely at 12:30 p.m. Traveling Rt. 50 east will take you through several small rural towns. The open roads are well paved and the traffic is generally light. These are farming communities so watch for slow moving implements and the locals who stop to chat along the road.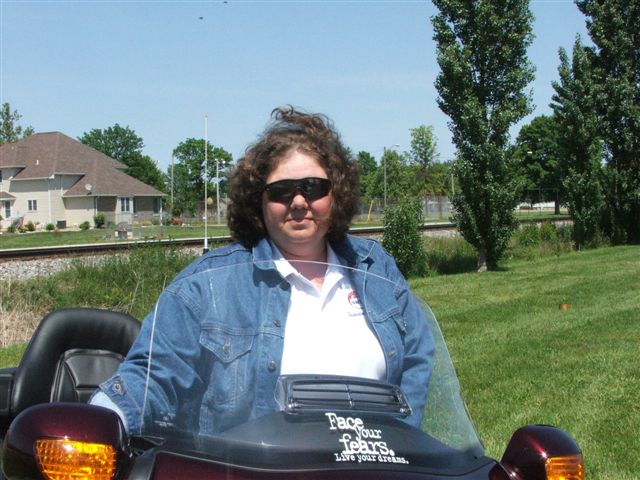 Continue traveling Rt. 50 east until reaching Rt. 1 just north of Lawrenceville. Note, Lawrenceville offers the last restroom facilities before getting to Moonshine so a trip into town is highly recommended. Continue northbound on Route 1 from Lawrenceville for approximately 30 miles to Annapolis Rd. Turn left (west) onto Annapolis Rd. and proceed about 7 miles to four-way stop in Annapolis. Turn right (north) at the four-way stop onto 700 St. and continue to a four-way stop at the intersection of 400 Rd. Turn left (west) onto 400 Rd. and travel about two miles to a Stop sign. Proceed straight through the Stop sign to the second crossroad which will be 600 St. Turn left (south) onto 600 St. and go to the intersection of 600 St. and 300 Rd. In the big grove of trees to the left is a wide spot in the road. There sits the Moonshine Store – the "in" spot for the elite to meet.
On several trips there, we have been in the elite company of a Studebaker club, a Corvette club, a classic tractor drive, and a high school reunion.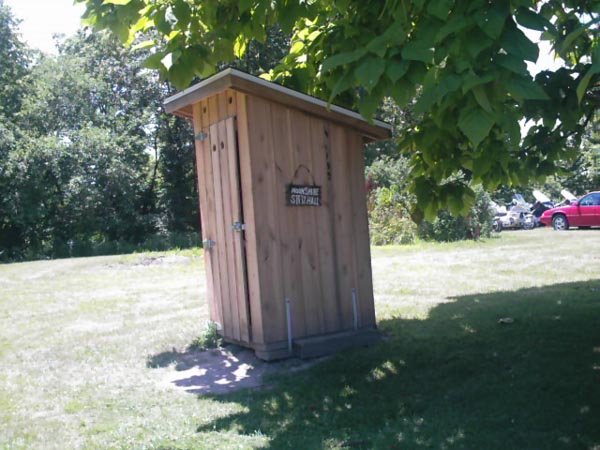 A little history about Moonshine as listed on its Web site. It was on the map in the 1930s. Roy Lee and Helen Tuttle bought the old-time (circa 1912) country store in 1982 and promptly made it the best eating house in town – heck, its the only building in town, unless you count the outhouse – and you had better count it.
Aside from cold cut deli-style sandwiches, drinks and snacks, Moonshine is the home of the world-famous Moonburger. An average day sees 140 sandwiches made, if theres a blizzard, it drops down to only 19 or so.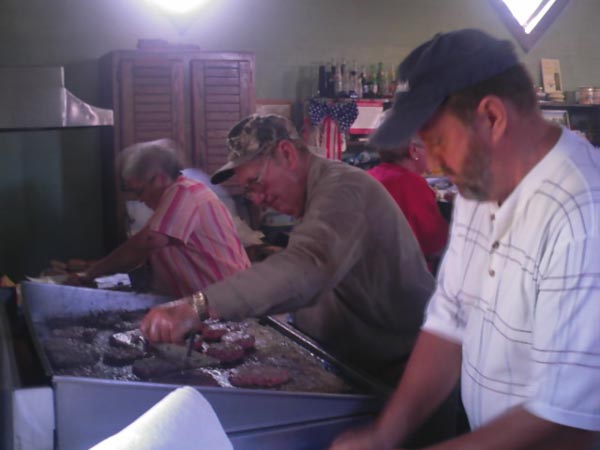 In April 2006 a large group of motorcycle enthusiasts from Canada and the U.S. rolled in and devoured a whopping 712 sandwiches. This was a record-setting day for Moonshine locals who boast a population of two and say thats just perfect.
No fancy menus or dinner tabs here; just give your name when you order over the deli counter. Wait until your name is called, then pick up your sandwich. Condiments and toppings are set out on a table in the middle of the store. Fix your sandwich anyway you want it. Proceed to the chip stand and grab a bag of your favorite chips. Turn around and reach into the cooler and get a cold drink. You can sit down on the inside bench or enjoy the picnic tables under the big, old shade trees. At some point during your stay return to the cash register and tell the lady what you had to eat.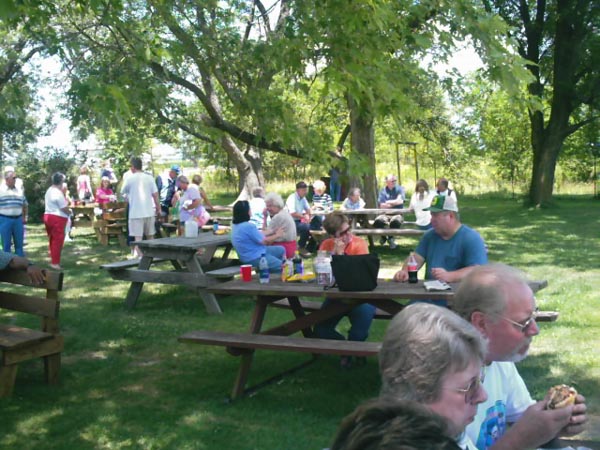 Leave yourself a little room for dessert in Greenup, Illinois. When leaving Moonshine Store turn right (north) onto 600 St and proceed to 400 Rd. Turn left (west) onto 400 Rd. and travel approximately two miles where 400 Rd makes a slight curve to the left and runs into 420 St. Turn right and then back left onto 400 Rd. and continue west on 400 Rd. to 100 St. At the "T" intersection turn right onto 100 St and you will see Route 49. Turn left to approach Route 49 at the Stop sign. Turn left (south) onto Route 49 and continue for about 2 miles. Route 49 makes a sharp curve to the left and Hazel Dell Road is straight ahead. Take Hazel Dell Road; DO NOT TAKE THE LEFT CURVE! Continue on Hazel Dell Road through the town of Hazel Dell to a Stop sign at Route 130. At Route 130 turn right (north) and proceed to Greenup. It is approximately 18 miles through the country from Moonshine to Greenup and takes about 30 minutes to ride.
Be sure to stop at the Candy Kitchen on Cumberland Street in Greenup. Enjoy handmade sweets and old fashion ice cream served in glass dishes all with the feel of an old time ice cream parlor. You can even find the "soda jerk" at the counter.
When leaving Greenup take Cumberland St. west to the covered bridge. This area offers a great photo opportunity. Cumberland Rd. merges with Rt. 40 just past the bridge. When traveling through Vandalia watch the signs closely to stay on Rt. 40. If times allows take time out in Vandalia to visit the Old State Capitol and other historic buildings and sites. Your travels on Rt. 40 will take you through many small communities and again enjoy a leisurely ride back to Rt. 127 at Greenville.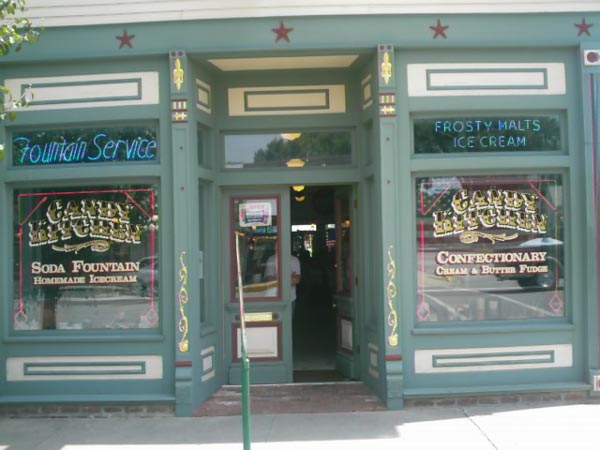 At Rt. 127 turn left (south) back to Carlyle Lake and your campsite, cabin, or hotel room. After spending a long day making this circuit you will look forward to relaxing around a campfire or crashing on your bed. If you are in the area, contact me at 618.765.2661, or by email at fuzzy86@frontiernet.net and I would be happy to arrange my schedule to be your personal tour guide on your trip to Moonshine. Otherwise, remember it takes a compass, a plat map, and a little luck to find the place. Note, closed on Sundays.