Four women share what they love about their motorcycles.
Tall Rider Loves Her Road King Custom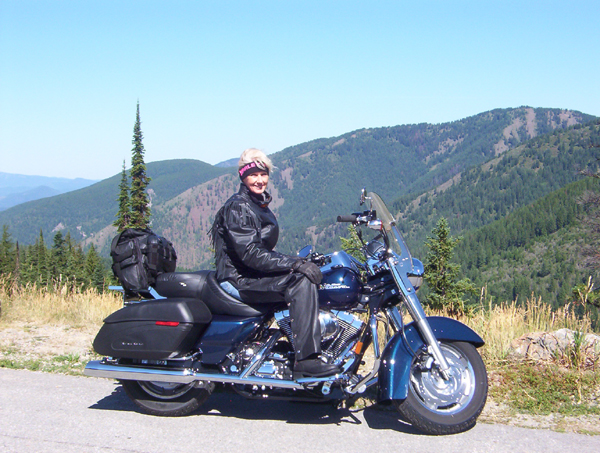 I love to ride! The freedom it offers me is beyond words—the wind in my face, the smells of the land. It is something that only riders can really experience. I have been riding for 11 years now and have loved every minute of it. I rode behind my hubby for two years before I knew it was time to get my own ride. So I got my Harley Road King Custom. I chose this model of Harley because I am 5-foot-10 with long legs and long arm reach. I tried out many different models, but kept coming back to the touring model and really like the clean lines of the Road King Custom. Its a touring model, but has the sporty look to it. I feel I sit "in" the seat, not on it. Its very comfy for the long haul. I can dress it up with lots of accessories, which I have done with the extra chrome and skull theme. I also have the option of different heights in windshields or none at all. Its a heavier bike compared to some other models, but this one really makes me feel I have something under me without a lot of bulk. It gives me lots of comfort for long days and hours in the saddle. My husband and I have traveled for the last two-and-a-half years from one end of the U.S. to the other and back again. Were planning a trip to Panama City next winter.
Jill Jolley
Vancouver, Washington
Trading Up to a VTX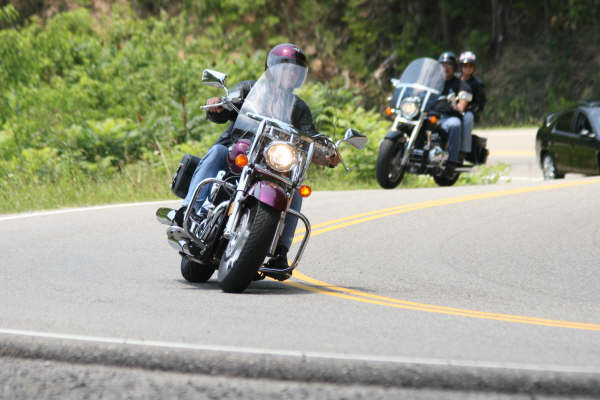 I started riding one-and-a-half years ago on a Honda 750 Shadow. After five months of riding, I saw the VTX and had to have it! I love my bike and the way I can escape on it and reclaim a smile when riding. The photo shows my husband and daughter behind me on a Valkyrie as we rode through Deals Gap. I never thought riding a bike was something I would do, but now I dont know why it took me so long to get started.
Tami Graben
Northport, Alabama
Another Rider Trades Up to a VTX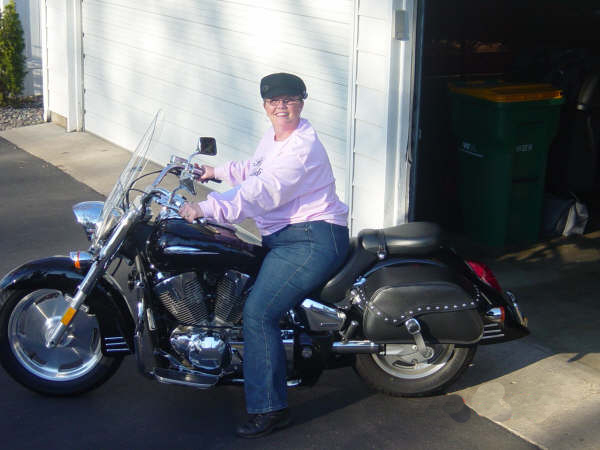 This is my second bike, a 2005 Honda VTX 1300R. I bought it new last year and have been loving it ever since. I recently joined a local womens motorcycle club. My first bike was a Honda VT1100, purchased in 2004, which was a great beginner bike. But after I got bitten by the "bug," I knew I would continue riding and wanted to graduate to a bigger and brand-spanking-new bike of my choice. Voila—my new VTX! I started riding in 2003 after completing the MSF course and havent looked back. Over one weekend, I went from never riding a motorcycle to passing the test and getting my license. It is amazing what a grandma can do if she puts her mind to it!
Jane Cross
Minneapolis, Minnesota
Why She Loves Her Shadow Spirit 750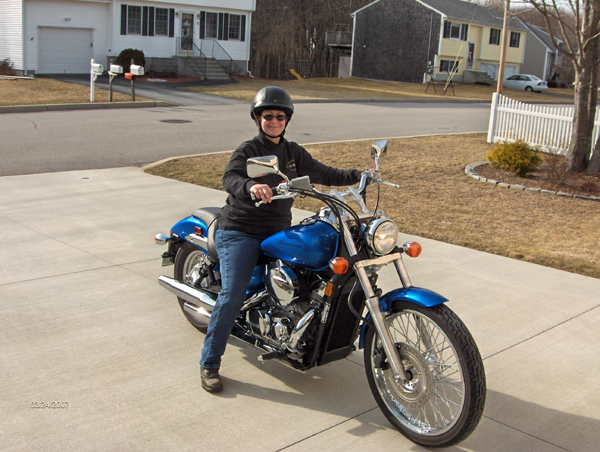 I brought my new 2007 Honda Shadow Spirit 750 home on March 24, 2007, and I took it down the road for the first time. I love the power this bike has. The five-speed is a great feature of this bike. Its also very sharp looking, and easy to handle and control. I love the look and styling of the new Spirit 750. I purchased the model with the shaft drive. The Spirit 750s low seating position is also wonderful because I am only 5-foot-2 and seat height means everything to me in feeling secure. While I loved riding and enjoyed every mile driven (10,500) on my previous bike, a 2004 Honda Shadow VLX Deluxe, I know Ill enjoy riding and owning my new 2007 Honda Shadow Spirit 750. Everything about this bike is great! I cant wait to begin gaining confidence with it. Let the adventures begin!
Michele A. Brouillard
West Warwick, Rhode Island