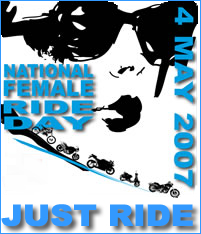 Get ready to ride on Friday, May 4, for the first "National Female Ride Day." Women are being asked to get on their bikes and "just ride," whether you have a sportbike, cruiser, scooter, dual purpose, street, off-road or dirt bike.
The goal of National Female Ride Day is to highlight the many women currently active in motorcycling and heighten awareness of female riders.
According to campaign organizer, Vicki Gray, of Toronto, Canada, another goal of the event is to inspire and attract new riders to the sport. The official poster (pictured at right) is also available for download.
For more information, visit Motoress.com.