Want to share your story?Find out how.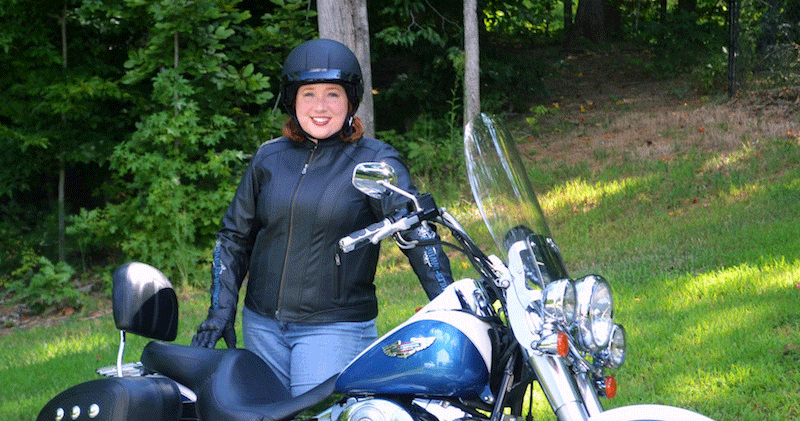 I received my motorcycle license in April 2011. When I completed my first thousand miles in August of that year, I wrote down what I'd learned along the way. Perhaps this list will take you back to your first thousand miles, or if youre just starting out, maybe it will remind you that you aren't alone on your journey.
Women Riders Now E-Newsletter
Stay up-to-date on all things motorcycle! Latest gear, bikes and products reviews. Travel ideas, great product giveaways, and more.
If you pull the front break on a sharp turn at low speeds, you are going to go down. Slow down before you get in the turn. If your bike starts to fall, you aren't going to catch it. I don't think any of us can lift 700 pounds, so if your bike starts going down, get off. I also haven't found a way to look cool while dropping a bike, so don't worry about how you look while you're trying to jump off of it.
The Harley-Davidson videos make it look really easy to pick up a Softail once you have dropped it (see #1). However, its not so easy to pick up a bike when youre going downhill on gravel by yourself on the hottest day of the year. The day when I do drop my bike on a flat, level surface that is free of sand or gravel, I'm sure she'll be shiny side up in no time.
Passing trucks on a two-lane highway is not fun, but it can be done. You are going north, the truck is going south. You see the beast coming toward you, so you sit up extra straight, get a really good grip on the handlebars, say a quick prayer, and hold on for dear life. The truck passes and so does a small gust of air. Just as you start to let the blood flow back to your fingers, a large gust of air pushes sideways on your bike. Is this some kind of physics joke? Remember—the big gust comes after the truck has passed by. Kind of like ponytail whiplash.
[photo 14317]In my experience, "H-D" actually stands for "Hundred Dollars." When I walk into a Harley-Davidson dealership, I can actually hear the shirts, coozies, stickers, helmets, boots and gear singing to me. I didn't even know Harley made a set of dishes—but once I saw them, I couldn't imagine my life without them. I swear dealerships are like crack. Once you go into one, you must go into all of them. And while dealerships are fun, its good to shop on eBay once in a while, where the stuff is generally less expensive and often still in good shape.
Just as its not a good idea to be an aggressive driver in a car, you shouldn't feel a need to drive like a maniac on a motorcycle. I consider myself to be a pretty laid-back driver, in the car and on the bike. I don't have to be the first off the line, and I dont view getting to my destination as a competition. My husband drives his truck like hes a NASCAR driver in second place, and it took me a while to realize that our driving styles are different in automobiles and on motorcycles. Just because I take longer to get somewhere doesn't mean I am a bad driver. In fact, I have learned that in many ways I am a safer driver—which makes me the better driver.
I have now driven at night, in the rain, in the heat, in the cold, in the fog, and in humidity so high that your lenses fog up as soon as you walk outside. No matter what conditions youre riding in, safe riding gear is key. Invest in some good boots with thick rubber soles. Just because you can walk in stilettos doesn't mean you should drive in them. Get a good pair of jeans or riding pants. I buy my riding jeans a little longer than normal because I don't want to be riding down the road looking like I am getting ready for a flood. I am a huge advocate of wearing armor in riding jackets. I have seen some really hot women riding in sexy tank tops, and thats their choice. I wear tank tops and booty shorts when I wash my bike just because it makes me feel sexy. However, when I am actually riding my bike, I know theres always the possibility that someone in a car is going to pull out in front of me, cut me off, or rear end me and leave me sliding across the pavement. I may not look sexy in my mesh jacket with full armor, but I feel safer in it. I also ride with full gauntlet gloves, and I always wear a helmet that's DOT certified. Yes, I look like a Q-tip, but I love my brain too much to ride any other way. If you always ride with that much gear, you won't know any different and you'll always be protected.
Saddlebags are awesome! Granted, they are never big enough, but I could never ride without them. I am a mother of four, so when I get to ride, it's usually on an errand (grocery store, doctor's office, etc). By the way, you can fit a half-gallon of milk, four pounds of shrimp, eight crab clusters, two pounds of sausage, eight red potatoes, and four ears of corn in the saddlebags of a Heritage Softail Deluxe.
Riding in the rain isn't as scary as I thought it would be. If you haven't done it, I encourage you to force yourself to get out and try it when the weather's not too cold. It feels like a thousand little bugs hitting your body. That said, get some good rain gear! I don't know why they make black rain gear—I want to stand out enough for everyone to see me when it's raining. I bought the brightest, most obnoxious rain gear I could find.
Take as many motorcycle driving courses as you can afford! I took the basic course and then practiced in my driveway. When my husband got home, he drove my bike to the local high school parking lot and I practiced there. Then I moved to the local roads. I had put about 500 miles on my motorcycle when I took the Motorcycle Safety Foundation (MSF) experienced rider class. I was scared to death, but I loved it. I got so much information from the instructors and other students in the class. I also learned the correct way to ride on my motorcycle. Don't be afraid to learn. Don't be afraid of being judged by other riders. We are a group of people all seeking the same goal.
Driving a motorcycle is a journey, not a destination. It doesn't matter how quickly you move from the driveway to the interstate. The important part is that you get there in your own time, on your own terms, and in one piece. I have dropped my motorcycle four times, splashed gas all over myself and my bike twice, and shifted into the wrong gear too many times to count. I still think about what gear I'm in when I come to a stoplight, and I always lean forward when starting out on a hill (I know it doesn't help, but it makes me feel better). I have had to learn to just shake my head and laugh. God has kept me safe, and I know my guardian angel is riding in my passenger seat. I can't wait to see where the next thousand miles take me.