Want to share your story? Find out how.
I knew I wanted to ride my own motorcycle after a cross-country trip in 1975 on the back of a 56 Harley-Davidson Panhead. I live in Texas, and in those days, you got the book from the Department of Public Safety (DPS), got a learners permit, learned to ride without much information, and took the test to ride solo. That was the plan, but I made it only as far as the "learner's permit" part and spent the next 27 years dreaming every time I passed a motorcyclist on a road trip that someday I would be out there, too.
Fast forward to 2004. I was happily married and once again a passenger. That all changed when I took the beginner's course and bought my first bike, a 2003 Honda 750. I was finally in the wind. I still remember the shocked look from the person at the DPS when I finally removed the "learners permit" from my license. For 27 years, every time I renewed my license they'd ask if I still wanted the learner's code on it and I'd say yes, waiting for the day I would be able to ride solo. Now I finally was. I rode my Honda 750 for about 10,000 miles that year and then moved up to a beautiful, bagged-out HondaVTX1300. I knew I would ride that bike for a long time, and I covered more than 20,000 miles across 13 states on it.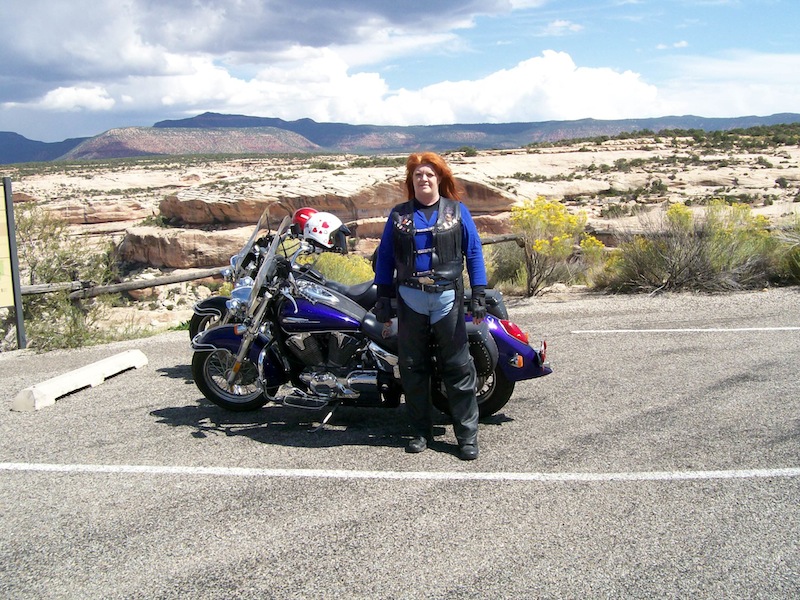 There is something that riding solo completes in me. I love having my husband next to me while we tour. My favorite rides are through southern Utah. I believe there are "mountain people," "beach people," and "city people," and I am part of the "rock people." Utah is my heritage, and riding there I feel connected to my ancestors who made the grueling trip pulling handcarts to settle Salt Lake City. I feel the souls of the women that kept going, mile after torturing mile, determined to build their families, farms, churches and cities in peace.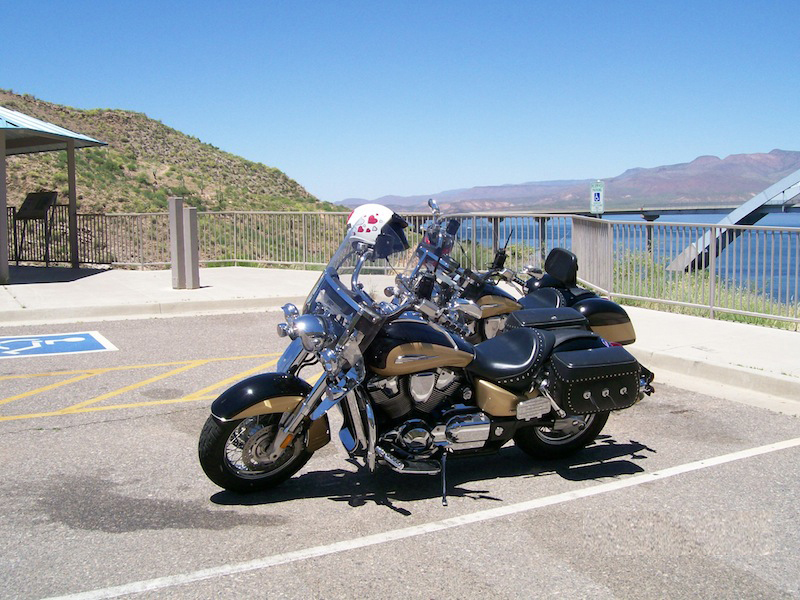 In 2008, my husband bought a brand-new Honda VTX 1800—it was stout and built for the long road. A few weeks later, we were riding when I told him how much I liked his new bike, and he made the mistake of telling me there was another one just like it on the showroom floor. When you both ride, you buy two of everything. And what a great idea—twin "twins"! The first time I rode his 1800 was the night before we went to pick up mine. It was cold out, but I felt like that bike was singing to me.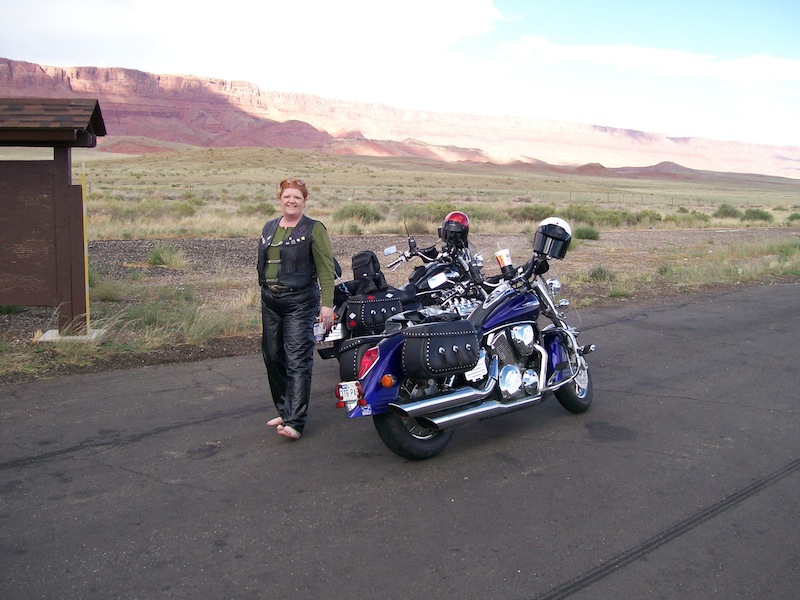 Our bikes are evolving—his has hard bags, a new fairing, a bigger seat. My bike remains a solo seat, but it too is bagged out, chromed out and ready to go.