Want to share your story? Click here to find out how.
My riding experience started by sitting on the back of my husbands new 1989 Harley-Davidson Ultra Classic. While enjoying sitting on the back during 1989, I knew instantly this was not the place for me.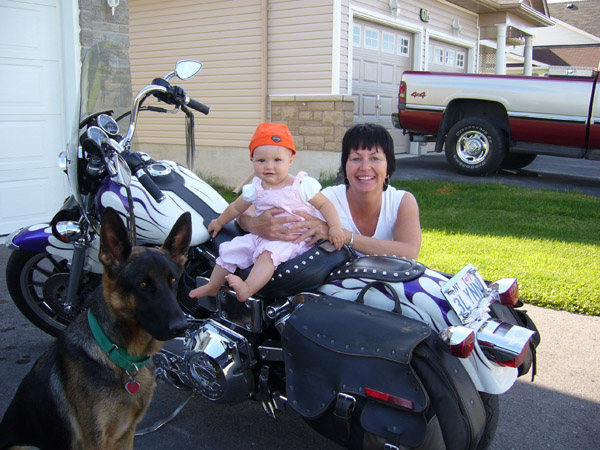 I decided to take the Motorcycle Safety Course at Sir Sanford Fleming College in Peterborough, Ontario, in the spring of 1990. Prior to taking the course my husband bought what he thought was the perfect bike for me, a 1986 Honda Shadow 750, which I kept for one year.
He would take me to the local mall to practice. He would ride the bike there and I would follow in his truck. At first he would sit behind me on the bike and I would ride around the parking lot. One particular time I did everything he asked me to do, figure eights, right, left turns, roll forward and panic stops. Upon stopping perfectly, I became so excited that I had done everything correctly, I announced, "I did it!" He smiled and said, "You did great but you didnt put your feet down." He had put his feet down and was holding the bike up. We laughed and he assured me I wouldnt forget to do that again. After that I would ride around the parking lot and he would sit in his truck reading the paper for hours. Never once trying to hurry me, only looking over and smiling which gave my more confidence.
He would come home from work and I would be waiting at the front door waiting to go for a ride. I was nervous about going out alone, but he insisted that I could do it and I had the time during the day. My ride consisted of the same route for the whole summer. I would be gone approximately 45 to 60 minutes. I could feel myself becoming more confident with each ride.
While on a ride on our street, he was in front with our son on the back of his bike. As I rounded our corner too fast, I knew instantly I had lost control of the bike and fell off as I watched the bike skid further down the road. Thank goodness I had a leather jacket, chaps and gloves on. Of course, the worst part was half the neighborhood was outside enjoying the sunshine. He immediately checked to see if I was OK, took his bike home which was only a few houses down and brought his truck back, I drove the truck and he rode my bike. An hour later he insisted we go for another ride after determining there was no damage, I didnt want to but he knew if I didnt get back on right away I may never. We went for a short ride. I could feel my heart pounding and my knees were knocking on the tank. If it wasnt for him I could have easily quit riding.
During my first summer riding, I was leading and I could see a rabbit on the side of the road. I had been told many times do not lose control over a very small animal. As I was approaching the rabbit it darted out right in front of me, I rode over it with ease. At the next stop sign, my husband told me how proud of me he was as I stayed focused and kept the bike straight; it was at that time I had to admit while driving over the rabbit I actually remember closing my eyes very tightly, and then immediately looked in my mirror. He just smiled.
My next purchase was a 1987 Suzuki Savage 650. With our son on the back of his bike, I aged him by years as I was supposed to turn left out of the restaurant parking lot but instead I rode straight across a two lane highway, in and out of the ditch and back onto the road without causing any damage but my husband had said that it was one of the scariest scenes hes ever witnessed.
Another day while riding I asked him to switch our bikes, with hesitation in his voice we did and that was when I knew I had to have my own Harley-Davidson. We bought the bike I still ride today, a new 1996 Harley-Davidson Dyna Convertible. It was on the day of our 20th wedding anniversary.
We have two children and we traveled as a family for many years on the two bikes. We have a trailer to hold all the camping gear and would be constantly away. During the winter we have hauled a trailer with the bikes and have spent different weeks in Florida, Texas, and New Orleans.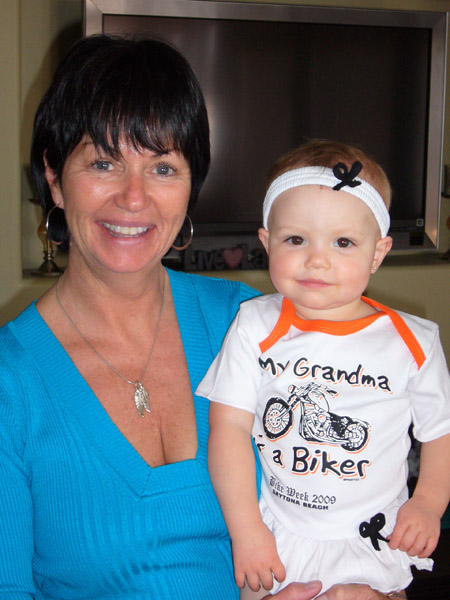 We have enjoyed most provinces and many U.S. states. Weve enjoyed the Cabots Trail in Cape Breton Island, off Gaspe, Prince Edward Island, Nova Scotia and New Brunswick, Lake Louis, Banff, Jasper in Edmonton, and parts of British Columbia, Tail of the Dragon in Tennessee/North Carolina, Mardi Gras in New Orleans, Ocean City in Maryland, Blue Ridge Parkway in the Virginias and so many others.
Ive been to every major motorcycle rally in North America, some more than once which include Sturgis in South Dakota, Americade in New York, Laconia in New Hampshire, Daytona in Florida, and many smaller rallies north, south, east and west.
The freedom of riding a bike with confidence is extremely liberating for me, even though Im "directionally challenged" and cant read a map with any certainty. Ive been lost more times than I care to remember but Ive always found my way.
Now we enjoy a granddaughter and another grandbaby on the way. She owns Harley-Davidson clothing from across North America. My favorite T-shirt is "My Grandma Rides A Harley" and "My Grandma is a Biker." I believe not too many grandchildren will own one.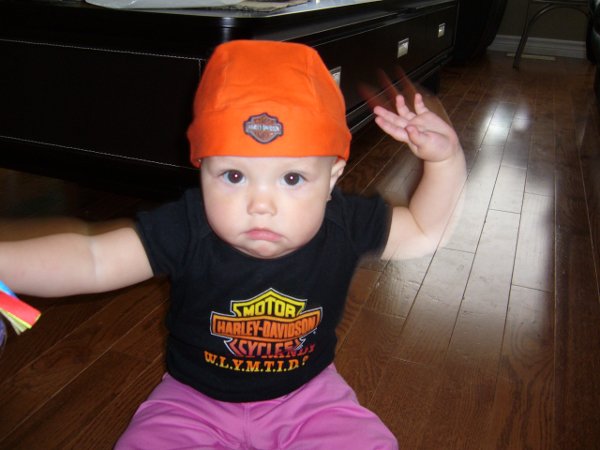 I was mentored with love and extreme patience and Ive in turn tried to be patient with new riders men and women. Women need to mentor each other as our riding styles vary from men in different ways. I just wanted to thank him for his patience and confidence in me because if it wasnt for him I wouldnt be riding today.
Want to share your story?Click hereto find out how.
Related Articles
The Value of a Riding Mentor